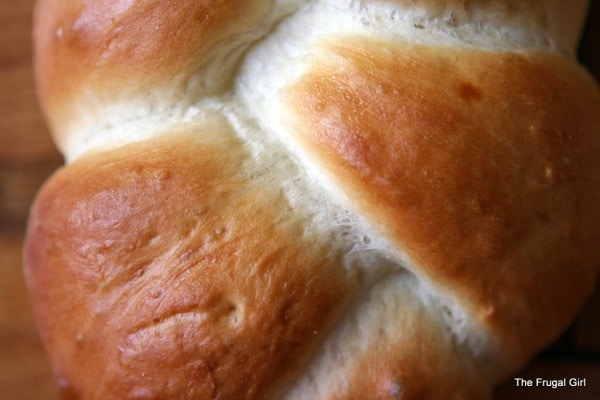 This recipe is from a newer Fleischmann's Yeast cookbook that I got for free somehow a number of years ago. Actually, it was a lot of years ago, as I know I had this for a while before I got married (I was the sort of weird teenager who sends away for yeast baking freebies!), and it's been 12 years since I tied the knot (or, more appropriately, since we tied the knot).
Anyways.
It's a basic bread dough that can be used in a number of different ways, and over the course of the next few Wednesday Baking posts, I hope to show you the other things you can do with the dough.
Today's post is about the most common way I use this dough, and that is to make braided loaves of bread. A braided loaf looks really lovely and impressive but is not at all hard to make.
Here's how you can be the proud owner of some gorgeous braided loaves.
First, mix the dry ingredients together.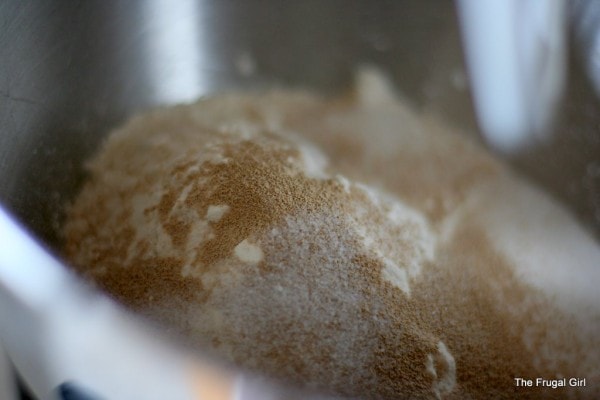 Then heat the milk, water, and butter together to 120 degrees.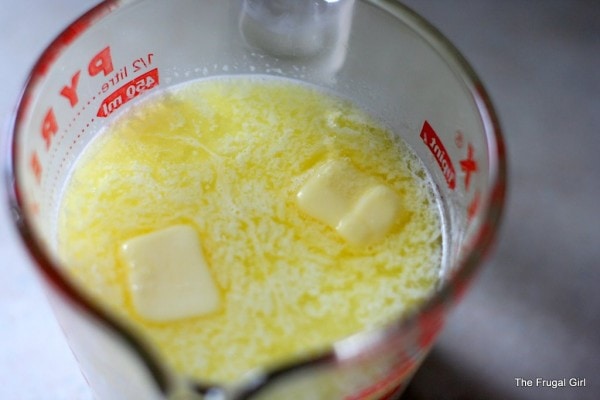 Add the wet ingredients to the dry ingredients, beat for a few minutes, and add enough flour to make a soft dough. Turn it out onto a floured surface….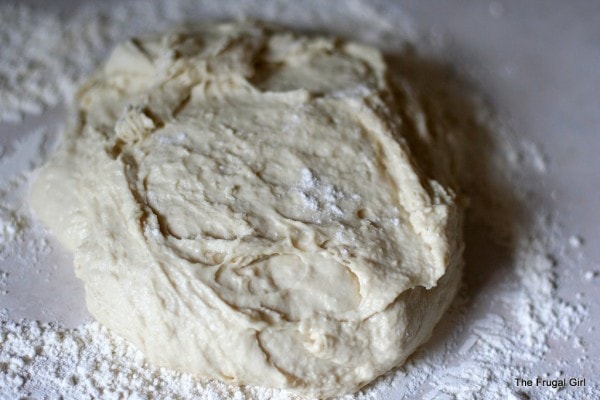 and knead until it's smooth and elastic.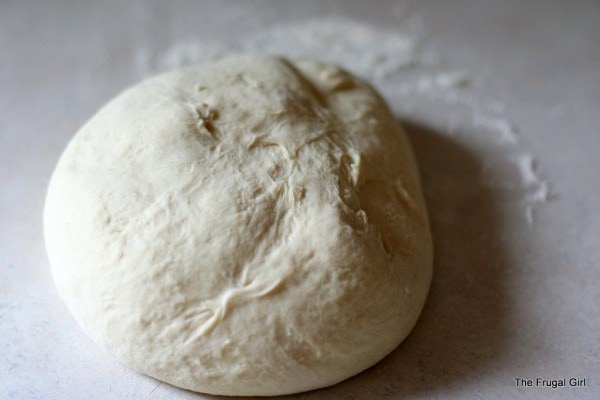 After letting it rise for an hour, punch the dough down and divide it into 6 equal portions.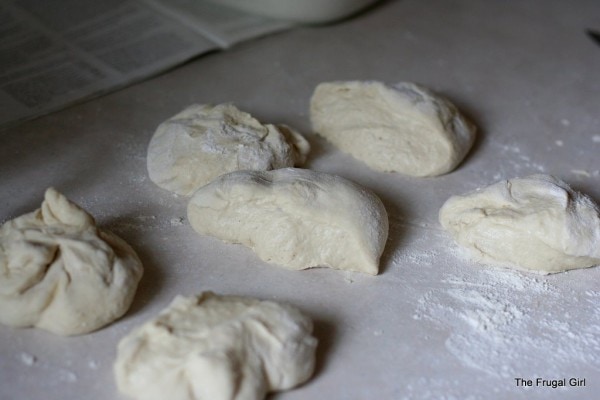 Roll three portions out into 12-16 inch ropes.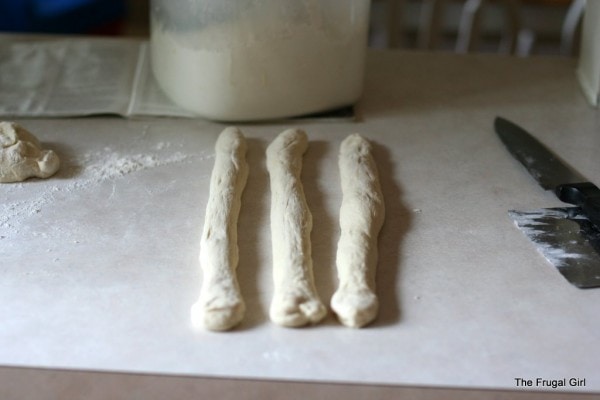 To braid them, you can either start at one end and work to the other, or you can start in the middle, work to one end, and then start in the middle and work to the other end (if you have trouble handling the long strips of dough, this is a good way to go). Repeat with the other three portions of dough and lift the finished braids onto a greased baking sheet.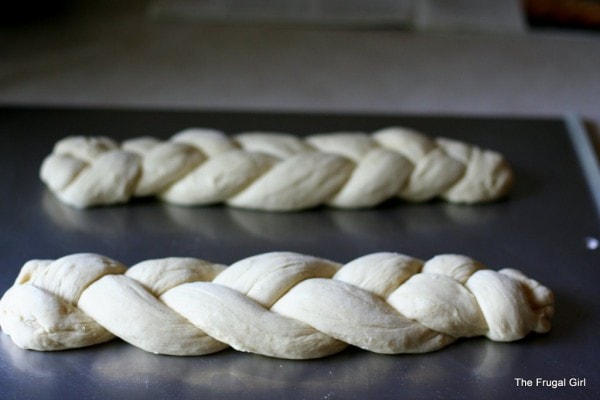 Cover the loaves with a wet tea towel and let them rise for about 35 minutes. The length of time necessary for the rising period will vary depending on how hot or cold your house is, so use a visual check in addition to a timer. They should be puffy and about double in size, like this: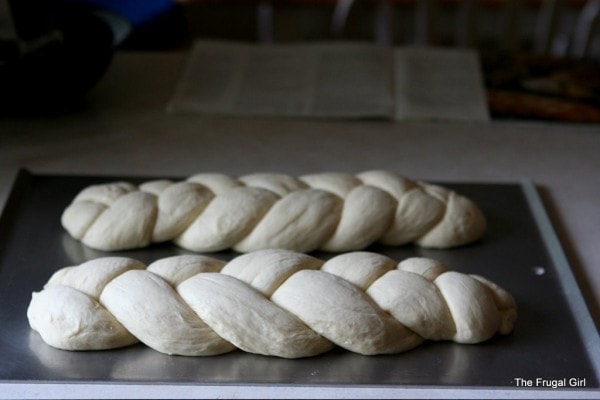 To give the crust a nice shiny finish, you'll need to mix up an egg wash. This is not at all necessary, but it does make an enormous difference in the appearance of the loaves. I always do an egg wash if I'm giving loaves away or bringing them to someone else's house. When I make these for just the six of us, I usually only make an egg wash if I have cheap eggs around as I'm not really interested in using a pricey farm fresh egg to make my bread shiny.
To make an egg wash you just beat an egg with a tablespoon of water, and then use a pastry brush to gently brush it onto the risen loaves.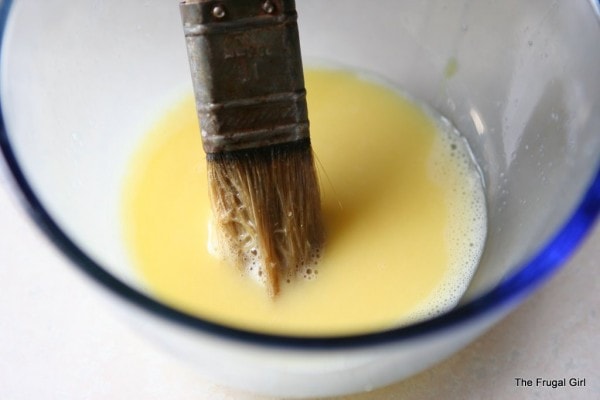 A thin layer of egg wash is sufficient. The loaves should just look kind of shiny when you're done.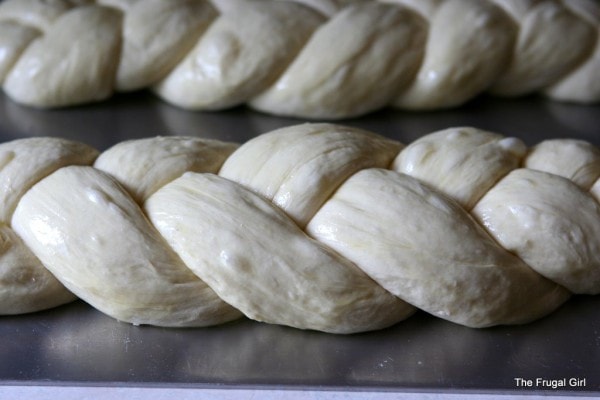 Bake the loaves in a preheated 350 degree oven for 25 minutes, or until lightly browned.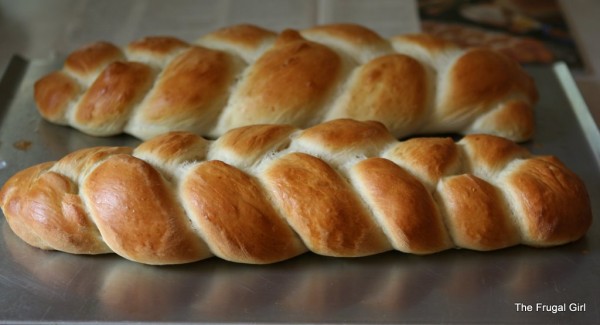 Let cool on a wire rack before slicing. Happily, these cool off fairly quickly, so you shouldn't have to wait long before enjoying a slice, preferably a warm one, so that the butter will melt into it. (Really, as long as you are not opposed to dairy, you ought to use real butter on your homemade bread. Margarine is not the same. Not even close. I'm just sayin'.).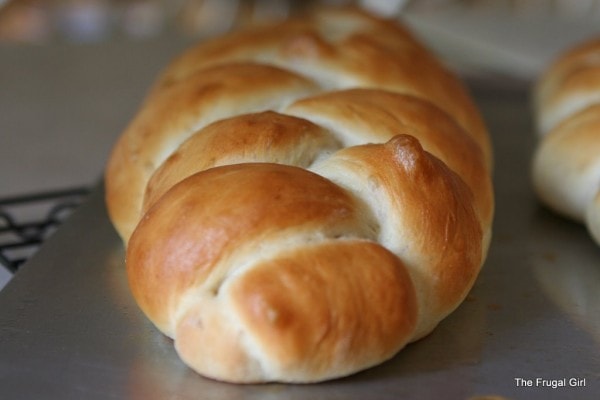 Braided Loaves
6-6 1/2 cups unbleached all purpose flour
3 tablespoons sugar
4 1/2 teaspoons (2 pkg.) yeast
2 teaspoons salt
1 1/2 cups water
1/2 cup milk
2 tablespoons butter
Mix 3 cups flour, the sugar, yeast, and salt in the bowl of a stand mixer. Combine water, milk, and butter and heat to 120 degrees.
Gradually add warm mixture to the dry ingredients, and beat for 2 minutes. Mix in enough additional flour to make a soft dough. Turn out onto a floured surface and knead until smooth and elastic, about 5-8 minutes.
Cover with wet tea towel and let rise in a warm place for 1 hour. Turn dough out onto a floured surface and divide into 6 portions. Roll each portion into a 12-16 inch rope. Braid three ropes together; pinch ends to seal. Repeat with remaining dough, and transfer braids to a greased baking sheet.
Cover and let rise 35 minutes. Beat 1 egg with 1 tablespoon water and brush over risen braids. Bake in a preheated 350 degree oven for 25 minutes, or until nicely brown. Cool on a wire rack.