I'm saving the "embarrassing frugal habit" question for the end, so keep scrolling to get to that one. 😉
First, a few other questions.
How has your attitude to frugality changed with time, as your children are older (and yes, the rest of us are too!) Has this changed attitude led to changes in spending, are there new things to be frugal about, or are you frugal with fewer things?
-Kristina
I am definitely looser with money now than I was back in the earlier years of our marriage.
But I'd say that's less about my attitude changing and more about us having wiggle room in our budget.
Before, we really had to be frugal to avoid getting into debt. Now, we can spend above the bare minimum without fear of putting ourselves into consumer debt.
So, I am less laser focused on every little expenditure.
However, our increase in income has been accompanied by an increase in kid-related things to spend money on (braces, driver's ed, allergy shots, tutorial classes, etc.)
Plus, we got a late start on retirement savings, so we are needing to play catch-up with that.
At any rate, despite the increase in income, we haven't exactly been feeling like, "Oh, now we can burn dollar bills for fun!"
But I am very grateful that we have the money to cover the expenses of having older kids. In my experience, littler kids incur fewer expenses (though of course, if I'd needed daycare for my kids, I'd have a different perspective!), so I'm grateful our time of lower income was then and not now.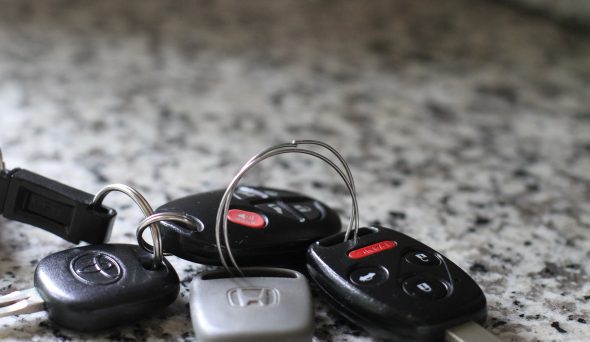 To your last question, I will say that there is almost always some way to lower the expenses each new life stage brings.
So, as new chapters unfold, as long as you bring with you a "willing-to-hunt-for-discounts" attitude, you will be able to lessen your new expenses.
(Related: quite a few of you asked how we are handling teen expenses, such as driver's ed and car insurance, and I'll address that in the next Q&A post.)
Do you get discouraged with frugality, the feeling of never "getting ahead", comparing yourself to others who seem to have an easier time without the sacrifices you make (and not just seem to, but really have an easier time)?
-Kristina
Oh, I know this feeling! I definitely experienced it when Mr. FG was working in warehousing and I was teaching piano lessons.
We were working so hard to save money, and we really could barely get ahead before hitting another setback. We managed to stay out of debt, aside from our mortgage, but if you're not making more progress than that, it is so easy to feel like you're spinning your wheels.
I had to remind myself that staying out of consumer debt is not nothing, particularly on a small income. Staying out of the red, even if you're barely in the black, is a big accomplishment when your income is low.
(According to USA Today, as of early 2020, the average American carried over $6,000 of credit card debt! Avoiding that situation is definitely not nothing.)
I remember getting really frustrated when I would read advice that basically said, "Just cut your expenses and your savings rate will go through the roof."
This advice holds true if you have a lot of income and a lot of unnecessary expenses, but when your income is low and you've already trimmed and trimmed and trimmed…well, reading that advice can be discouraging.
As is true in so many areas of life, comparison is the thief of joy. And the only way I've found to avoid that thievery is to focus on my own journey.
Also: tune out the money advice given to higher earners. Read Amy Dacyzyn instead. 🙂
Could you enjoy a purely luxurious vacation (whether you paid or someone else did?)
-Connie
Yep, I think I could, particularly if someone else paid for it. (!)
If there's anyone out there who wants to gift me a luxurious vacation, please, feel free. I accept free vacations at any time. 😉
To pay for the vacation myself and be able to enjoy it at the same time, I'd have to save up for it ahead of time without neglecting any of my other financial responsibilities.
When I earmark money for something frivolous/fun, I can manage to spend it guilt-free. When it's not earmarked, though, I find myself wanting to save it instead.
So, it's massively helpful for me to have our targeted savings accounts, where we funnel money specifically for things like vacations.
Still, I haven't really found myself booking any luxurious vacations; usually the trips we take are fairly frugally minded. Even with our faithful monthly vacation saving, we haven't had the money for really extravagant traveling, especially as a family.
Maybe when Mr. FG and I are empty nesters, we'll book an all-inclusive tropical beach vacation!
Do you have any frugal habits that you may not tell most people about or are a little embarrassing (i.e. reusing floss, diluting soap, limiting electricity usage etc.)? I love to hear little things people do that become habits to be more frugal. I know I have a few that others may find extreme.
-Ally
One thing that comes to mind is my willingness to work with food that others might throw away.
For instance, if milk goes a little sour or yogurt looks a little grainy, I have no problem at all baking with it. The heat from the oven would kill anything remotely dangerous, and an off texture is totally disguised in muffins or bread.
Also, I routinely cut rotten spots out of produce and use the rest of it.
And if hard cheese has mold on the outside, I cut that away and use the rest (this is not a good idea with soft cheese, such as cream cheese, because the mold spores don't just stay on the outside of the cheese.)
(See this Mayo Clinic post on cheese mold.)
I know people throw away food like this out of an abundance of caution, and they probably would look at me in horror.
But if you educate yourself on what's actually safe and what isn't, you can prevent a lot of food waste.
And food waste is money waste!
So, I want to know: do you have any frugal habits that are a little embarrassing? or that other people think are embarrassing?
(This is a safe space to share them; we're all frugal here! 😉 )
P.S. It's Memorial Day here in the U.S., and normally I don't publish a post on that day. But since Memorial Day this year is a bit different for a lot of us, I thought people might want something to read. And of course, for everyone outside the U.S., today is not a holiday.