Happy Tuesday! It's time for some frugal things.
Five, to be exact.;)
1. I got a free Starbucks drink
My birthday was in April, but Starbucks extended the redemption period.
Yay!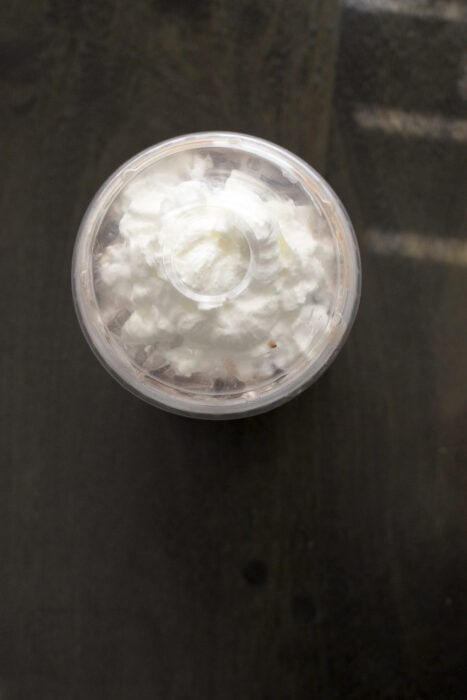 I'd never gotten a birthday drink before and I didn't realize you could get any size.
Luckily, Sonia clued me in and naturally, I got the largest size possible.
2. I used my fabric shaver on some tshirts
I bought this little shaver at Aldi some months ago, and my goodness, I really love it.
It works so well to remove those annoying little pills that make clothes look old and worn.
And it's pretty fun to do. It's kind of like the same thrill you get from painting a piece of furniture, except way less work!
Highly recommend. 🙂
My shaver is an Aldi Special Purchase, so it's not available right now. But this one looks pretty much exactly identical to mine.
(I first used the shaver on some leggings and the difference was remarkable!)
3. We used a gift certificate for our date night.
I found a $25 Panera gift certificate in my van's glove compartment (Why was it there? No one knows!), and we used it for Saturday's takeout date night.
We both just got sandwiches, so we still have about $8 left on the certificate.
4. I got a BOGO swim sale at Target.
Online, guys! Don't worry; we aren't out there swim shopping in person. 😉
Zoe and Sonia both needed new swimsuits, and Target had a great buy one, get one free sale going. I appreciate half price very much.
I used my Target Redcard debit card, of course, for the extra 5% off.
(Incidentally, I love that Target's swim models are so much less retouched now. Stretch marks, belly buttons that aren't perfectly smooth…I am here for this!)
5. I…
sold another book on eBay (one by one my stack is going down!)
got a free birthday cookie from Chick Fil A
used my regrown green onions in a soup recipe
helped Zoe make a scrunchie
What frugal things have you been up to? Share yours in the comments!
P.S. I did post yesterday, despite the holiday; among other things, we discussed embarrassing frugal habits. 😉