First, lots of you had questions about my orange tree after I posted this picture of my sunny bedroom.
So, let's talk about that first! I got this orange tree as a gift several years ago, and miraculously, I haven't killed it yet.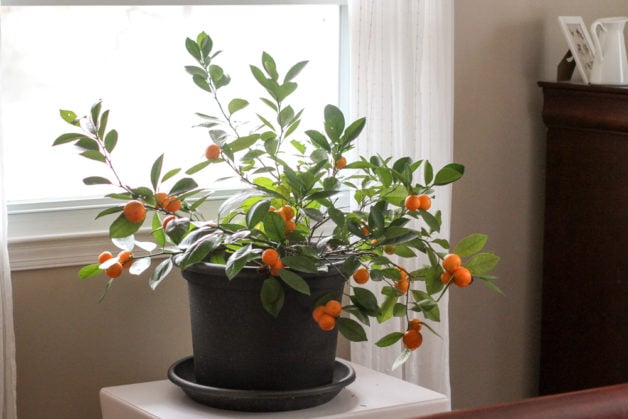 This is miraculous because:
a) I am not that good with plants
and
b) I live nowhere near Florida. Or California. Or any other normal orange-growing climate.
The only obvious conclusion is that this is an easy-to-grow tree.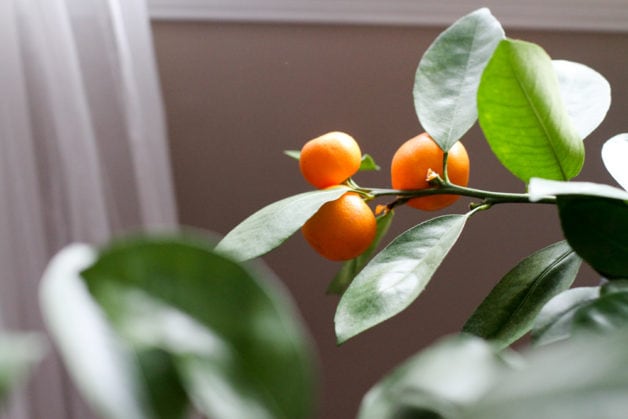 I leave it outside as long as the temps aren't in the freezing range, which means I have to bring it inside for some months in the winter.
The orange tree has never been super happy about that, but then again, it had to live by the north windows at my old house.
At this house, it's on the south side, so I'm hoping it will be a little healthier during the winter here. We shall see!
And you might remember the table it's sitting on! It's an old Philco table that I rescued from the abandoned house; click here to see what it looked like before.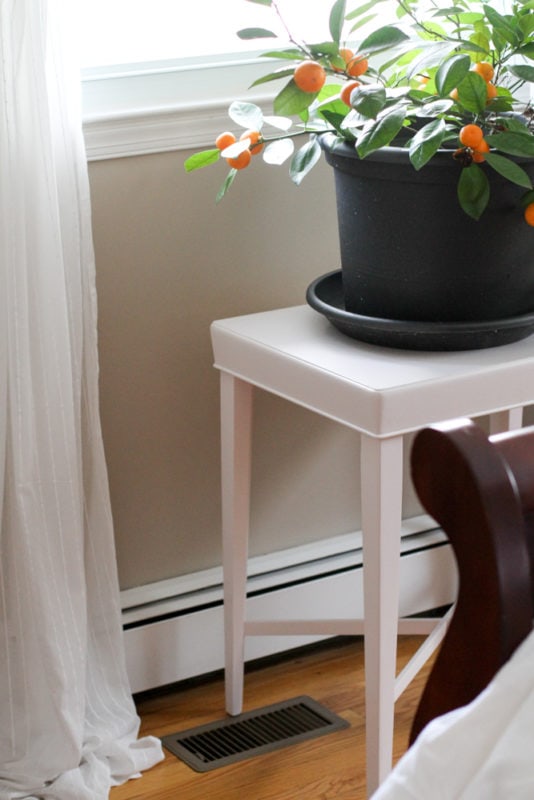 Since it's at the foot of my bed, here's the view I see when I wake up:
As for what type of orange tree this is…I'm not positive, but I think it's a Calamondin orange tree, and it produces very, very sour oranges. So, I pretty much never eat them; I just enjoy the cheerful orange color.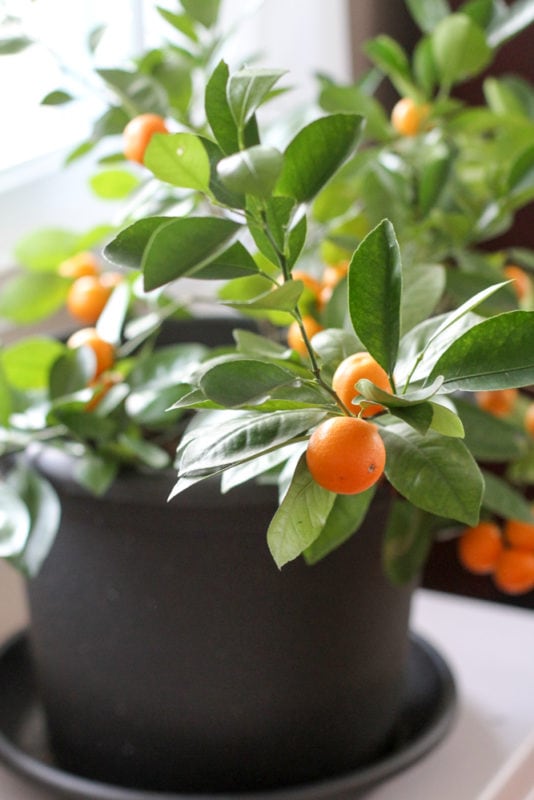 Next up two, questions from Jana:
1. What is your cat's name? Wait, is it Frugal Kitty? Frugal Cat? Fru?
2. How is it that you know you are going to nursing school? Did you get accepted before finishing all the prereqs? Just wondering how that works, and how you will remember all that you learned with that 8 month break. (Inquiring mind here. . .)
One
Haha, I like FC for Frugal Cat.
When we adopted our cat, Lisey named her Shelley. But we basically never call her by her given name…the only time we hear that name is when we take her to the vet. 😉
Here at home, we call her any one of the 18 or so nicknames she has. Or sometimes we just call her The Cat.
Two: How do I know I'll get into nursing school?
I got a really good score on the TEAS (basically like an SAT for health students), I have a 4.0 GPA, and I've taken all my prerequisites at my community college, which is also where I want to do the R.N. program.
All of those factors mean it is super, super likely that I will be accepted once I apply in the spring. I will basically fall over in shock if I am not accepted.
In terms of remembering things, I can tell you that I still remember a lot of what I learned in Bio 101, which I took two years ago (spring semester 2021). So, I'm not at all worried that I will forget everything in a mere 8 months.
I also don't think my school is worried about it! They do require that your science courses be taken somewhat recently (if you took microbiology 20 years ago, you'd have to retake it), but there's no rule about you having to go straight from your prereqs right into the nursing program.
I have worked hard in all my semesters to really understand the material (no last-minute cramming for me!), and I wonder if that is maybe what is helping me retain a lot of what I've learned.
In sum: I'm confident about getting into the nursing program, and I'm confident about my ability to remember what I've learned thus far.
How long will it be until you graduate?

-lots of readers
I am now done with EVERY SINGLE class I could possibly do before I start the nursing program, and I plan to join the R.N. program in the fall of 2023. It's a two-year program, so I should graduate in the spring of 2025.
That seems like sort of a long time from now in some ways, but hey, I have already done four semesters of prerequisites! I can do another four semesters.
___________
After those nursing questions, you might be wondering, "Kristen, why do you want to become a nurse?" Click here to see my answer.
(Funny enough, the first picture in that post shows my orange tree at my other house!)
___________
And lastly, a reader emailed this to me:
I'm writing for a kind of crazy reason. Please don't take this as a criticism but more as food for thought. You keep referring to your

rental

as your

rental

. In reality, it is your home. For now. A friend of mine always has talked about her home, not her house. At first, it seemed odd to me but over time I began to see the difference. Home is our safe place, a place where we live, share time with friends and family (and our cats) and so on.

I know you have gone thru so many struggles and hard times this past year or so. And, I know how much you long for your house and other home. You have created a wonderful home for you and the girls. While it might now be permanant, it is home now.

-K
And I wanted to say that I totally agree with this reader. I really do look at my rental as my home, and it's very important to me to settle in here thoroughly, even though it is a temporary home for us.
The actual reason I refer to this as "my rental" is that I'm trying to clarify which house I am referring to when I'm writing. I have my rental house, which I live in, and my old house, which I still own but do not live in.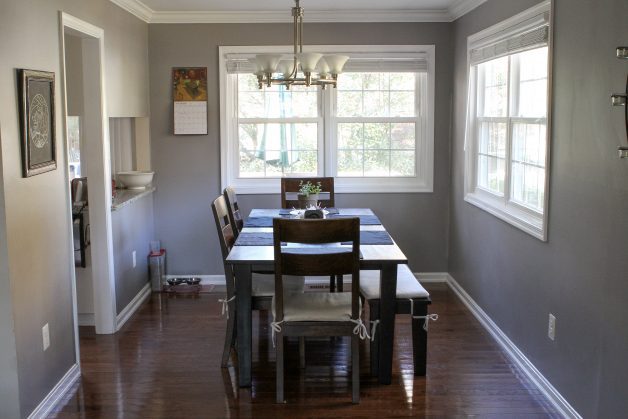 In real life, I almost never refer to this house as "my rental"; it's more that I do that online. For instance, I say to Lisey, "When will you be home?" or if I am out somewhere, I text the girls and say, "I'm on my way home."
________________________________
And that's it for this round of Q&A!
Questions? Comments? Have at it!