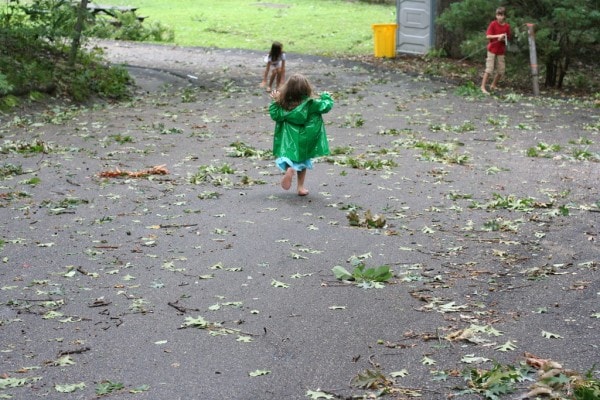 Irene came through the Mid-Atlantic area on Saturday night with lots of wind and quite a bit of rain. The worst of it happened during the night, while we were in bed, so we didn't really get to see much of it.
Amazingly enough, our power stayed on all night, and then on Sunday morning morning, as Irene left, the power conked out. Nuts. I almost thought we were going to make it!
We didn't have church on Sunday because our building had no power. Sunday never feels like Sunday when we don't have church, and I've had a hard time keeping track of what day it is since then.
What do you eat for dinner when the power is out?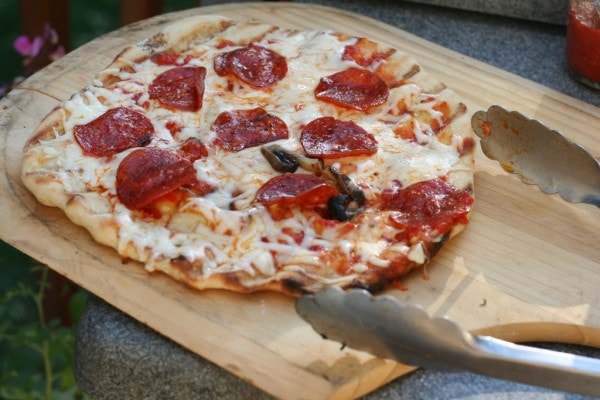 Grilled pizza, of course.
By the way, I discovered how to make proper pepperoni pizza on the grill. Grills obviously provide no heat blast from the top, so pepperoni never gets browned or cooked on grilled pizza. So, we usually stick with other toppings. This time, though, I didn't have much in the way of other toppings so I put some pepperoni slices directly on the grill until they were sizzling and then put them on top of the pizza.
Totally recommend it.
We also grilled hamburgers, and we ate cold breakfast and lunch meals (cereal, granola, yogurt, sandwiches). We ate pretty well without power, I'd say.
What else did we do while we had no power? We walked around the neighborhood to survey the damage (lots and lots and lots of small leafy branches but not a lot in the way of trees or large branches).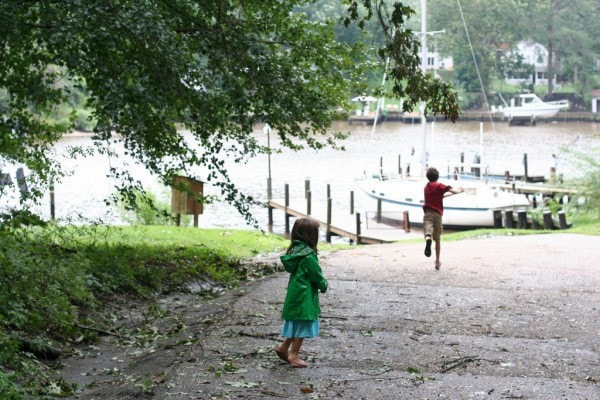 We roasted marshmallows over our fire pit, Lisey and I worked on organizing all of our craft supplies, we talked to neighbors, we watched some cartoons on the laptop, I did some schoolbook organizing, and I also organized the closet under the steps (I now have a big pile of stuff to sell/give away/freecycle).
We also did some yard cleanup, although we've got a lot more to do.
All in all, I feel like we made out pretty well.
We're safe.
Our house is safe.
Our cars are safe.
The weather after Irene was neither hot nor cold (so we didn't miss having A/C or heat).
The days are still fairly long, so we didn't have to deal with candles/flashlights much.
Our water still runs when we have no power. Huge blessing!
Our hot water heater provided us with two days of not-exactly-cold showers even without power.
Our neighbor's generator kept my freezer cold.
Irene happened on a weekend, so Mr. FG didn't have to go to work when the weather was bad.
And we have power back on already, which I feel is pretty darn fabulous.
(Some people in my area were angry at the power company yesterday morning because they didn't have everything fixed 24 hours after Irene vacated the area. Real reasonable, huh? Especially considering that many people on the East Coast would love to only be dealing with the loss of power.)
We'll be back to regular programming around here tomorrow. 🙂
___________________________
Today's 365 post: Crafty Organizing
Joshua's 365 post: Tiger Lily