Sonia saw this Parmesan polenta recipe in a Cook's Country magazine and requested that we try it. So she deserves credit for putting this into our rotation!
In case you're not familiar with it, polenta is a cornmeal pudding, which is often chilled and then sliced and baked or fried.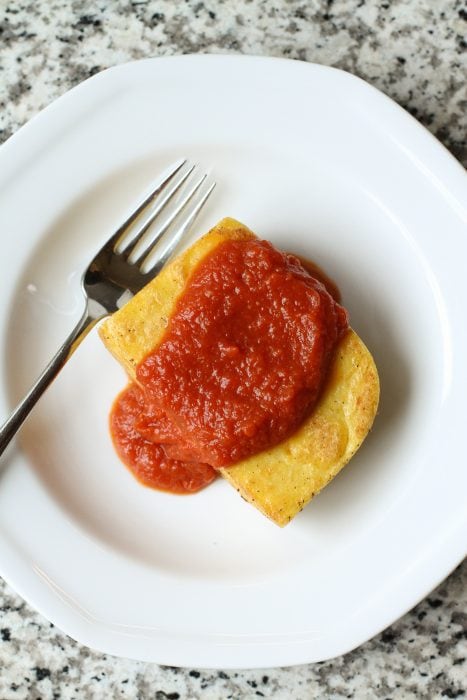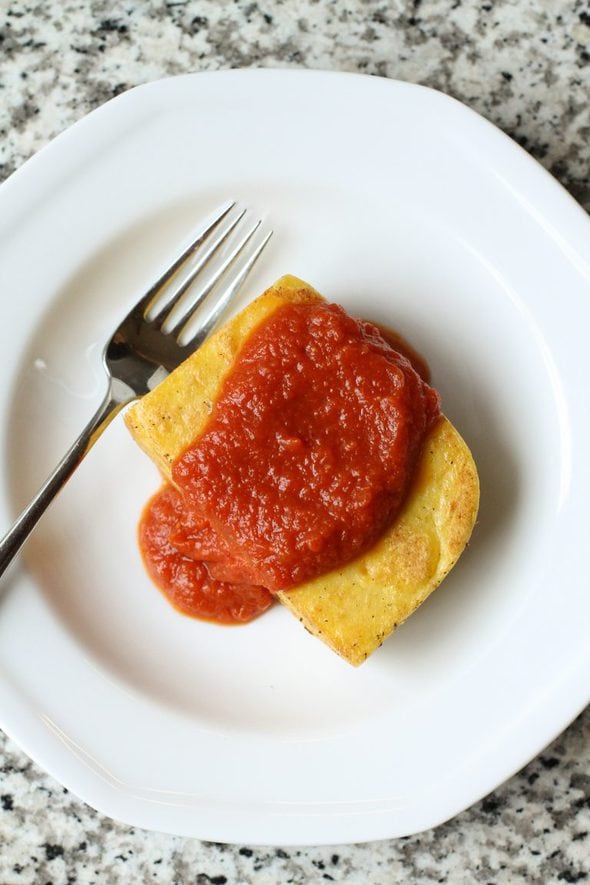 (The fried mush we eat is an example of that.)
In this case, the polenta has some savory flavorings, such as garlic, pepper, and Parmesan cheese, whereas the fried mush mixture I make is just cornmeal, water, and salt.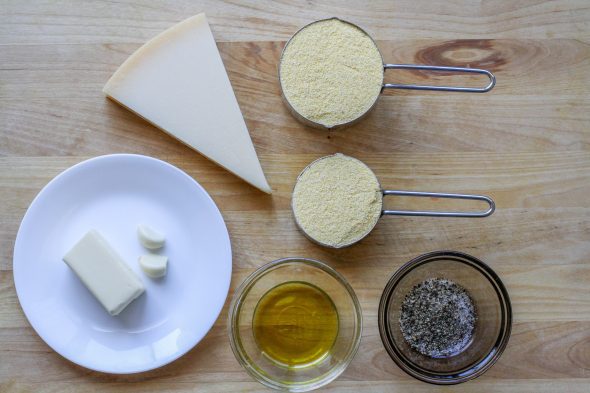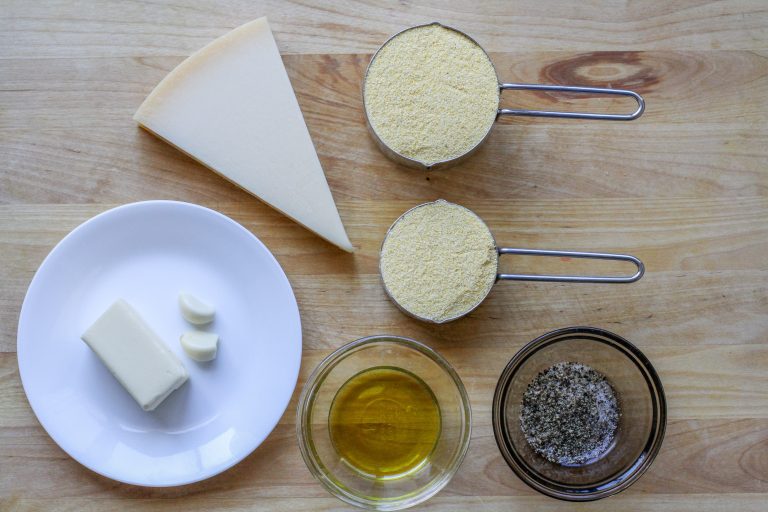 Parmesan polenta is a good vegetarian main dish, but you could also serve it as a side along with something like Italian chicken sausages.
There's a printable recipe card at the end of this post, and here are some photos to give you an idea of how this goes!
To start, heat oil and butter in a pan until the butter melts.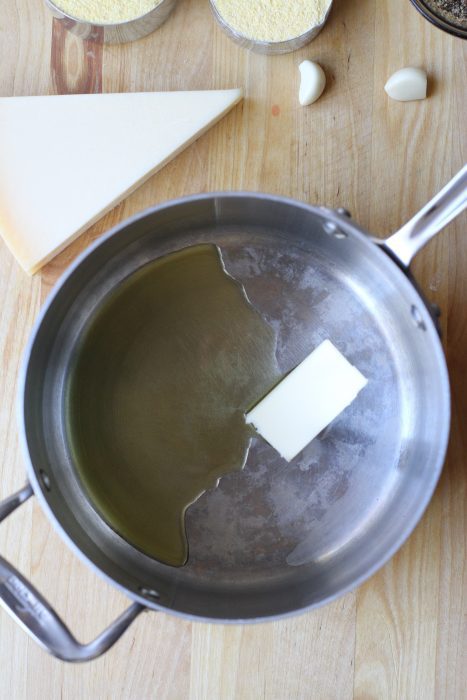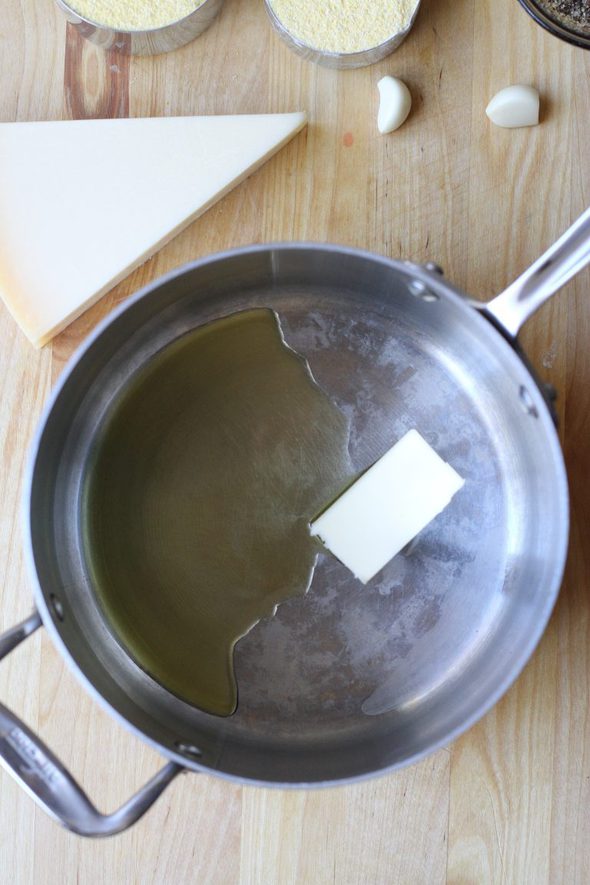 Then smash a few peeled garlic cloves. I just whack them a few times with my meat mallet.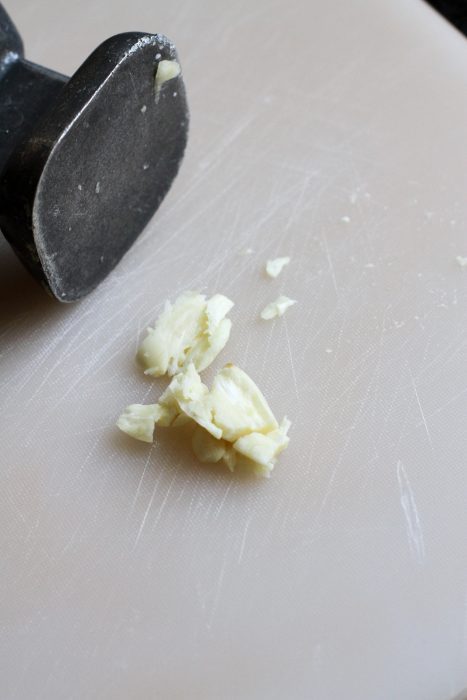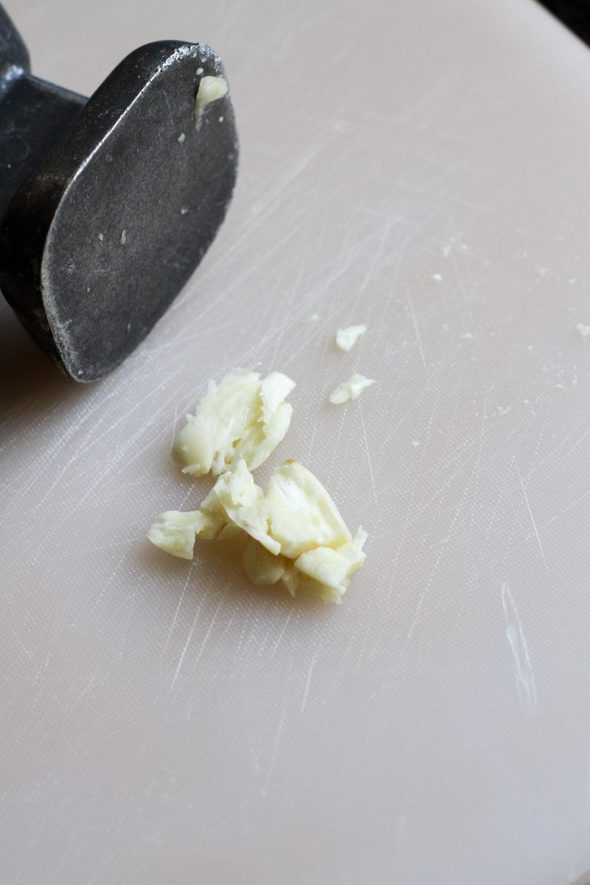 Add them to the butter/oil mixture, and cook until they're slightly browned.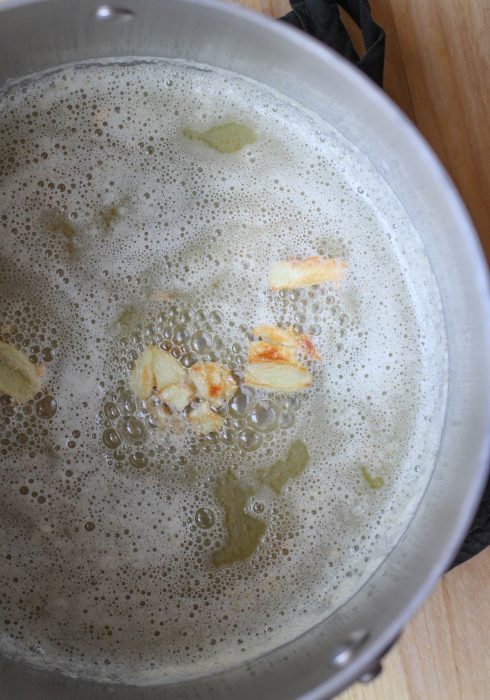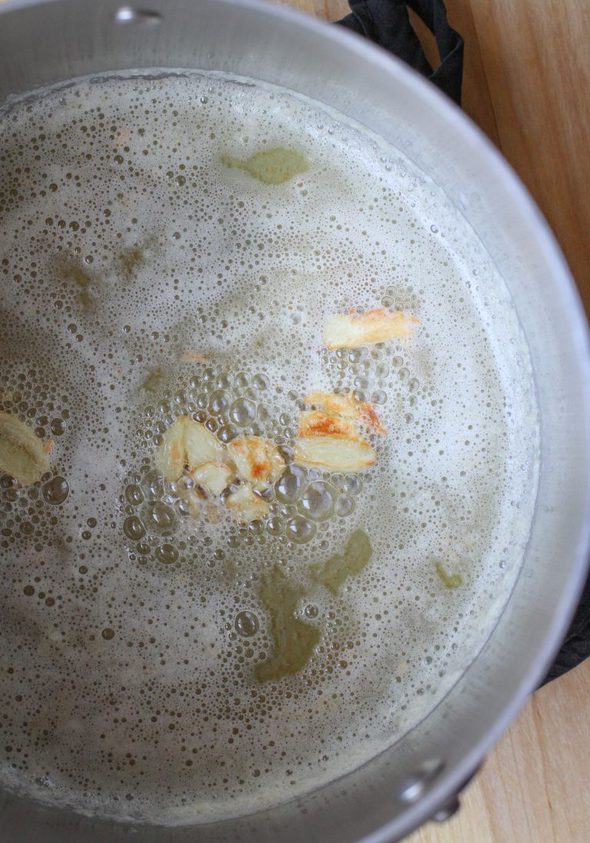 Remove the garlic, add water, bring to a boil, and then sloooowly add the cornmeal, whisking as you go so as to avoid lumps.
The mixture will thicken up a little immediately.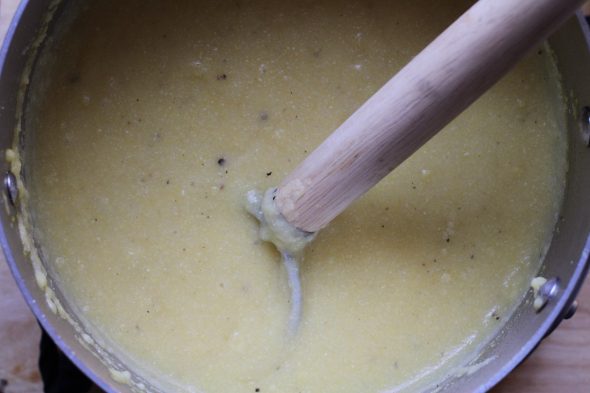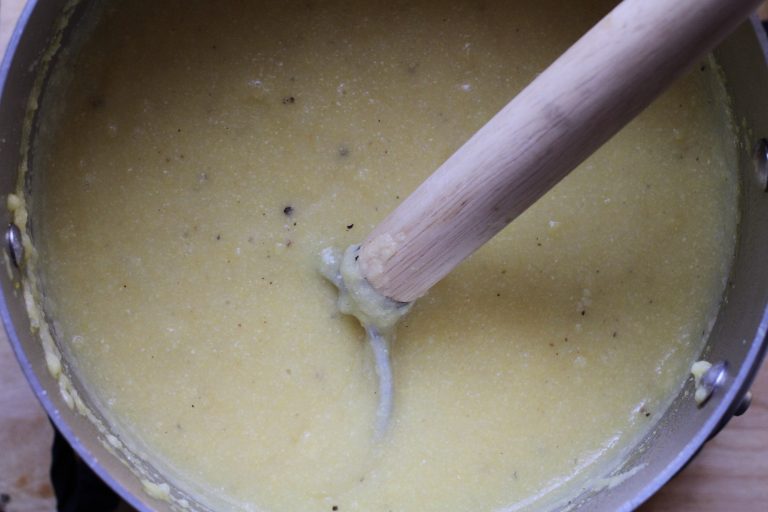 But you need to keep cooking it over low heat for another 20 minutes, stirring every few minutes so that it doesn't stick to the bottom of the pot.
This is not exactly labor intensive, but you need to be in the same room as your stove!
So, I like to make this when I have other kitchen tasks I need to do anyway. Then I can just stop every few minutes and give the polenta a stir.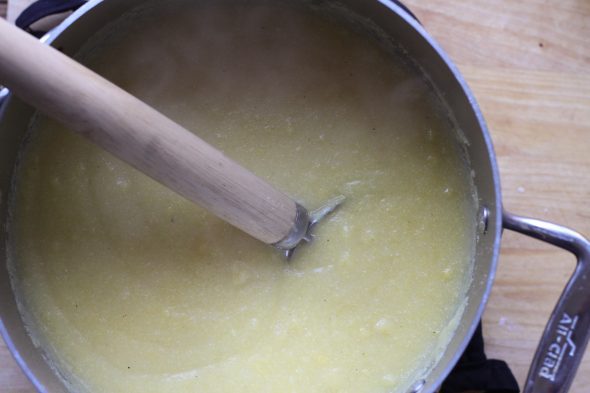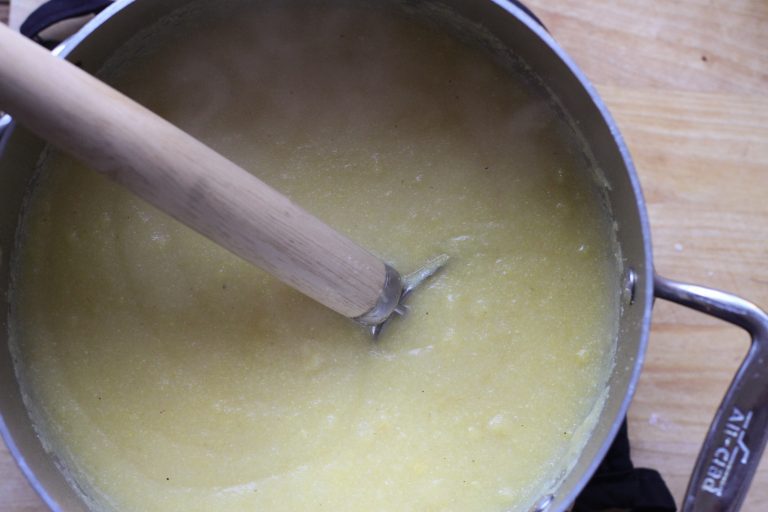 It's hard to see in the photo, but after 20 minutes, this should be VERY thick.
Stir in half and half and Parmesan cheese.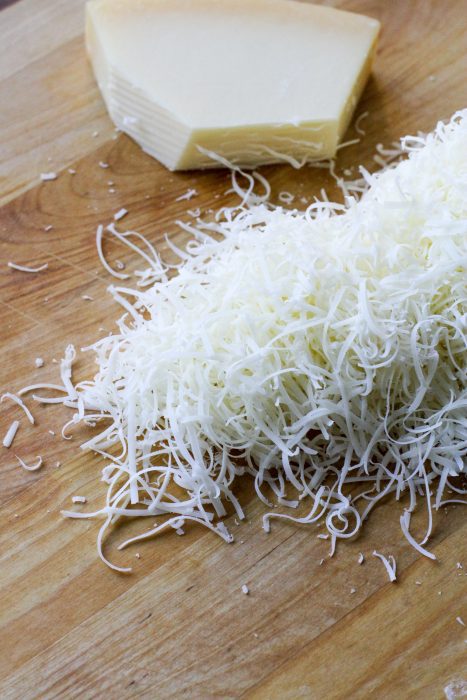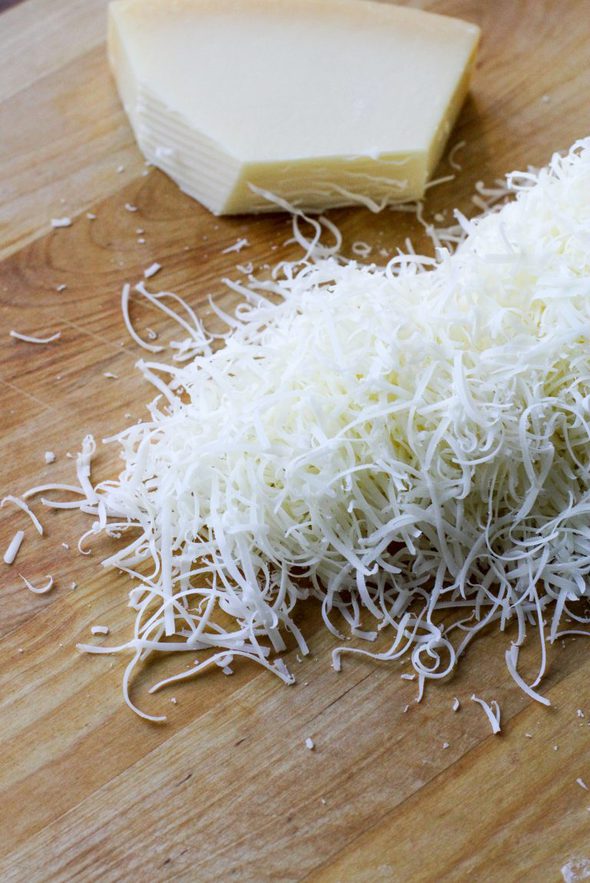 Then pour the mixture into a greased 8×8 pan, and let it cool on a wire rack.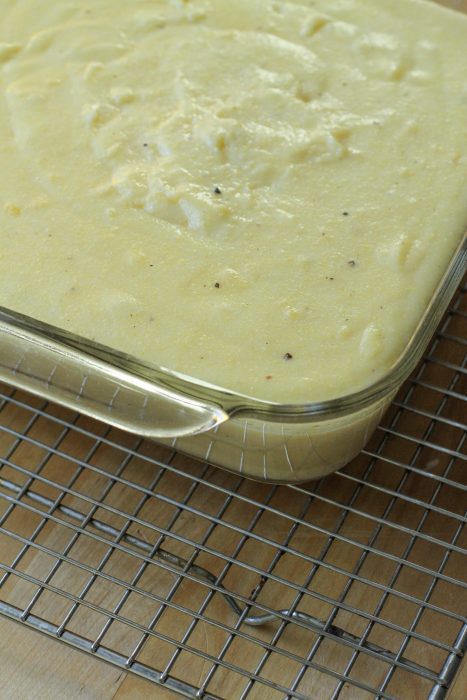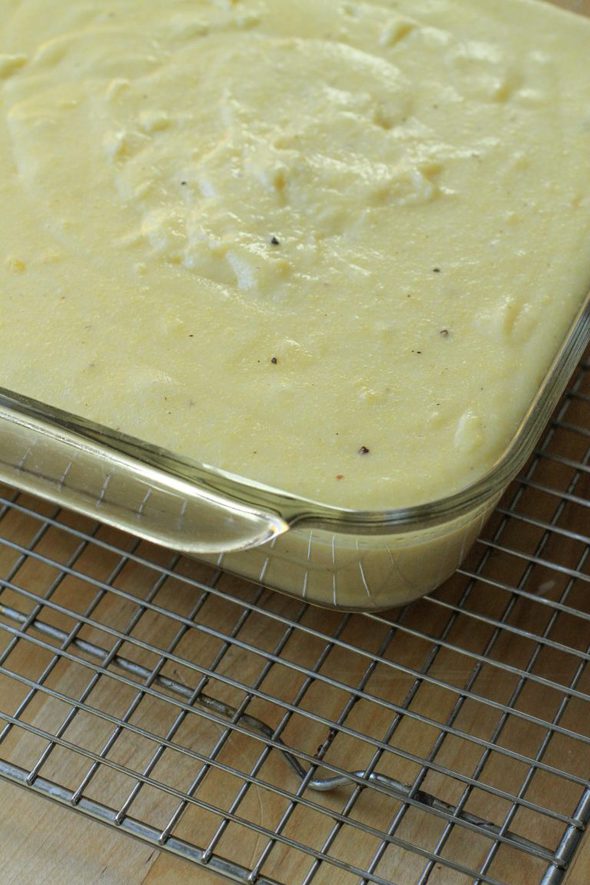 Once it's room temperature, refrigerate for 2-3 hours, or until completely cooled.
You could top your polenta with jarred tomato sauce (easy!)
But if you want to put into a little extra effort, you can use the polenta-cooling time to make a quick pot of homemade tomato sauce.
(Using canned tomatoes; this is not hard!)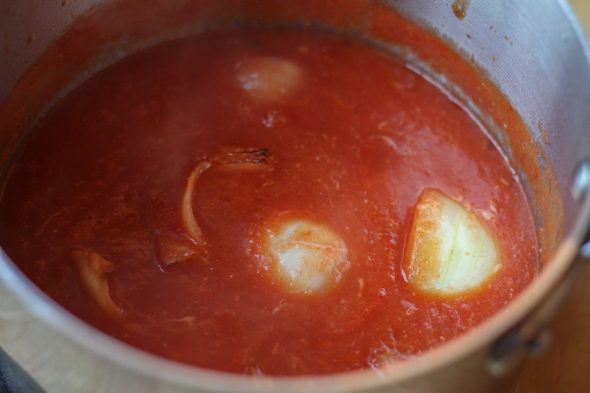 Once the polenta is chilled, heat your oven to 375 ° F.
Turn the polenta out onto a cutting board, cut into 6 pieces, and place onto a greased baking sheet, or a baking sheet lined with parchment.
Bake for 30 minutes, or until the bottoms are just beginning to brown. Serve topped with tomato sauce.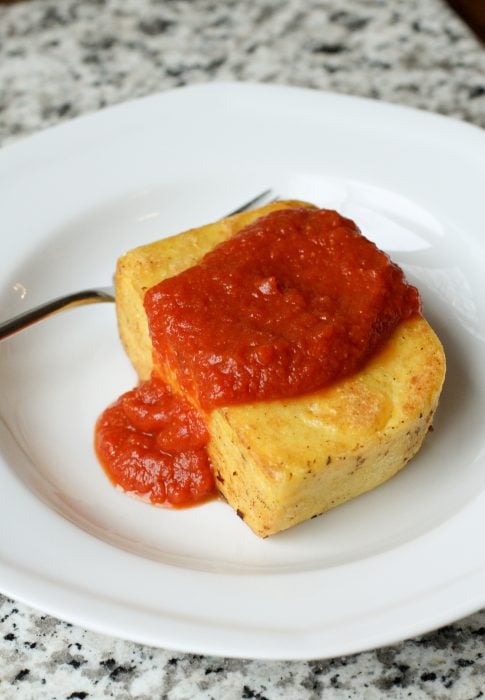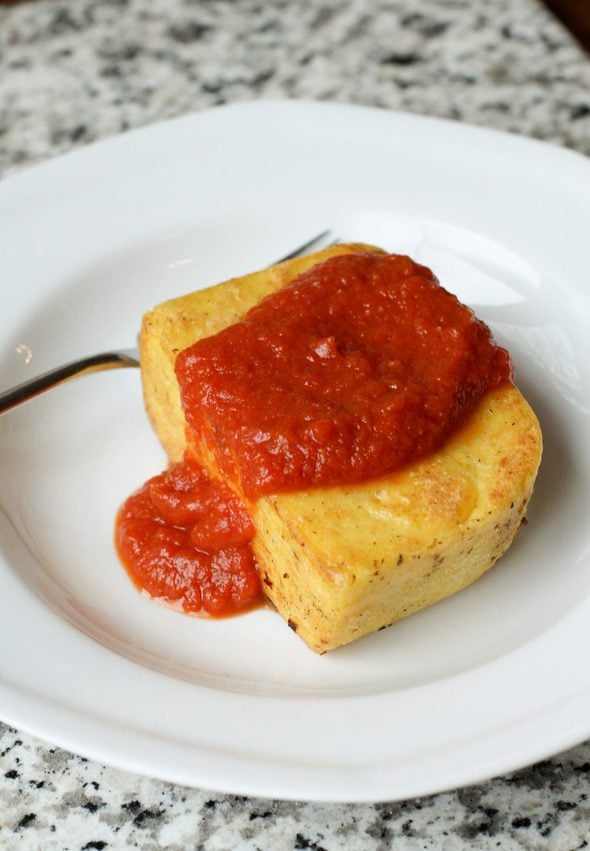 Leftover pieces are good heated in the microwave and make for a lovely lunch the next day.
But I think the best leftover method is to microwave the pieces and then brown the sides in a pan on the stovetop. So good!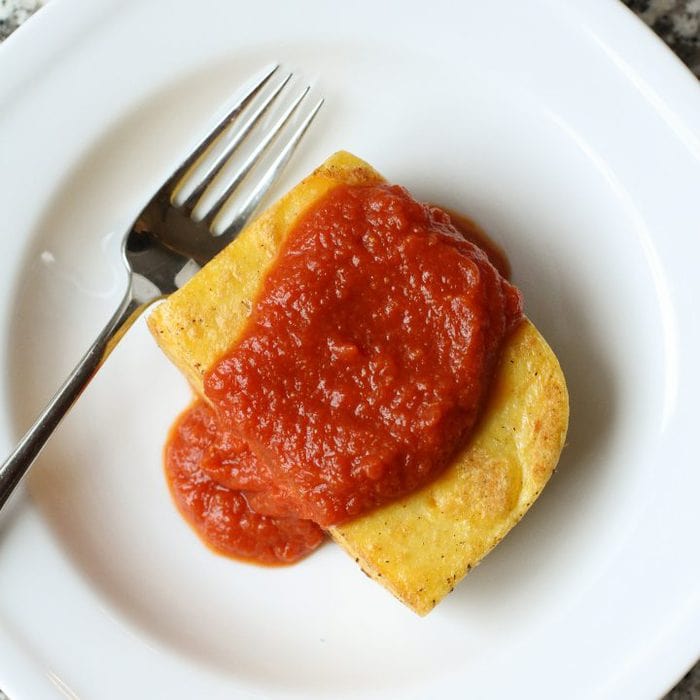 Baked Polenta with Red Sauce
Additional Time:
4 hours
3 seconds
Total Time:
5 hours
10 minutes
3 seconds
Fluffy baked Parmesan polenta, topped with an easy homemade red sauce.
Ingredients
POLENTA
4 tablespoons butter
2 tablespoons olive oil
2 garlic cloves, peeled and smashed
7 cups water
1 1/2 teaspoons salt
1/2 teaspoon pepper
1 1/2 cups yellow cornmeal
2 ounces Parmesan cheese, grated (1 1/2 cups)
1/4 cup half and half
RED SAUCE
14.5 can whole peeled tomatoes
1/4 cup extra virgin olive oil
1 onion, peeled and halved through the root end
15 ounce can tomato sauce
1 ounce Parmesan, grated (1/2 cup)
1 1/2 tablespoons sugar
3/4 teaspoon salt
1/2 teaspoon garlic powder
Instructions
Combine butter and olive oil in medium sauce pan; heat over medium heat until butter melts. Add garlic; cook 4 minutes, or until garlic is golden brown. Remove garlic.
Add water, salt, and pepper to pot; bring to boil over medium-high heat. Stirring constantly, add cornmeal in a steady stream. Reduce heat to medium low; simmer, stirring every few minutes, until cornmeal is tender, about 20 minutes.
Remove pan from heat; whisk in Parmesan and half and half. Pour into a greased 8x8 inch pan and let cool to room temperature on a wire rack.
Cover and refrigerate for 3 hours, or until completely cool.
To make red sauce: Process whole tomatoes + the liquid from the can in blender or food processor until completely smooth.
Heat 1 tablespoon oil in medium saucepan until shimmering; add halved onion and cook until lightly browned, about 4 minutes. Add pureed tomatoes, tomato sauce, Parmesan, sugar, salt, garlic powder, and remaining 3 tablespoons oil. Simmer 15 minutes over medium low heat. Remove from heat, remove and discard onion, and keep sauce warm over low heat.
Line rimmed baking sheet with parchment paper; grease parchment. Heat oven to 375°F.
When polenta is fully chilled, remove from fridge, cut into six pieces, and place each on on prepared sheet. Bake until heated through and pieces begin to brown on bottom, about 30 minutes. Serve each piece topped with red sauce.
Notes
Cook's Country recommends using Quaker yellow cornmeal, so that's what I do. Cooking time may vary with other cornmeal products.
The original recipe called for Pecorino Romano, but I always use Parmesan since Aldi carries Parmesan wedges!
I use a Danish dough whisk to stir the polenta; it prevents lumps without getting stuck in the thick polenta.
Recommended Products
As an Amazon Associate and member of other affiliate programs, I earn from qualifying purchases.