I have more than just a few words to go with this week's Tuesday photo, because, avocados. 😉
I seriously love avocados.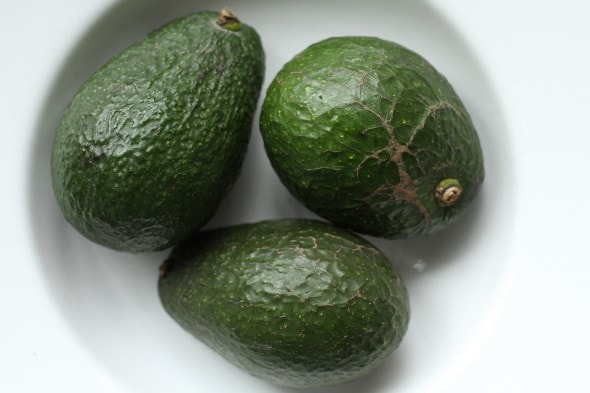 A reader emailed recently to ask about how to buy, ripen, and store avocados, so here are a few tips.
I choose avocados are rock hard and then I let them ripen at home. Buying ripened avocados never seems to work out well for me because they always seem to be bruised or they're unevenly ripened.
I also look for avocados with their stem nubs still attached. I'm not entirely sure that this makes a difference, but I read that it does, and I figure that it certainly can't hurt!
I store my avocados on my dining room table in a bowl. They ripen just fine in the open air there, and I generally leave them until their skin has turn a darker green color and they give just a bit when gently squeezed.
If the stars have aligned properly, they ripen exactly when I need them to. If they ripen before I plan to use them, though, I just refrigerate them.
Refrigerating doesn't noticeably change the texture or flavor of a ripened avocado, and it slows the ripening process to a crawl. So, as long as I use them within a few days of refrigeration, I'm good to go.
If I need to hurry up and use avocados, I throw them into smoothies, slice them up and eat them as a side with fried eggs, or chop and freeze them for future smoothie use.
______________
Have you got avocado advice to add to mine? Share in the comments!
______________
P.S. If you have an Aldi, I highly recommend buying avocados there. Not only are Aldi avocados inexpensive, I've also had the best luck with them ripening properly. When I buy them from other stores, I have way more trouble with them going straight from unripe to overripe.
Then again, I'm kind of a big fan of Aldi produce.