On Tuesdays and Thursdays, I post a photo and just a few words.
It's just me over here, cooking dinner AND IT'S STILL LIGHT OUT.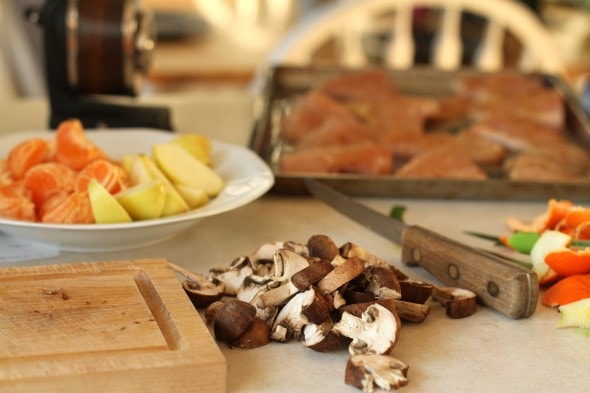 Sorry.
I'm just a little bit excited about the lengthening days.
Have you noticed? Every day, there's just a little bit more time before the sun goes down, and it makes my heart happy. Even though it's snowed the last two days, I know spring is on its way.
I didn't even have to turn the dining room light on during dinner yesterday. What the what??
Incidentally, have you ever thought how lovely it is that the darkest day of the year happens before Christmas, while we're still all "Ooh, it's holiday-sparkly lights-presents season!" and we barely notice how dark it is?
And then once the holidays are over, the days are already lengthening, bit by bit.
(In case you were wondering, I was in the midst of making Aussie Chicken when I took this photo last night.)
__________________
P.S. Over to the right there, I put up an ad unit that you can click to get a $10/$50 coupon for Sherwin Williams, so if you're needing to get some painting done, maybe that'll be helpful for you. When you sign up for the coupon, you also will get 10% off all of your Sherwin Williams purchases.