On Monday, I told you all about why I finally decided to take the plunge into the world of smartphones.
And today, I'm going to share the details about how we have two smart phones and a $21/month bill.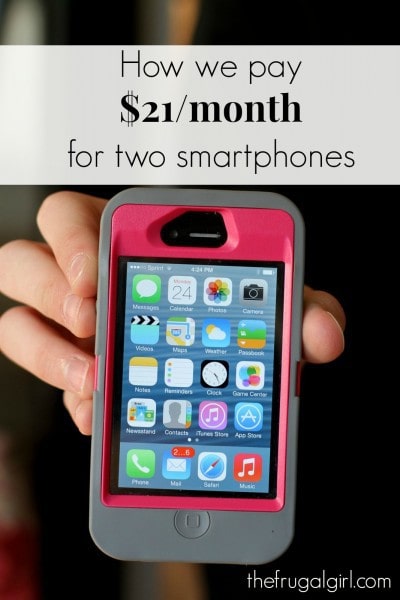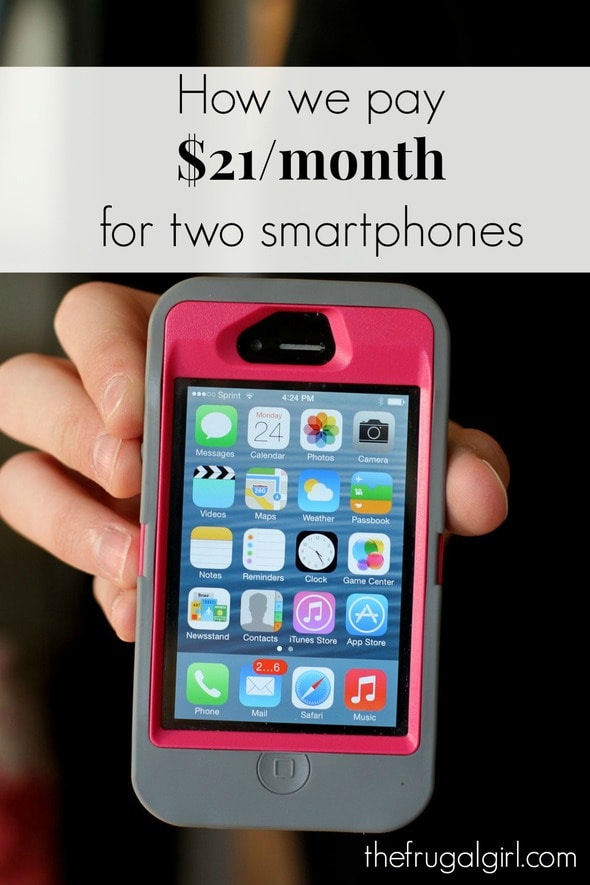 The provider that we use is Ting Wireless. Basically, it's a bit like a pay-as-you go sort of plan, and there's no contract involved (yay!).
Ting Rates
There are several different "buckets" of usage that you can fall into, and you're only charged for the bucket size that you use each month.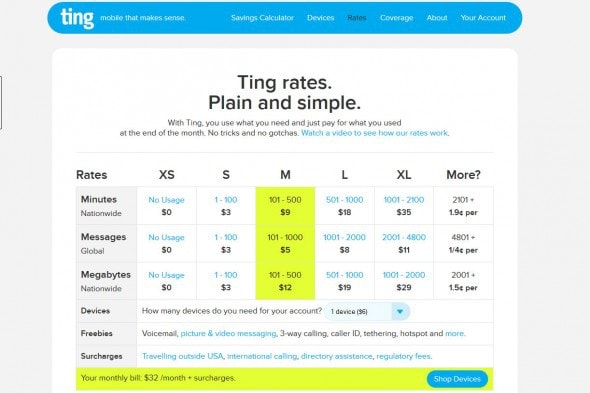 Phone minutes, texting, and data usage are all separated, so if you use no data, but you text and use phone minutes, then you'll only pay for those and you'll pay nothing for data.
Normal contract plans box you into predetermined allotments (Don't use data? You'll probably still have to pay for it.), but Ting's plan is customizable and flexible.  If you never use text messaging, you'll never have to pay for it.
Mr. FG and I share an account, and so far, we've stayed in the S range, which means we've paid $21/month for our cell phone bill.
That's $9 of Ting charges, and then a $6/device monthly charge (which you do pay no matter what.)
Even if you don't stay in the S bucket, though, the medium bucket is just $32/month, plus taxes and fees, so it's still super reasonable.
Ting Devices
Ting operates on the Sprint network, so you'll need a Sprint device to use the service.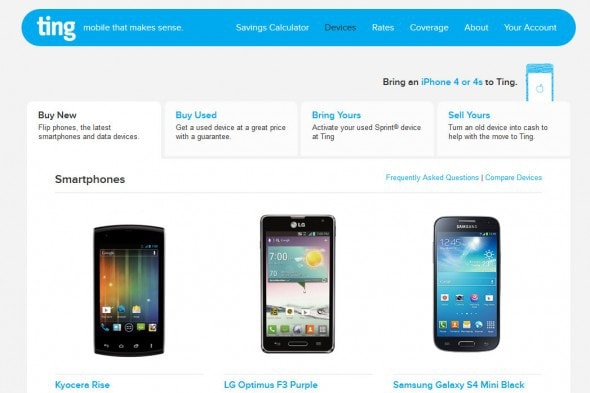 We didn't have smartphones, so this was easy for us…we just bought refurbished Sprint iPhones off of Amazon and we were good to go.
You can also buy a wide range of new or used phones right through Ting's site.
If you already have a non-Sprint smartphone, you can even sell it through Glyde, Ting's partner, and use the cash to buy a Sprint phone.
You'll probably lose some money on the actual phone, but considering how low Ting's rates are, you'll likely be money ahead in a few months even if you do have to buy a new phone.
(Note: You can use Ting's service with a simple flip phone too.  They have several non-smartphone options on their site.)
Set-Up
Once you have your phone, the process of getting it set up with Ting is crazy easy and fast.  Mr. FG had it done in something like 10 minutes per device.
Staying in the S/M Bucket
To keep your cell phone bill low, you'll want to hang out in the S/M bucket.  This means that you can't operate as though you have unlimited minutes, texts, and data, but the savings are totally worth it to me.
What's the point of having a smartphone if you barely use it?
Well, wifi usage is free, which means that if you're careful, you can still use your smartphone a whole lot without paying for data.
To keep our usage low, Mr. FG and I try to only use the web on our phones when we have access to wifi.  So, I pretty much never tweet or use Instagram on my phone except over wifi (which I have at home, of course, and which is also available in a surprising number of locations these days.)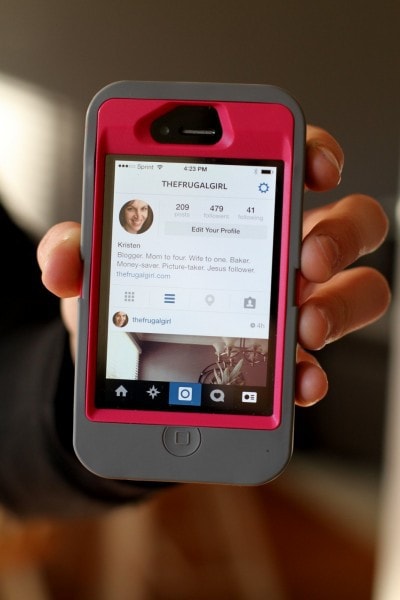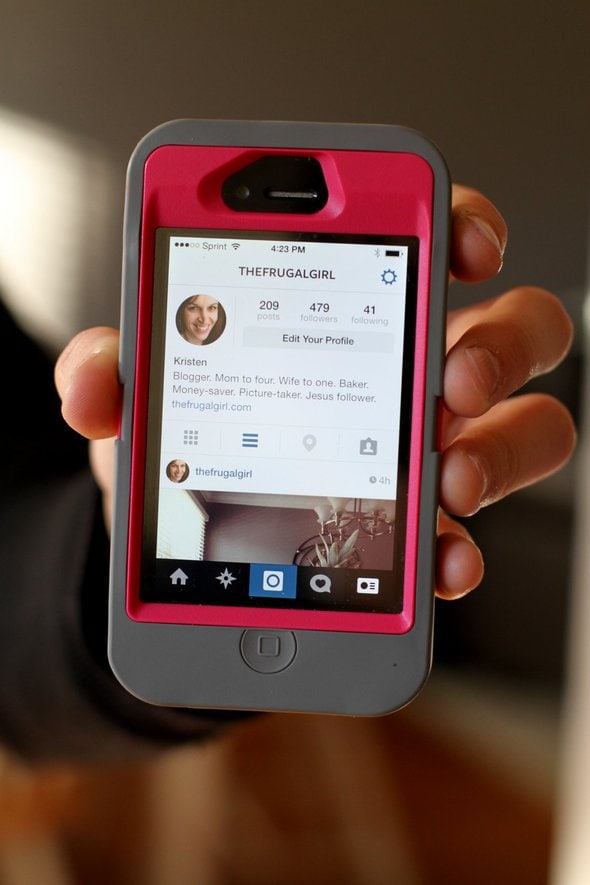 Also, texting from our iPhones to other iPhones over wifi doesn't count as text usage, which means we can text other iPhone users to our heart's content.  There are also apps (such as TextFree), which give you free wifi texting capability.
A hidden advantage of this pay-as-you-go plan is that there is significant motivation to control your usage.  If I had access to data usage no matter where I was, I would be sorely tempted to be on my phone way more than I am.  But because I know I'm going to have to pay for it, I'm not at all tempted to pull my phone out at the park or in the car or at a friend's house.
This might seem inconvenient to some people, but I really, really appreciate the limits this places on me.
(I could go past the limits, but then I'd have to pay for it, and we all know I don't want to do that!).
Also, if you want to avoid a $120/month cell phone bill, the fact of the matter is that you will have to get used to a more pared-down level of cell phone usage.  It's just like when you decide to get rid of your cable bill by switching to Roku…you can still watch TV, but it won't be exactly the same as it was when you had cable, and you have to be more creative than you were before.
Get $25 toward Ting service
I was about to hit publish on this and realized I almost forgot to tell you that if you sign up with Ting through any of the links in this post, you get $25 toward a phone or toward a month of Ting service.
The links are my referral links, which each of you will get when you get a Ting account.  For every person you refer, you get $25 toward your Ting bill, so if you share the savings with others, you can lower your bill even more!
_____________________
We've been really, really happy with Ting so far.
It feels like we have the best of all possible worlds…we have access to smartphone features, we have motivation to keep our phone usage under control, and we have a ridiculously low bill.
I hope that I've explained all of this clearly, but if I haven't, please do feel free to ask any questions you have, and I'll do my best to answer them.
(By the way, Ting hasn't sponsored this post.  They don't know I exist, except as a paying customer. And I'd write about them even without affiliate links involved, because I'm a really big fan.)
(Edit: Ting contacted me after I wrote this post and asked me to join their affiliate program, which I happily did! The deal is the same, though…if you sign up through any links in this post, you get $25 toward a device or toward your first month of service.  Yay!)