I have a general grocery question that has been giving me trouble for some time. I plan meals and try not to go grocery shopping more than once a week. (We started this practice when we realized that our "last minute" shopping trips on the weekends were costing almost as much as my carefully planned trip to buy food for M-F!)
My problem, however, always comes down to produce. I go shopping Monday morning, and many things just won't last until Sunday. Do you plan specifically by what will last? Just use frozen vegetables at the end of the week? Any advice would be appreciated!
-Elizabeth
Oooh, that's so true about the last-minute trips. It's way too easy to plunk down $20-30 when you really just meant to pick up two things.
I do plan my produce shopping and eating around what will last the longest. Fruits and vegetables that are the most perishable (strawberries, grape tomatoes, spinach, cilantro, etc.) go on the menu shortly after shopping, and produce that lasts longer is scheduled for later in the week. When properly stored, lettuce, celery, cucumbers, citrus fruits, apples, pears, carrots, peppers, watermelon, green beans, and tomatoes all seem to last a week without a problem (some of those will make it even longer than a week, in fact).
Also, some of the produce that I buy isn't ripe and ready to eat when I buy it (this is especially true of pears, avocados, mangoes, and pineapple), so this gives me a little more time to use those up.
Of course, a large part of preventing produce waste is keeping an eye on what needs to be eaten throughout the week. Although I make a plan for what I buy, it's flexible and subject to change if something ripens faster than I think it will.
Though we don't eat a lot of frozen vegetables (I just prefer the taste of fresh, and I prefer a lot of my vegetables raw), I do keep frozen fruit around to use in smoothies. Obviously that kind of fruit lasts just fine for a week or more.
Do you have juice at every meal? I spy 2 bottle of sparkling juice, a carton of oj and a couple cans of frozen juice. Can that be cut out to help with the budget?
-Fran
(this question was left in the comments of Saturday's grocery post)

Oh, goodness no! We'd need a LOT more juice than that if we drank it at every meal…six people could go through a frightening amount of juice in two weeks.
At breakfast, the kids and Mr. FG each have a small glass of OJ (I don't really drink juice).
At lunch, we drink water or yogurt smoothies.
At dinner, we drink water except for when Mr. FG and I have our weekly date night (we drink a bottle of sparkling juice with our meal then).
Mr. FG and I could drink water with our takeout, but it's kind of fun to have a special drink once a week, and sparkling juice is a lot cheaper than anything alcoholic. And Mr. FG and the kids could go without juice at breakfast (they do when we run out!) as it's not particularly nutritious, but it's not a hill I'm going to die on at this point. I'm just pretty pleased that we're all drinking water 95% of the time, especially because that is not a habit Mr. FG brought with him when we got married.
I've noticed in the pictures of children in their swim suits that your daughters always have modest one piece suits. Is this an intentional decision that you and your husband have decided upon or just happened? If it's an intentional decision, what reasons do you give your daughters when they ask (if they have) if they can wear a two piece suit?
-Sarah B
Actually, Zoe had a two-piece fish swimming suit that she wore for a lot of years. It wasn't a string bikini, but it was two pieces, and I thought it was super cute (also, I think it's amazing that my mother-in-law bought it when Zoe was born, when of course we had nooo idea Zoe would be so into fish!).
Sonia wore that suit some too…it worked when she had a diaper to help hold the bottom up! 😉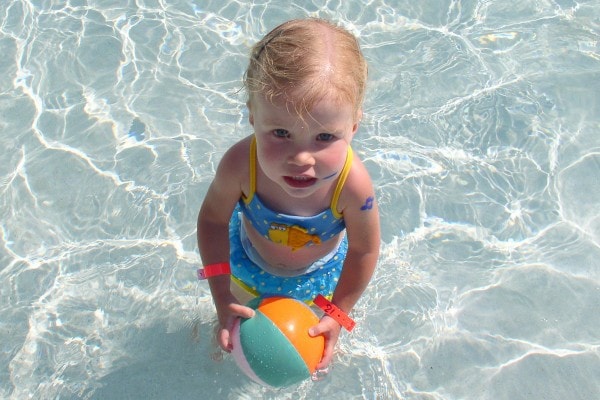 I really, really cannot get myself all lathered up about modesty for babies, toddlers, and little girls…I mean, I wouldn't let them run around naked in the street, but a two-piece suit just doesn't bother me. Mostly for little girls, I prefer to stay with suits that look like little girl suits, not mini versions of what you could buy at an adult bikini store (and the same goes for clothing).
I'm not opposed to two-piece swimming suits in the form of tankinis. In fact, that's all I've worn for ages now, and they're awfully handy when you need to visit the bathroom.
However, most of my girls are all so slender, a two-piece suit rarely will stay up, and so we've mostly opted for one-piece suits. Thus far, that's what they've been happy with, as they're not really fans of having their suits fall off!
As our girls get older, we'll have a multitude of conversations with them about clothing choices, but hopefully, most of those conversations will involve talking about their heart attitudes and motivations, and helping them see what's driving their clothing desires. Outward conformity isn't what we're after as much as a heart that wants to please God.