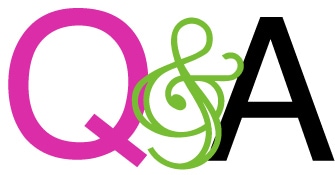 Every Monday, I answer a few of the questions that my readers send me. If you have a question you'd like me to answer in a future Q&A post, just leave me a comment here or email me (thefrugalgirl [at] gmail [dot] com) and put Q&A in the subject line.
I bought a giant bag of mini-peppers at Costco, forgetting I'm going out of town for a few days. (Brilliant, I know.)
Can you tell me the best way to freeze them so they don't turn to mush when I pull them out? Or is the trick to just take them out of the freezer right before using them? I'd hate to waste these cute veggies.
Thanks much,
-Annette
They MIGHT actually be ok while you're gone…peppers hold up really well.
If you want to freeze them, you'll need to chop them and put them in a bag or container (I hear sautéing them first improves the end result).
Thawed fruits and veggies will never be crisp like they were originally because when they freeze, the water expands and bursts the cell walls. However, this type of produce works just fine if you'll be cooking them, and frozen fruits are great for using in smoothies.
Hope that helps!

In your posts on Aldi you mention that you like supporting this company because it gives employees a fair wage, benefits, etc. You've also shown clothes from Target and Old Navy whose factories abroad have made the news for sweatshop conditions. How do you reconcile this?
Perhaps you've stated before that you prioritize food sustainability over clothing sustainability and I just missed it so I figured I'd just ask! I hope you don't mind.
Thanks,
Amy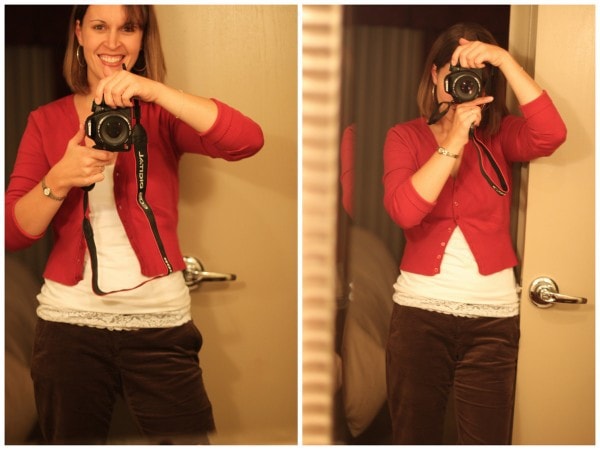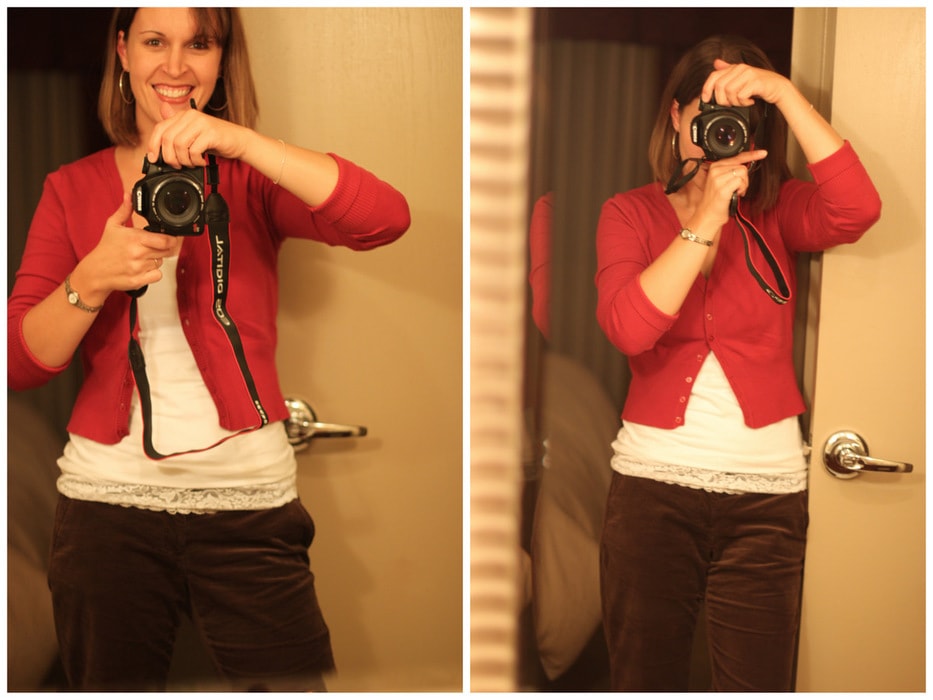 (one of the outfits in question…pant are from Old Navy clearance)
That's an interesting question!
A few years ago, I shopped the clearances at Old Navy and Target a lot more than I do now, and that's when I bought most of the clothes that I showed you in that post. Since I discovered Goodwill, though, most of the clothes I buy for myself come from there.
Of course, some of the clothes I buy from Goodwill may very well come from sweatshops, but once something hits Goodwill, I feel like that's quite irrelevant. Shopping at Goodwill in no way supports sweatshops, since their inventory comes from donations.
I do still end up needing to buy some items new, and while I'd love to buy quality clothes that are made in the U.S. by companies that pay their workers fairly, I've been a little dumbfounded as to how to go about doing that. It seems like almost every clothing company imports their products (even L.L. Bean and Eddie Bauer stock mostly imported goods) to save on costs.
So, I guess my answer is that I try to depend on secondhand clothing for myself and my family as much as possible (in the form of freecycle, hand-me-downs, and thrift store shopping), and when I'm forced to shop at a regular store, I try to shop the clearance racks (Noble, no. Thrifty, yes.)
I also function on a fairly limited wardrobe and I tend to buy not-so-trendy styles that stay in fashion a fairly long time. And as those of you who've read Reuse, Refresh, Repurpose know, I make my clothes last even longer by modifying or dying them, and when they're too worn out for that, I make something else out of the fabric.
All of that means that even when I do buy new goods, the frequency and volume of my shopping is less than the average consumer's.
I think that if all of us didn't feel the need to have bulging closets stuffed with new fashions every season, we could afford to pay a little more for the clothing we did buy, and sweatshops wouldn't need to be so prevalent.
If you or any of my other readers have ideas about where to buy U.S. made clothing from companies that treat their employees well, I'd definitely be interested in learning about that!
________________________________
Today's 365 post: Looks like Christmas