Erika may not be a super familiar presence in the comments, but she and I have been corresponding via email for many years; if I don't hear from her for a while, I send a note to check and see how she and her husband are!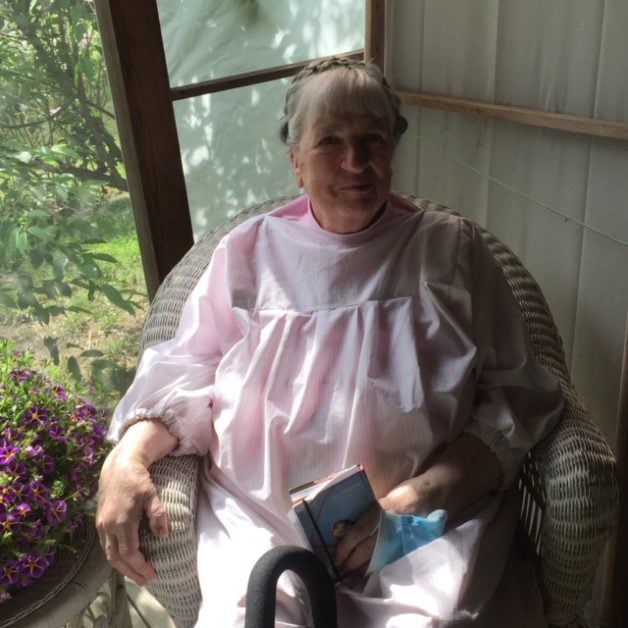 (from Kristen: The light stripey fabric on Erika's home-sewn dress reminds me of a little pink dress Zoe used to wear; you can see photos of it here.)
When she first wrote to me, I remember realizing she was the first reader I knew of that was in her 80s, aside from my own grandmother. I remember feeling so honored that someone older and wiser than me would bother to read my blog and I still feel that way.
Anyway; because I knew she has had an interesting life, I invited Erika to be interviewed quite some time ago. But she's had some health struggles and hospital stays lately which has delayed us.
She's home now, though, (yay!) and she kindly sent answers to my questions.
1. Tell us a little bit about yourself.
I lived in various European countries from birth.
My father was an Irish-American writer from Boston, my mother was a Lithuanian, and I was raised by my mother's parents.
I went to convent schools in Belgium and England, then a British High School, then Cambridge University (Newnham College).
Later I got a Ph.D. in classical and Near Eastern languages, then later an M.S. in rare books and museum work at the University of Texas. I worked in both these fields until retirement.
I had two children from my first marriage; my first husband died from a brain tumor, in 1974. I met and married Craig in 1976.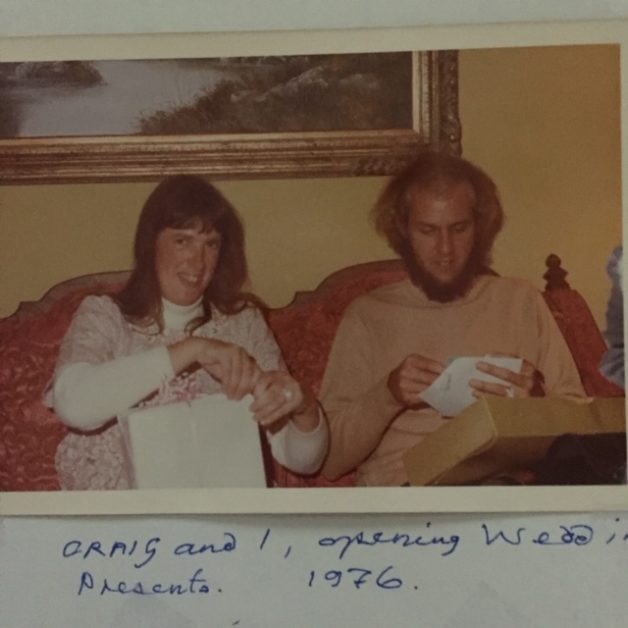 I am 84 and my husband is 75. So we have had years of frugality, off and on.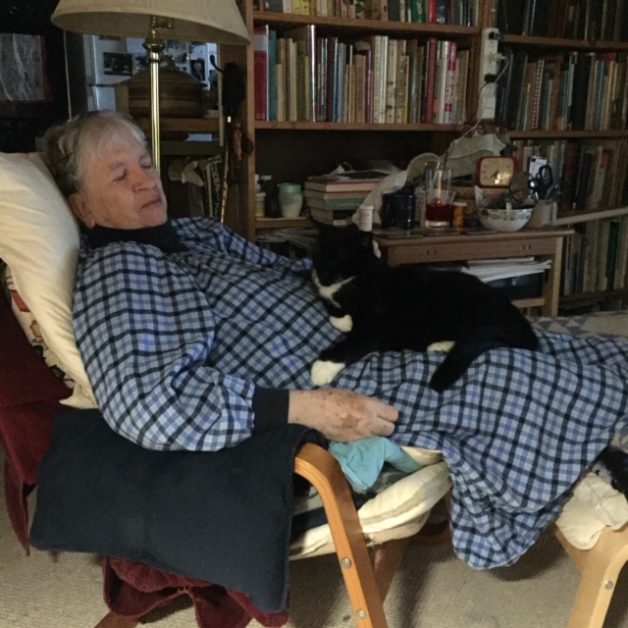 Here is a photo of me with cat Pancho. He is old, too–15 years old last week. His mother came to us as a pregnant feral stray and we have had him from the day he was born (under our next-door neighbor's sailboat)
Finding your blog several years ago encouraged us to return to more frugal ways even though they are no longer necessary.
It may be unusual that our most frugal years, of necessity, happened in middle age during our first years of marriage, my second and Craig's first, begun in 1976.
When we met; I was a widow with 2 children and Craig had just come out of the army after the Vietnam war.
He was a brave man to take us all on:: 2 children, 2 dogs, 5 cats, and 2 parakeets.
We had to be frugal as we both went back to graduate school at the University of Texas at Austin, finding part-time minimum wage jobs within the university, where every penny had to be squeezed till it squeaked!
A few favorites:
My favorite authors are Charlotte Yonge, Mrs. Molesworth, Eva Ibbison (all comfort reading, I notice.)
My favorite place to live has been El Paso, Texas
My favorite hobbies (most are in the past now that I am 85)
gardening
swimming in rivers and ponds, such as Barton Springs in Austin, TX, before it became chlorinated and changed
hiking
reading Victorian children's books. Always a delight to find ones I didn't know. The Gutenberg Project has been wonderful for this.
making my own clothes and doing sewing of all kinds
My saddest thing in life: Not having a child with my second husband.
My happiest memory is spending a day in the mountains with my second husband to be, near El Paso, with a picnic. We decided to marry and we came down to eat dinner at a favorite restaurant, The Double Eagle, in Old Mesilla.
The staff were so kind. We were scruffy and they did hide us in a corner but they gave wonderful service!
2. How long have you been reading The Frugal Girl?
At least 6 years and more.
3. How did you get interested in saving money?
Watching my family fling it around made me interested in saving money. They could afford to fling it around but it still horrified me.
After a very wealthy childhood in my grandparent's home, with boarding schools and servants, it was bliss to decorate my own smaller homes and live very freely and privately with both husbands.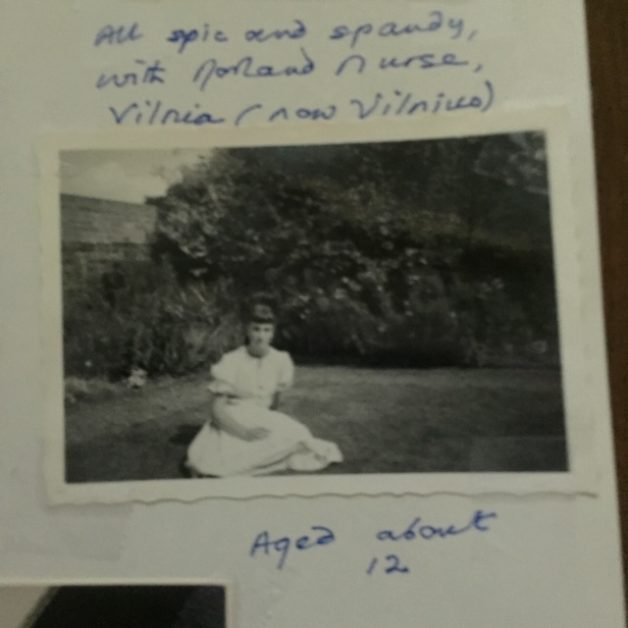 This is why I so appreciate your blog. It is my favorite because I have learnt so much from you.
4. What's the "why" behind your money-saving efforts?
It's lovely to always have $15,000 to $20,000 in emergency savings.
Every year we choose one big project– kitchen, bathrooms, roof and chimneys, to do without taking out loans = a wonderful feeling.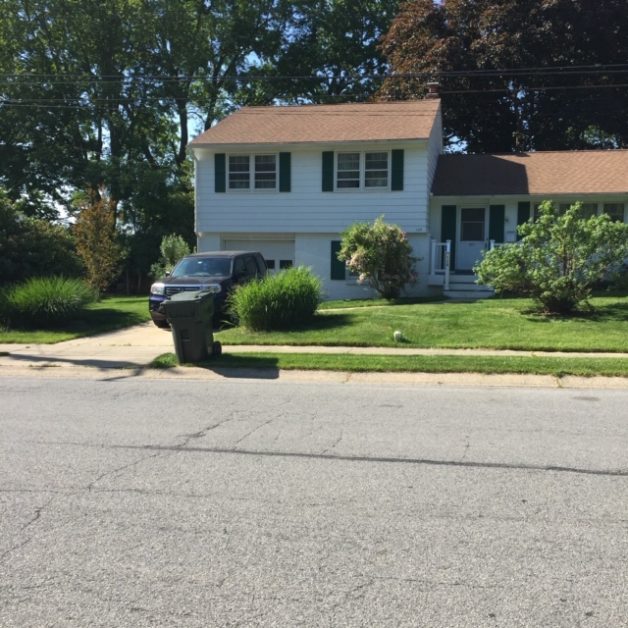 Then we build the savings back up + our usual $6,000 tax return.
5. What's your best frugal win?
Not quite a win but my husband found a 1st edition of "Lolita" at a Goodwill store and promptly sold it for $7,500 to a Philadelphia antiquarian bookseller!
6. What's a dumb money mistake you've made?
I can't think of one really, we are careful people.
7. What's your splurge?
Food, definitely. We love home cooking and don't stint ourselves with the ingredients. We buy a lot of foods from Amazon.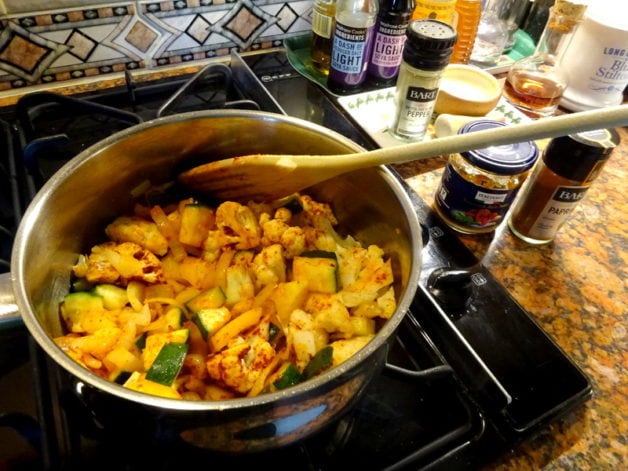 My favorite food now is blackberry and apple crumble, homemade. Years ago it would have been roast pheasant with all the trimmings.
8. What are you not remotely tempted to splurge on?
A more expensive house, car, etc. as we are very content.
9. If $1000 was dropped into your lap today, what would you do with it?
This actually happened! We received $10,000 from the will of a barely known relative. We used it to start our emergency savings account of $15,000.
10. Share a frugal tip with your fellow readers
I have two tips which are related.
Use Indian ghee for almost all frying . Goes to high temperatures and doesn't spatter = pure butter which we love
2. Mix 2 bars of Irish salted butter with 12 ozs of cheap, light olive oil from Costco. This tastes of butter and spreads straight from the refrigerator.
One of the best things about growing old is seeing so many changes and, on the whole, they are for the better. To those younger persons still struggling I would say, "Hang in there–life becomes so good as time passes."
__________
Erika, thanks so much for participating! It was lovely to hear more about your life and family.
I'm sure readers will have questions for you too, but I have one that came to me as I read your interview: Is there anything you miss about the life you used to lead, with servants and great wealth?