What's Secondsies?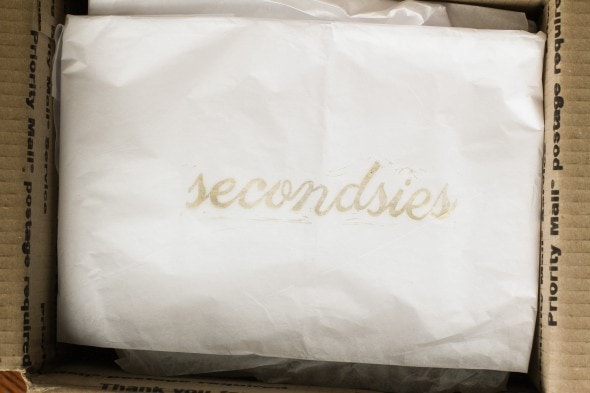 Well, it's a little like Stitch Fix-meets-thrifting. Secondsies is a new company that goes thrift shopping for you.
You sign up, fill out a style and sizing profile, add money to your account, and the Secondsies stylists head out to scour the thrift stores for items that you might like.
When they find something for you, they text you a photo and price, and you give a thumbs up or thumbs down.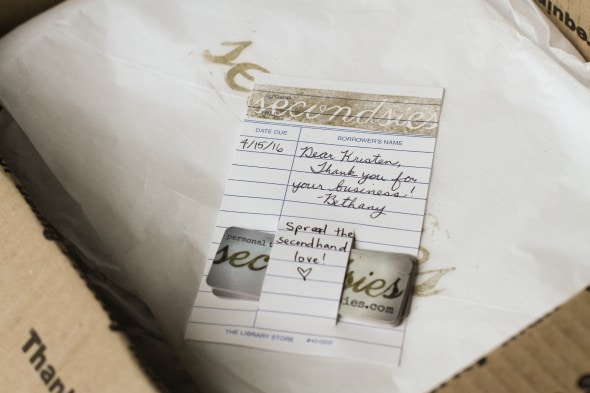 There's never any obligation to purchase the items they text you, although honestly, at first I felt a little nervous about saying no to so many items.
They're super nice about it, though, because they want to make sure that you get items that you actually will love and wear.
After a number of texting conversations back and forth, I ended up with a box of three items, which cost me a total of $30.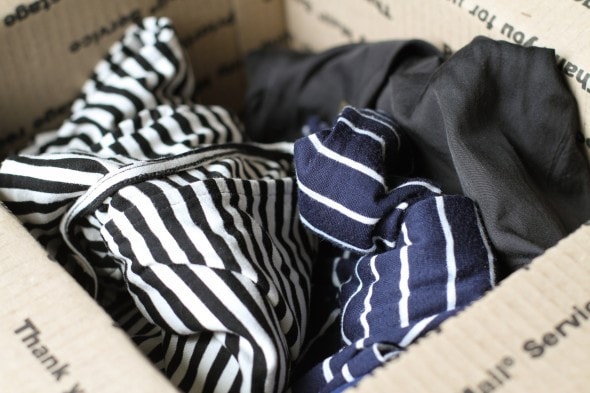 I know you don't just want to see clothes in a box, so even though I'm not a fashion blogger and am sort of dreadful at modeling, I had Joshua take some photos of me in the clothes.
This comfy Gap dress is up first.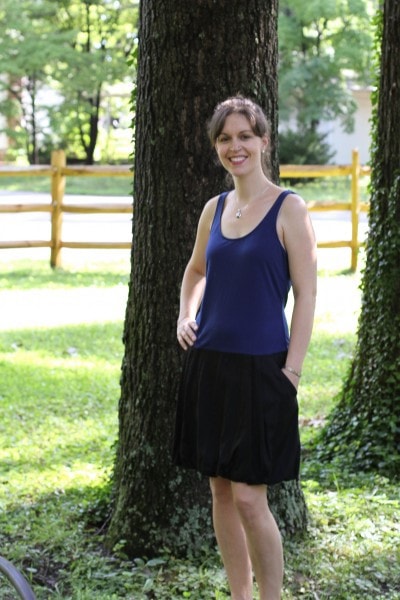 I tried to be sort of serious.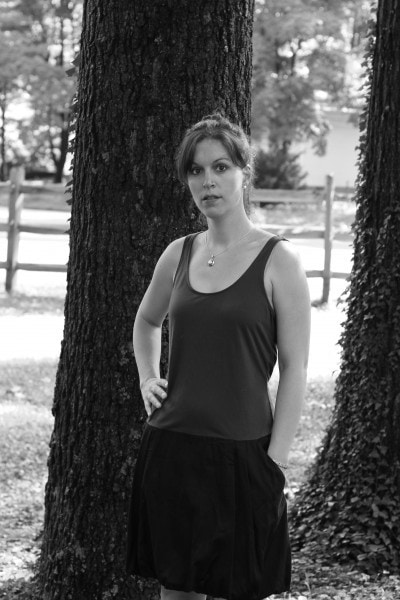 But I can't keep that up for very long.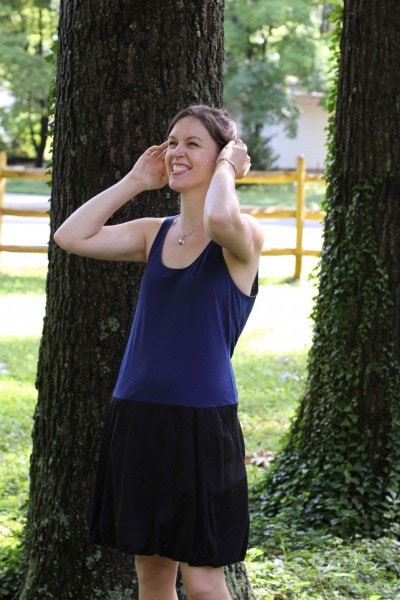 I think this next dress was probably meant for someone a little bit shorter than me, and I'm wondering if some leggings might help a bit. Or would that look weird? Should I embrace the short skirt thing?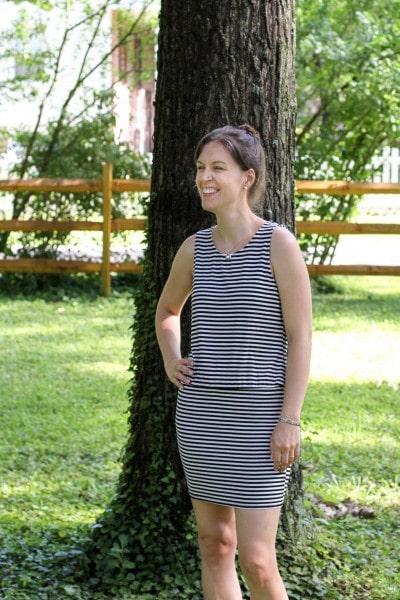 Can you tell that I am not a fashionista?
The top looks a bit like a cropped style, but it's actually a blousy style.
The dress has a fun crossover back that we didn't manage to photograph, and I think it does fit right except for the length (or lack thereof. Ha.)
The third item from my box is this stripey tank top.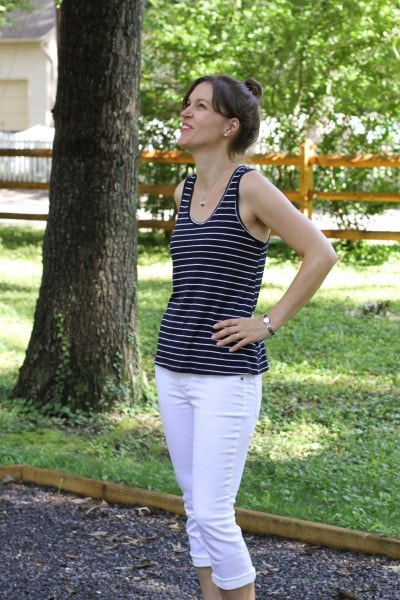 (Please see what I said above about being serious…)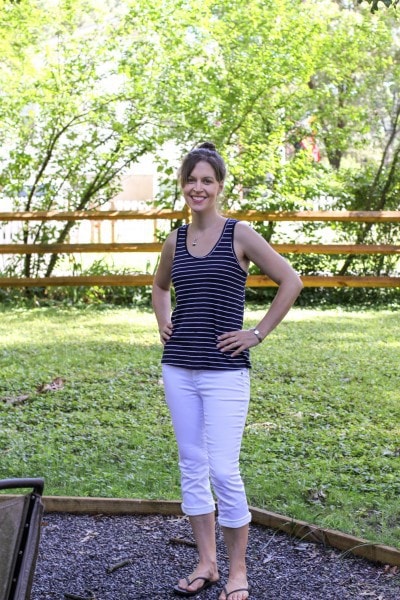 It has some interesting back zipper detail, but the only problem with that is that the zipper bunches a bit, and I haven't decided how I feel about that.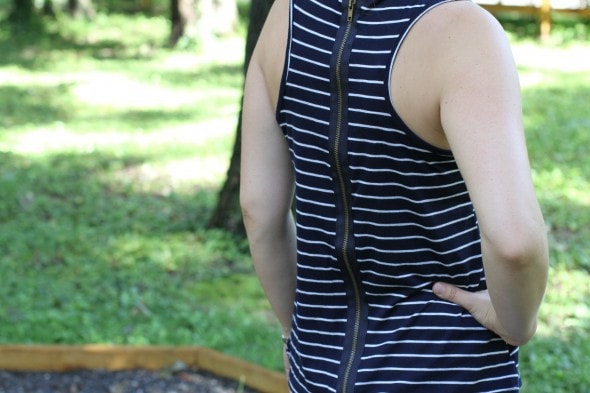 Love the navy and white strpes, though!
Thus endeth the modeling part of the post. Phew.
Who would like Secondsies?
If you love thrifting on your own, then you probably don't need Secondsies.
But if you like the idea of thrift store shopping and/or buying secondhand, and you hate the actual process, I think you'd enjoy Secondsies.
Also, if you live in an area where the thrift scene is a little lacking, Secondsies would be a great way to build a secondhand wardrobe.
Can you return Secondsies items?
Secondsies' default option does not allow for returns, but if you pay an extra $10, you can return 3 items in your order.
I didn't pay for the return option, but in the future, I think I'd do it, just because it is so hard to tell whether something will fit properly by looking at a picture. And I think that's especially true when you're talking about adult clothing, which seems to have a more particular fit than children's clothing.
So, I'd recommend waiting until you have a somewhat large order with Secondsies, paying for the return option, and then having your items shipped to you. That way the return fee isn't a large percentage of what you're paying, and you'll have multiple items to try out.
How do I get started? Any sign-up bonuses?
Well, yes! Yes, there are. If you'd like to try Secondsies, click here to make an account and fill out a quick fashion profile.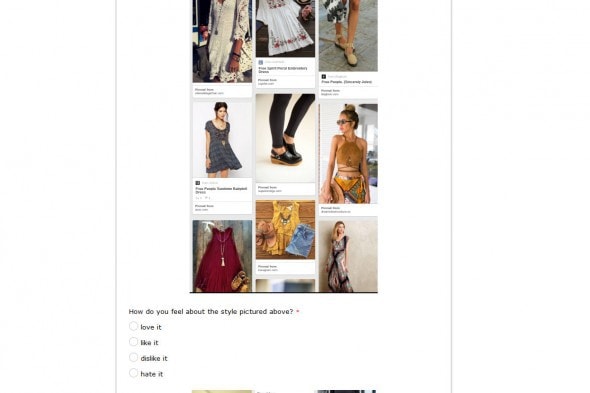 As a special offer for Frugal Girl readers, Secondsies is offering a free $5 credit when you load your account with at least $20.
All you have to do is sign up through any links in this post, and your $5 credit will be added automatically.
If you have any questions or run into any problems, let me know, and I or my friends at Secondsies will help you out!
__________________________
Disclosure: I paid for all of my Secondsies items, and this post is not sponsored. It does contain affiliate links.