When I declutter, it's super important to me to dispose of my things is a not-trash-producing way. Some stuff does need to be thrown away, of course, but a surprising amount can be disposed of somewhere other than the landfill.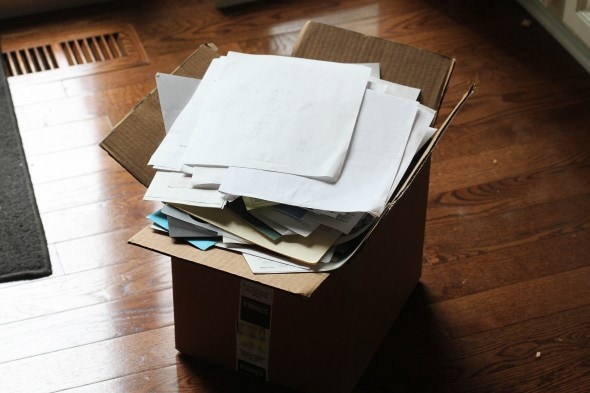 I've gotten rid of SO MUCH STUFF this summer, and happily, I've hardly had to throw anything away. It takes a little longer to give away/sell/donate stuff, but the satisfaction of knowing my stuff is being used makes the effort totally worth it to me.
(Here's how I declutter without creating trash.)
Recently I got rid of some things that needed something other than my freecycle/hand-me-down route, so I thought I'd share 'em here in case these ideas could help you.
The Wagon (+ random metal stuff)
We got this metal wagon years ago as a hand-me-down from Mr. FG's cousins, and it's been through years of play at our house.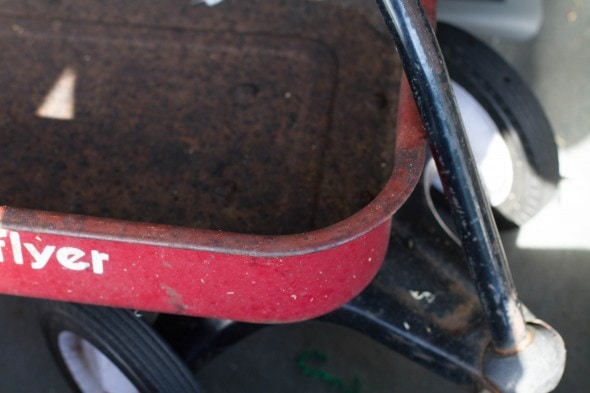 Remember how we used the wagon for picnics at the pier??
Anyway, somehow, the wagon got run over and the back half was bent beyond repair.
The wagon was too big to put out with curbside recycling, so I found a metal recycling company in the area and dropped the wagon off, along with some other random metal stuff I'd been saving (like old hinges, and the peeled Schlage front door handle that I replaced for free).
This company does pay for metal, but it's only $0.02/pound and I had 19 pounds.
$0.38 was most certainly not worth the paperwork, so I left without compensation, which was fine. I just wanted my stuff to get recycled!
Imperfect T-shirts
When I cleaned out Mr. FG's tshirt drawer, I found quite a few that were maybe not fabulous enough for Goodwill to sell, but which still had plenty of life left in them.
I know you can donate things like that to Goodwill and they can always turn unsold items into rags, but it's more awesome if people can actually wear the clothes, you know?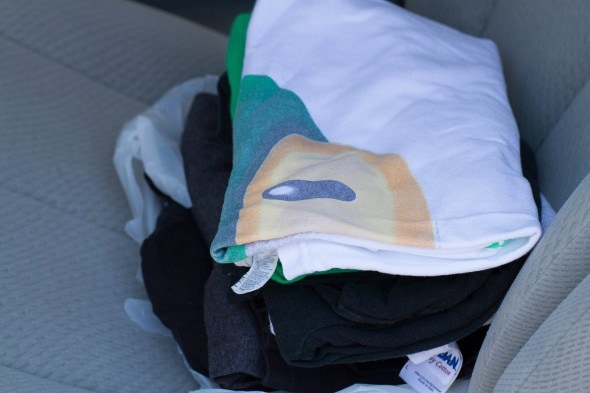 So, I dropped a bag of them off at a local establishment that provides emergency, transitional, and permanent housing for people in need. Since they give away their donated clothes for free, I have good reason to believe that they'll be worn and not discarded, so, yay!
(By the way, I do cut up old tshirts to use as rags, but I can only use so many rags, and I try to use only the most worn/dated items for rags…kind of a last resort.)
_______________________
What's your favorite way to declutter without throwing your stuff away?