I've been working on eating down the contents of my chest freezer for months now, and I'm finally nearing the end!
Here's how things started, as a reminder. 😉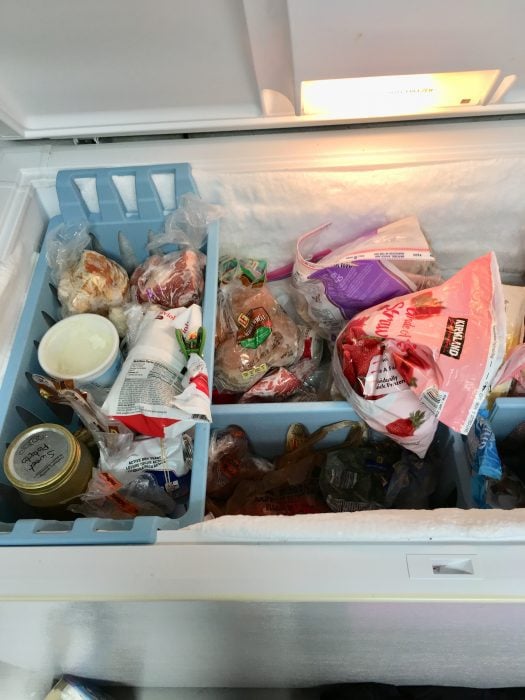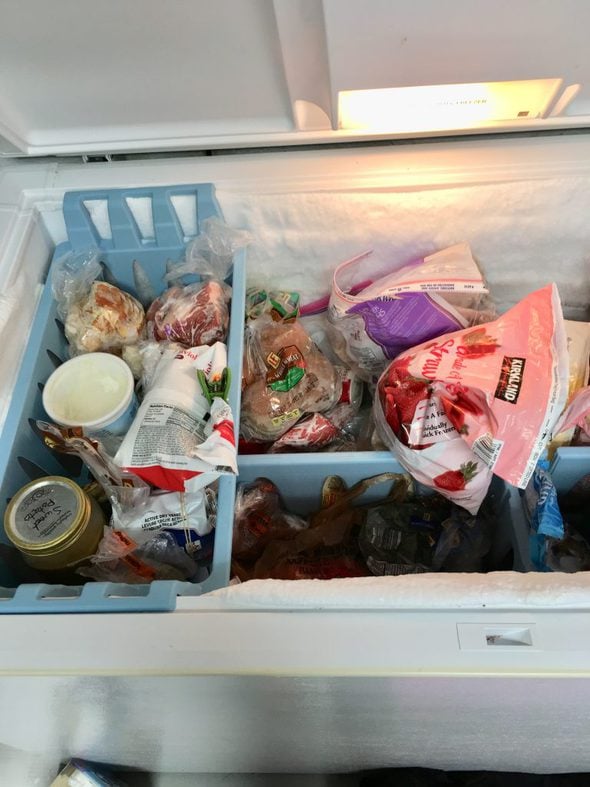 The lid of my chest freezer has accumulated some condensation inside the lid, where it's frozen. The only way to really get that out of there is to let the freezer completely thaw for a few days.
So, I need to be able to have a totally empty freezer, which is why I've been working so hard at using up all my food.
Last week's freezer stuff
Here's what I had last time around:
Walnuts: I've been faithfully eating these on yogurt. Yay me!
I used up the rest of the cranberry sauce on multiple bowls of yogurt too. Double win!
Mozzarella: Completely eaten on pizzas.
Almonds: Untouched. But I just ran out of no-stir granola, so I can use some up in the next batch.
Frozen fruit: mixed results here.
I did use up 100% of the watermelon and pineapple! That combo makes a good smoothie with just some water added in and maybe a strawberry or two.
The other two bags still have some fruit in them.
This week's freezer stuff
ALRIGHTY.
I know I keep saying how close I am to emptying my freezer, but I really think that this week will be it.
If I manage to use up all of these items, I'll have enough space in my kitchen freezer to store all of my remaining frozen food while my chest freezer is fully defrosted.
Top Row
Chicken pieces: either oven-fried or BBQ chicken
Mahi-Mahi: maybe fish tacos?
Potstickers: a side for something like Korean sizzling beef lettuce wraps
Middle Row
Tilapia fillets: I only have a few of these, so maybe I'll saute them for lunch for me one day.
Two containers of tomato sauce: maybe to top the tortellini (see next row)
Frozen fruit: smoothies. FOR REAL THIS TIME. I promise.
Bottom Row
A single chicken sausage: breakfast for me!
Partial container of OJ concentrate: Orange Julius, which means we need a breakfast for dinner night
Scallops: I love scallops to death so these will be easy to use.
Cheese tortellini: these can be an easy dinner one night.
________________________
This is a lot of stuff…do you think I can do it in a week??
My menu plan for next week is basically decided for me, based on what I need to use, so as long as I stick to these ideas, I think I can manage.
I really, really would like to defrost my freezer next week!