This post contains affiliate links.
This popped on my menu post a little while back and a lot of you asked for the recipe.
I'm sorry to say that I have exactly zero good pictures of the chicken and no step by step photos either.
So this is not going to win any Best Recipe Blog Post of the Year awards, but it will at least allow you to make this chicken!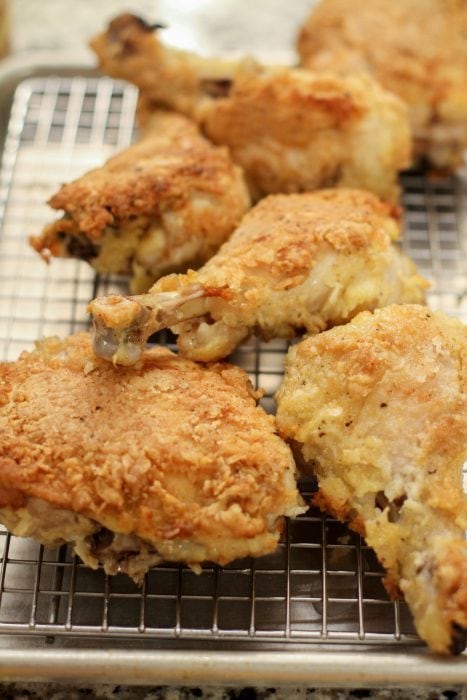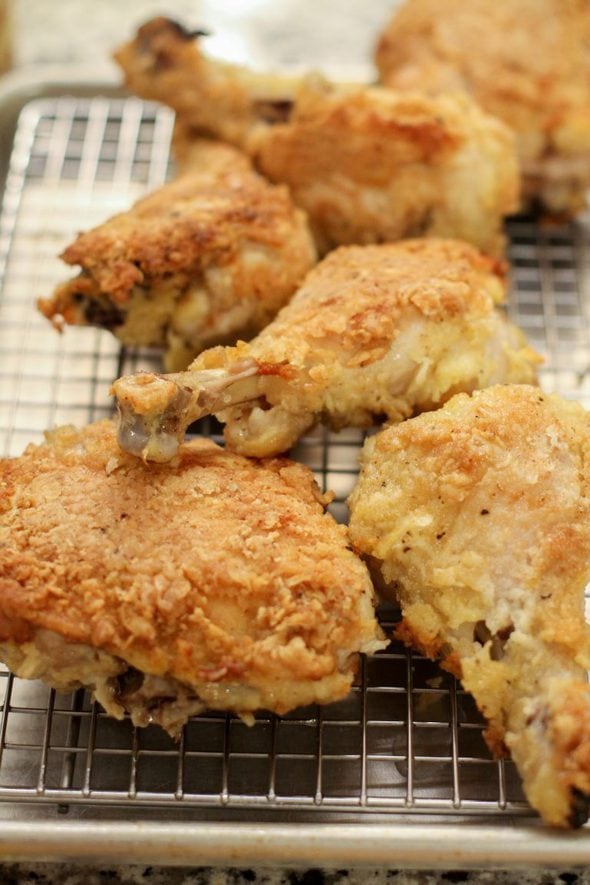 When I was paging through a Cook's Country magazine, this caught my eye because I really HATE frying things. My beefs are:
A) the mess
B) the amount of oil needed
But this recipe looked like it would solve both of those problems in that the chicken cooks entirely in the oven, and you only need a half cup of oil for 3 pounds of chicken pieces.
So I tried it, and it was very good! Not quite exactly like real fried chicken, but waaaay closer to the real thing than any other oven "fried" chicken recipe I've tried.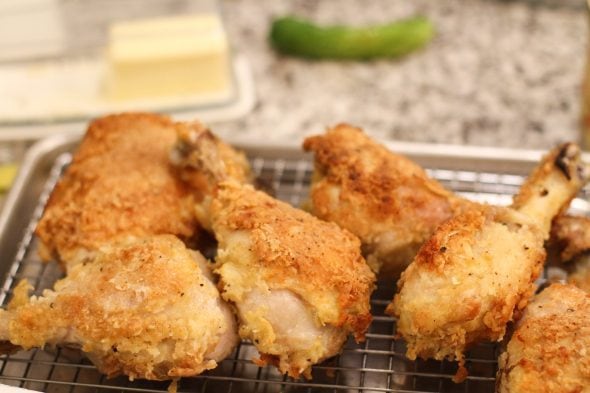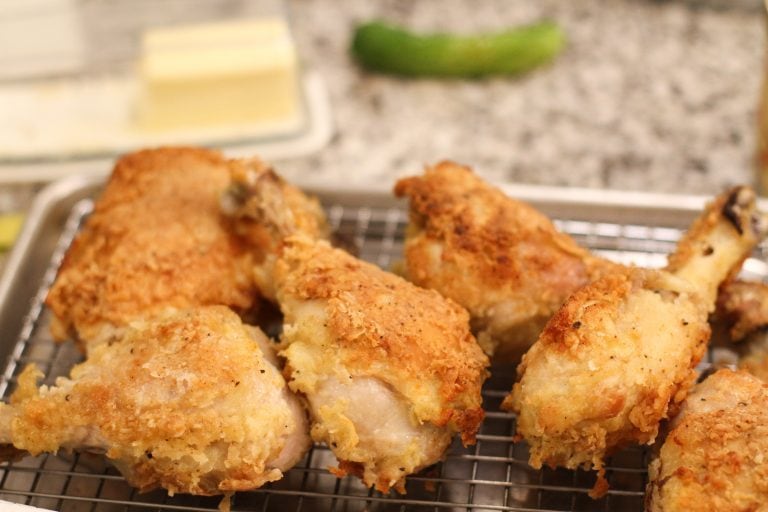 I think a key is that when you make the breading mixture, you add a little water and rub it into the flour with your fingers, creating some shaggy pieces that mimic the breading on real fried chicken. So genius!
You will need a 12-inch cast iron skillet for this recipe; I wouldn't try it with a lesser skillet.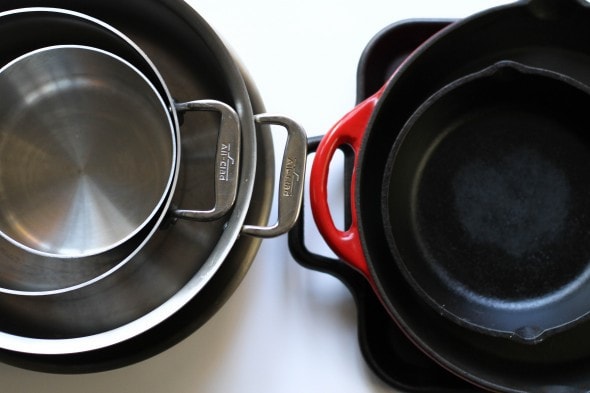 Mine is from Aldi, but you can get a Lodge skillet for less than $30 on Amazon and they have some even cheaper options as well.
Cast iron is ridiculously affordable.
Anyhow! Here's the recipe. I followed it pretty exactly, except I salted my chicken pieces a few hours ahead of time.
Salting meat prior to cooking improves it pretty much 100% of the time, but if you don't have time to do that, I think your chicken will still be tasty.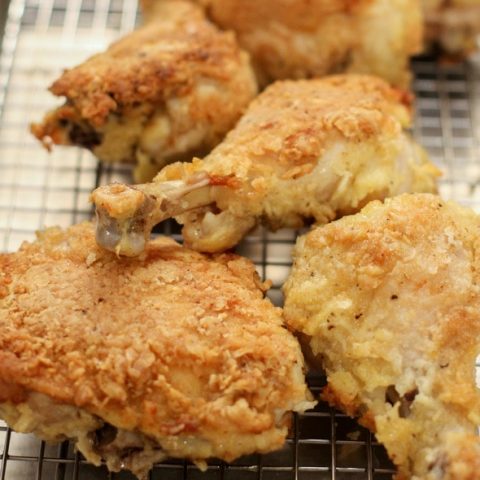 Cast Iron Fried Chicken
Additional Time:
10 minutes
This faux fried chicken cooks entirely in the oven, with only 1/2 cup oil!
Ingredients
3 pounds bone-in chicken pieces (drumsticks, thighs, or bone-in split breasts, cut in half cross-wise)
salt and pepper
3 large eggs
2 cups all-purpose flour
2 teaspoons baking powder
1 teaspoon paprika
1 teaspoon granulated garlic
1/8 teaspoon cayenne pepper
3 tablespoons water
1/2 cup vegetable oil
Instructions
Place 12-inch cast iron skillet in oven on middle rack and heat oven to 450° F.
Place wire rack in rimmed baking sheet; line half with paper towels.
Season chicken with salt and pepper.
Beat eggs and 1 teaspoon salt together.
Combine flour, baking powder, paprika, garlic, cayenne, 1 tablespoon pepper, and 1½ teaspoon salt in a medium bowl. Add water to flour mixture; rub with fingers until you have a mixture with some shaggy pieces of dough (these provide texture to the chicken coating)
Dip chicken, one piece at a time, in egg mixture (allow excess to drip off), then dredge in flour mixture, pressing to adhere flour mixture to chicken. Place coated pieces on a plate, skin side up.
When oven is fully preheated, removed skillet from oven (careful, the handle is hot!). Add oil to skillet, then immediately add chicken, skin side down. Return pan to oven and bake 15 minutes.
Remove skillet from oven; flip chicken, return and bake for 15 minutes, or until breasts read 160°F and drumsticks/thighs read 175°F.
Place chicken pieces, skin side up, on paper-towel-lined portion of wire rack, then move chicken to the unlined side. Let cool for 10 minutes before serving.
Recommended Products
This card contains affiliate links.