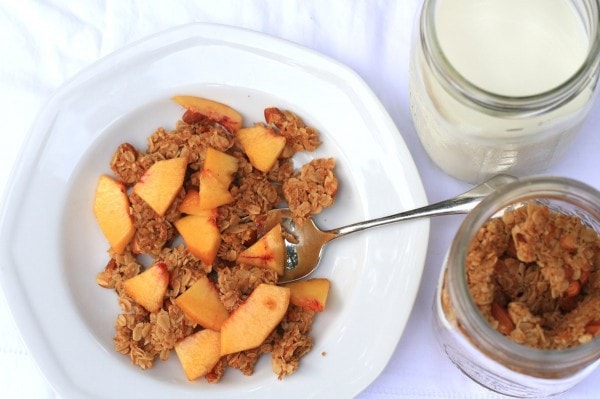 I am seriously so excited to share this recipe with you. Woohoo!
As you know, I make my own granola on a regular basis, because store-bought granola is ridiculously overpriced. And making granola at home is just not that hard.
My least favorite part of the process, though, is the stirring. Opening the oven frequently lets a lot of heat out, plus even with rimmed baking sheets, I still manage to spill some granola every time.
America's Test Kitchen recently sent me a super early copy of a new DIY cookbook (The America's Test Kitchen DIY Cookbook
) they're coming out with, and this granola recipe caught my eye because it promised perfect granola with no stirring.
Count me in!
Not only does this method save time, it also produces granola that is nothing but clumps, and if you're like me, this will make your heart sing. The granola comes out as one big piece, so you can just break it into whatever size pieces you like.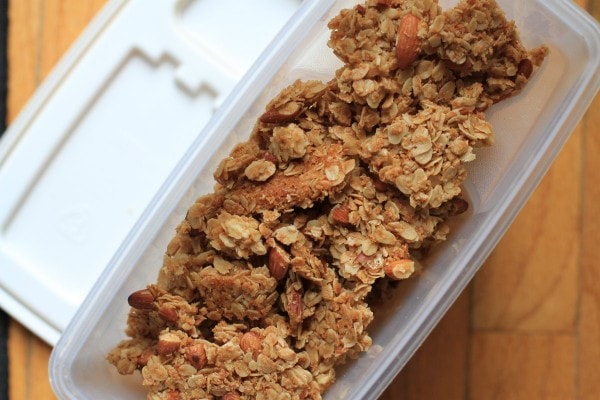 This granola is perfectly crispy without being heavy. So good.
I didn't plan this, but when I lined up all my ingredients, I realized almost everything is from Aldi (yep, even the maple syrup!)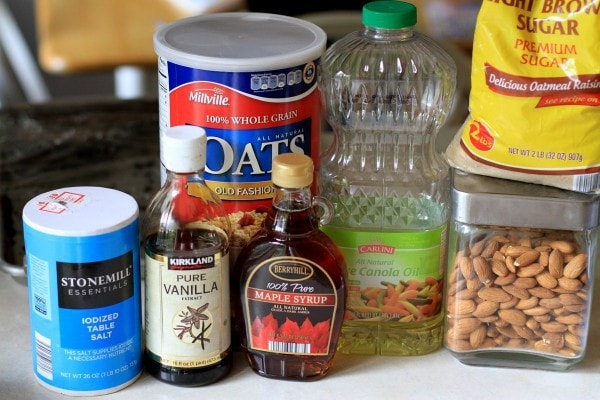 In a large bowl, combine the maple syrup, brown sugar, vanilla, salt, and oil.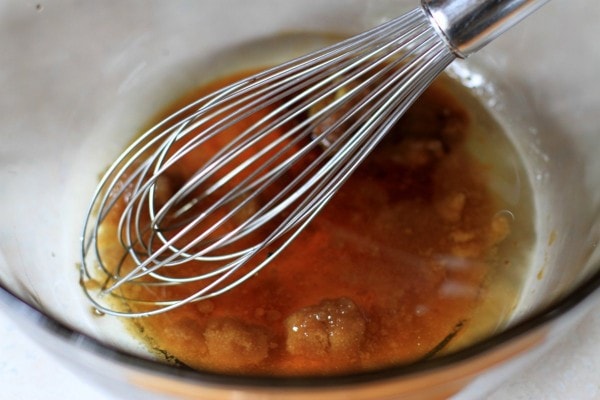 Next, stir in the oatmeal and chopped almonds. I love coconut in my granola, so I added in some unsweetened flaked coconut.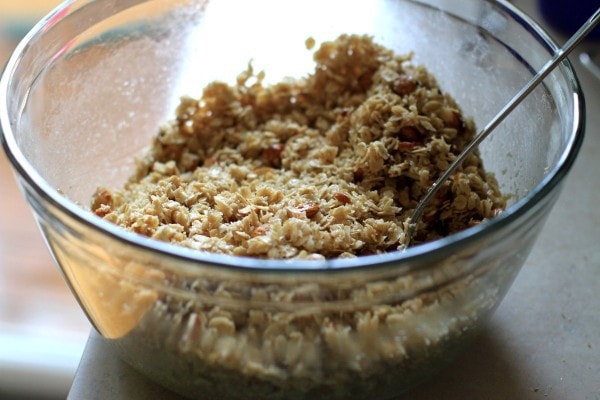 Now, press the granola mixture into a rimmed baking sheet. (I own and love the Lincoln Wear-Ever ® Standard Duty Half-Size Sheet Pans
.) You can use the back of a spatula to make sure it's evenly pressed down.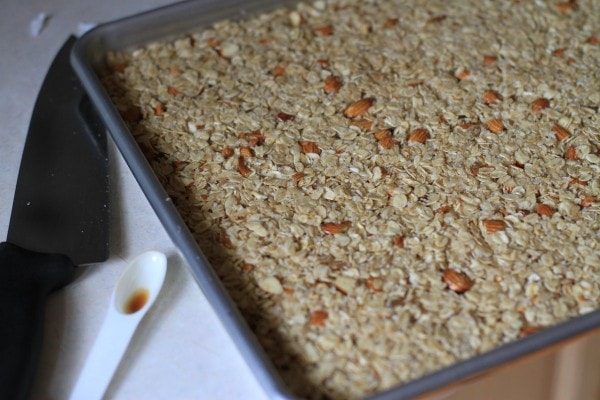 Bake for 30-40 minutes.
I think next time I'll bake it just a teensy bit less, but that's a matter of personal preference.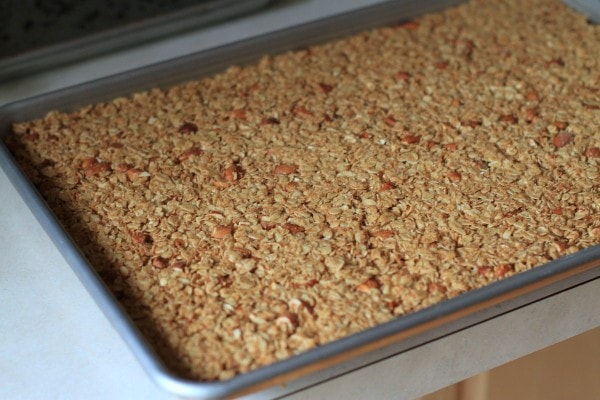 Let the granola cool for about an hour. At this point it should have hardened, and you can break it up into clumps.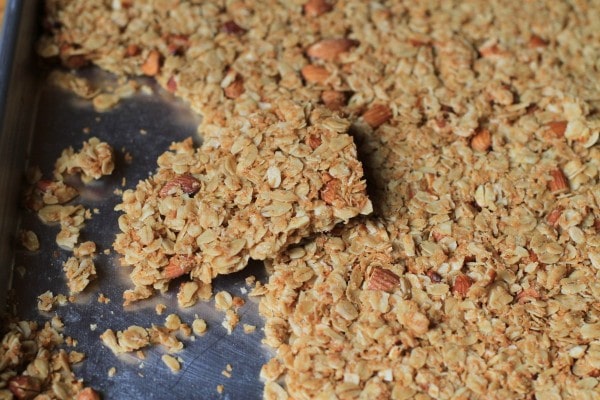 The original recipe says you can add 2 cups of dried fruit at this point, but since fresh fruit is still readily available at this time of year, I opted to skip that step. In the winter, I'll probably add some raisins, craisins, or dried apricots.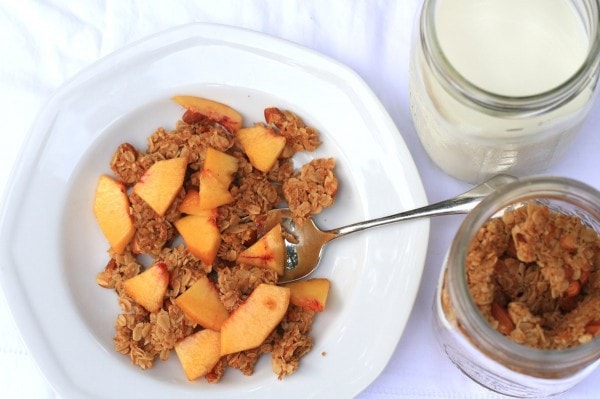 Store your granola in an air-tight container.
You can eat this as a breakfast cereal with milk, of course, but it's also really good sprinkled on top of yogurt.
As with most granolas, there's some flexibility here. You don't have to include coconut, you can use nuts other than almonds, and though I haven't tried it yet, I'm quite sure you could use coconut oil instead of the vegetable oil.
Here's an image for you pinners!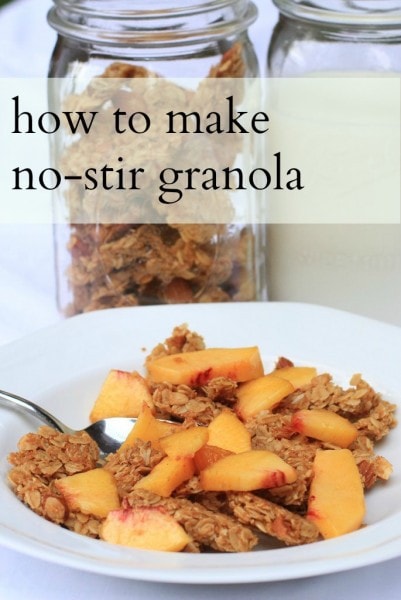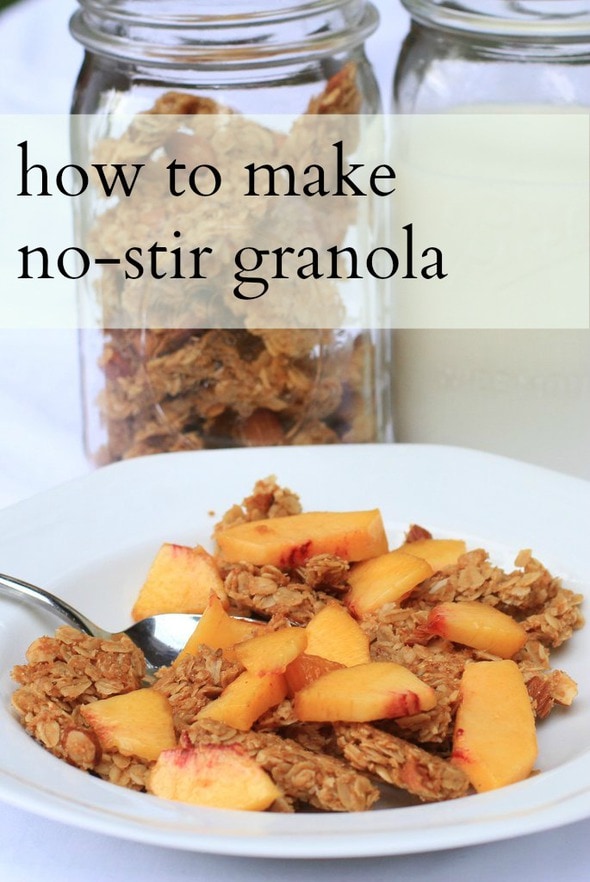 No-Stir Granola
Printable No-Stir Granola Recipe
1/3 cup maple syrup
1/3 cup packed light brown sugar
4 teaspoons vanilla extract
1/2 teaspoon salt
1/2 cup vegetable oil
3 cups old-fashioned rolled oats
1 1/2 cups raw whole almonds, chopped
1/2 cup shredded unsweetened coconut
2 cups raisins or other dried fruit
Heat oven to 325 ° F. Grease a rimmed half-sheet baking pan.
Whisk together the maple syrup, brown sugar, vanilla, salt, and oil. Stir in oats, almonds, and coconut.
Spread the oat mixture into the prepared baking sheet; press evenly to compact granola.
Bake for 30-40 minutes, or until granola is lightly browned, rotating baking sheet halfway through the baking time.
Remove from the oven and let cool thoroughly. When granola is cool, break into clusters and stir in dried fruit.
Store in an airtight container up to 1 month.
_____________
Joshua's 365 post: Swirled and One of My Favorite Pastimes