Every week, I post a picture of the food that has gone bad over the last seven days. I started doing this in March of 2008 to help motivate myself to use up my food instead of wasting it and it's been very effective. Since it helped me so much, I invited other bloggers to join me in posting their food waste photos, and Food Waste Friday was born.
I wasted nothing this week! I credit much of success this week to scrambled eggs and smoothies. I'm currently buying eggs from some happy chickens that belong to a local blog reader (Thank you, David!!!), and so I'm feeling inclined to include more eggs in my diet (I feel confident that these qualify as "real food").
Happily, scrambled eggs are a great way to use up little bits of food that are left over. One day this week I used half a bratwurst, part of a potato, some leftover sliced onions and peppers, and some baby spinach in my eggs, and another day, I used some about-to-go-bad tomatoes and cilantro to make a fresh salsa to go on top of my eggs.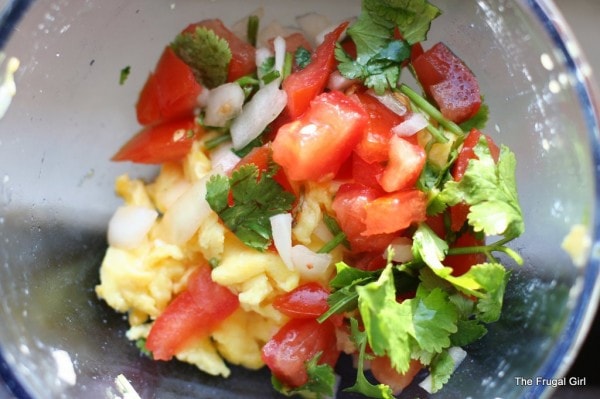 And yogurt smoothies are such an awesome way to use up food as well…I love that you can throw in random pieces of fruit (and even spinach!). On Sunday, for example, I used up a few pieces of an orange, a small bit of cream, a couple of bananas, and a handful of spinach simply by blending all of that up with some yogurt and frozen strawberries.
I know I've mentioned this before, but I think that overall, my fight against food waste has made my diet healthier. It's rarely necessary for me to wolf down a pan of brownies to prevent waste (!), but waste prevention does often call me to consume fruits and vegetables, which means that I'm eating more produce than I was before.
A guest post is coming later today, so check back this afternoon. 🙂
________________________________________________________
How did you do this week? If you blogged about your food waste, link us up by entering your info into the widget below. You'll save money, reduce your trash output, and get a little publicity for your blog! And if you don't blog, you can still share about your food waste by leaving a comment.