Every week, I post a picture of the food that has gone bad over the last seven days. I started doing this in March of 2008 to help motivate myself to use up my food instead of wasting it and it's been very effective. Since it helped me so much, I invited other bloggers to join me in posting their food waste photos, and Food Waste Friday was born.
First, in case you missed my edit to this post, I took the suggestion some of you offered about my rice, and I made rice pudding with it. I ate it for breakfast on Saturday, so the rice is officially gone. Woo!
Secondly, here is what I wasted:
space
space
space
space
space
space
Yes indeedy, people! For the first time in what seems like f o r e v e r, I have no waste! Double woo!
However, because we all know that I think a post without a picture is sort of boring, here's the comprised-of-leftovers salad I had for lunch yesterday.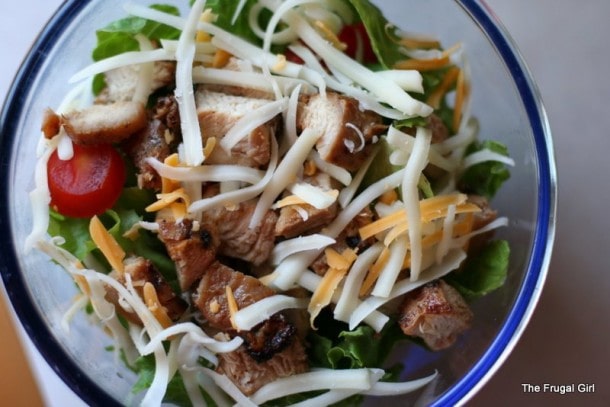 We'd had tacos the night before, so I had leftover lettuce, tomatoes, and shredded cheese. I combined this with some marinated, grilled chicken from a previous night, and the result was quite delicious, and very unlike taco leftovers.
(hop over to this post if you want to see more ways I used up food this week)
________________________________________________________
How did you do this week? If you blogged about your food waste, link us up by entering your info into the widget below. Participants get a spot on my Food Waste blogroll for the upcoming week, so join us! You'll save money, reduce your trash output, and get a little publicity for your blog!