Every week, I post a picture of the food that has gone bad over the last seven days. I started doing this in March of 2008 to help motivate myself to use up my food instead of wasting it and it's been very effective. Since it helped me so much, I invited other bloggers to join me in posting their food waste photos, and Food Waste Friday was born.
Sooo, we haven't had Food Waste Friday for two weeks now. What did I learn during that time?
I learned that I am still in desperate need of accountability in this area because my goodness! Once I knew I didn't have to post a photo here, I was way, way, way less motivated to use up my food and eat my leftovers.
I didn't fall entirely off the food-waste wagon, but I was nowhere near zero waste, that's for sure. I am all ready to get back on track now, though, and hopefully you all are too!
This week, I wasted some pizza, and a bit of leftover Chinese takeout (yes, sometimes I give in to takeout temptation. And embarrassingly enough, this particular time was the night before the TV crew came, so I had Chinese takeout containers in my fridge. This was a good whack for my pride, though!).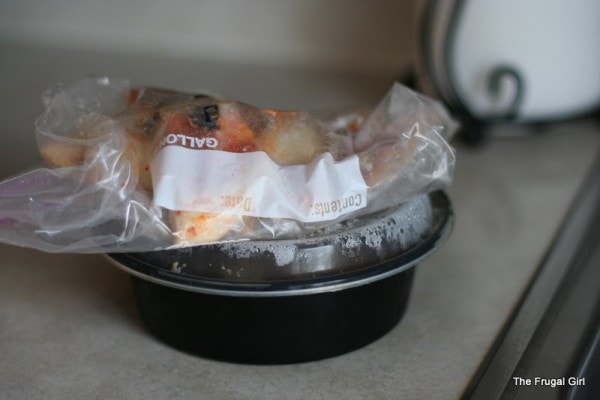 ________________________________________________________
How did you do this week? If you blogged about your food waste, link us up by entering your info into the widget below. Participants get a spot on my Food Waste blogroll for the upcoming week, so join us! You'll save money, reduce your trash output, and get a little publicity for your blog!