I'm squeaking this in here kind of late…the husband worked for a few hours from home today instead of going in to work, so it's been an odd kind of Friday here. A good kind of odd, mind you, but I just didn't get as much done today as I usually do! 😉
Ok! Last week I mentioned that my freezer was in abysmal shape and that I wanted to organize it this week. Here's what it looked like(by the way, I'm pretty sure my grandmother will faint and fall off of her computer chair after viewing this photo. She is a very organized lady, but I think the organization got diluted in the family genes somehow….well, at least the organized-freezer-genes.)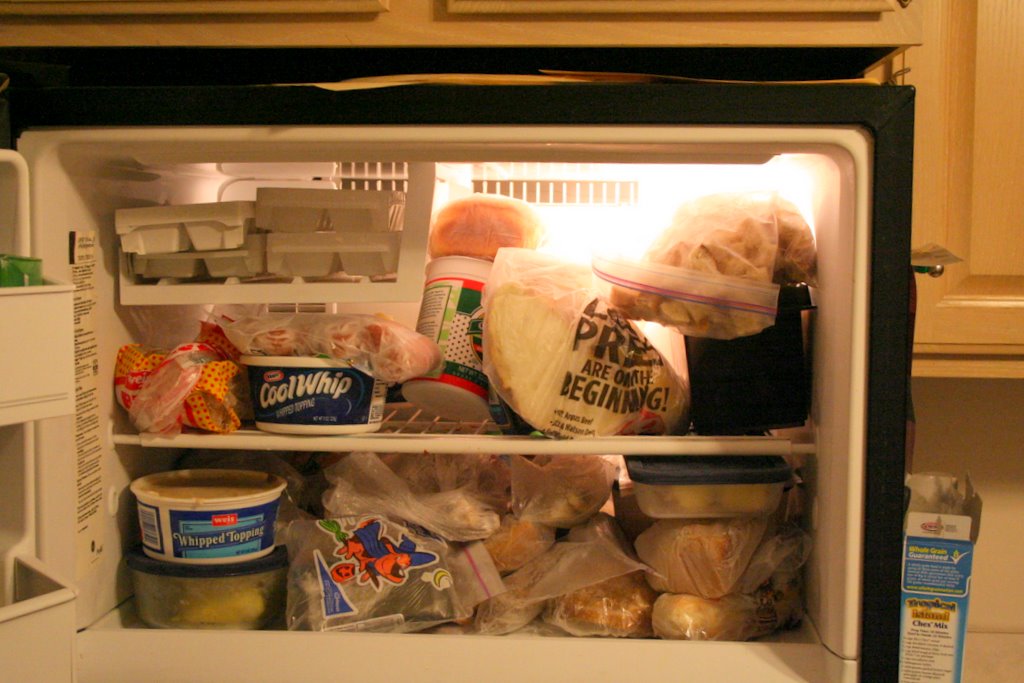 Yeah. My freezer has pretty much looked like this ever since we got married. It's a running joke in our house that you don't want to open the freezer when you have bare feet, as something unbearably heavy(like a can of frozen orange juice) is bound to fall out as soon as the door is opened.
But, my refrigerator used to be this dreadfully messy and full, and it is not anymore, so I think there is hope for my freezer.
I don't have an after picture yet, because there are a number of things in there that just need to be eaten up. I made a list of those things and included them in the menu plan for this week, so by next Friday, my freezer should be photo-ready. 😉
I was pleasantly surprised at the small number of things that needed to be thrown away. I have four things in my pictures these week…three from the freezer and one from the fridge.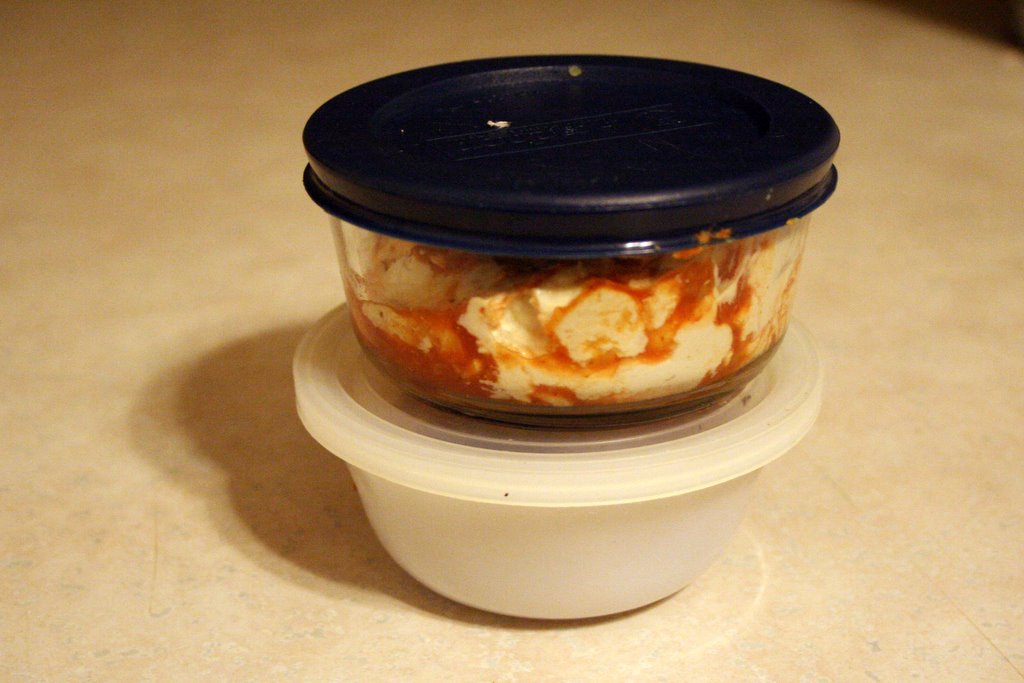 I had frozen the bananas quite a while ago, for the purpose of using them in smoothies. However they'd sort of gotten lost in the freezer, and by the time I found them this week, they were awfully freezer burnt. I suppose I could have made banana bread with them, now that I think about it. Ah well. They're composting as I write.
The yellow stuff is butter I'd made some from past-its-prime cream. It was of doubtful quality when I made it, and after sitting in the freezer for a few months, the quality was beyond doubtful.
Then there is a bit of frozen London Broil, which was quite freezer burt. Lastly, there is a bit of shrimp dip from my fridge. If it didn't have seafood in it, I'd have eaten it, but I'm sort of cautious about aging seafood items.
This was kind of a humbling week for me after my last few weeks of low to no waste. How did you do?