This post contains affiliate links, which earn revenue for this site at no extra cost to you. See my disclosure policy here.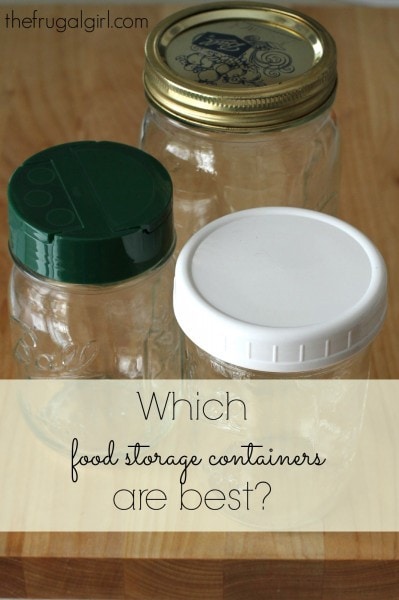 I'm kind of a container nut.
I don't know what it is, but I just really, really love containers, especially if they're beautiful and durable. I could seriously spend waaay too much money on them.
Because I'm a container fan, I've tried out quite a few different varieties, and so I thought it would be fun to put together a comparison/review post.
To-Go Ware Sidekick Stainless Steel Containers
I have several To-Go Ware sidekick containers
, which I mainly love for lunch-packing purposes.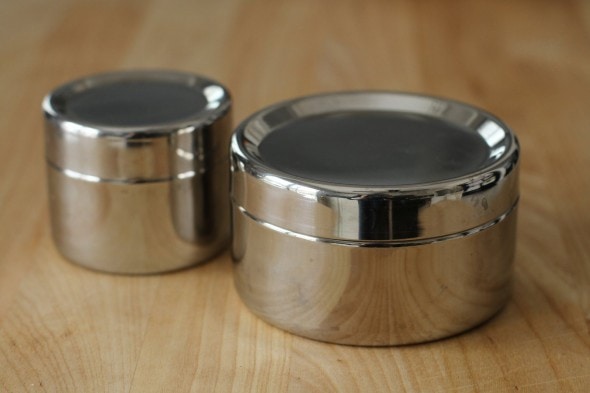 They're fairly expensive, but they're 100% stainless steel, which means they'll last pretty much forever and won't absorb any odors.
However, since they're opaque, I prefer not to store refrigerated food in them, because if I can't see what I have, I'm way more likely to waste it.
Spencer Stainless Steel
I splurged and bought a set of these when they were on sale at Pottery Barn Kids.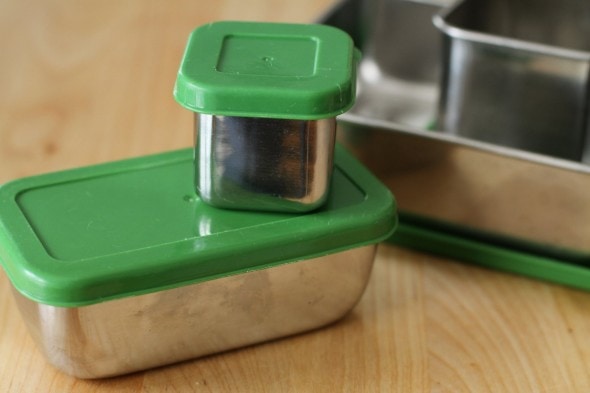 For the price, you'd have thought they'd be super-duper awesome, but I am sad to say that the lid on the smallest container has split in three places, and we've had this set for less than a year.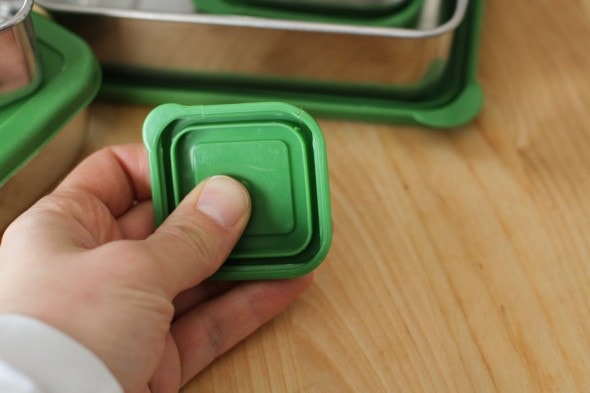 The other lids are holding up so far, and maybe that's because with a bigger container, less stress is put on the corners during the opening process.
Still, I'm pretty disappointed in these, and I can't exactly give them a hearty recommendation.
There are several different brands of these semi-disposable containers…I think Ziploc makes some too.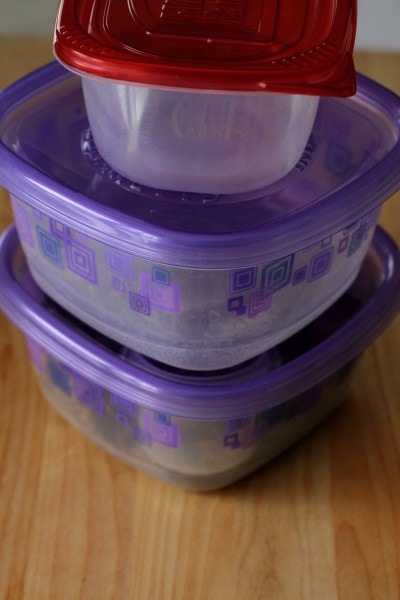 Because these aren't designed to last forever, they're not my first choice for food storage. However, they are WAY less expensive than glass or stainless steel, so if you're on a limited budget and are looking for something less disposable than plastic wrap or plastic bags, these are a good first step.
They're handy to have for divvying up leftovers after a large meal (I don't want to send my stainless steel containers home with someone!) and I've also used them to freeze things like applesauce. You do have to be careful with these when they're frozen, though, as they're a little brittle and prone to cracking when they're that cold.
The Gladware variety is BPA-free and recyclable, so when these reach the end of their useful life, you can at least recycle them.
This is pretty much what I exclusively used when I got married and first had my own kitchen. It's changed a lot since then, so I'm not really qualified to speak to how the quality of the Rubbermaid stuff is now. However, I've had my containers for well over a decade, and they're holding up well.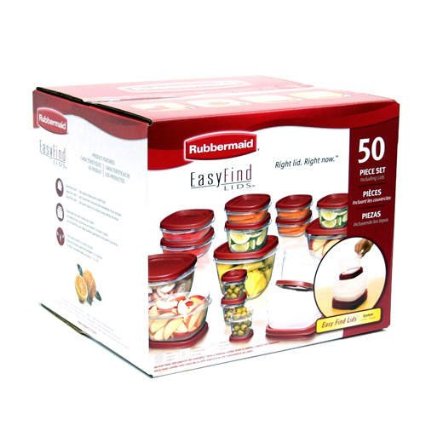 They're plastic, though, and they do have melting issues in the microwave. I mostly use mine for freezing purposes these days (like when I make applesauce or freezer jam.) As with the Gladware, though, you have to operate with care while the container is frozen, as it gets a little bit brittle.
Rubbermaid is very affordable, and since their containers are plastic, you might like these if you and your household are prone to dropping things on hard surfaces. 😉
Mason jars are especially great storage containers for things that are liquids. I use mine to hold my homemade yogurt, of course, but I also store leftover soup in them.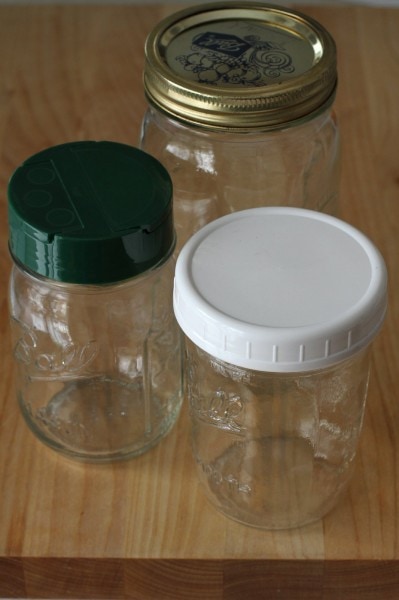 Ball makes some great plastic storage caps
, which I dearly love (that's the white lid in the photo), and if you have narrow mouth jars, you can use the lids from grated Parmesan cheese containers.
(I know. That isn't very high-brow cheese, but my kids do love to sprinkle it on their pizza!)
And if you're using the jars for storage and not for canning, there's nothing wrong with just reusing a regular band and lid.
I've saved these for last because they are pretty much my very favorite.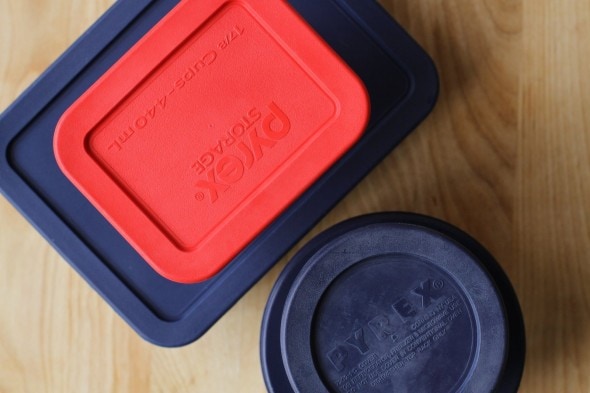 They're glass with plastic lids, which means that I can see what they hold. For that reason, they trump stainless steel food storage for me.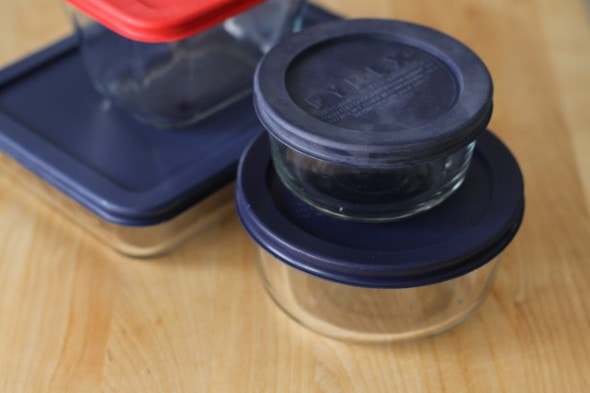 Also, they come in a ridiculous array of sizes and shapes, which means I can use them for almost any food storage need.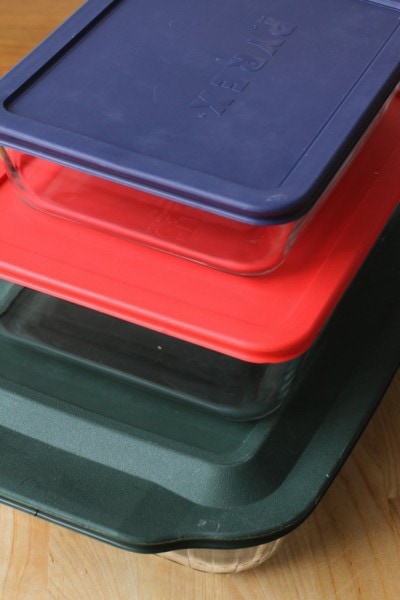 I store leftovers in them, use them to pack Mr. FG's lunches, take them to the store to buy packaging-free chicken, and store baked-goods in them.
I also love to use the small rectangular containers
to store cheese once it's been opened (as you can see in the photos in this post, I store 'em upside down so I can see what's inside.)
Note: Anchor Hocking makes similar containers, but I've had terrible luck with their lids…they keep cracking, while my Pyrex ones have had almost no splitting issues.
If you're looking to get into Pyrex storage, I'd recommend this 10-Piece Set Pyrex set
as a great starter.
_________________________
Since this isn't a comprehensive post (I haven't tried All Of The Containers In The World.), I'd love to hear from you. What food storage containers are your favorites?