On Tuesdays and Thursdays, I post a photo and just a few words.
When this happens, it's over.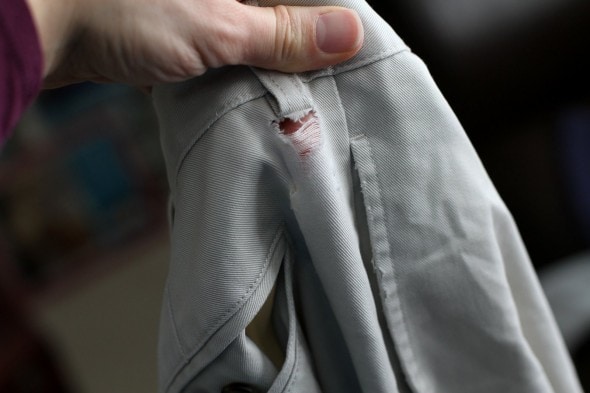 I'm fairly decent at mending casual clothes, but there is no way I know of to make these pants acceptable for Mr. FG's workplace. A sneaky underneath patch might work if they were casual khaki shorts, but he wears to work with buttondowns, so that's a total no-go. And as you can see, the wear is happening all over the pants, not just in that one spot.
He's worn these multiple times a week for years, and it's pretty clear that they've done their duty.
So, they're off to the rag bag where they'll get used by my girls, who have an enjoyable time hacking up unmendable clothes for various crafting projects.
And I'm adding, "Buy new work pants." to my to-do list.
We buy wrinkle-free khakis from L.L. Bean, and I used to always use Ebates when I shopped at L.L. Bean, but I've switched to TopCashBack because they offer 4% back vs. Ebates' 2%. I find TopCashBack's rates to be higher than Ebates' rates across the board so far.
(Psst! Those are affiliate links. If you join a cashback program and make a purchase, I get a small kickback at no extra charge to you. Thanks for supporting The Frugal Girl!)
_________________________
Joshua's 52 Project Post: Beacon
(Did you miss that he switched to a 52 project? He wrote about it right here.)