(Inspired by a recent MoneySavingMom post about the things their family splurges on)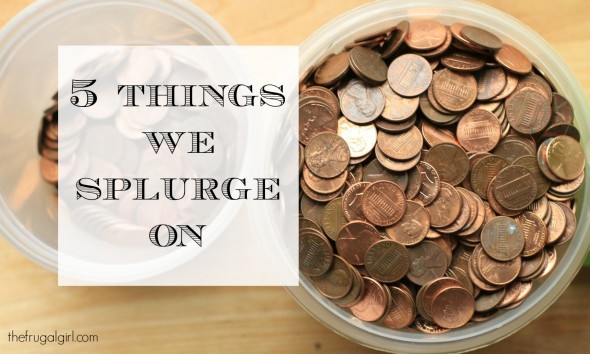 Though we're a fairly frugal household here at Chez FG, we're really more about mindful spending than we are about saving Every Single Possible Penny.
So, we try to save on things that don't matter that much to us so we can spend on the things that do.
Before I get to my list, though, I want to say that I know not everyone is in a position to be able to splurge on anything. In fact, for many years, Mr. FG and I weren't.
(A warehousing salary gets stretched pretty thin in a 6-person household!)
During those years, we had to spend the bare minimum on almost everything just to stay in the black, and if you're in that spot, please know that this list isn't meant to be a judgment on you.
I'm just sharing how Mr. FG and I have decided to spend some of our money now that we're not in such a survival mode stage of life.
1. Quality, Ethical Products
I'm normally a hold-tight-to-my-money gal, but if I can spend more and get a quality, ethically-made product, suddenly my purse strings loosen.
For instance, there are three American Giant hoodies at our house, and I feel like that was money well-spent. They're American made, starting from seed, they're super heavy duty, and I think they'll last for years and years.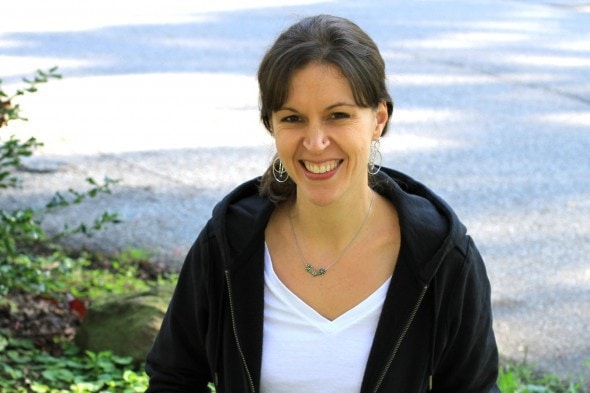 I could get a decent hoodie for less, but not one QUITE this marvelous. Plus I know part of what I'm paying for is fair salaries and good jobs for the people who work to make these hoodies and that feels like mindful spending to me.
A bonus of buying good quality products is that eventually, they mostly pay for themselves. I have such a great collection of solid kitchen equipment now, I don't think I'll have to buy more new items for years and years, which means my average kitchen equipment spending will be quite low.
2. Food
I'm not sure exactly how splurge-y this is, but I definitely spend more on food that I could if I worked really hard at it.
Partly this ties into the previous splurge, in the sense that I purposely pay more sometimes for quality food. I know this isn't realistic for everyone, but like Michael Pollan says, if we are able to spend a bit more to support good food, then we should do it.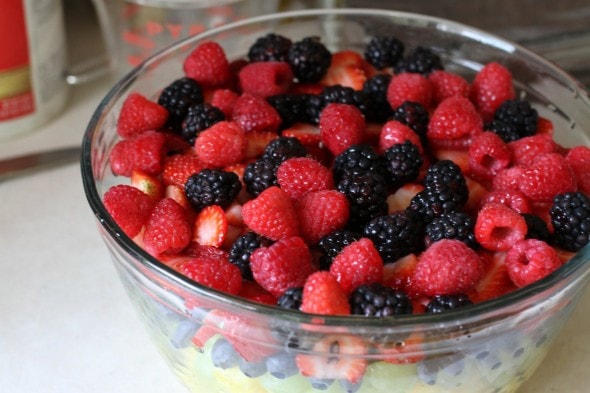 So, I buy eggs from a local friend, organic chicken from a local market, beef from a local farm, and I pay for a produce box delivery every other week. Also, I try to buy whatever organic products Aldi offers (which aren't TOO much of a splurge because of their great prices!).
Plus, I consciously try to buy nutrient-dense foods for my kids, even if they're not organic or local.
For instance, I pay extra to buy nuts, fruits, and veggies for snacks instead of just buying what's cheap (i.e. crackers. Though we DO eat some crackers!)
(This is not to say I fling money around the grocery store with abandon…I mean, I do still bake my own bread, make yogurt from scratch, make chicken broth and cook most of our meals from basic ingredients. I'm just willing to spend a little more for better ingredients.)
3. Giving
(I don't know if giving is exactly splurging, but it is something we mindfully spend our money on, so…)
No matter what our financial circumstances have been, Mr. FG and I have always given 10% of our gross income to our church, and for a lot of years, that's about all we could manage.
But since we have more wiggle room now, we've been able to support other people and organizations we believe in, and that's definitely mindful spending for us.
I might not be able to go feed the homeless every weekend, but I can help support a friend who does.
And I might not be able to go drill wells for thirsty people, but I can support Living Water in what they do.
Heating/Cooling
We're not doing anything craaaazy, like cranking the heat to 78 ° or turning the AC down to 68 °, but we are a little more generous with the thermostat than we could be.
(Ok, ok, you wanna know? 70 ° in the winter, 78 ° in the summer.)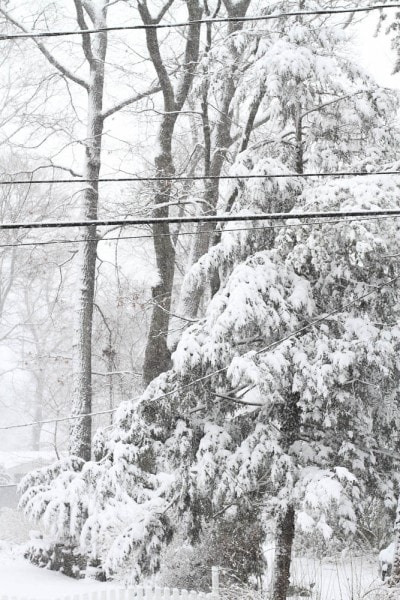 We used to grin and bear it at 65 ° in the winter, but you guys, I just had such a hard time staying warm, even with long underwear, slippers, three shirts, and so on.
Plus Mr. FG has an even harder time staying warm than I do, and we decided it is just not worth it to us to be miserable all winter long.
We used to keep our AC at 80 ° in the summer, and since Mr. FG can handle summer heat just fine, he was good with that. BUT, I really do not deal well with humidity, so 78 ° makes for a more cheerful Kristen.
Occasional Eating Out/Takeout
This is a tough one for me, because I knowwwwww how crazy much more expensive it is to eat out, and so I'm usually like, "Self! Whatever you do, you MUST COOK ALL THE MEALS."
Which is certainly a fine goal (saves money, plus it's usually healthier), and most of the time, I'm pretty successful at it.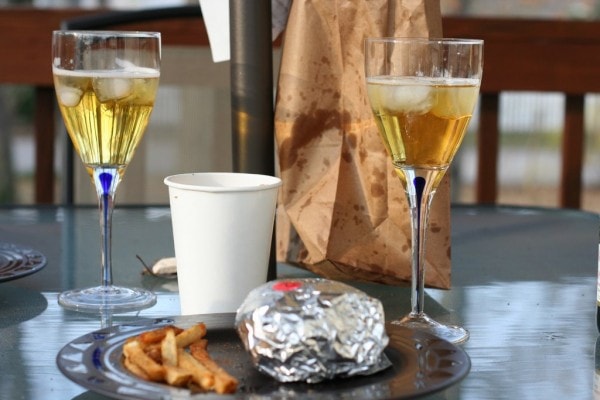 But I have slowwwwwly come to realize that sometimes, a dinner out is a sanity-saving choice, and can be considered mindful spending.
So at the end of a week, if I'm particularly fried or busy, sometimes we order pizza from a local shop instead of making it from scratch. Or occasionally I'll have a crazy day in the middle of the week and a homemade dinner is just not gonna happen, so we might get subs and bring them home for dinner.
______________________
Alrighty…your turn!
What things do YOU splurge on?
______________________
P.S. In case the American Giant hoodies piqued your interest, I have a referral link from American Giant that gives you 15% off your first purchase. That'll net you almost $14 off the purchase of a heavyweight hoodie, which is what we own. Also: we really love their tshirts, which are quite reasonably priced.
P.P.S. I shared an American Giant link here some months ago, which meant I got some $15 credits (thank you!). So we were able to get our hoodies for about the same price you can. Schweet.