Scroll down for the fail. We're starting with wins first!
1. I mended an armpit hole
This is an American Giant item; it's basically a hooded heavy-duty t-shirt and last time I took it off, I noticed it had sprung a hole in the underarm.
This happens to tshirts all the time, since the underarm is a stress point.
(I also wonder if it happens because sweat can be hard on fabric!)
I did a quick zig-zag job on the inside, and we're back in business.
2. I mended multiple jogger holes
This pair of joggers is from American Giant as well, and I've had them for many years (they were a pretty early model, when American Giant first expanded into pant offerings.)
I wear them pretty much every morning when Mr. FG and I go for a walk, and they are starting to sprout holes around the waist and pockets.
The rest of the pant fabric is fine, so I am not ready to trash them.
And since I only wear them for exercising, my mending does not have to be gorgeous!
I did my typical method:
cut a piece of scrap fabric from old saved clothes (this time a pair of kid 7/8 leggings with holes in the knees)
sew it on the inside of the garment, following existing top-stitching as much as possible
zig-zag stitch over the hole to secure it to the scrap fabric
trim the excess fabric from the inside of the garment
Here's the scrap fabric on the inside.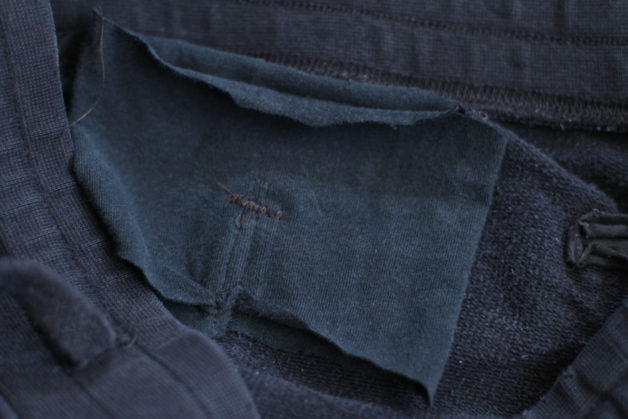 And here it is, trimmed.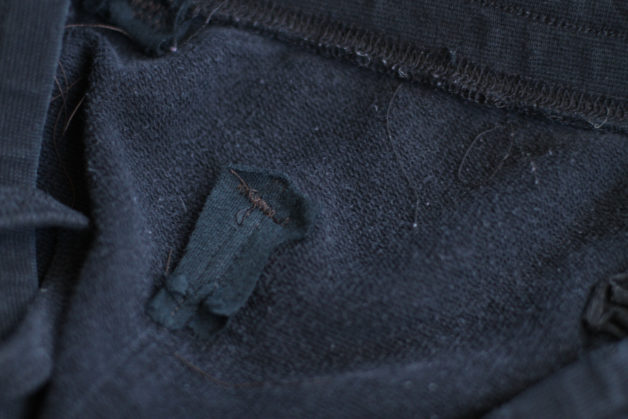 And here's what that fix looks like on the outside. Barely visible.
I did this in a couple of places on these pants, so they are all fixed up for now.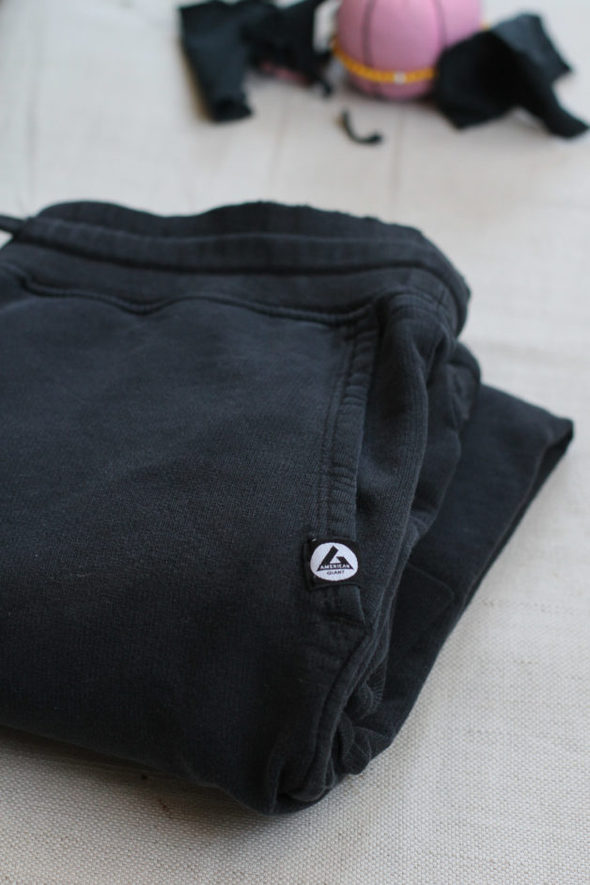 3. I made cupcakes to use up frosting
The nobility of this effort is vaguely questionable, just FYI.
Zoe recently had to make a cell model for her biology class, and she chose to make a cake. There was a fair amount of leftover frosting from this project, so I decided to make some cupcakes to use up the frosting.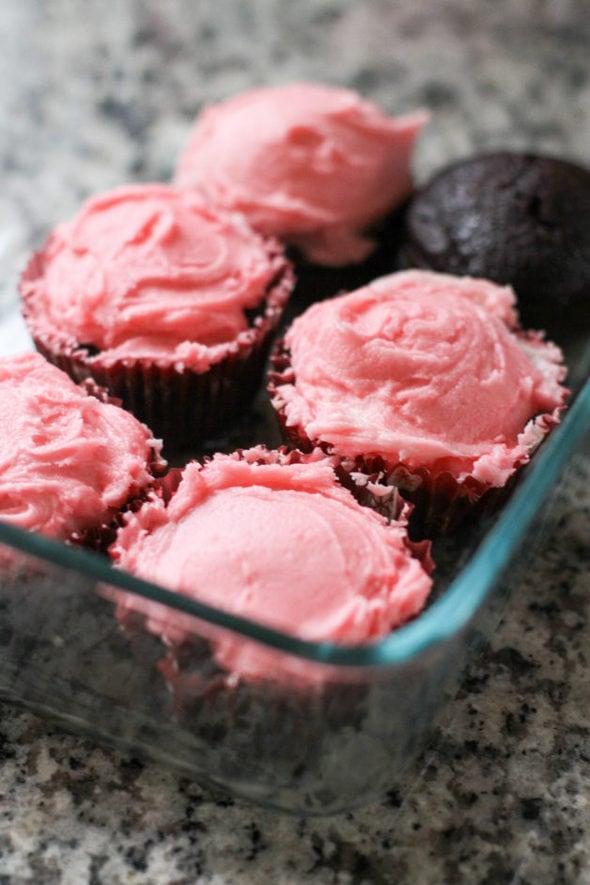 These had the added benefit of using up the very last of the coconut milk and also the random cupcake liners that had been languishing in my baking cabinet.
Plus the benefit of being, you know, cupcakes.
4. We really ate down the fridge
I know for some of you, this is still not an empty fridge. But for me, this is pretty darn empty!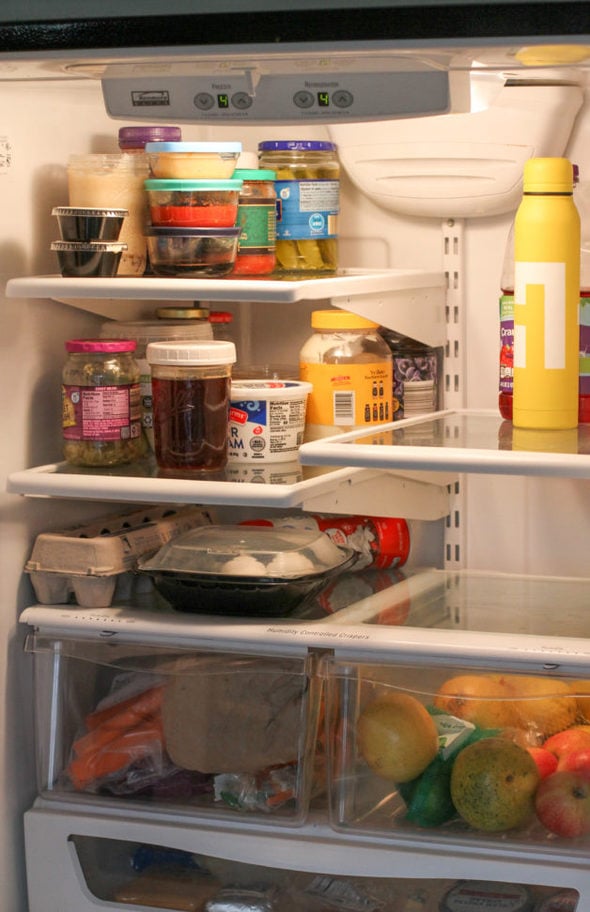 There's still a fair amount of produce and cheese in there, but importantly, there are no leftovers.
I went grocery shopping yesterday, so my fridge doesn't look like this right now. But I am pleased with how much we ate from the fridge before I broke down and went shopping.
Eating up what we have stretches the time between shopping trips and also keeps me from throwing food away. Definitely a frugal situation.
5. I organized my food cabinets (yay) and found some waste (fail)
Fridges and freezers are the places waste is most likely to happen. But on a sneakier, slower level, it can happen in a pantry too.
(I don't have a pantry in my kitchen, but I do store food in a couple of cabinets.)
I found a few things in there that were expired/rancid (see below), but now I have a better idea of what's in the cabinets and what needs to be used.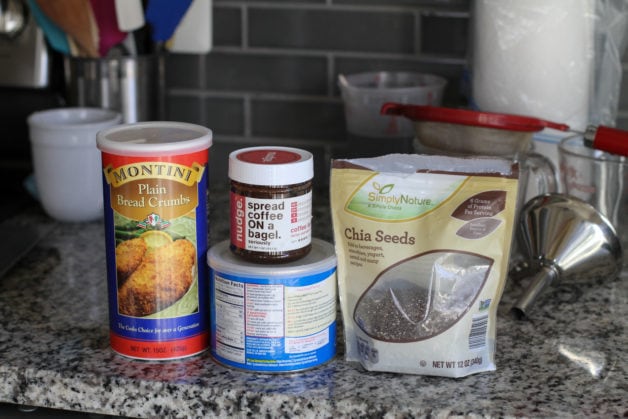 By the way, that coffee-on-a-bagel spread? I had hoped it might be sort of like coffee-flavored Nutella, but we thought it was terrible; so harsh-tasting.
I told Mr. FG it was like eating toast with spikes all over it. Which, ok, is a little dramatic on my part.
But it seriously made my toast inedible.
Your turn! Share your frugal five in the comments.