I haven't done one of these since November!
(I decided once a month was too much, so I spaced out my Stitch Fix deliveries a bit.)
In case you're just joining us, I'm giving Stitch Fix a test run for a year or so, using their "the cheaper, the better" option as a price point.
I was curious what would happen with that set as a parameter, and I'm sharing my experience with you (the good, the bad, and the ugly).
Let's be honest…the bad is the most fun part!
I didn't keep anything at all from the last Stitch Fix (you can read about it here), so this time I requested a new stylist.
And here's how that panned out.
(Just FYI, you pay a $20 styling fee to have a box sent to you, and then the $20 fee is credited toward anything you keep. Also, you get a discount if you keep everything in the box. I've never done that yet, though.)
First up, we have a cold-shoulder knit top ($38). I've never owned a cold-shoulder top, but I like that this one has small cut-outs. It fits me great, hangs nicely, and is loose enough/long enough to look good with skinny pants.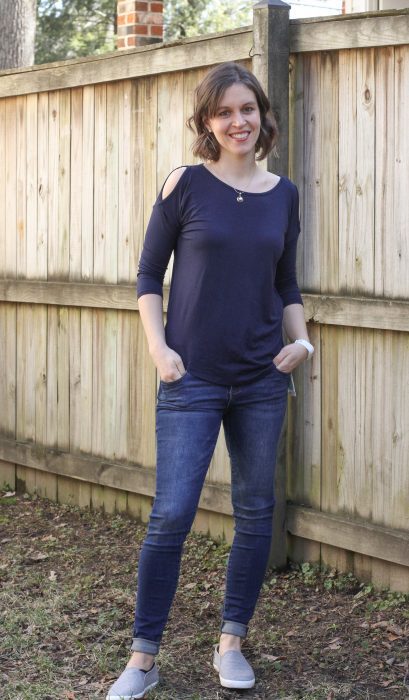 I can see dressing this up and it also works for casual wear.
So, thumbs up here.
Next up, a bell-sleeve light pink top, which looked very cute on the style card.
But not so much on me!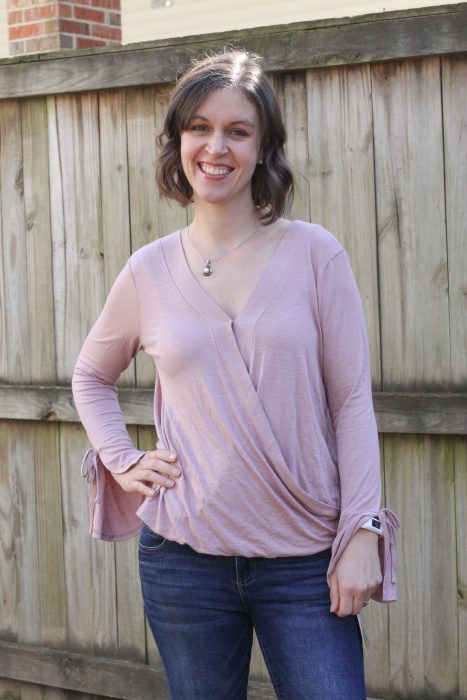 Perhaps this would be flattering on someone with a very curvy build, but I don't think it does me any favors.
I feel like the shirt pulls weirdly on the snap closure. And the waist is sort of a weird not-fitted-but-not-exactly-loose-either style.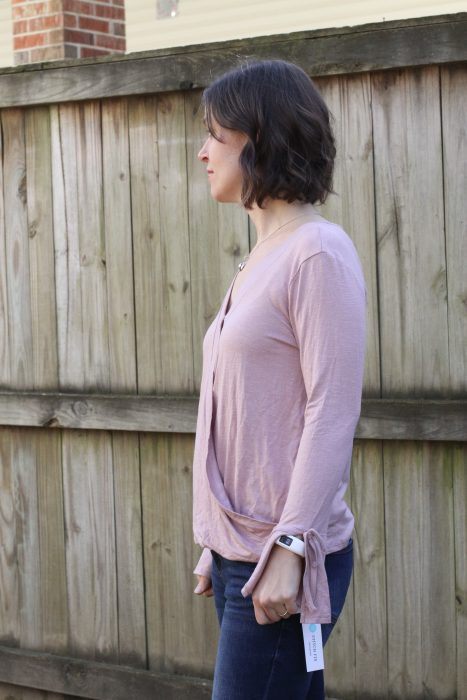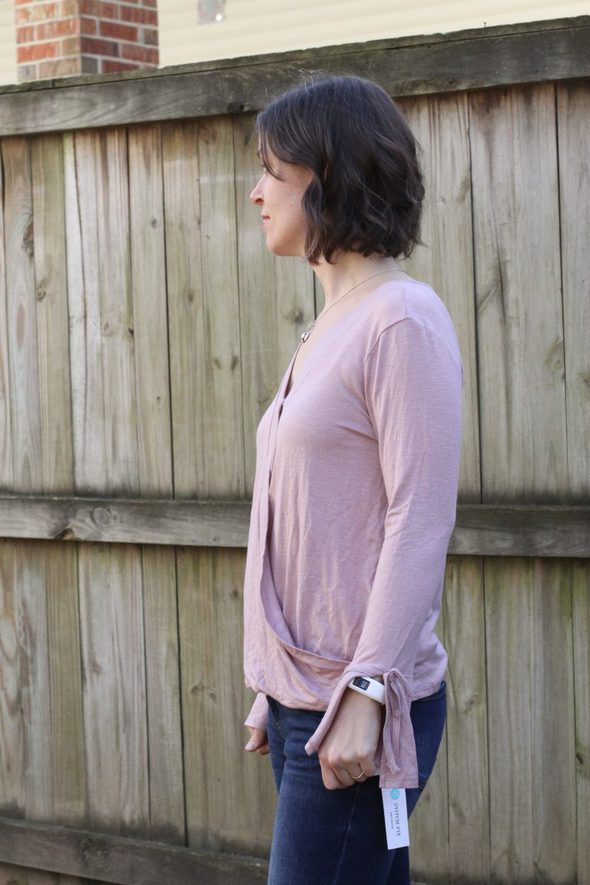 Plus, there is literally nothing keeping the shirt shut aside from the snap, which is a little disconcerting.
And bell sleeves…not a bit fan of those, mainly because they're such a pain when you want to wash your hands!
I also got a tote bag ($58). I love the color and the style, but whoa. It's awfully big!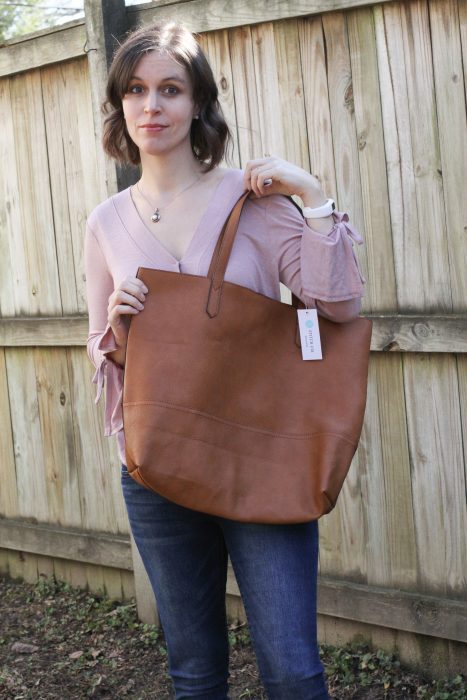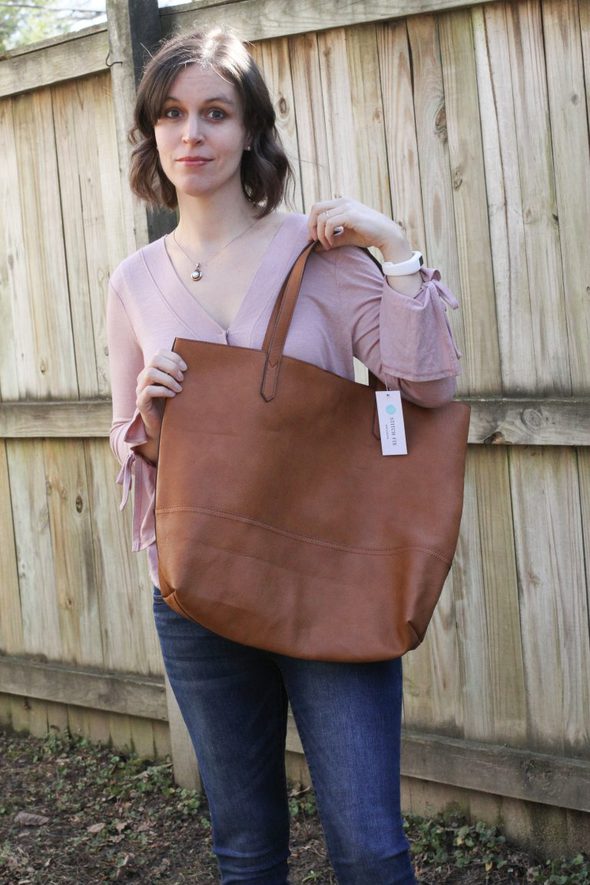 I just can't see carrying something like this around on a regular basis. I don't need that much stuff with me!
Next up: a funnel neck top that I like much better than the pink one. It's soft, it's nice and long in the back, and it's a stripe (I have mostly solid color long-sleeve tops).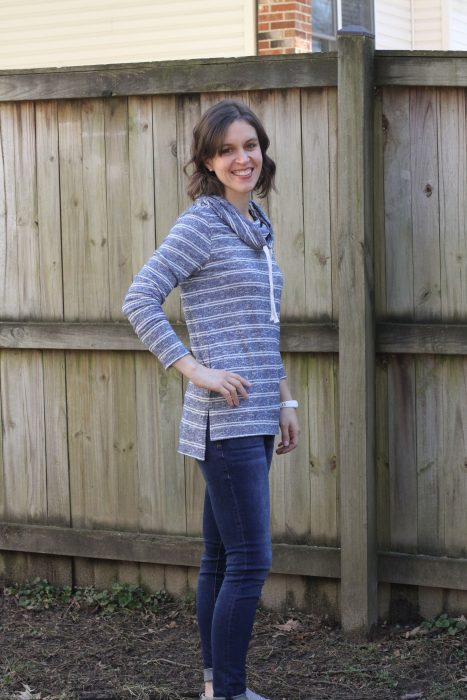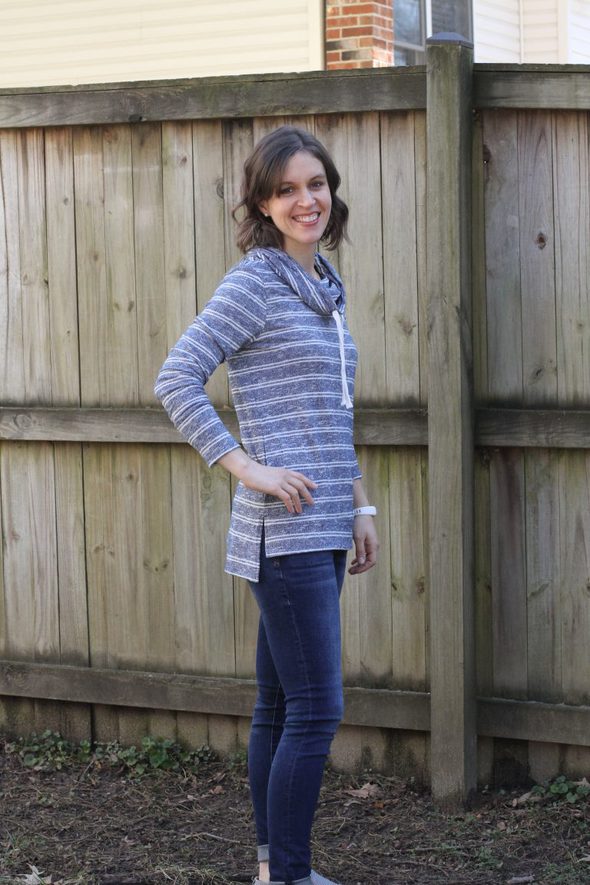 I feel much better about it than this photo conveys. 😉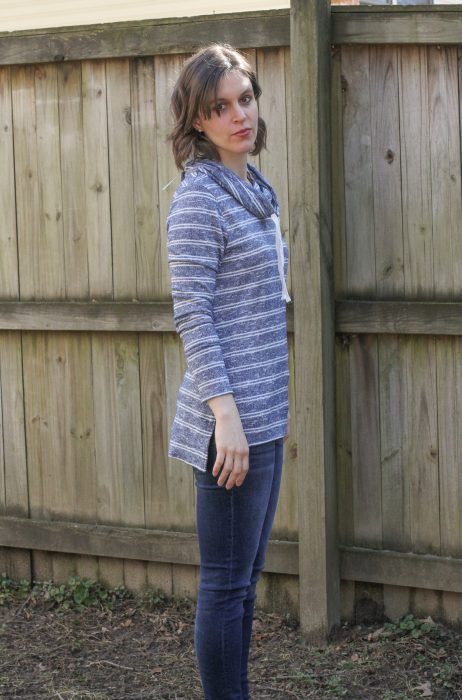 Plus, it's warm and cozy, which is very important for winter fashion (a lot of winter fashion will not keep you at all warm!).
And the fifth item was the pair of jeans I'm wearing in all the photos.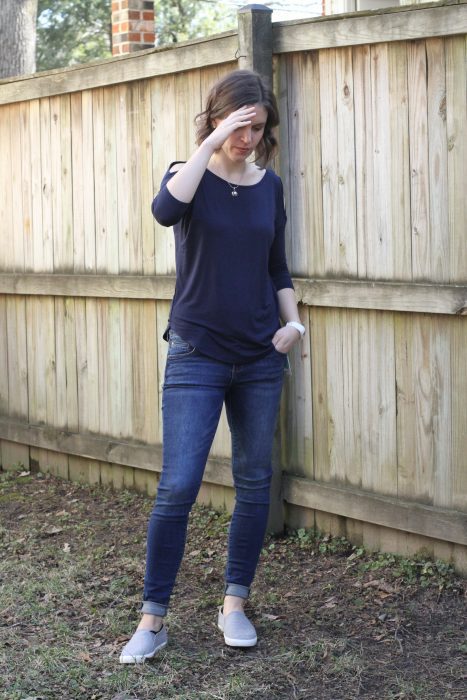 The stylist sent me a long size, which meant that uncuffed, these were way too long for me. I'm kinda tall, but my height is 100% not in my legs (all torso!), so I never need a long length in jeans.
They do look cute cuffed, but I felt like the fit was just a tad bit too tight to be comfortable.
While I'm willing to pay a fair amount for jeans that are super fabulous (I've bought two pairs from Stitch Fix thus far), I get pretty picky at the $88 price point. I need to be bowled over to buy jeans for that much! 🙂
______________
Alrighty, people! Tell me what you'd keep and what you wouldn't.