Sorry to have gone MIA yesterday! I've been watching the World Series games with Mr. FG (cheering on his Cubs), so I've been up a bit late.
(2 am after last night's World Series win, to be specific. I'm kind of tired today.)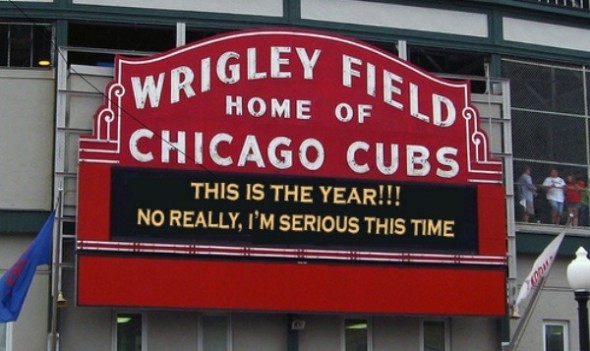 But the World Series is over now, so things should be more back to normal in my life. I am super happy for Mr. FG that the Cubs have finally won a World Series. Phew. I was sweating bullets in that drama-filled game last night.
And Indians fans, I'm sorry for your loss. If the Indians had been playing against anyone but the Cubs, I'd have been rooting for the Indians because boy, do I have sympathy for teams who haven't won it all in a long time.
I don't think I've had a notably frugal week, but we'll see what I can come up with.
1. I'm filling holes in a deck board.
One of our deck boards has two fairly large gaps. The board is otherwise in very good shape…I think these must just have been weak spots in the board.
My dad suggested using a plasticky wood filler, sanding, and then using my deck stain over top.
We'll see what happens. I figured it was worth a try before giving up on that board completely.
2. I cooked dinner each night.
Basic, I know, but cooking dinner at home for my crew of six is one of the most important things I can consistently do to save money.
3. I'm finishing my deck staining project.
I don't know that this is especially frugal, but it IS something that's easy to procrastinate on. I finished about 80% of the project at the end of August, but I never got around to getting on a ladder to finish the outside portions that can't be reached from the deck itself.
So on warmish days, I've been putting my earbuds in, listening to podcasts, and doing the annoying brush work of getting all those last details stained.
4. I'm working on painting my front door.
It's a plain-Jane door we bought 10 years ago, and we never painted over the white primer.
It's got some dents and the primer was pretty dirty, but I scrubbed the door down and put some coats of paint on yesterday. It's not quite done yet and it's not perfect, but the door looks SO much better than it did before.
And this is much cheaper than replacing the door.
(I'm brushing the paint on and I'm using a quart of Behr paint. I like it pretty well, but I think I'm going to thin it out a bit before I do more coats. Thick paint is annoying to work with.)
5. We didn't buy World Series tickets.
Bahahahaha! You knew I had to throw that in there, right?
On a actual frugal note: we don't have the channel that all the playoff games were on, so Mr. FG streamed them to our TV using the Roku and the FS1 app instead of paying the ridiculous sum the cable company wanted for the FS1 channel.
____________________
How about you? If you've got five frugal things to share, leave 'em in the comments!