I received a question a while ago from a reader who was having a tough time thinking of meal ideas for her menu plans. I can totally sympathize with her! I've always thought that cooking would be so much easier if someone else would just come up with a plan for me (and not just any plan…one that fits my budget and my family's tastes!).
I plan my menu religiously (here's why) and some weeks, I have no trouble churning out 7 meal ideas. Then there are those other weeks where I sit at the table with a bad case of menu-planner's block, fresh out of inspiration.
Here are a few things that help me get past that block.
1) I use my master menu plan.
If you're like me, you have a lot of recipes in your repertoire, but you have trouble remembering them all. I've found it to be very helpful to have a list of all the main dishes that I make so that I don't have to flip through all my cookbooks and my recipe binder to get an overview of my options.
My current meal idea sheet is in desperate need of updating (you can see all my new recipe additions scribbled on in pen!), but it still serves me well.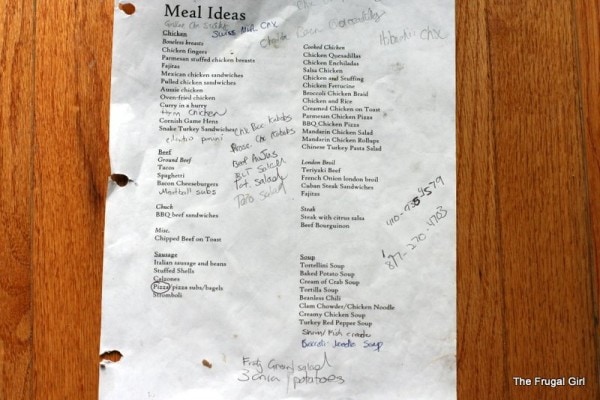 There are more meals listed on the back of this, but as you can see, I have my meal ideas divided up into groups based on the type of meat the recipe requires or the type of food (like soup or pizza). This makes it easy to find recipes that use what I have on hand in the fridge or freezer.
2) I browse through the sale ads.
Sometimes seeing something on sale will help me think of a meal or two that I want to make. For instance, if a roast is on sale, I'll consider making Beef Au Jus sandwiches or BBQ beef. The master meal plan can come in handy here too…if a particular cut of meat is on sale, I can easily scan through my list of recipes that use that cut and decide what I want to make that week.
3) I look through cookbooks and cooking magazines.
This is definitely a time-consuming option so I usually only do this when I am really hard up for some meal ideas or when I'm feeling like we need something new.
I often check Cook's Illustrated's magazines or books out from the library, so I browse through those to find recipes, and I also use Taste of Home's magazines. I'm a member of CI's website too, so I will sometimes browse through their online list of recipes to find something new.
4) I ask my family for suggestions.
My kids are slowly getting to be more helpful with this (although Joshua's response is usually "Rolls and fruit salad.", because he's more into side dishes than main dishes!) and my husband sometimes comes up with some good suggestions as well.
_____________________________________________________
How do you keep your menus fresh and interesting? I'd love to hear your ideas in the comments.