While I was making dinner last night, I noticed that the house was really quiet. No one was playing (or fighting!), and I thought that was odd until I remembered we'd just picked up a bunch of Mrs. Piggle Wiggle books from the library.
Aha.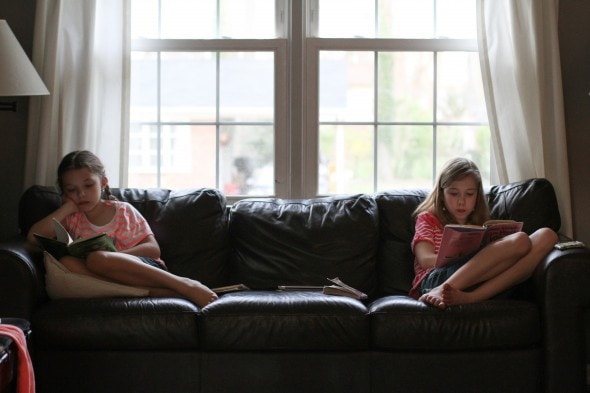 Sonia's read them all before, but she's still interested in re-reading them. And somehow, Zoe hasn't read them before, so she is DEFinitely interested.
They both can read books several levels above these, but man, Mrs. Piggle Wiggle is just fun no matter what level you read at.
While we're at it, can we talk again about how wonderful the public library system is? I can't even begin to imagine how much it would cost to buy all the books that we read.
(Or how much space it would take to store them all!)
I take it for granted sometimes, but being able to borrow books for free and then return them later is really quite marvelous.
Could we also talk about how wonderful the online hold system is? Ordering books from multiple branches and walking in a week later to find them all neatly waiting for me on the hold shelf is kind of magical.
I dearly love the library.