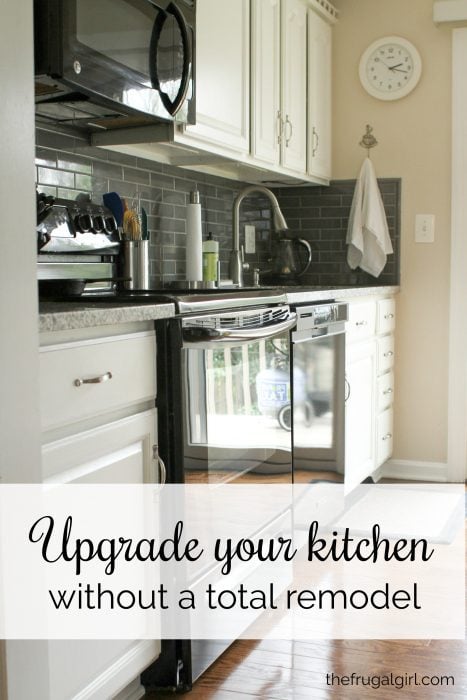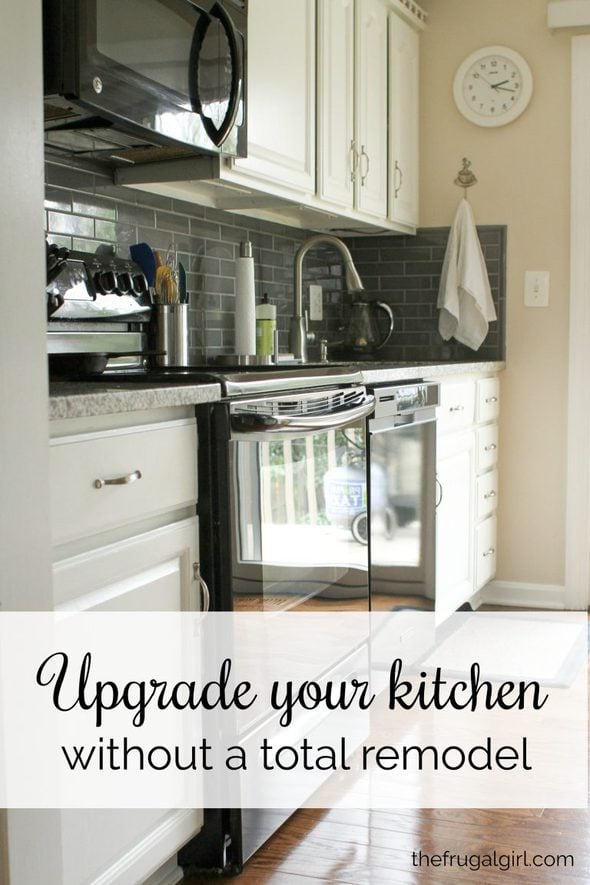 Eagle-eyed readers have been noticing that my kitchen counters and backsplash have changed in the last 6 months or so, and more than one has written me to ask about our thought process behind the upgrades.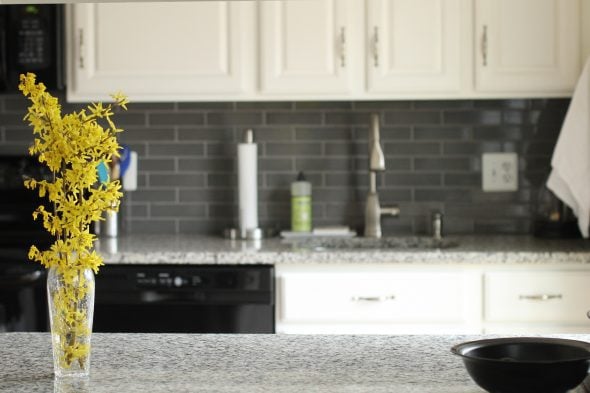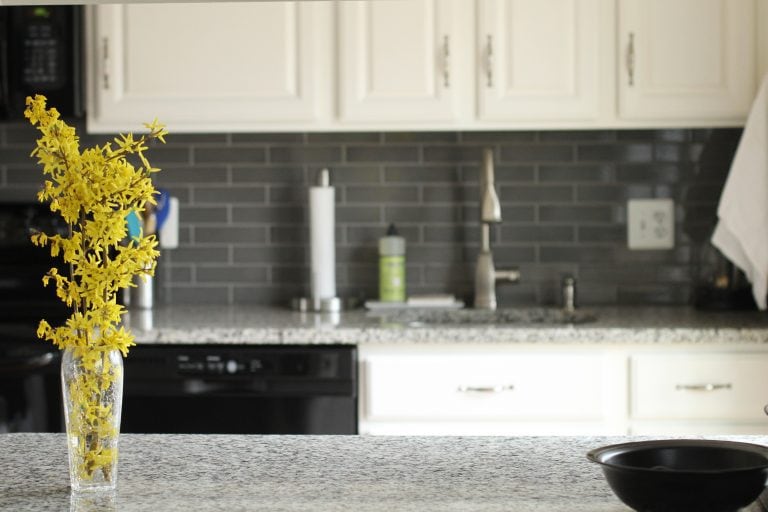 So, I'm here to talk about that!
Here's what the kitchen looked like the day we bought the house.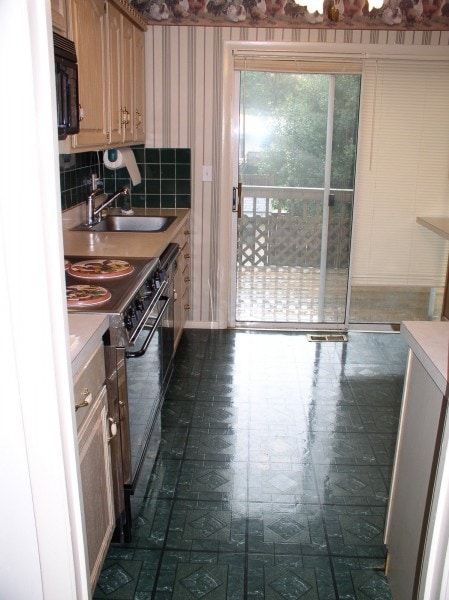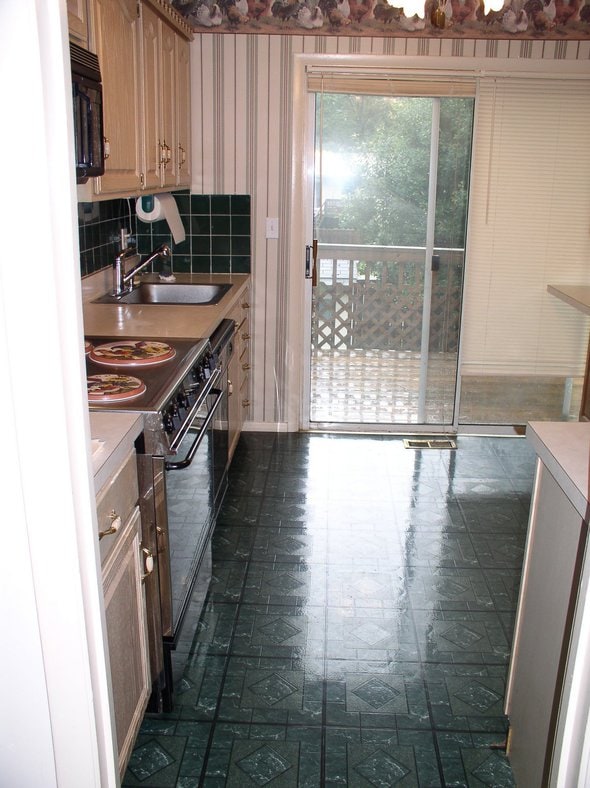 And here's what it looked like with new floors, no wallpaper, a neutral wall color, painted cabinets, and new appliances. Definitely better!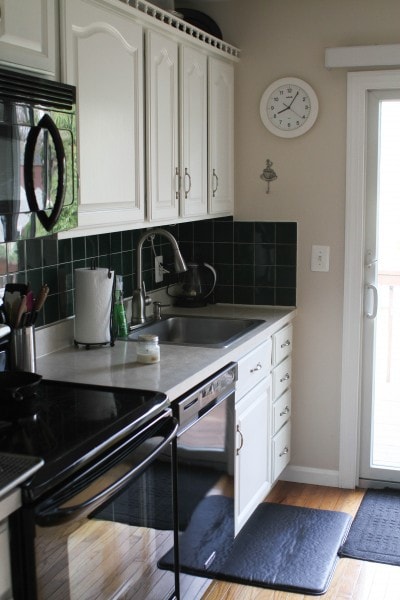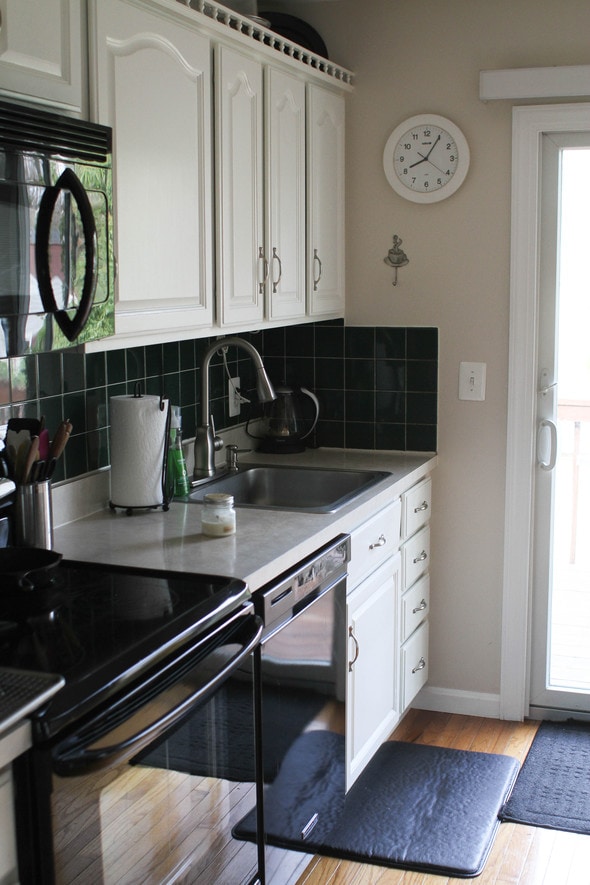 Obviously, the cheapest option would have been to stop there and keep our old formica countertops and the jade green backsplash.
And we did go with that option for over 12 years.
But here's the thing:
Mr. FG and I do not see ourselves living in this house for the rest of our lives, so at some point, we plan to sell it and buy something else that we like better.
(We bought this house because we'd outgrown our townhouse, and at the time, this was all we could afford. It's pretty far from our dream house, but you can afford what you can afford, right?)
Anyway, when we talked to a realtor, she told us that unfortunately, it's really, really hard to sell a house in this area without some kind of upgraded countertops.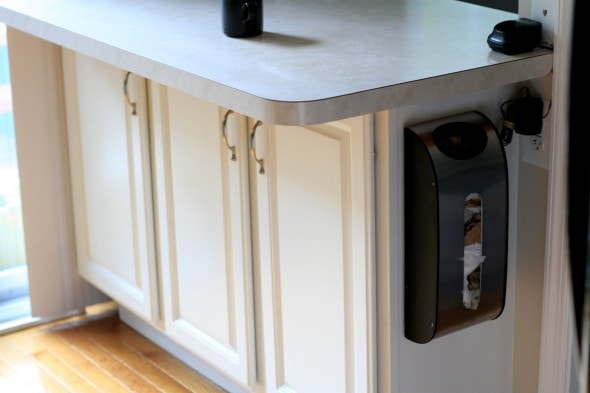 And our old countertops were decidedly not upgraded.
Since we want to sell this house one day, we figured that we'd need to upgrade at some point, and we might as well upgrade now so we can enjoy the nicer kitchen during the years we still live here.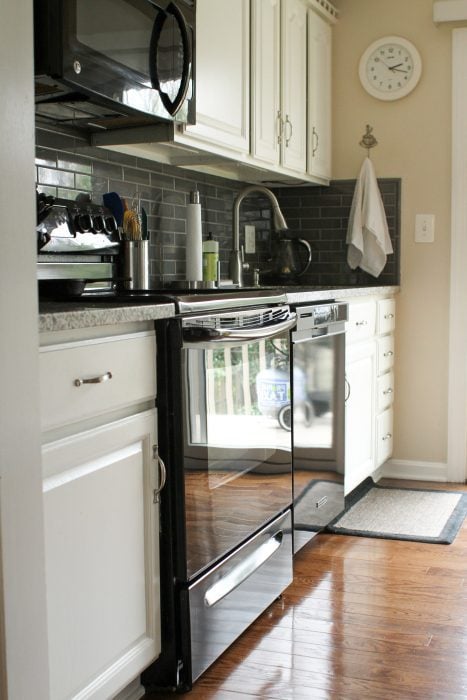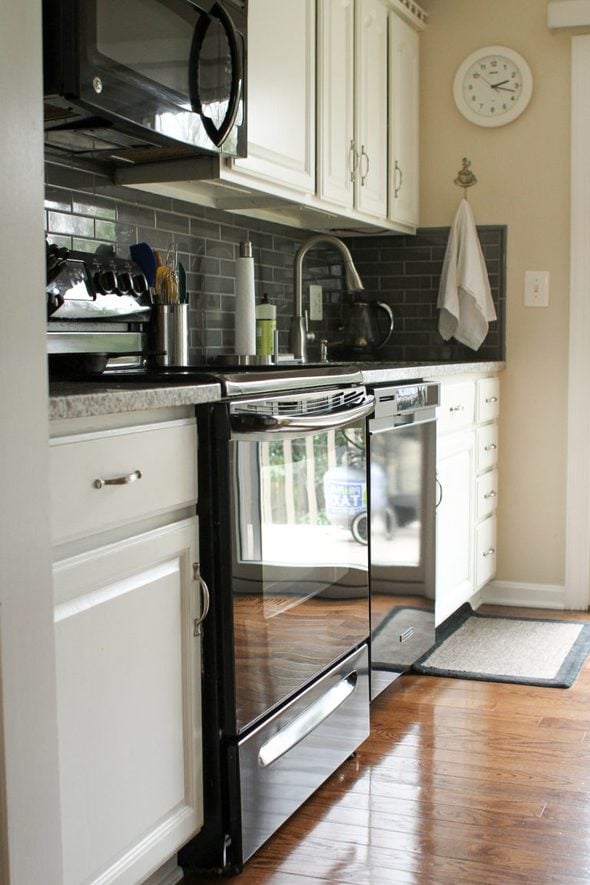 An upside of a small-ish kitchen is that there are only so many feet of countertop to replace. That helps keep costs down in a serious way.
We visited a granite shop that several family members recommended and we chose a fairly inexpensive type of granite. Granite varies widely in price, but I'm just not picky enough to feel like a super expensive type is worth it.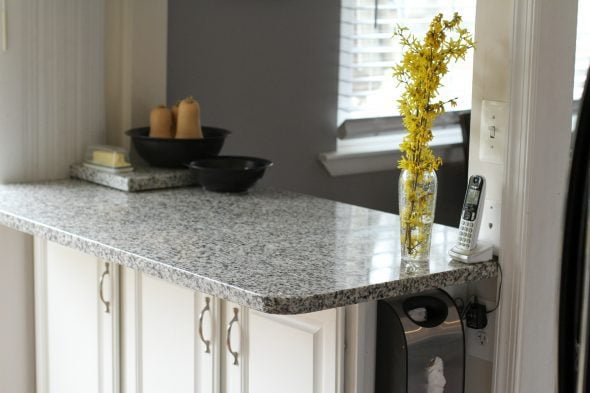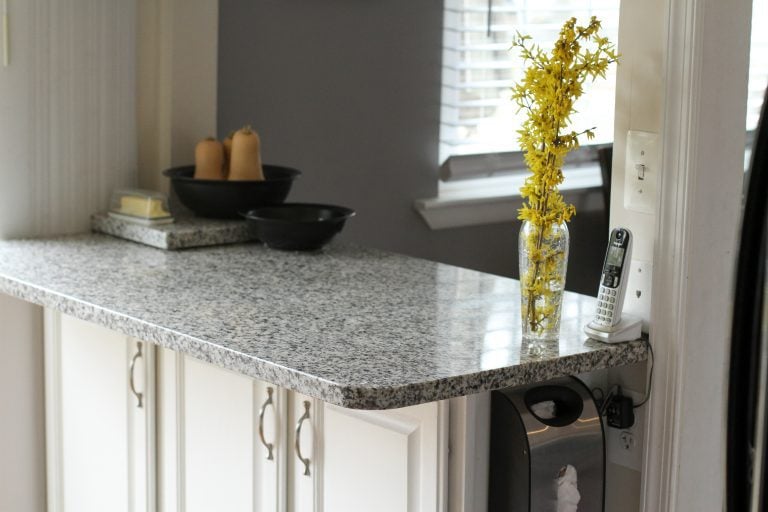 We tried to pick something fairly classic, neutral, and non-trendy so that the counters will look good for years.
The backsplash had to be replaced along with the countertops since it wouldn't line up with (or match!) the new ones.
I'd been wanting under-cabinet lighting for ages, and we figured this was a really good time to add that, since the walls under the cabinets would be accessible.
So. Mr. FG removed all the old tiles and then we hired our electrician friend to install lighting under the cabinets.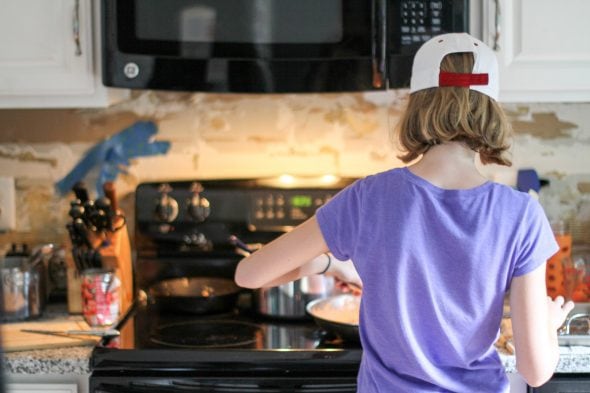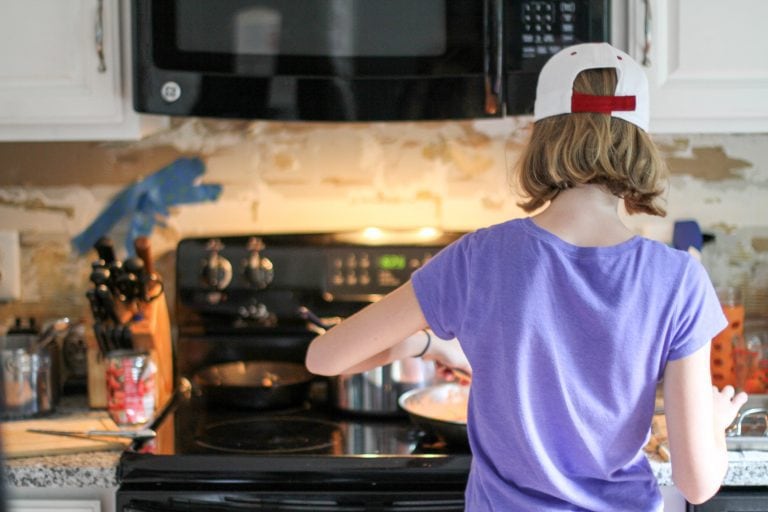 (notice the lovely ripped-up drywall backsplash!)
He's an electrician by trade, and he does side jobs on the weekends. Since he gets to keep all the side job money, he's able to charge less…so it's a good deal for him and for us!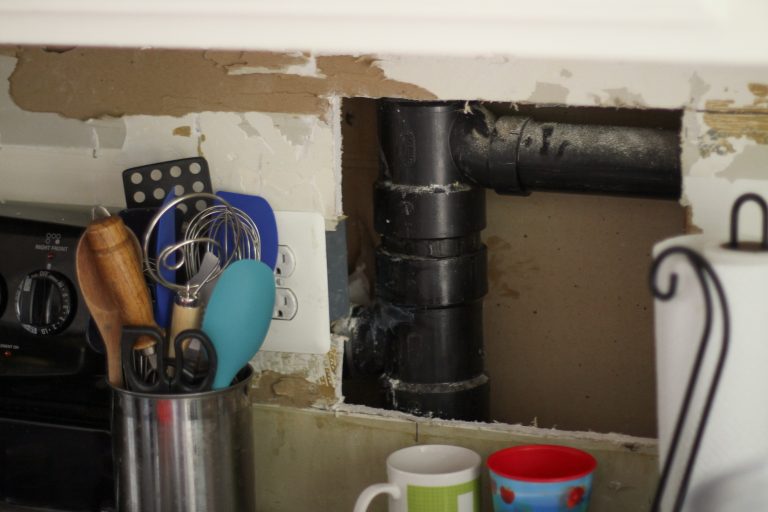 (This is the point at which we discovered the leaking septic vent in the kitchen. It was very frustrating at the time, but it's a mercy that we were able to fix it while the wall was open.)
Once the lighting was in and the plumbing problems were fixed, we picked out some backsplash tile. Glass tile is pretty popular right now, but it's a lot more expensive than ceramic tile, and Mr. FG and I didn't feel like the look was that different.
So, we opted for ceramic.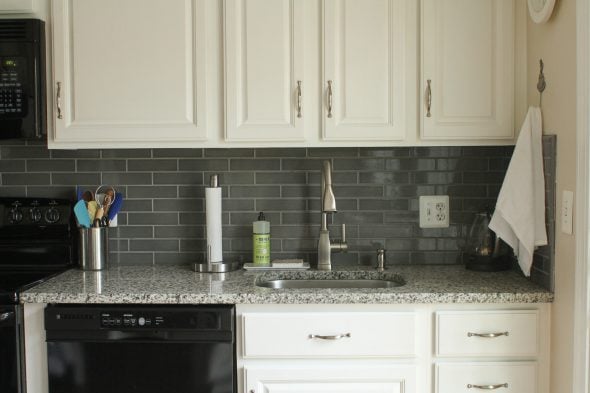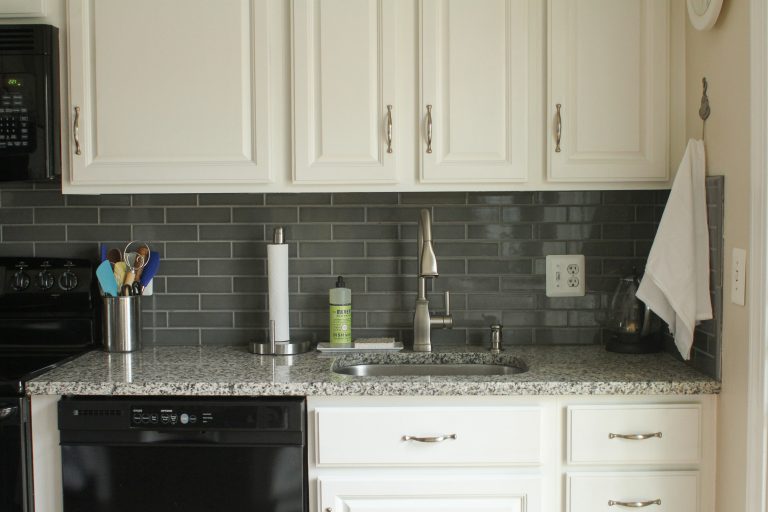 For installation, we asked our electrician friend if he could recommend a tile guy who does side work, and luckily, he could!
The guy we hired did a fantastic job, and he only charged $250 to do the install, some minor drywall repair, and the grouting.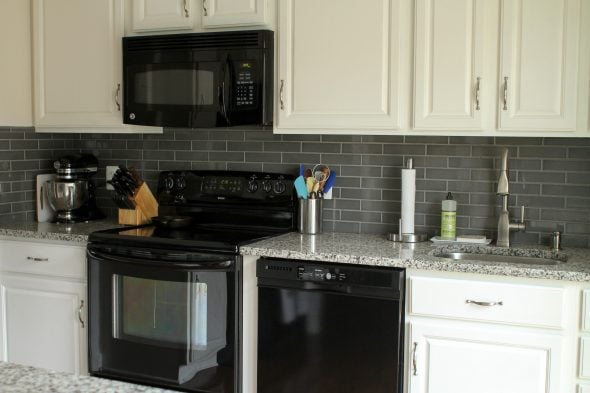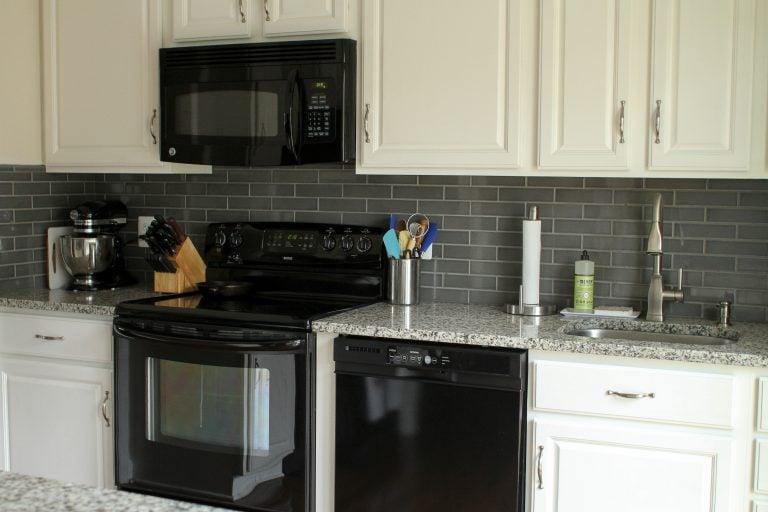 Man, I love people who do side work on the weekends. They are my favorite.
These three changes (counters, backsplash, and lighting) did a lot to update the look of my kitchen. In fact, one of my readers thought we'd remodeled!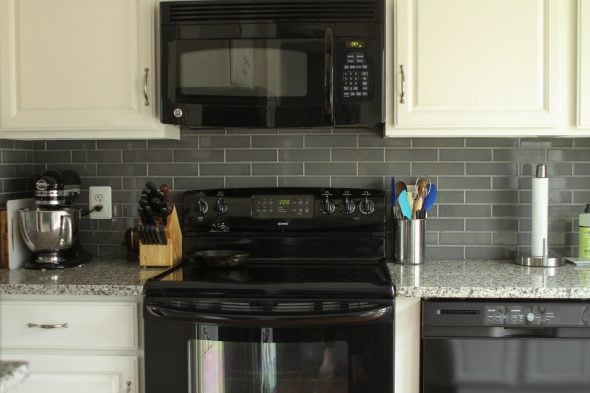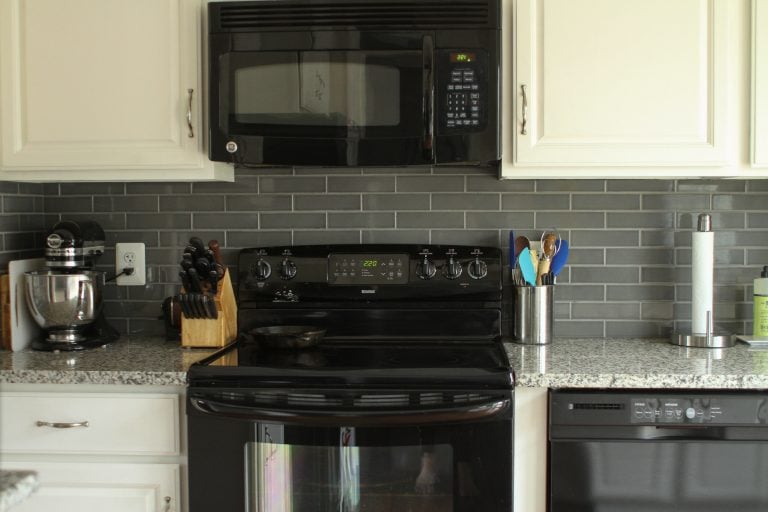 In my dream world that's what would happen…I'd knock down a wall to switch to an open design, but that's a lot more money than I want to pour into a house I don't plan to spend 30 years in.
So, this is a good compromise. The kitchen is updated and modern, it'll work just fine when we sell our house, and it didn't cost nearly what an entire remodel would.
Besides, when you look at what we started with….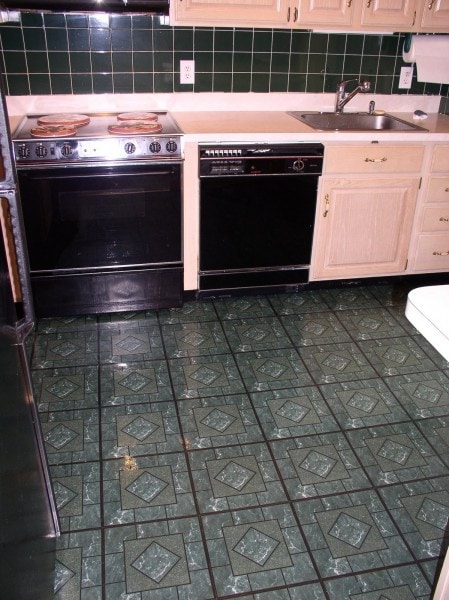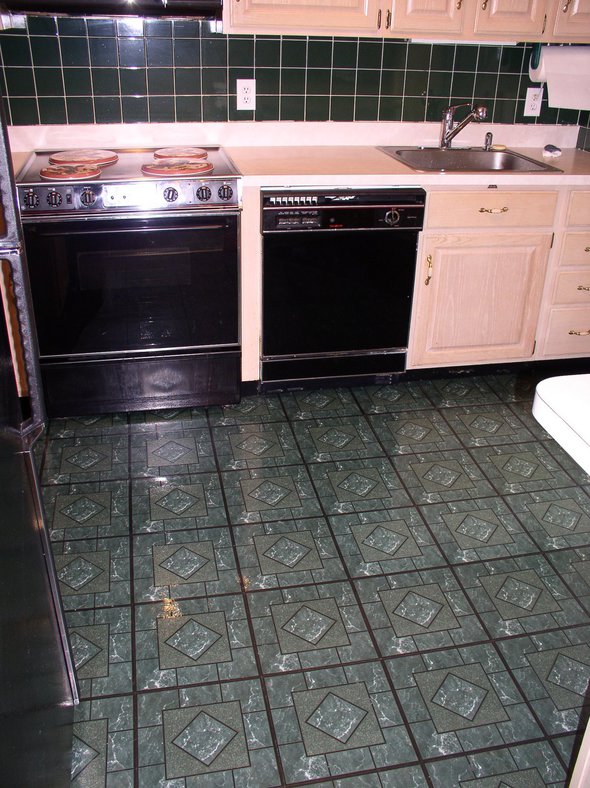 ..it does almost feel like a complete remodel.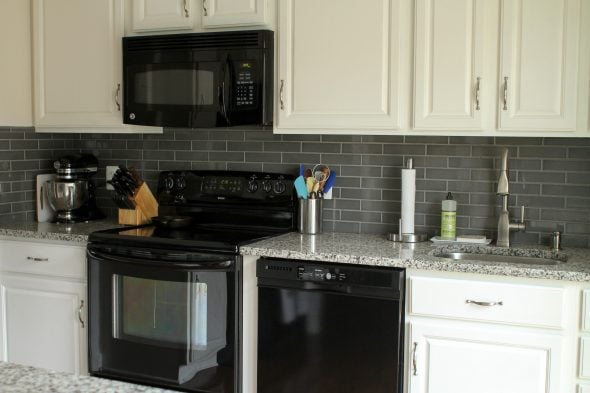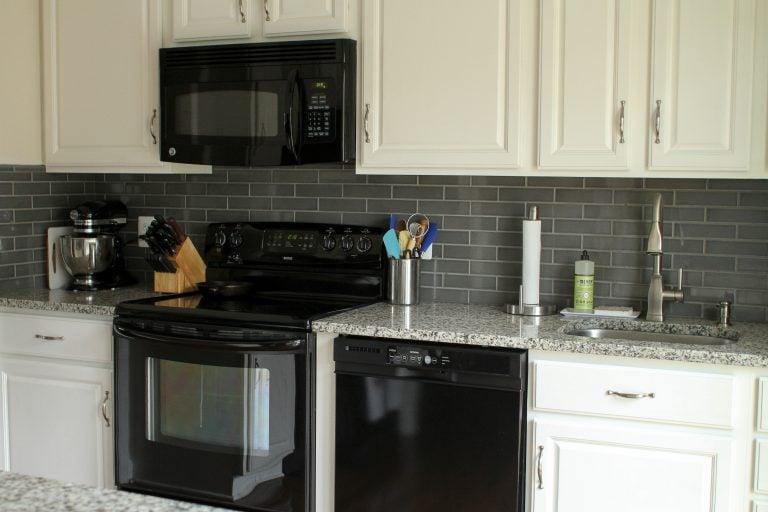 I hope this inspires some of you who would love a kitchen remodel but can't afford it.
If that's you, think about what you could do that's a little less expensive. Maybe there are ways you can upgrade bit by bit like we did, and maybe you'll discover you don't actually need to gut your kitchen in order to update it.
P.S. Dose of reality: I cleaned up my kitchen before I took the pictures in this post. If you visited my house on a random day, the kitchen would be looking much more like this.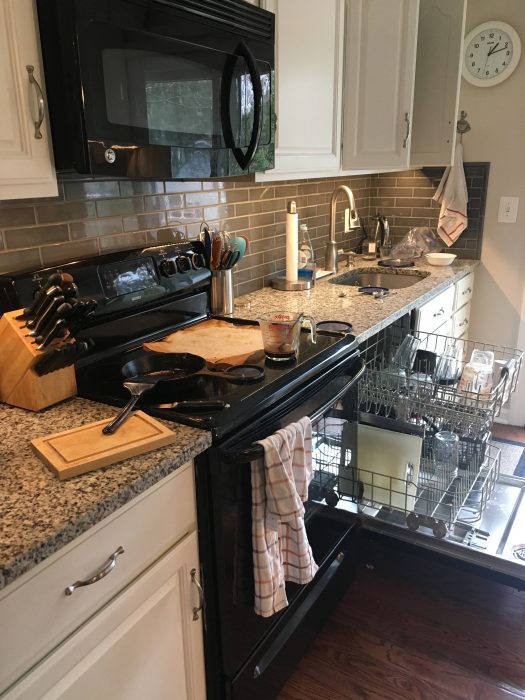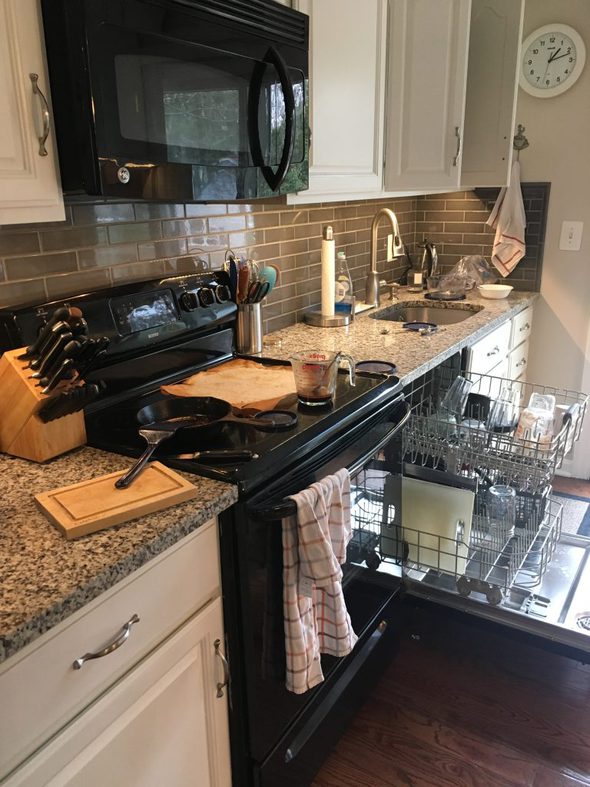 Or this: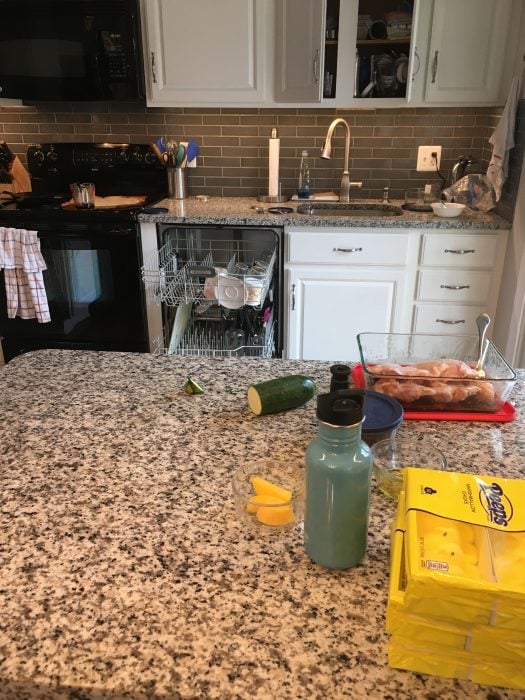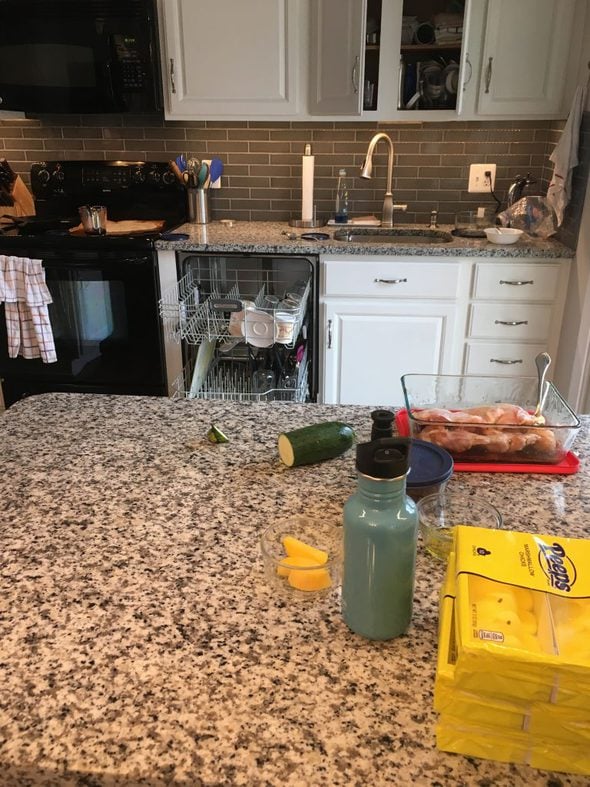 Don't let my outrageously clean photos fool you. We live here. And as a result, our kitchen pretty much never looks as clean as it does in the earlier photos.