I always love taking a peek inside other people's homes, so I thought it would be fun to give you a little tour of my office. Worry not, though…since my frugality seeps into pretty much every area of my life, this post will be quite on topic. 😉
This is my scrapbooking/craft desk. It's an old government-issue desk that was a hand-me-down from my in-laws. It's ugly as sin, but I kind of like it that way because I don't have to worry about messing up the top!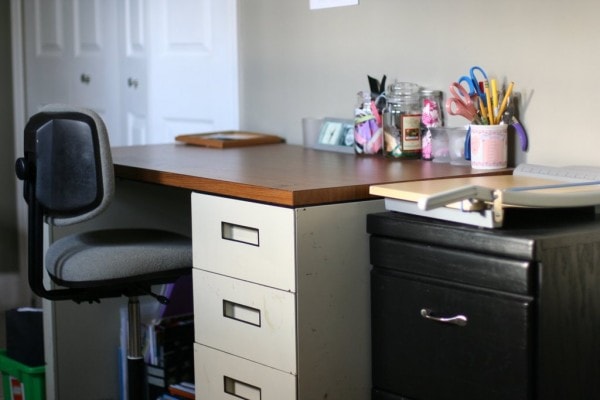 I would really like to spray paint the metal portions black, but have not gotten around to it yet. I'm thinking of doing a matte black (to keep the sheen even) and then a clear poly coat over top of that.
Totally open to ideas, though!
Next to my craft desk is my file cabinet. When I got this from freecycle, it was honey-colored and had no handles.
We all know I can't resist the urge to paint something black, though, so paint it I did. And I thought it looked sort of sad with no handles, so I added some silver hardware.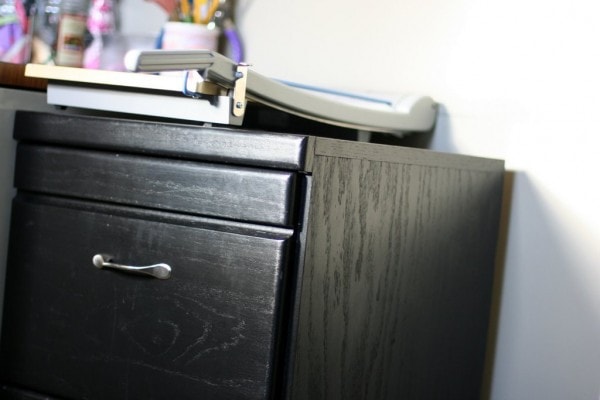 It replaced two plastic file boxes….one now holds swimsuits in my laundry room and the other holds plastic Easter eggs in the off-season.
On top of the file cabinet is my paper cutter, which we got for free from Mr. FG's old warehouse. I think the box was damaged or something? Totally love having this around for scrapbooking, and card-making, and my kids use it all the time for their little crafty stuff.
On the other side of the desk is a re-purposed Lego box which holds Joshua's schoolbooks (he has more than were there at the time of the picture-taking!).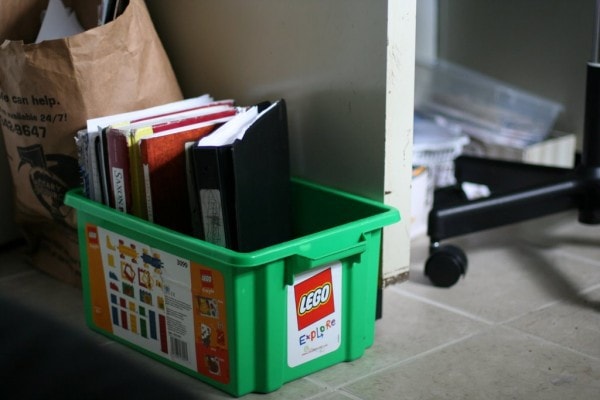 Joshua often does his school down here in order to be free from distractions. However, given that he's not naturally neat, he has a hard time leaving the desk in neat shape.
So, I scribbled a little sign to remind him to clean it up, but he modified it a bit. 😉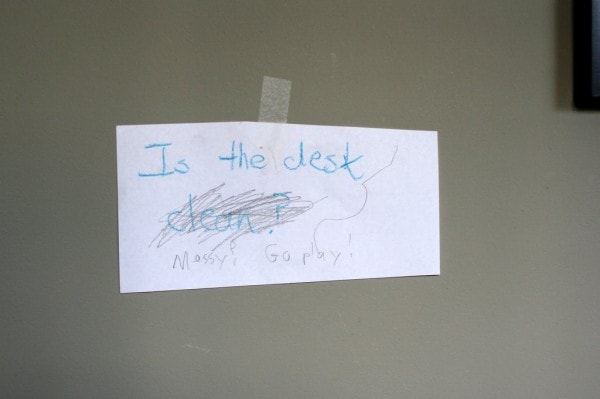 Next up is Mr. FG's desk. For many years now, he's made a habit of tweaking/improving/upgrading/reformatting his computer*, so he really, really prefers to have the case of his computer easily accessible. Because of that, when he saw a minimalist glass and metal desk at Staples, he really wanted one.
*This is why, after some stressful situations, we decided it would be wise for him to have his own system. That way, I don't freak out and say things like, "But what if you lose all my pictures because you did XYZ??" when he's busy tinkering. It's better for our marriage.
But lo and behold, what should show up on Freecycle a few years back but the very desk he'd been coveting! And it was in almost-new condition.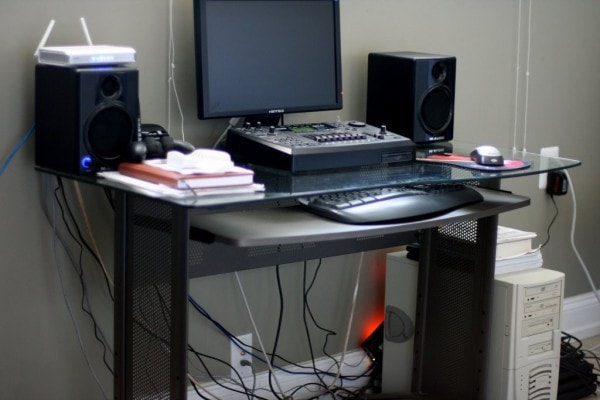 Sweet. This desk is perfect for him because his case and all the cables are very accessible.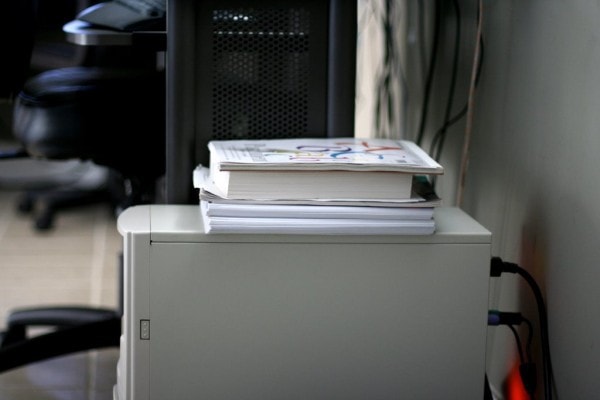 Next to his desk is my paper shredder. I put sensitive documents in there and I also shred any small-ish pieces of paper because I always figure those won't actually recycled and may even clog up the recycling equipment.
I put my paper shreds into my compost bin, so I know for sure that they're not going to waste.
My little space heater is next to the shredder. Our office is a fabulously cool and refreshing room in warm weather, but in the winter? It's stinkin' freezing. So, I sometimes run the heater for a bit to keep me from freezing.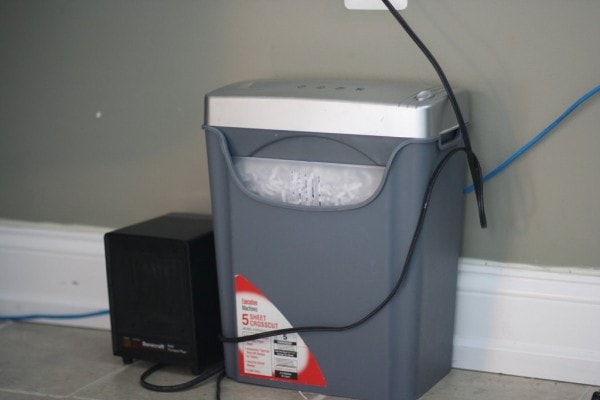 Above the shredder is my $1 calendar from Walgreens and my cheapie bulletin board. It used to have an oak colored frame, but I spray-painted it black and I like it so much better now.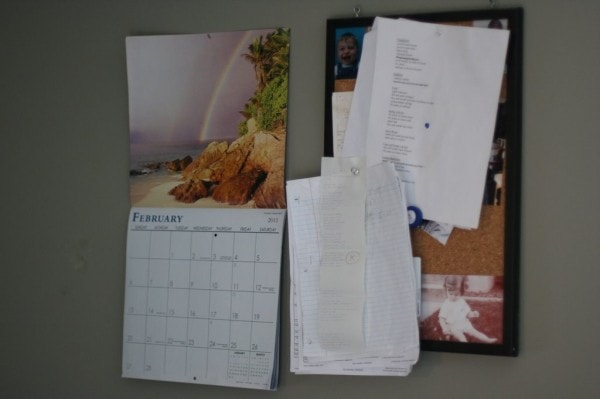 This plant in one of my office windows is noteworthy because it's the only indoor one I haven't yet killed. I fail at indoor gardening.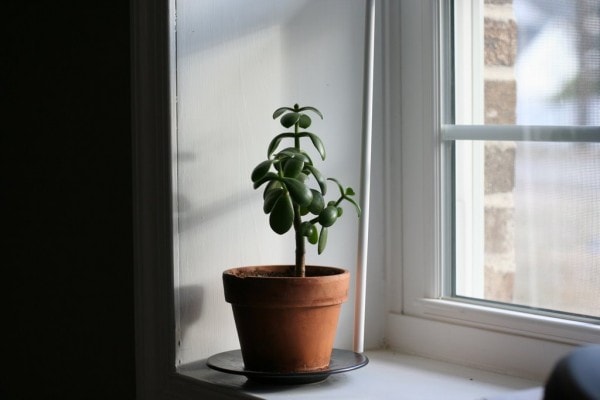 Aaaand, here are the Frugal Girl headquarters, where blogging goodness happens: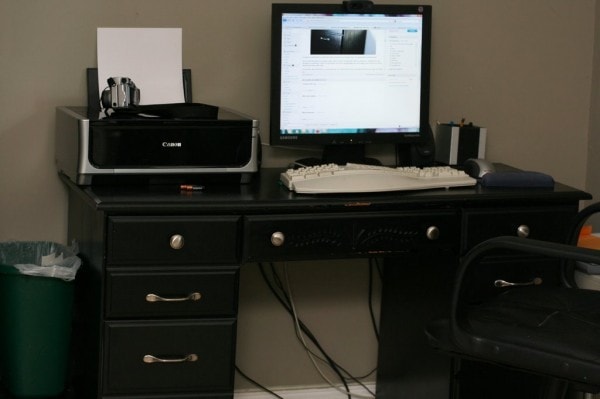 My desk is from Freecycle, naturally.
Here's the Freecycle picture, which made me think the desk was real wood.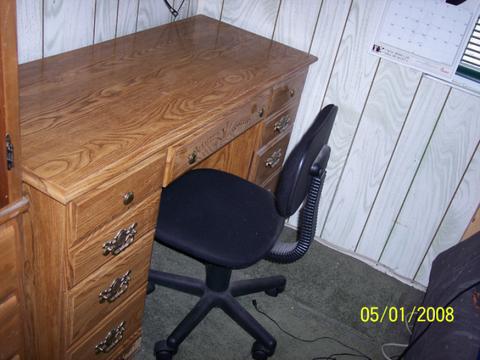 But, it's so not. And it was way more scratched and dinged up than it appears in that photo too.
Here's what it looked like right after I painted it and it was all new and fresh.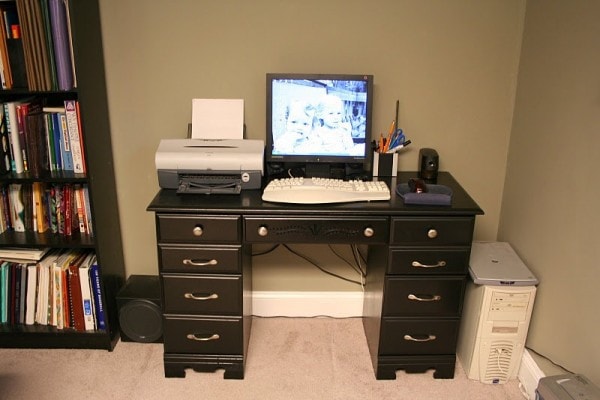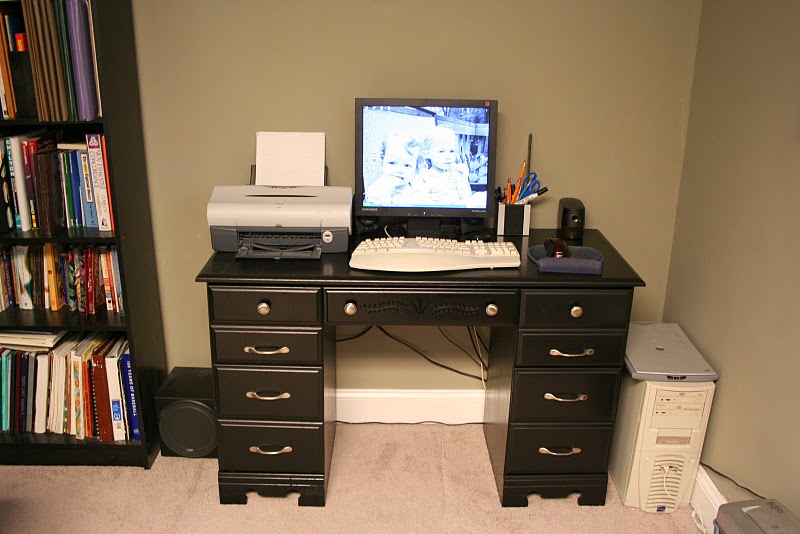 Love!
Time (3 years) and children have taken their toll, though, and there are now some spots that need to be touched up.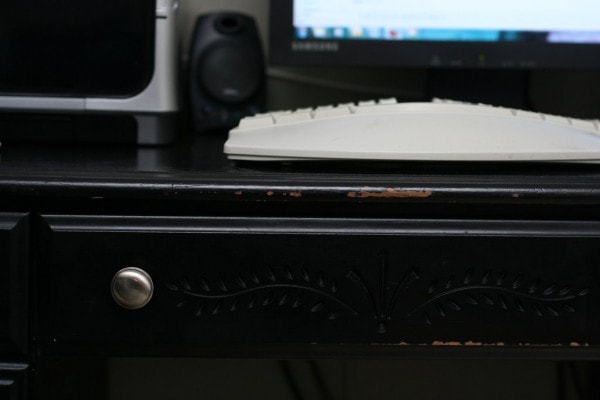 The nice thing is, though, that since it was a free desk, I don't get too upset when it gets dinged up or scratched. If I'd forked over a bunch of money for a Pottery Barn desk, though, I'd have a hard time being so gracious!
And lastly, here is our tiled floor, which replaced the carpet (you can see that in one of the desk pictures). This is the not-so-frugal part of the room.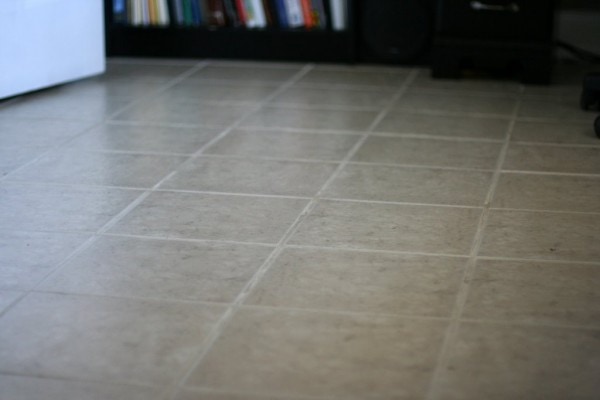 Did you know that if you don't drain your outdoor faucet before a frost, that it can balloon up and leak and send water down your office walls and into your carpet padding?
Well, it can, and it did.
So, the carpet got moldy and disgusting, and we had to tear it up and get rid of it (how I hate carpet!). Since we had to replace the flooring, we opted to go with ceramic tile because we felt it would be more durable.
My brother and Mr. FG installed it and I grouted it, so it wasn't uber expensive. But still, it wasn't nearly as frugal a choice as draining the faucet would have been.
Whoops.
But considering that I got a non-carpeted floor out of the deal, I'm a pretty happy camper.
Whew! That got kind of long, didn't it?
For those who might be wondering, I did write a post all about how Freecycle works. And I've also written a post explaining how I paint all my wooden (and not so wooden) furniture.
And now I will stop typing words so that I don't take up your entire day!
Today's 365 post: Eager Baker