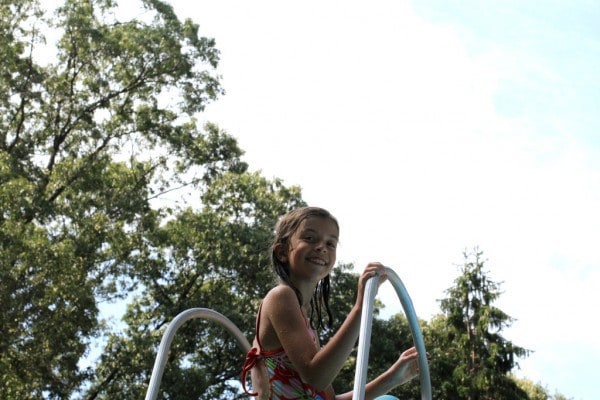 I needed to look at my list again…I'd sort of forgotten a few things on it!
1. Declutter the house from top to bottom, one room at a time.
I started on this, but only a little bit. I did part of Joshua's room and also my linen closet.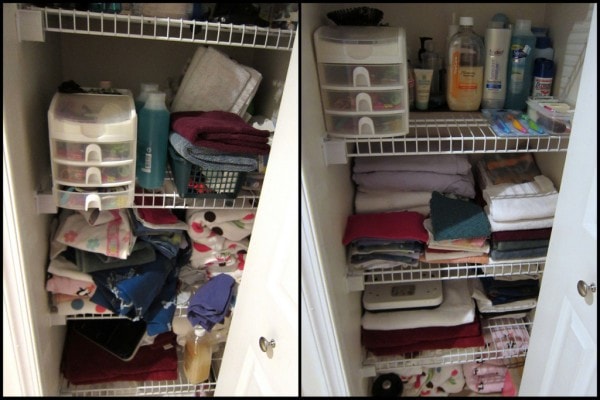 It's amazing how bad things get in a year.
2. Go swimming or have waterplay (sprinkler, slip n slide) more than once a week.
I am doing fabulously with this goal. In fact, I've exceeded it most weeks!
3. Arrange sleepovers, since this is easier to do in the summer.
Joshua had a several-day sleepover with Thomas, but I need to arrange some for the girls.
4. Make homemade slushies with the kids.
Yup!
5. Visit the library at least every other week.
Yup again…we've been faithful library patrons.
6. Go camping again.
No. Because it's too stinking hot.
7. Write an ebook about keeping Christmas simple.
I, uh, haven't started on this.
8. Order school curriculum for the coming school year.
Nope.
9. Make a fire in our backyard fire pit and roast marshmallows over it.
Nope. Again, too hot. Who would want to make a fire right now??
10. Sell/give away the extra electronic junk we have in our office.
No.
11. Teach Zoe to ride her bike without training wheels.
Also too hot for that.
12. Figure out a new chore assignment plan for the kids now that Sonia and Zoe are old enough to do more around the house. Must delegate more.
Now this I could do in the heat!
13. Write a letter to my grandpa each month (he doesn't have the internet, so I have to do this the old-fashioned way.)
Yes! I did that in June, so now I need to write a July letter.
14. Visit Mr. FG's grandma and go for a swim in her rooftop pool (we keep wanting to do this but it's never worked out so far!)
Ooh. I'd kinda forgotten about this. What an excellent idea for a hot day.
15. Make a spur-of-the-moment trip to go get ice cream cones.
We did get spur-of-the-moment slushies. But those are not as good as ice cream.
16. Eat breakfast at the pier.
Too hot.
17. Visit a pick-your-own farm.
Too hot.
This seems to be a theme, no?
18. Maaaaybe paint my kitchen cabinets. Still hemming and hawing on this one.
Yes. Still hemming and hawing.
19. Tackle my pile of clothes that need to be mended/modified/dyed.
I did start on this! I mended a towel and washcloth and took care of two pairs of shorts for Lisey.
20. Get outside to enjoy lovely summer evenings.
There haven't really been any of those recently! But if the heat breaks, then we will get ourselves outside.