Last time I did a Day in the Life post, lots of you asked for more of 'em.
So on a relatively recent day, I jotted down what I was up to. I got the idea mid-morning, though, so that's where we pick up with my day. 🙂
I have my final orientation today, and nursing school officially starts tomorrow….so, at some point during the semester, I'll do another day-in-the-life because it's gonna be a lot different from here on out!
10:00-11:00
I: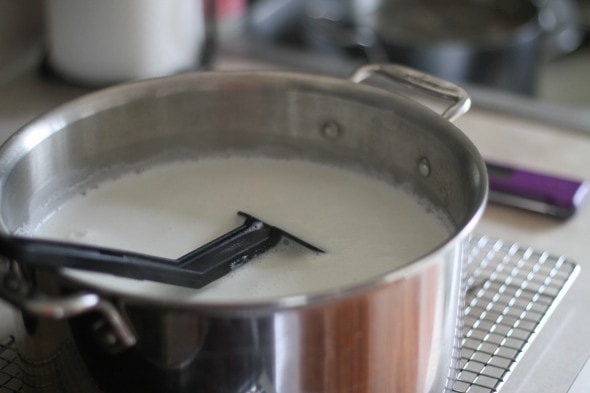 scooped Chiquita's litter and took the trash out
made myself some breakfast. While I ate I scrolled Facebook Marketplace because Sonia is looking for a chest to keep at the end of her bed for stuffed animals and blankets.
made my bed
made coffee
rubbed some oil on my marinating spice-rubbed flank steak from my freezer challenge
11:00-12:00
I unloaded my dishwasher.
I drank my coffee and texted with Sonia. I also was messaging with someone on Facebook Marketplace about a chest for Sonia, trying to figure out the size and if it was solid wood or not.
I do not wanna take on another fake wood project, please and thank you!
My recent fake wood project, which has de-inspired me from doing any more such projects: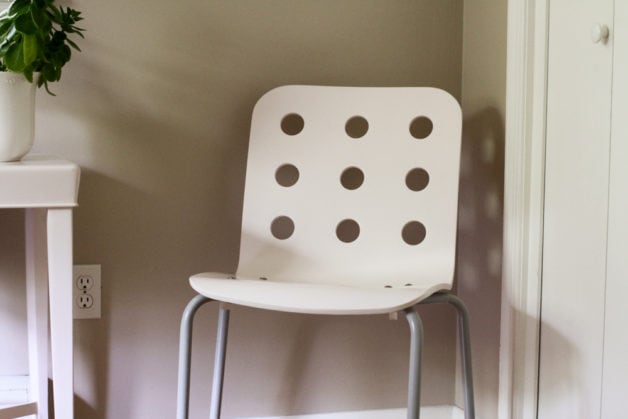 Anyway, I shared the day's blog post on my Facebook page and in my Facebook group, and also sent it out to my email subscribers.
And I responded to some blog comments.
I always read all the comments (usually on my phone's WordPress app), but I also try to pop in several times a day on my computer and respond to comments as well. I figure conversations are much more fun when more people are participating. 🙂
Luckily for me, I can respond to comments right from my WordPress dashboard, so that makes it a little easier!
I did a few other odds and ends:
I sent the Meet a Reader questions to a reader who asked to participate.
I submitted a healthcare bill to the health insurance website.
I realized I could downgrade my Acorns app to a $1/month version, so I did.
12:00
I wrote down my day so far.
After that, I stirred yogurt starter into my hot milk, poured it into jars, and put them into the cooler.
Then I decided, hmm, maybe I will do a little furniture work. So, I put some wood filler on the side of the scuffed table.
Chiquita inspected my work.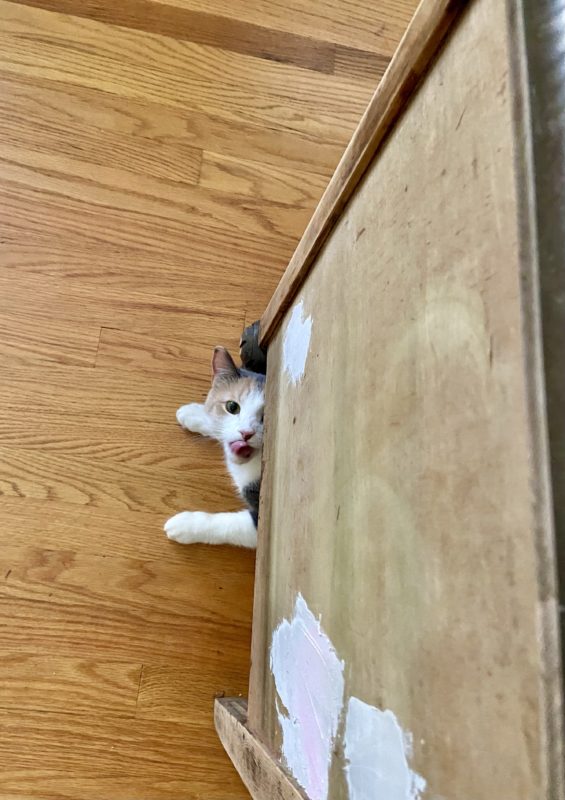 12:30
As often happens when I just get started on something, I decide to keep going.
So, I chose to prime the nightstand that I'd sanded the other day. It's one of the last pieces I have from the abandoned house.
I moved all the pieces outside, got out my priming supplies, put my earbuds in, got my fan going, and started to work on my furniture.
By the time I had the nightstand primed, the wood filler on the scuffed table was dry, so I hauled that outside, sanded it down, and primed it as well.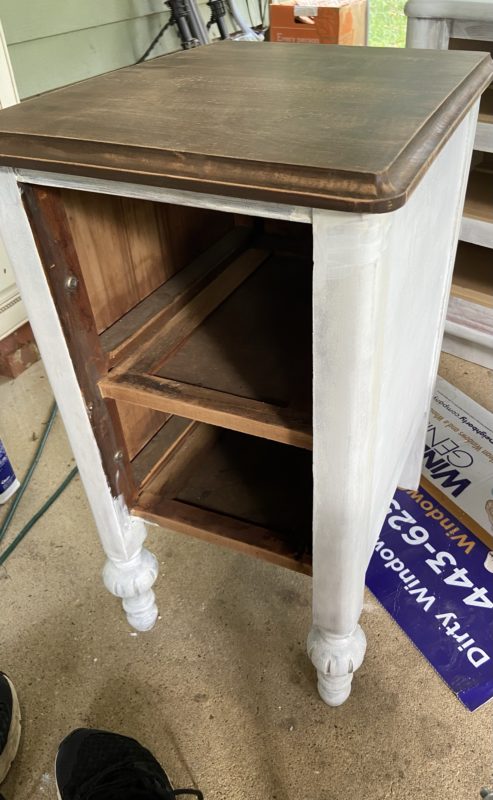 2:30
I did not fit in a walk when I got up, so I decided to do that. I walked about 2 miles and got back at 3:00.
3:00
I took a pretty darn cold shower, blew dry my hair, put lotion on my face, and did some super minimal makeup. At 3:00 pm I'm not that motivated to do much in the beauty department.
(Ok, scratch that. At any time of day, I'm not that motivated to do a lot in the beauty department. Ha.)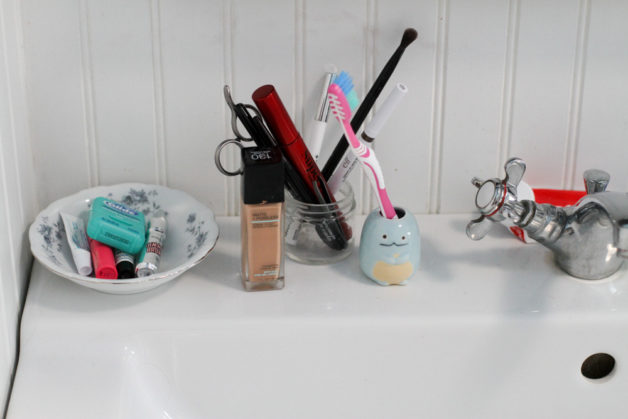 I feel like I'm missing some time here because it does not take me a whole hour to shower and get dressed. I don't know what activities are missing.
If I had Instagram installed on my phone, I'd immediately make the assumption that I wasted time scrolling there, but…my phone is currently Instagram-less.
(If you're new….generally I install Instagram in order to post something, and then I uninstall it almost immediately because I LACK SELF CONTROL. And if I have Instagram on my phone, I will waste time on it. Guaranteed.)
4:00
I put my yogurt jars in the fridge. Then I…
had a snack of cheese, crackers, and some sliced mango
chatted with Zoe
went through the mail
scanned a paper and sent it to my CPA
scanned some receipts with Fetch (and woohoo, I got a 250-point bonus!)
sent a health insurance card to a therapist for updated record-keeping
washed the painting container/roller that I used for priming
tidied up my kitchen a bit
And then I got started on the next day's blog post.
5:00
More working on the blog post.
And I ate some cucumbers and cream cheese because I was still hungry.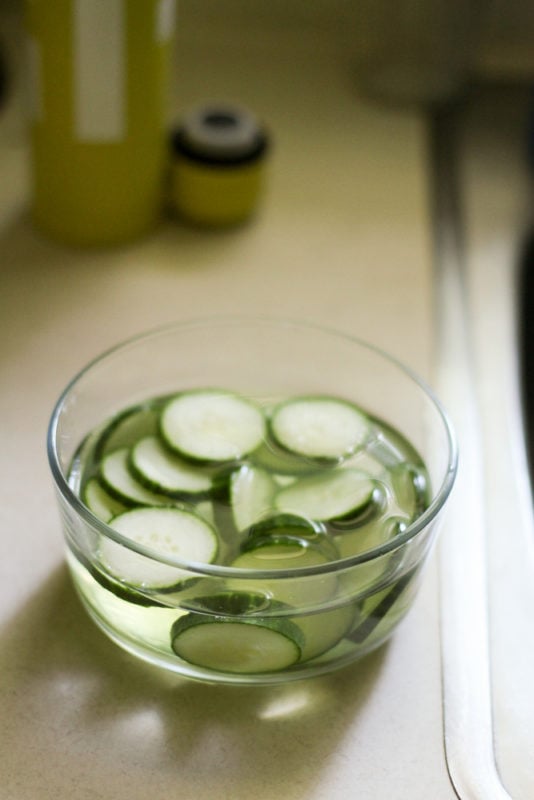 Full disclosure: I wanted to eat the pudding and whipped cream that I saw in the fridge, but I decided to eat something a little more nutritious. 😉
5:30
I worked on dinner prep and listened to podcasts in my earbuds while I cooked and prepped. This was the night I cooked the flank steak that I've already told you about!
And I coordinated with the Facebook seller and Sonia to get a time set up to go see a chest that was for sale.
6:30
I ate dinner with Zoe and her friend Maddie, who was over for a sleepover.
7:00
I left my house to go pick up Sonia so that we could take a peek at the wooden chest from Facebook Marketplace.
We looked at it, bought it, loaded it up in my car, and then I dropped Sonia back off and headed back to my own house, chest in tow, because I'm gonna paint it for Sonia. 🙂
8:15
I arrived back home and cleaned up the dinner mess I'd left.
I also covered one-half of the watermelon with my handy-dandy silicone cover (the 20 cm is great for most watermelons!) and I cut up the rest to store in a Pyrex dish.
I brought my primed furniture inside to save it from the overnight humidity and I took my trash cans to the curb.
9:00
I caught up on my time tracking for this post and also finished up tomorrow's post.
I brushed my teeth, washed my face, did my daily Duolingo practice, and got into bed, where I read a few pages of Maggie Smith's book "Keep Moving".
And then by 10:00 it was time for sleep.
_________________
I predict that the next edition of this is gonna include a whole lot more studying and a lot less furniture-painting. 😉
P.S. The chest for Sonia is actually almost done; I'll show it to you once I bring it over for her. And the scuffed table is getting close; my first week of nursing school is light so maybe I can get it finished up!