What I Spent
The semester starts this coming week…sooo, by the time I do another one of these posts, I'll officially be in school, and it'll be September!
Let's see. I spent:
$32 at Aldi
$8 at Safeway
$17.50 at Lidl
$12 at Dominos
So, $69.50 for me this week.
What We Ate
Saturday
I'd eaten a late lunch and wasn't hungry. Zoe got off of work at 8:30 so she just got a fast food chicken sandwich.
Sunday
I remember that Zoe ate a frozen French bread pizza. But I cannot for the life of me remember what I ate. Usually I snap a photo of what I eat, but I've got nothin!
To back up: Zoe wasn't feeling well, so I offered to bake a frozen pizza for her. But I burnt that thing so badly.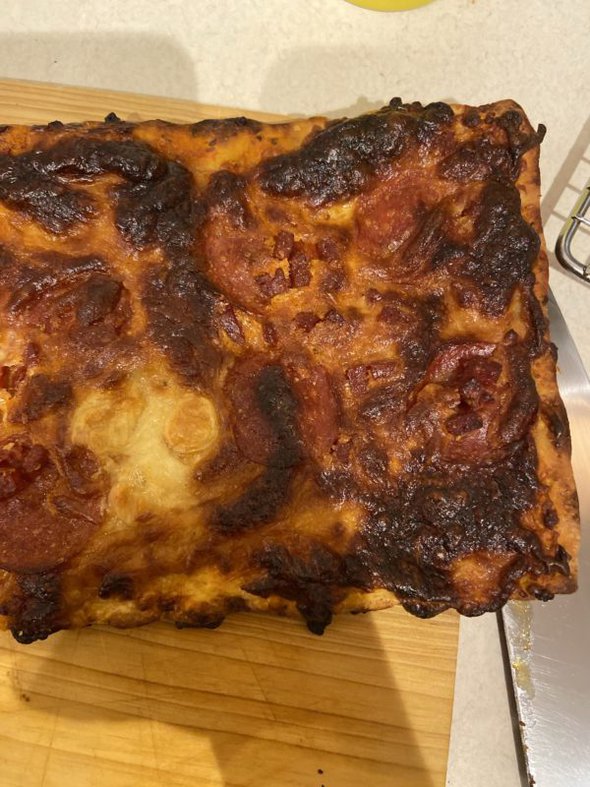 It was decidedly inedible. So that's when I switched to the French bread pizza for Zoe.
My brain still cannot remember what I ate, though.
Monday
Zoe still wasn't feeling well and just wanted some mac and cheese so I made that for her.
And for myself, I did a very random skillet meal.
I had a tiny packet of pearl couscous left from a Dinnerly meal that I never made, so I boiled that.
In a separate pan, sauteed a sliced green pepper, added some chopped kale, and threw in the last half of a tomato I had (chopped first).
Then I stirred in the cooked couscous along with some red pesto from Aldi, and topped it with the last of a bag of mozzarella from the freezer.
For being so random, this was pretty tasty, and I felt happy about using up some veggies plus the random bag of couscous.
Tuesday
I sauteed some ham from the freezer, then sauteed some chopped kale, then added in leftover mac and cheese plus some milk and cream.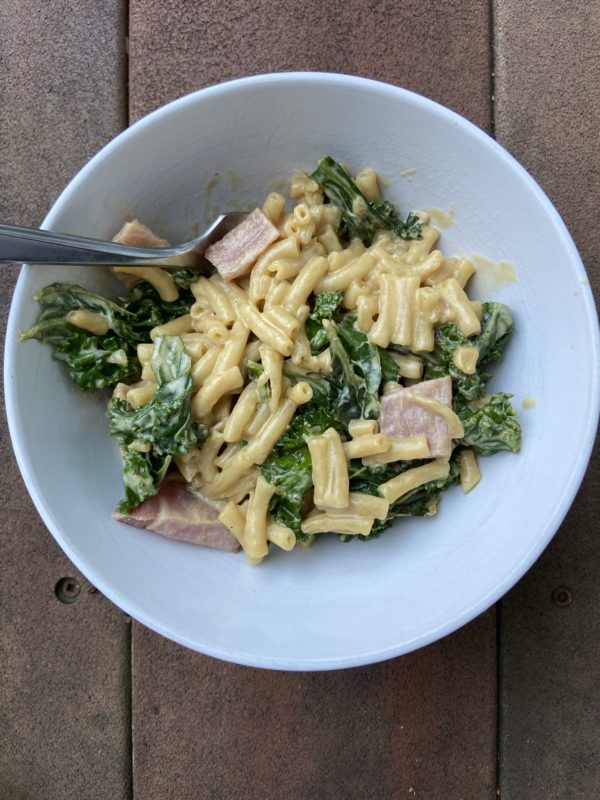 I would say this was a little on the salty side, between the ham and the boxed mac and cheese. But I did use up some of that ham annnnnnd that's the last of the kale from my Hungry Harvest box.
Yay me!!
Also: the weather was cool enough to allow for eating outside on the front bench, which was awesome.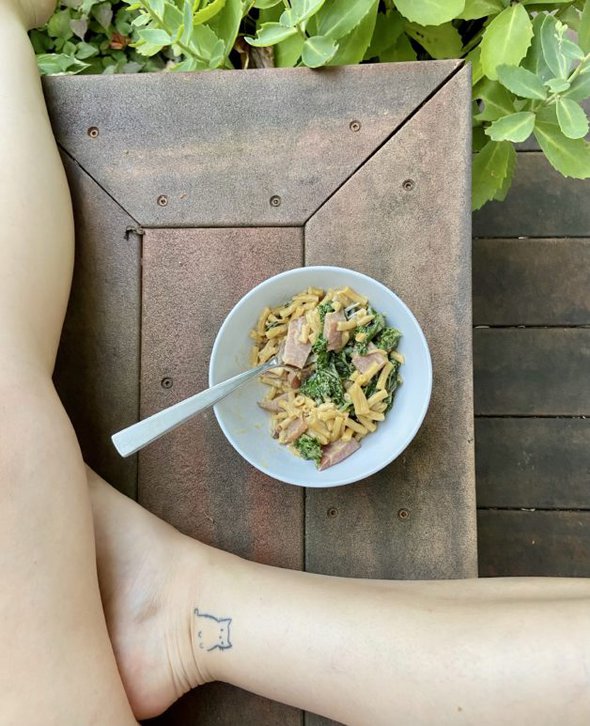 Wednesday
I had a nursing orientation event that went into the evening, so I didn't cook dinner.
What I have learned about nursing school so far is that…there are a LOT of orientations. I think I've been to three so far, and I have another one on Monday.
I will so SO well-oriented by the time I start class. 😉
Anyway, I got Domino's for us afterward.
Thursday
I grilled some chipotle chicken kebabs, which we ate as a salad, using the sauce as a dressing.
I used chicken thighs instead of chicken breasts again this time, and it worked great.
Friday
We have some leftover chicken, so maybe I'll do something with that for dinner.
What did you have for dinner this week?