Usually, I don't do a post about a piece of furniture until I'm all done with it, but since everyone is quite invested in this $5 Facebook Marketplace table, today you get a post that is neither a before nor an after. It's a…middle.
In case you are just joining us, I saw a $5 table on Facebook Marketplace, and hilariously, it was described as having a "scuffed top".
I joked that no one in their right mind would pay $5 for it.
And then…I bought it, just for the heck of it.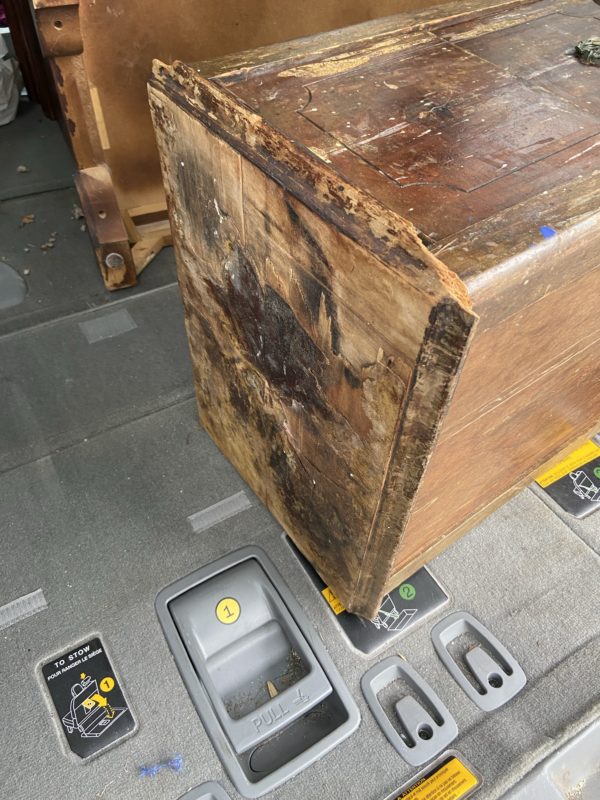 I had some free time to start tackling this project recently, so I got out my orbital sander and went to work.
Sanding really improved things!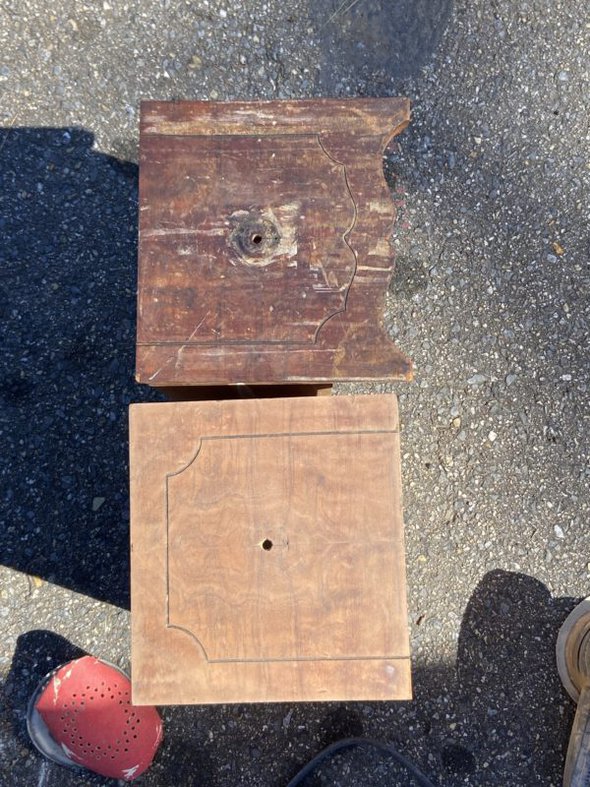 I used a putty knife to scrape the veneer off of the top.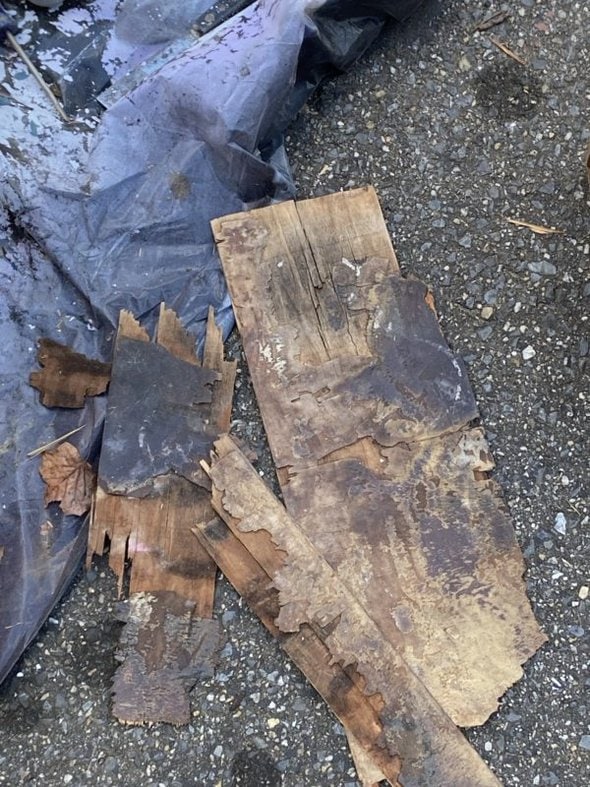 And I sanded the wood underneath.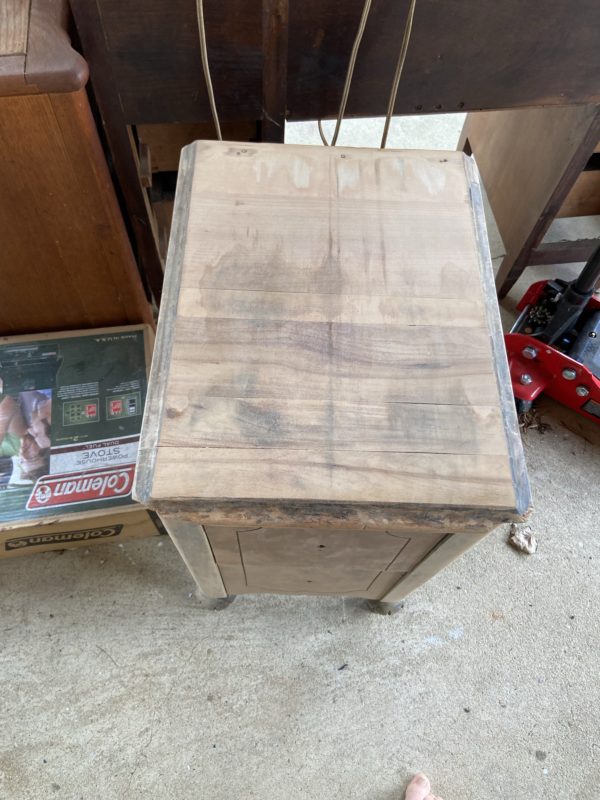 That was a big improvement, but those broken edges on the front really were too far gone for repair.
Sooo, off to my dad's garage I went. 😉
When he started taking it apart, he found this inside. Hmmm.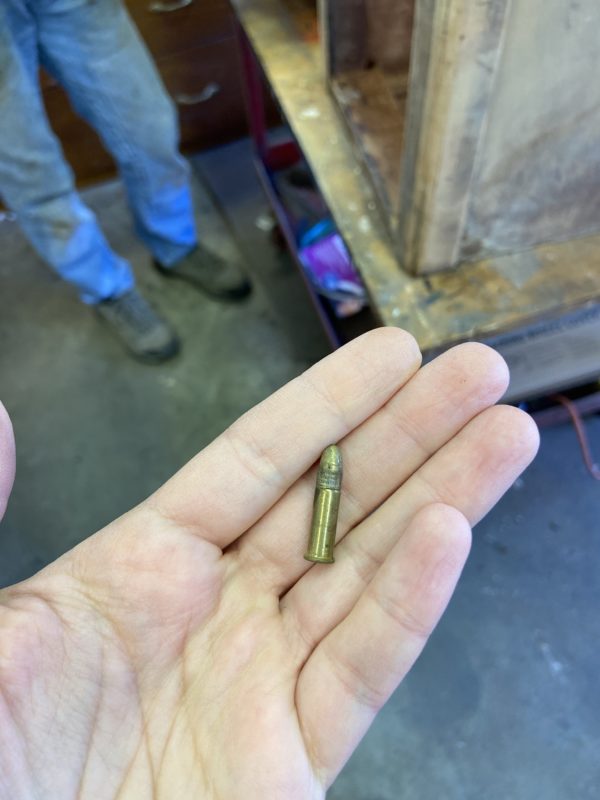 In addition to the damaged top, there were some cracks inside.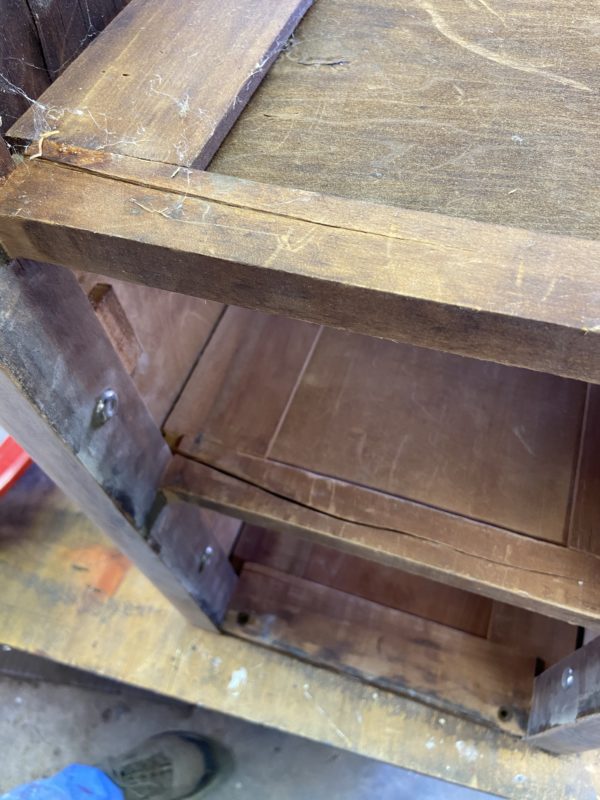 And my dad, not ever being one to do things halfway, thought all of that should be fixed AND that the table needed a new top.
So, I left the little table with him, and an hour later, he sent me pictures of what he'd done.
Here are three pieces of wood he glued together to make a new top.
He had me look at his router bits to decide what edge to make.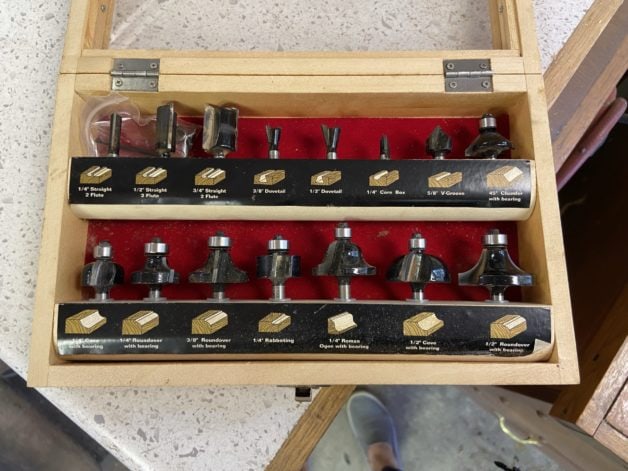 We picked out the one that seemed closest to the original and we agreed it was the bottom row, second from the right.
Yesterday, my dad dropped my table off with this lovely brand new top!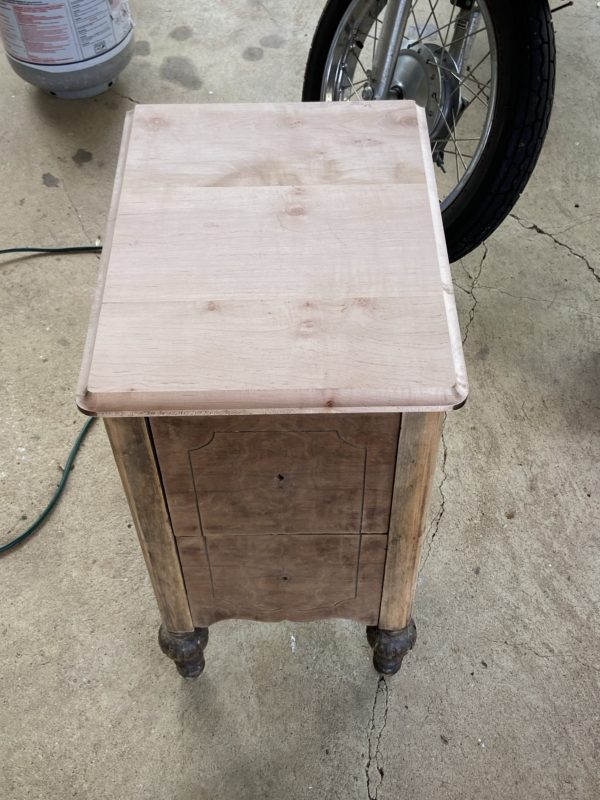 Yay! Also, the table is so so much more sturdy now that the cracked insides are fixed.
Next up, I need to repair the damaged veneer on the sides.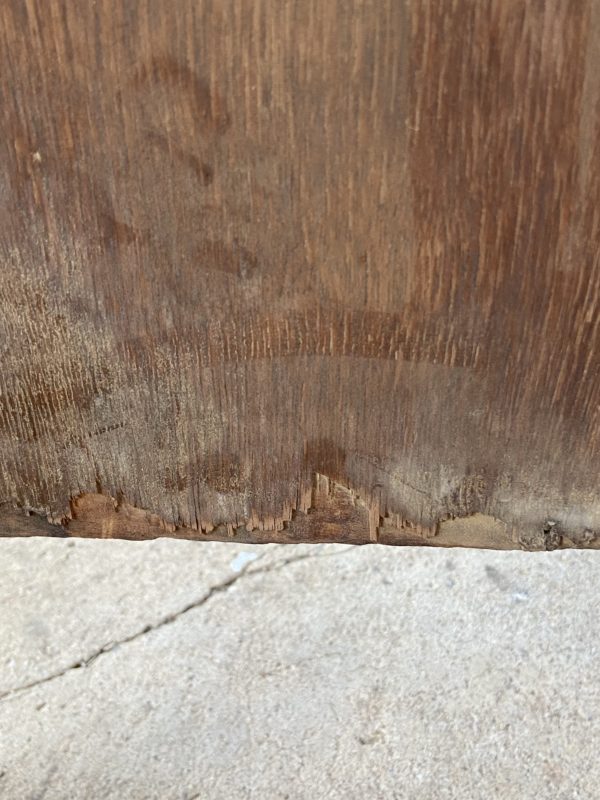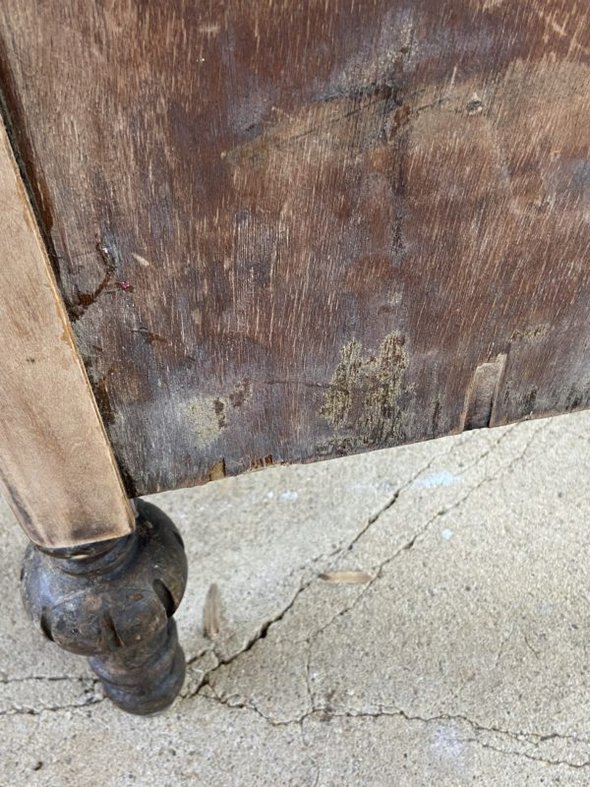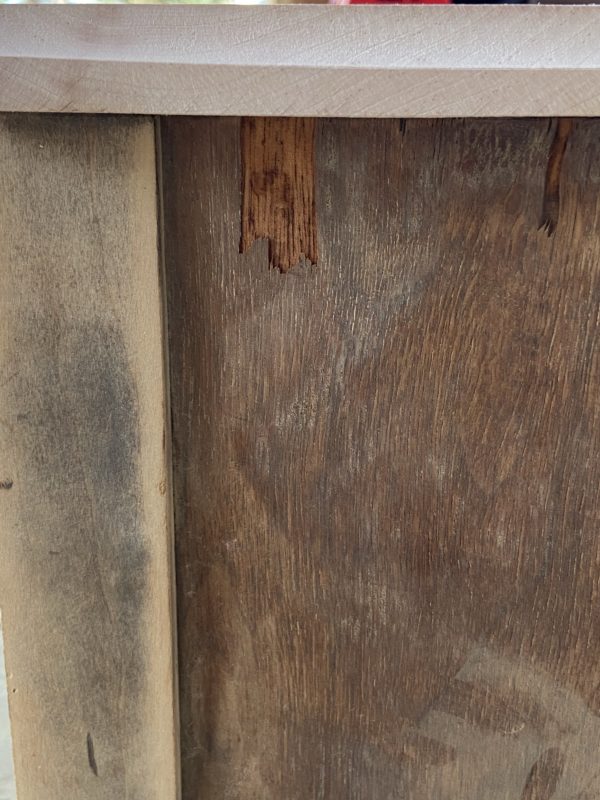 And the drawers, which do have a lovely pattern in the veneer, also have some damage along the edges.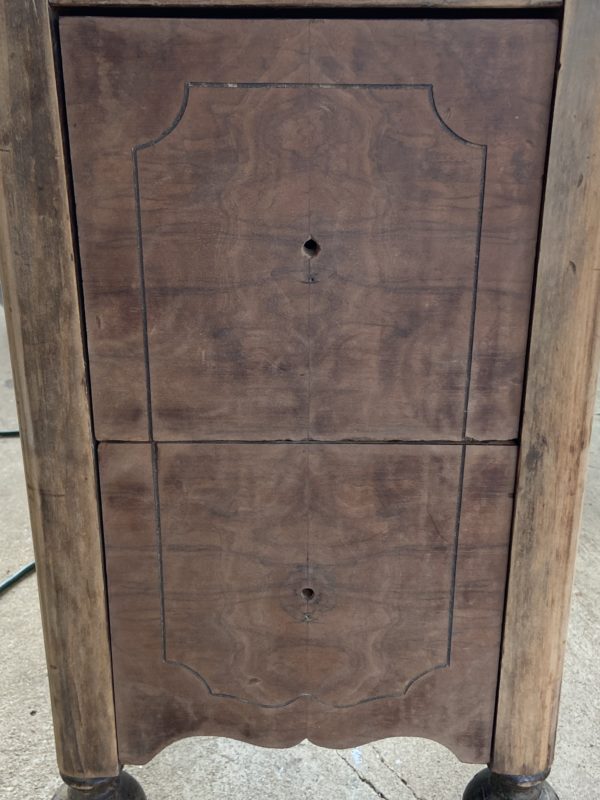 So those will need to be fixed.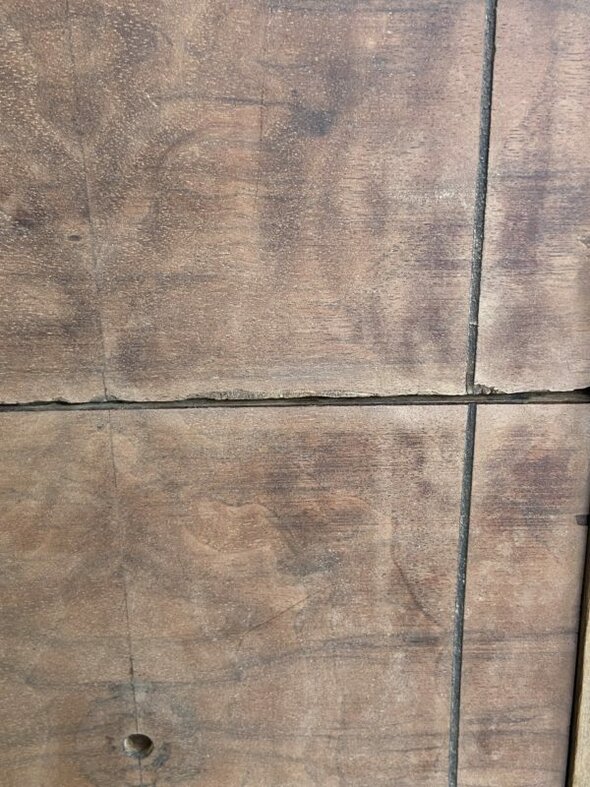 My dad recommended this putty, so I went and bought a container at Home Depot.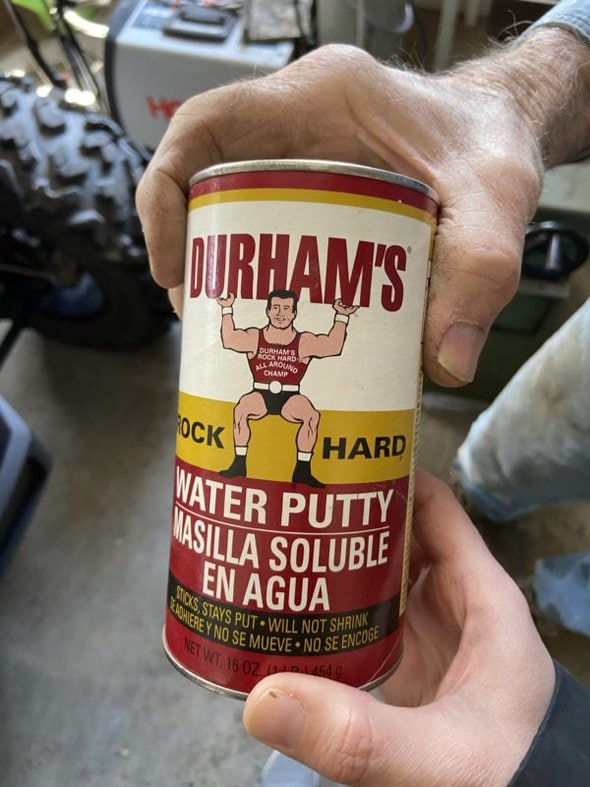 Once I fix the veneer, there's the issue of what color to paint this. Staining it is totally out of the question; there is waaaaay too much veneer damage for that to be a possibility!
As far as paint goes, I felt like I wanted to try something other than the black/white that I typically go for. It's a small piece! Experimenting is a low-stakes proposition.
So, I went to a Benjamin Moore store, perused all the paint colors, and kept being drawn to the paint chips in the gray/blue/purple area.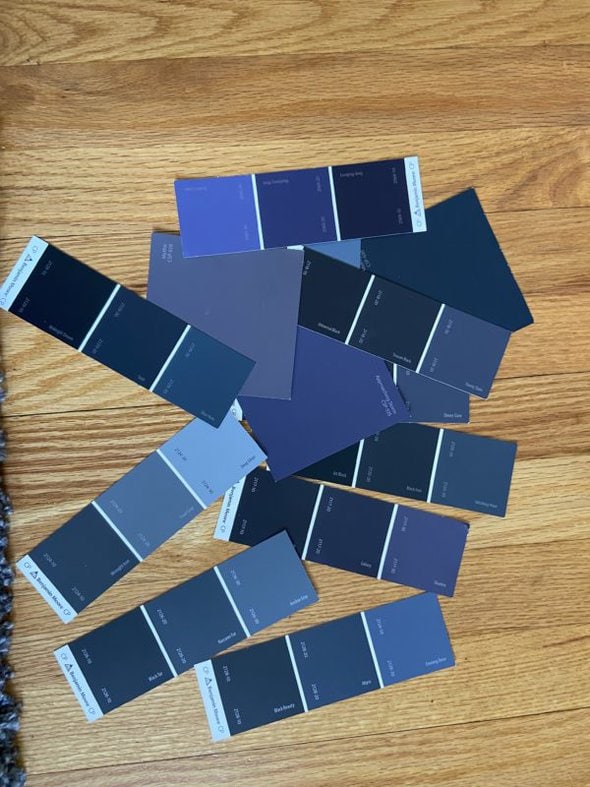 I eventually decided to try Mythic, which is a grayish purple. I cannot manage to photograph the color accurately to save my life, though!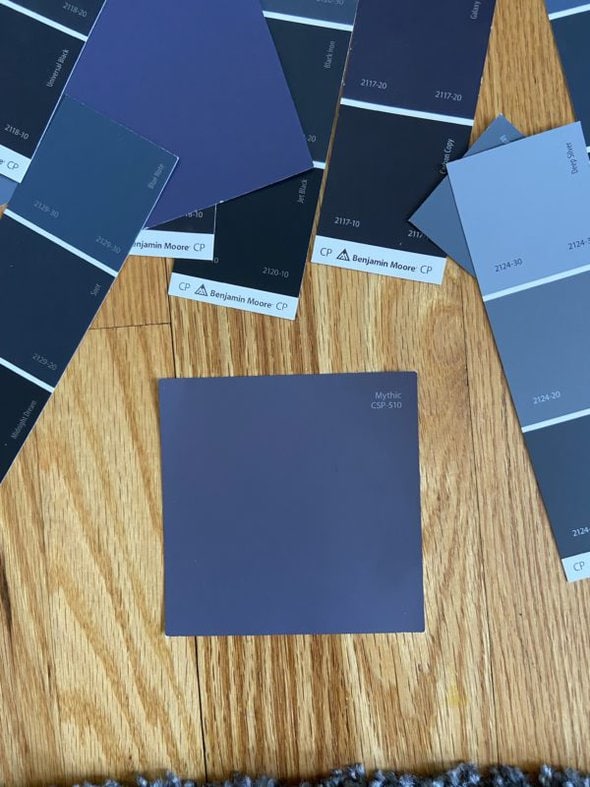 I stopped by and picked up a small can yesterday.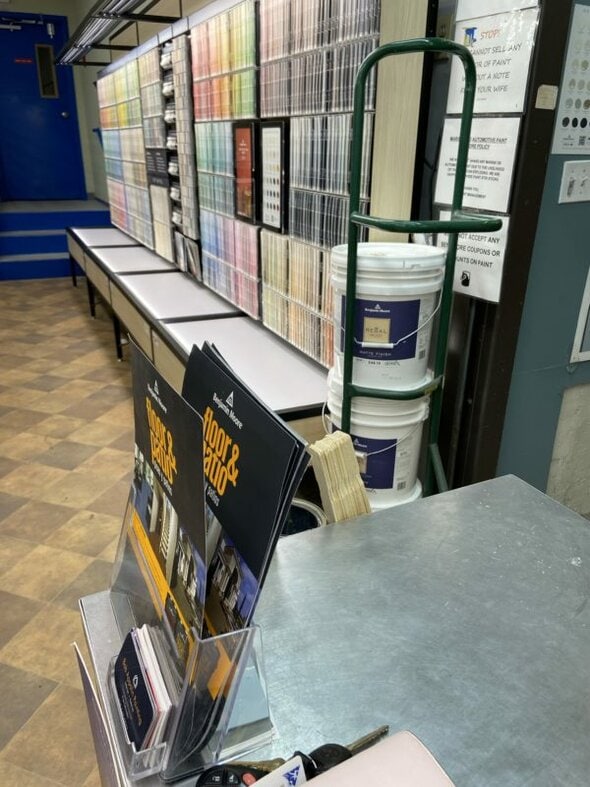 And it looks a little more gray than the paint chip.
I'm going to try it out first on a little item I rescued from the abandoned house, and then I will decide if I want to try it on the scuffed table. 😉
If you want to give me your opinion on what paint color would look good on the table, feel free.
But be warned: I may not listen.
Because even though Lisey specifically said that she didn't think purple was a good idea, I still went ahead and bought a purpley-gray color.
Oooh, also: I'm gonna need to buy drawer pulls. The table came with only one original pull, so I'll just replace both. I think I need to settle on a paint color before I can make a decision on pulls, though!