So, I tried a side dish for the first time during this project! I had some asparagus that needed to be used up, plus some prosciutto in my freezer, so this seemed like a perfect match.
I used a method I found by googling…basically you oil, salt, and pepper the asparagus, then wrap the spears in prosciutto.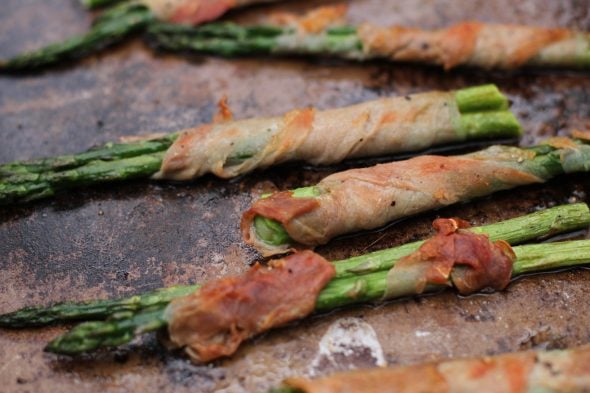 Since my spears were really thin, I wrapped two in each slice of prosciutto, and then I broiled them for a few minutes on each side.
I thought the results were pretty good, although the prosciutto didn't get as crisp as I'd have hoped. I'm wondering if this is maybe because it was thawed from frozen? Maybe it wasn't as dry to start out as it should have been.
And I slightly overcooked the asparagus as it was, so broiling this dish longer would not have been the answer.
I did see an ATK recipe that calls for adding Boursin cheese inside the prosciutto. And other recipes that call for grilling.
So, I think I might try this concept again, but with a few tweaks.
(And with prosciutto that's not been frozen.)
Next Week's Recipe
Maybe this week I'll tackle the Carnitas recipe I meant to try a few weeks ago.
And I know from my failure last time that I really need to make a point of getting that cut of meat early in the week, because if I don't have that on hand, I'm totally gonna opt for something easier and quicker. 😉