In a recent Five Frugal Things post, I mentioned placing a ThredUp order, and some of you asked for a post about my experience.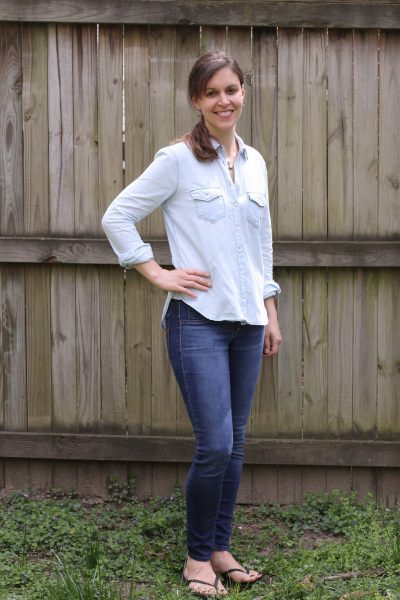 So, with thanks to Zoe, who graciously agreed to be my staff photographer, here's how the last order went.
Actually, let's start with Zoe, shall we?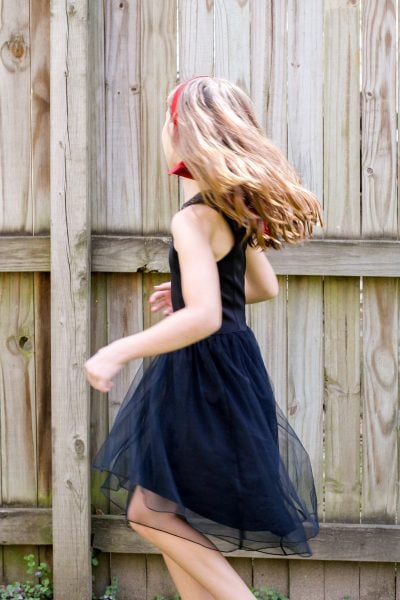 Last year, Zoe had an Abercrombie navy dress that she loved to pieces. Sadly, she outgrew it, so when I saw this Abercrombie dress ($15.99), I thought she might like it.
And she does.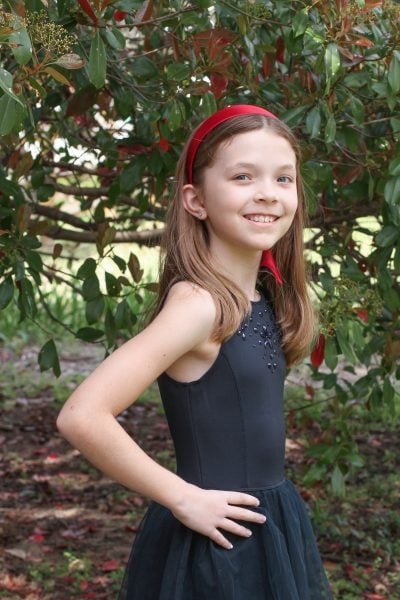 Comfy, and good for twirling.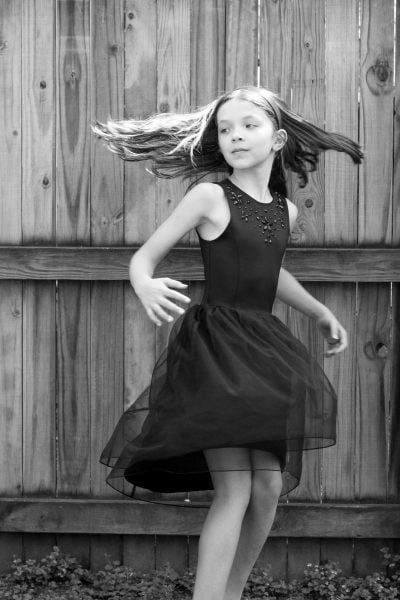 Plus, if she doesn't outgrow it by the fall, a cardigan could make it work in cooler temps too.
Ok! On to me.
This Banana Republic shirt ($9.99) fit me pretty well, but I have no idea why I ordered something with colors like this. I usually look better in softer, warmer colors.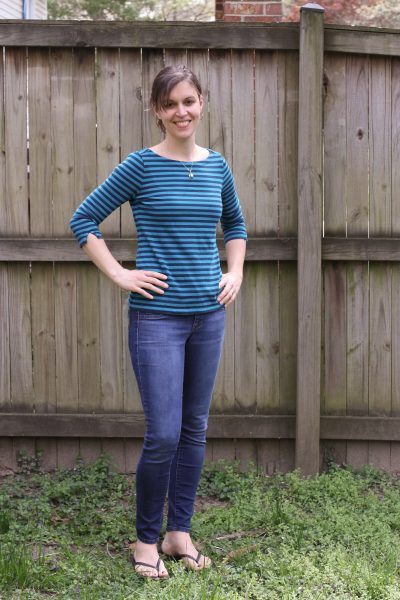 Also, I feel like this has kind of a mom look about it, maybe because it's a little on the short side.
So, it's going back.
I picked this next shirt ($9.99) because limey greens can sometimes work on me…but this one ended up being more of a yellowy green, and yellow is just not very good on me.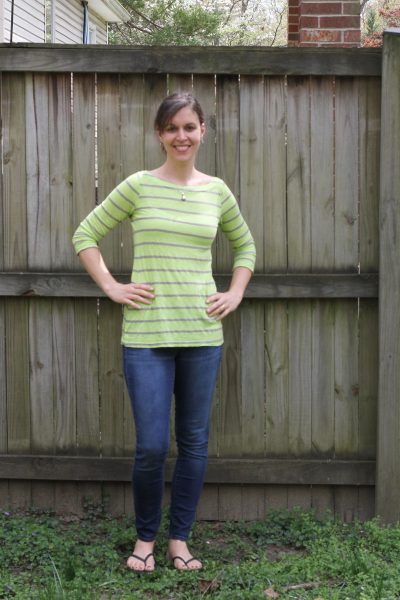 I did really like the way it felt and fit. Oh well.
I've been wanting a chambray shirt for a while, so I typed that into ThredUp's search bar and found this new with tags shirt ($18.99, tag was $54.50).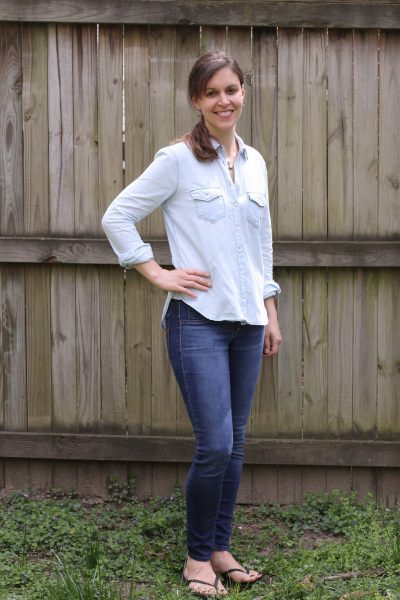 It looks kind of white, but it's really just a light blue. And I'm keeping this one!
It's a nice light weight, and the back tail has a little extra length, which is lovely. I think I'll pair this with my white jeans.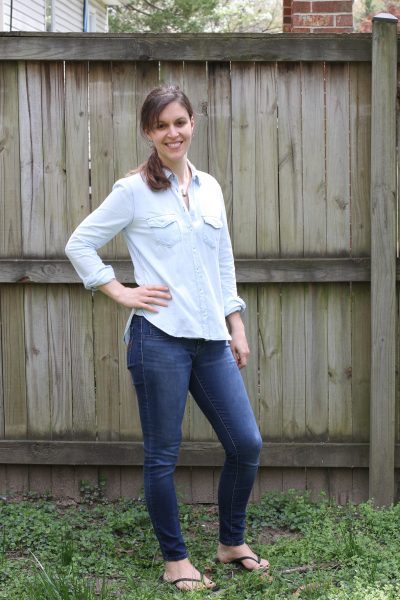 So, the ugly from the title?
That's this Gap dress ($16.99). It doesn't look TOO bad here…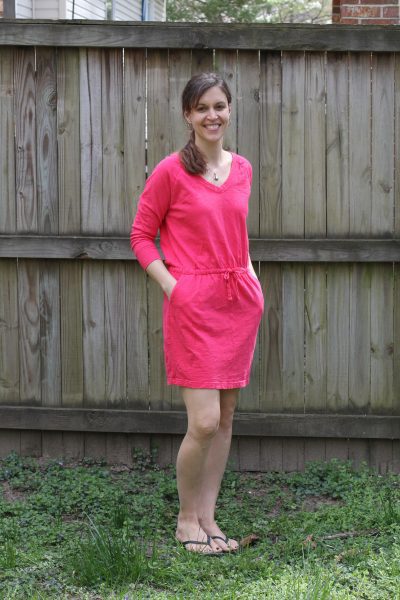 but it's a super awkward cut, at least on me. It bags out in all the wrong places and the waist is too high for my long-torsoed shape.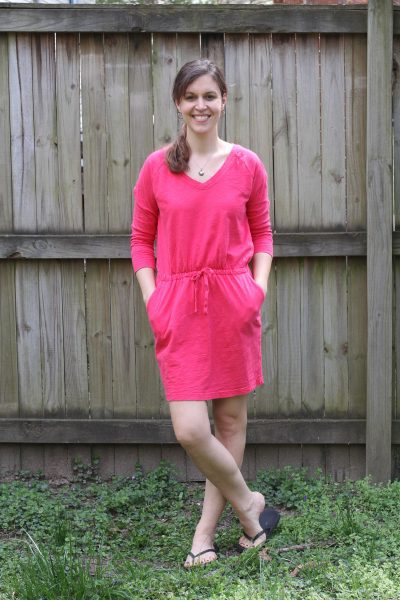 It's also extremely unflattering from the rear, but I didn't feel like we needed photographic evidence of that. 😉
Maybe if the fabric was lighter, the whole thing would hang better. But the thick, stiffer fabric of this dress just doesn't work.
So, it's most definitely going back. Hopefully it'll look great on someone else!
Return Options
I chose the return shipping label that's free, which is great except that you get store credit instead of a refund.
(To get a refund, you have to pay for an $8.99 shipping label.)
But I'm sure that we'll be able to find something else at ThredUp, so I'm not too worried about having store credit.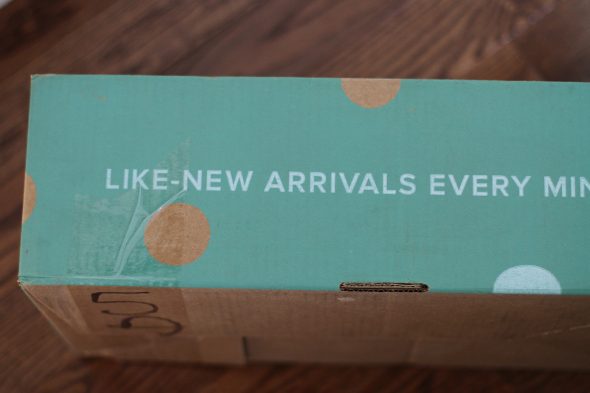 So, what do I think?
ThredUp is definitely more expensive than thrift stores. But it is convenient to be able to easily browse through a huge inventory from the comfort of your own home.
And generally speaking (I've placed a few orders thus far), the things ThredUp sells are in super good shape and are from good brands, which is not always the case at Goodwill.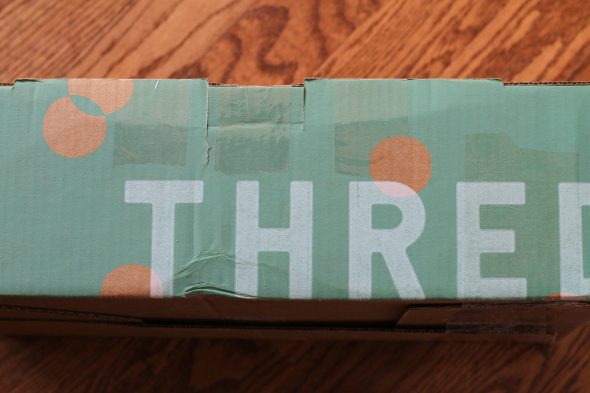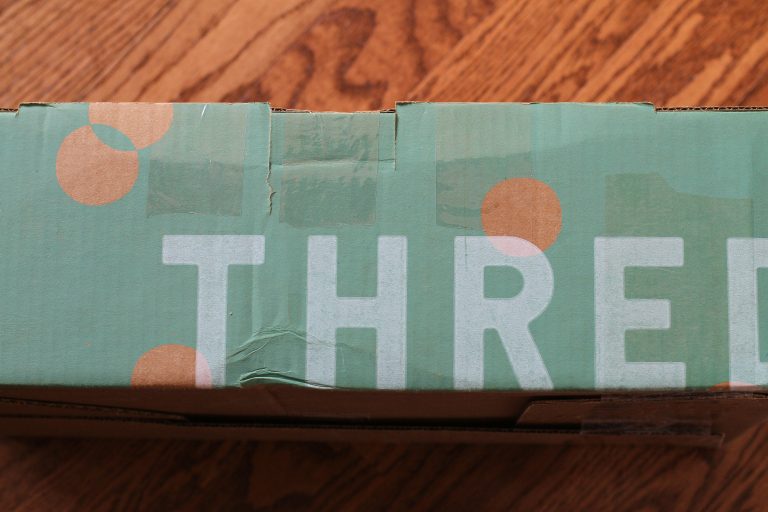 I'd say you end up paying Target prices for name brand clothes at ThredUp. So, if you're a Target shopper, ThredUp won't necessarily save you money, but it could get you better brands, and the satisfaction of buying used vs. new.
Get $10 when you try ThredUp for the first time!
I don't work with ThredUp on an official basis, but they do give every customer a $10 off referral link to share.
So, if you want to give this a try, click here to get $10 off at ThredUp.
P.S. I've heard that selling your clothes to ThredUp is an unrewarding experience, so I wouldn't really recommend that, unless you have really low expectations for how much you'll get paid. But my experience as a purchasing customer has always been good.
Save