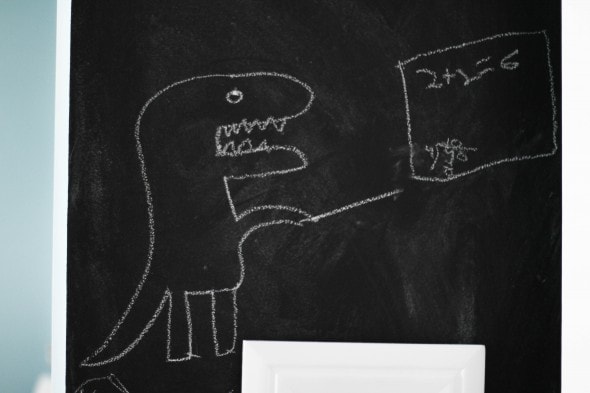 Several readers have written in recently to ask about how to keep their kids on task and how to handle kids who are less than enthused about doing their schoolwork.
Since this isn't a homeschooling blog, I know this is technically off-topic. But hey, it's Q&A day. And since several of you wondered, I thought it might be worth devoting a post to it.
Sooo!
First, let me say that I don't think there's a silver bullet solution here, and I think some kids are just more distractible than others. For instance, Sonia would tell you that she isn't a super-focused kid, even though she's grown up in the same environment as her siblings.
But here are a few things that have helped my kids (Sonia included!) to get their work done each day.
(Well, most days! It does all get done by the end of the year.)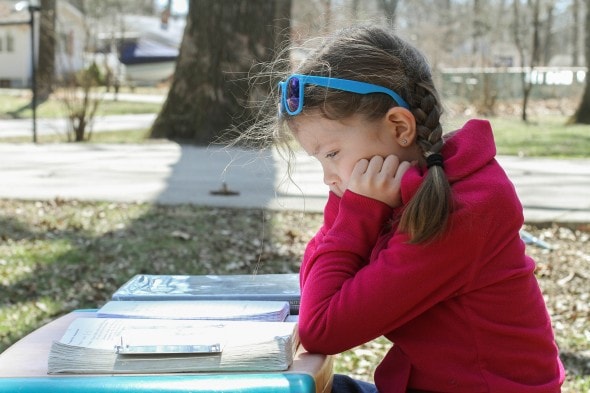 No screen time/playing with friends until work is done.
From the time my kids were pretty little, this rule has been in place and they know that schoolwork and chores have to be done before they can have their screen time or play with friends.
As long as you're consistent with enforcing this rule, it's a really effective way to keep kids on task. No one wants to be the lone kid still working on school while their siblings are out playing with friends!
And if a kid is prone to getting distracted, it's pretty simple to remind them that if they want to play, the work has to get finished first.
(We also have the rule that if you sneak screen time before your work is done, you forfeit that day's screen time plus the next day's time. So we haven't had much sneaking to deal with since the kids know it's not worth it.)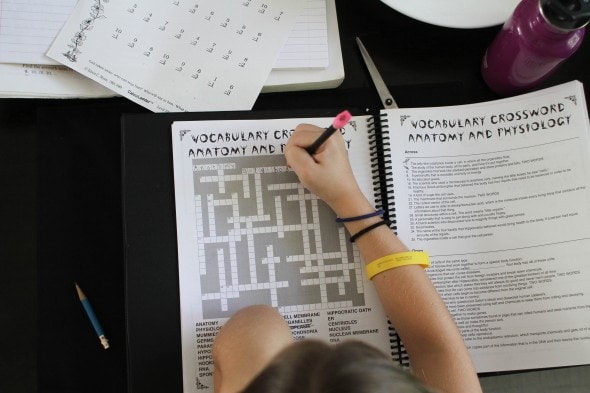 The work has to be done by the end of the school year.
We don't do school for a specific number of days (our county doesn't require that), but we do make sure that we finish our curriculum each year.
So, Sonia and Zoe know that they can choose to take a day off of math in February, but that means they'll have to do that lesson in the spring. They aren't getting rid of work; they're just pushing it off.
They do still choose to take days off sometimes, but the big picture (Let's get done before summer hits!), inspires them to keep at it.
I don't overschedule their days.
It's really hard to get schoolwork done if you have are barely home. So, it's important to give your kids enough time and space to do their work or they'll still be working math problems at 7pm.
And that's a pretty sure way to guarantee bad attitudes/slacking.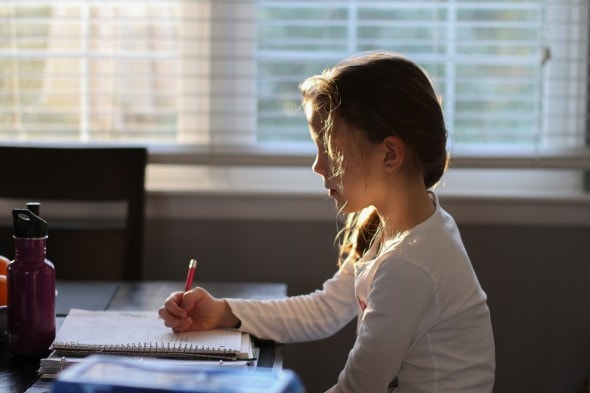 I don't expect them to love every part of school.
While some parts of school can be fun (History is pretty enjoyable! And science too. Also time tests, because you get M&Ms if you come in under the timer.), some of it is hard work.
So, if they tell me, "Mooooom, I don't feel like doing subject X." or, "I haaaate subject Y.", I tell them, "Hey, that's ok. You don't have to love it and you don't have to feel like it. You just have to do it."
I feel like that's possibly more helpful than a pep talk ("Oh, honey! Adding trinomials is actually super fun!") because I'm not sure any kid ever started to love a subject after their parent tried to convince them it was fun.
Also, this approach is more honest because most of us have subjects that we hated and probably will always hate. And so will our kids.
(Me? Music theory. Blech. Also: geometry proofs.)
There are lots of things in life that are work and that you have to just soldier through. That, in and of itself, is a huge skill to learn.
I let them take breaks.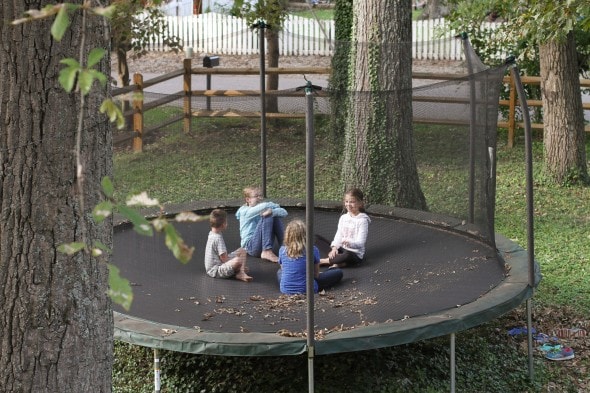 If one of my kids is struggling with an assignment or a subject, I will sometimes suggest a walk around the block, a 15-minute fun reading break, a shower, a jump-on-the-trampoline session, or a switch to another subject they like more.
Of course, not every situation in life allows for strategies like this, but learning to do something that calms you down/helps you refocus is an important life skill that'll be useful through adulthood.
_________
A quick note before I wrap this up: The things I'm mentioning here were a lot more important to establish when my kids were younger. Joshua and Lisey are 17 and 16 now, so they manage their own schoolwork time and we don't enforce screen time for them anymore…we're in the midst of a gradual letting-go process with them, since they'll be out on their own in not so crazy long.
And since Sonia and Zoe are 11 and 13 now, these habits are pretty well-ingrained and don't take a whole lot of work on my end.
(Ok, except for the part about, "I don't feel like doing school!". That one we are still working on.)
_________
Readers, if you have tried and true tips for keeping kids motivated and on-task, add 'em in the comments and help your fellow readers out!