In Laura Ingalls Wilder's book, Little House in the Big Woods, she describes a visit to her grandparents' house, where she and her family share a meal with the grandparents plus some uncles and aunts.
When I reread this book to my own kids, I was very surprised to see that dinner consisted just of a pot of polenta (hasty pudding, they call it), topped with maple syrup. I'm pretty sure that if I was hosting 5-10 extra people for dinner, I would feel compelled to serve more than just polenta and maple syrup!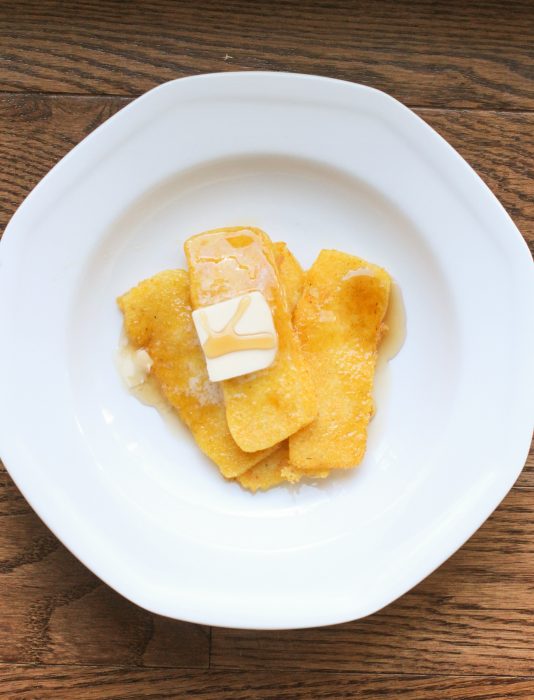 Whenever I think about this, I wonder if we have made meals more complicated than they really need to be.
I mean, obviously, a meal of polenta and maple syrup is not the greatest thing, nutritionally speaking. Some produce and protein would make that a much more well-rounded meal.
And obviously, Laura's family was limited in their ability to obtain fresh, healthy food year-round; we are privileged to have many more options available to us.
But still, I can't help but think that maybe we are putting a little too much pressure on ourselves when it comes to deciding what constitutes a meal, and when we think each meal we eat has to cover all of the necessary food groups.
And I definitely can see how we put too much pressure on ourselves when it comes to making meals for guests; maybe we don't need to do drinks, appetizers, a main dish, and a dessert. It might be fine to just order pizza, or make BLTs, especially since the point of getting together is to be together.
Anyway. This is why we sometimes just eat pancakes and orange juice for dinner! It doesn't have to be fancy; it just has to get people fed.
What I Spent
I have an embarrassing number of receipts this week.
We spent:
$9.50 at Weis
$11 at Giant
$74 at BJs
$17 at Lidl
$13 at Safeway
$35 at Harris Teeter
$25 on a Hungry Harvest box
That all adds up to $184.50 which is my highest spending week in a while!
November Grocery Spending
Week 1: $103
Week 2: $184.50
What We Ate
Saturday
Mr. FG and Zoe were out shopping together, so they ate at Chipotle. Sonia and I had Swedish pancakes.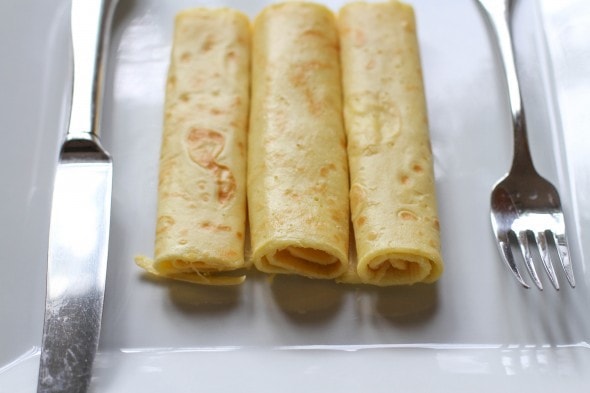 Sunday
Mr. FG cooked! He made a chicken salad based on Panera's summer salad (lettuce, berries, oranges, chicken, poppyseed dressing, sugared nuts) + garlic breadsticks.
Monday
A rotisserie chicken story, which you have already heard if you follow me on social media: on Monday, I decided (rather last-minute) to go buy a rotisserie chicken so I could make chicken and biscuits.
Giant was out of them, and I was a little annoyed, but I decided to go to the Safeway next door to get one. Well, Safeway was out too.
THEN I decided to go to Harris Teeter, but their chicken-heating apparatus was shut down for repairs. (!!)
So I called Mr. FG on his way home from work to see if he could stop at BJs to get me a chicken.
Well, BJs didn't have one either. (womp-womp)
Is Monday a day when everyone buys rotisserie chickens? Did we just have bad luck?
I do not know.
But we gave up after four stores and ended up having ham and Swiss panini with sun-dried tomato mayo, with chips and raw produce on the side.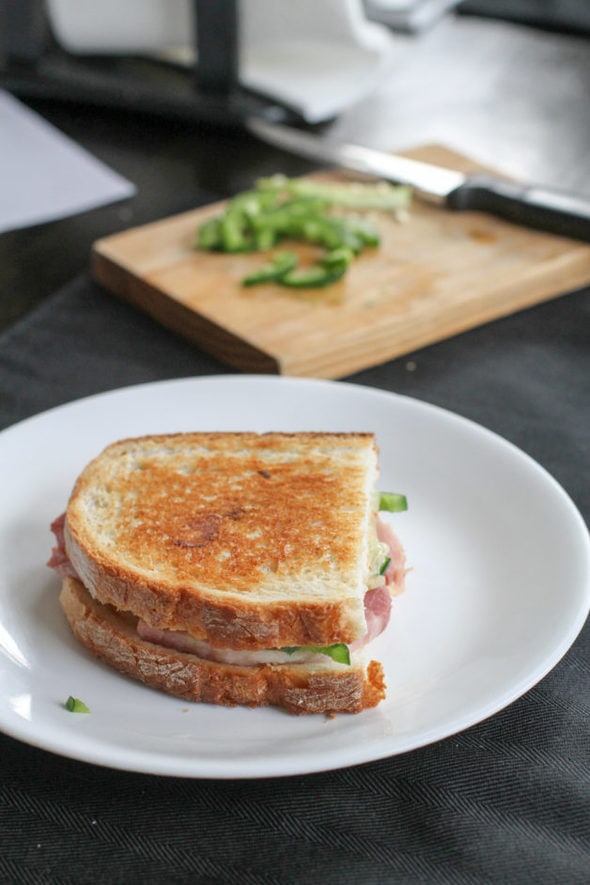 (By the way, we lived in an area that is seriously saturated with grocery stores, which is why we could conceivably check four places for a chicken without venturing more than 5 minutes in any direction from our house!)
Tuesday
I made pasta alfredo topped with chicken sausage (for Zoe) and shrimp (for the rest of us). Raw produce on the side.
Wednesday
A silver lining to Monday's chicken fiasco is that Safeway guarantees that chickens will be available between 11 am and 8 pm. Customer Service gave me a coupon for a free chicken, and I redeemed that on Wednesday.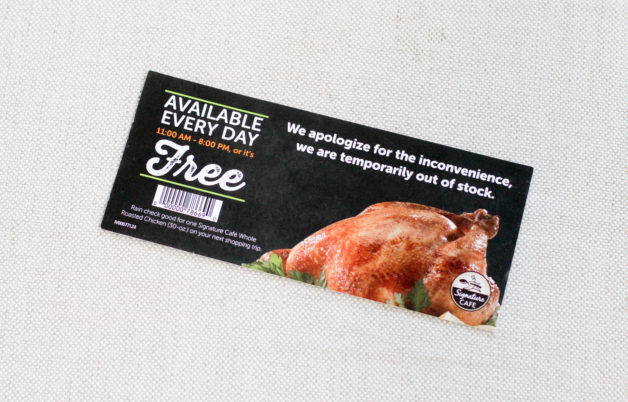 So, we finally had chicken and biscuits. 😉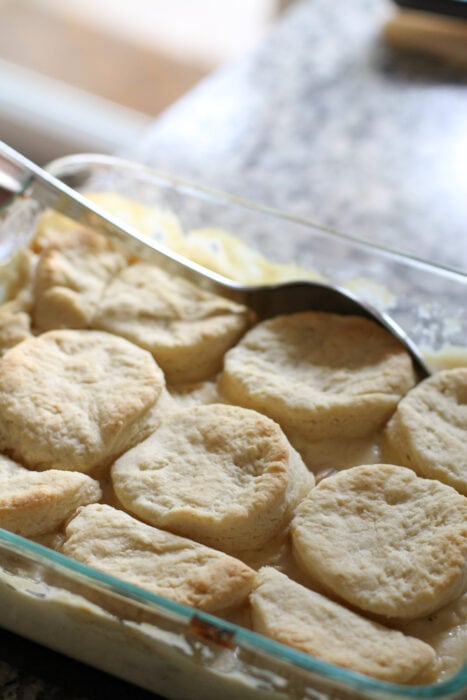 Thursday
I made a quick batch of chicken broth so that I could make this sausage and orzo dish.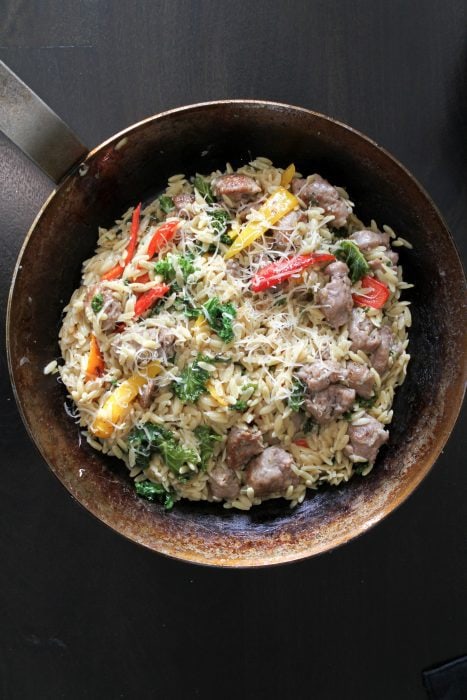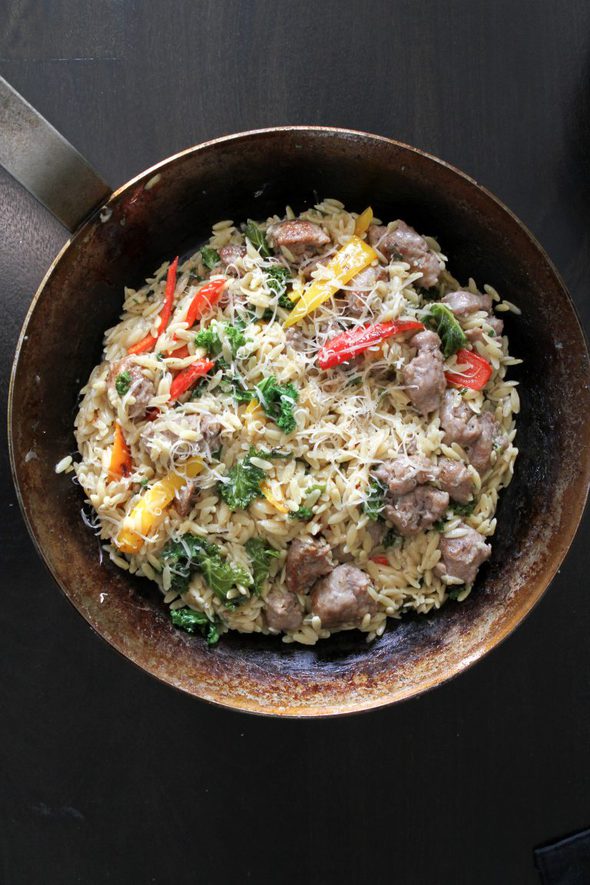 A good thing about this recipe is that it is quite flexible…I just use whatever veggies I happen to have on hand, and this time around, I only had red wine on hand, so that's what I used instead of the white wine.
Friday
I have an event at church tomorrow afternoon/evening, so I think we will do our date night tonight.
What did you have for dinner this week?