This post contains affiliate links, which earn revenue for this site at no extra cost to you. See my disclosure policy here.
When Sonia and Zoe stayed with my parents recently, my mom made a dish from my childhood: chicken and biscuits.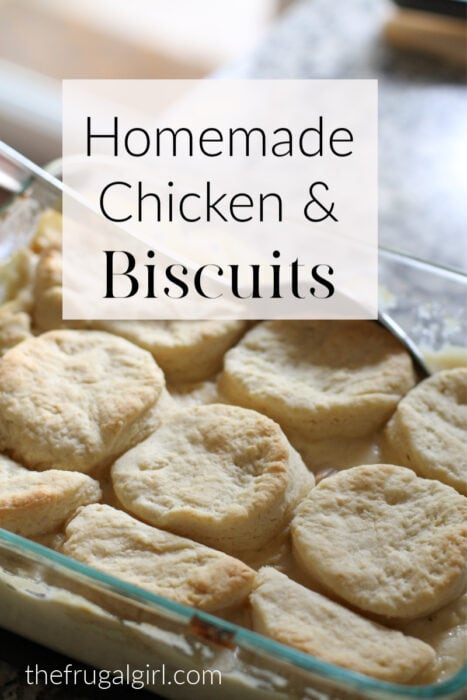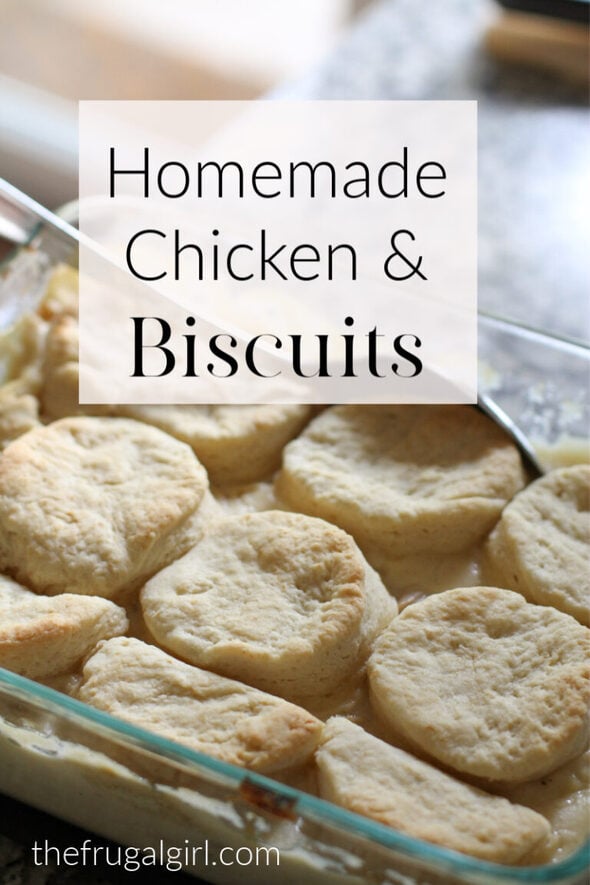 It's basically leftover chicken or turkey in gravy, topped with biscuit dough and then baked until the biscuits are browned. Serious comfort food!
Sonia in particular was quite enamored with this casserole, so Mr. FG and I made a pan when we got home.
But I felt like the proportions weren't quite like what I remember my mom using.
(The recipe is sort of cobbled together and not very specific and my reading of it was a little off, I think. My grandma wrote recipes directing stuff like, "bake until browned" with no oven temperature or time!)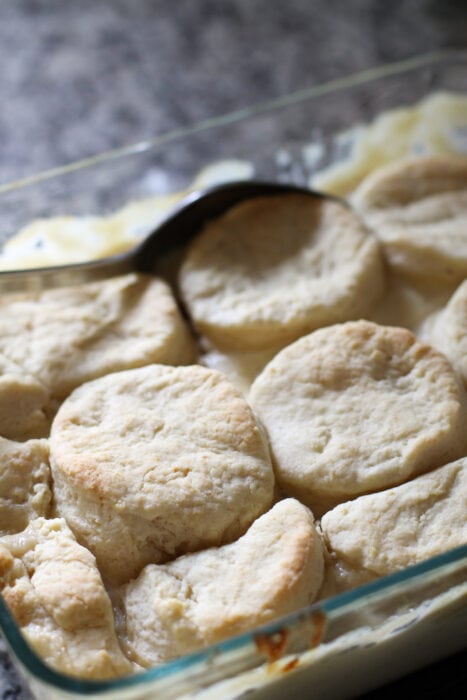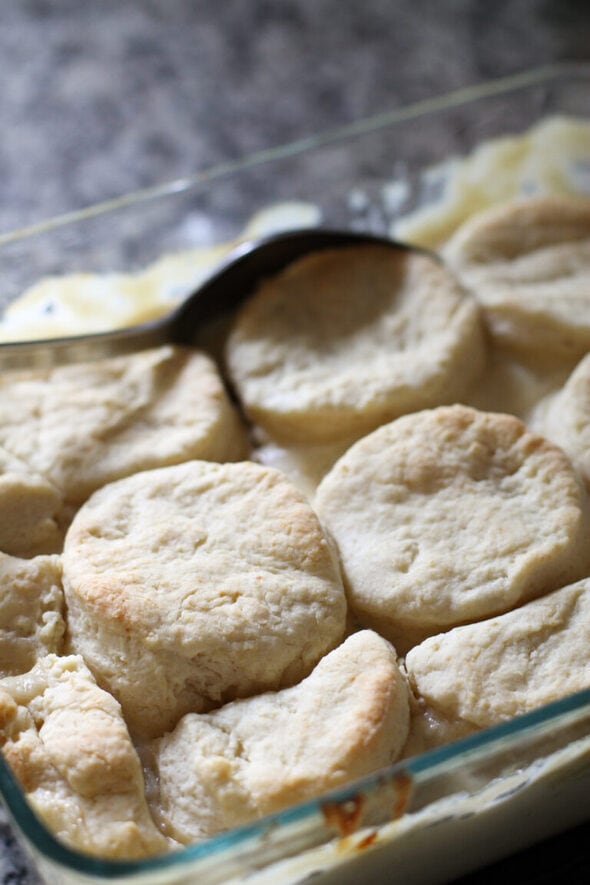 So I gave it a second try with some tweaks.
(More sauce and chicken, a different biscuit dough, a deeper pan)
The result was most excellent.
Several of you asked for the recipe after seeing the dish on Instagram.
And I wanted to write down what I did so I can replicate this version.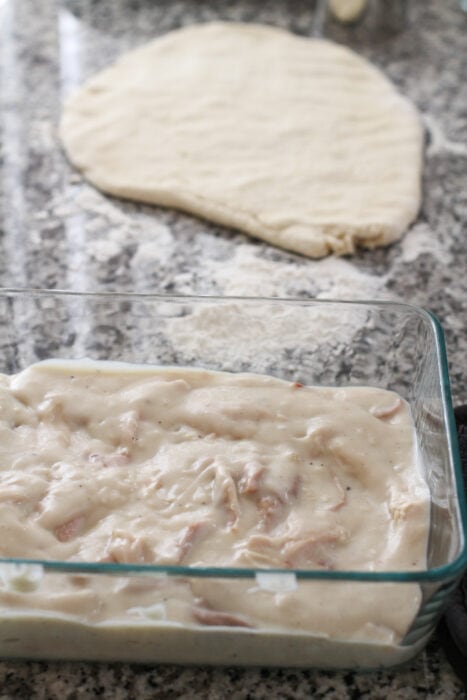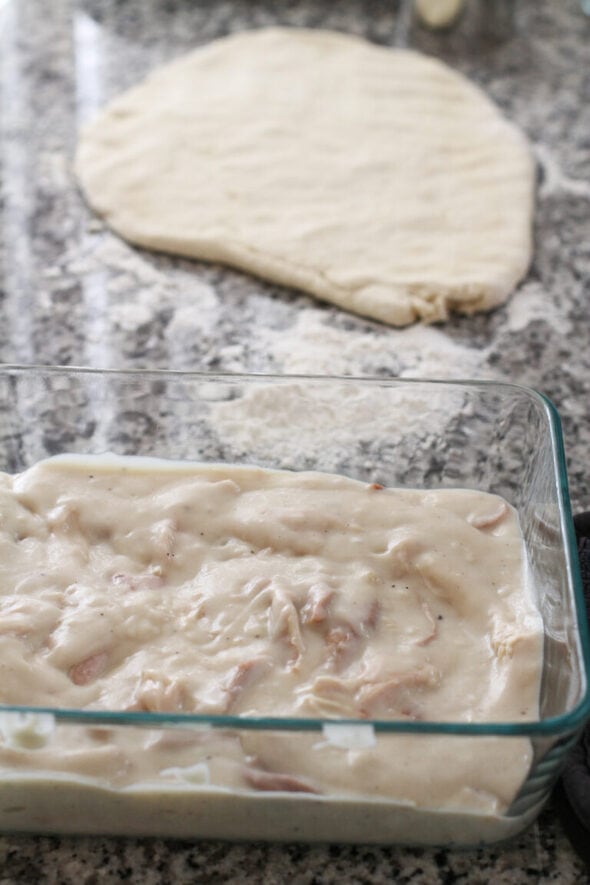 So, here we are! This post will serve you AND me. 😉
The gravy is not at all complicated to make. Melt butter, stir in flour, boil for a minute.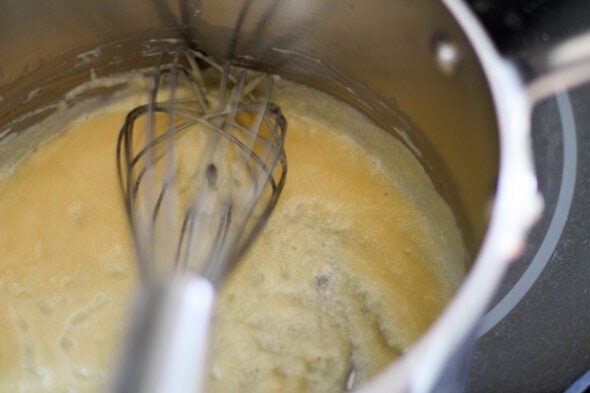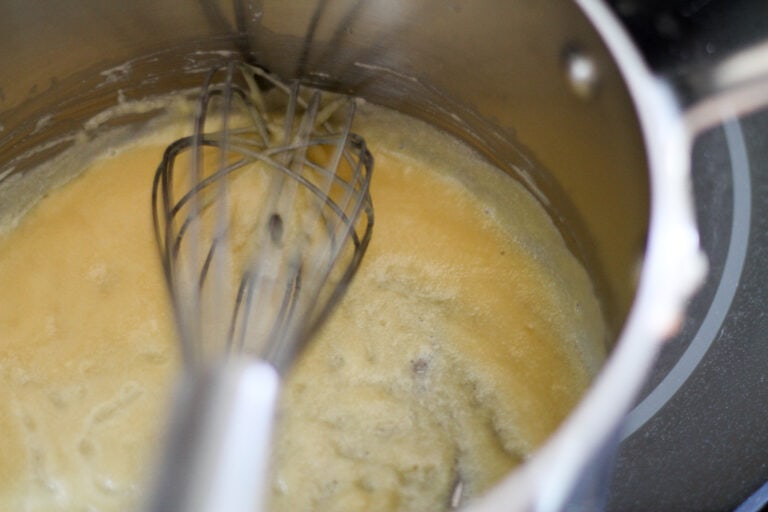 Then you whisk in a 50/50 mixture of chicken broth and milk.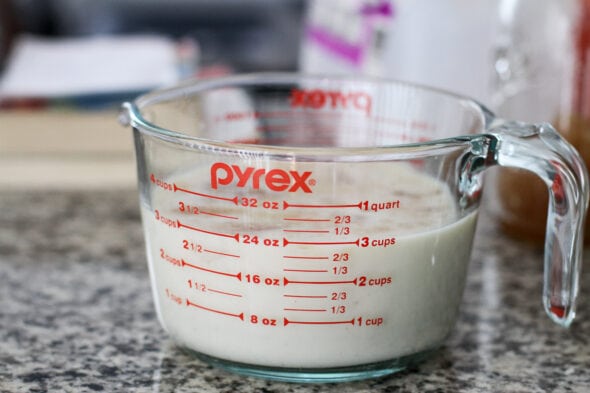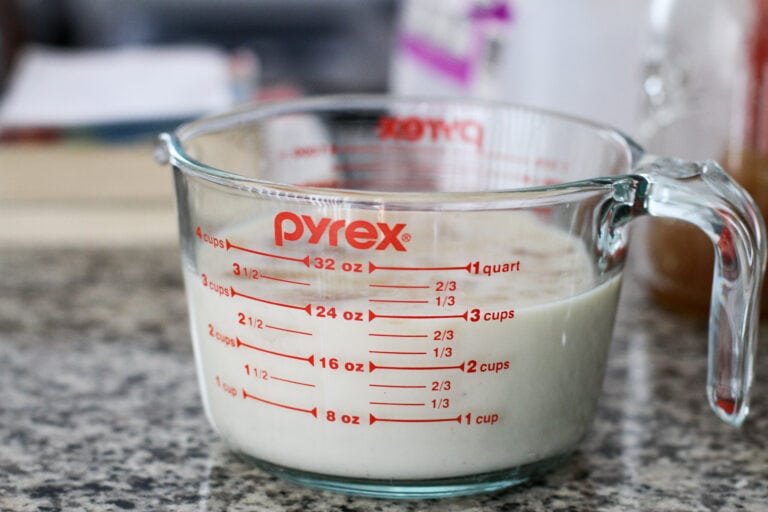 Bring that to a boil, whisking the whole time, and once it boils, whisk and cook it for one minute.
You should have nice, smooth gravy at this point.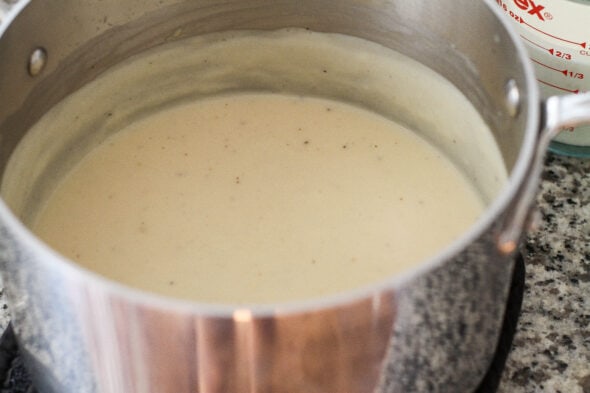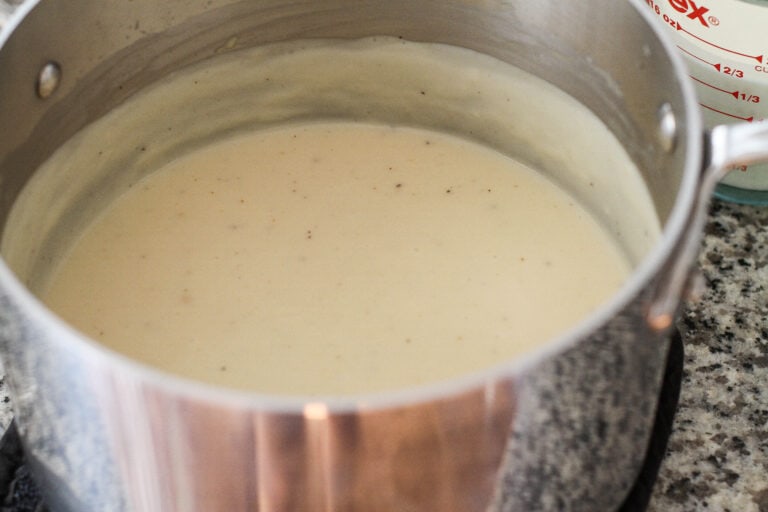 Add 3 cups of cooked chicken, and you've got your filling. A rotisserie chicken is a super easy option if you don't feel like cooking chicken.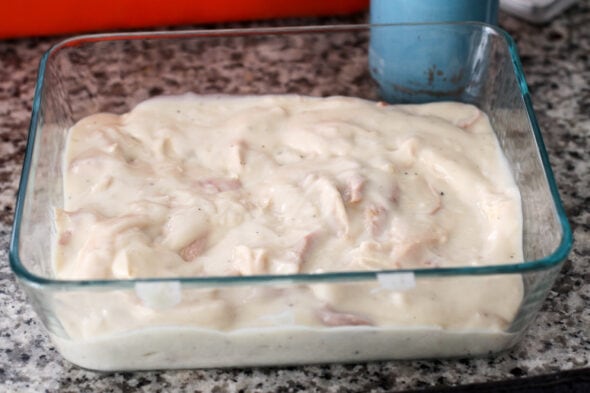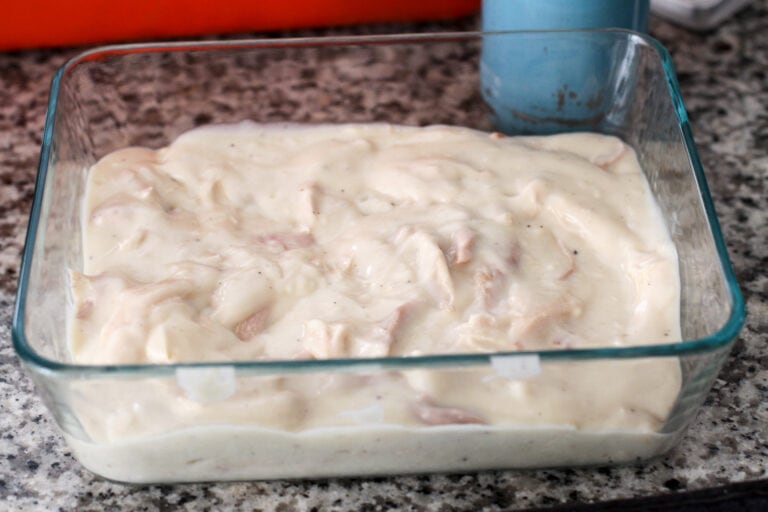 To make the biscuits, just mix the dry ingredients, add in the cream, stir, and then knead for 30 seconds.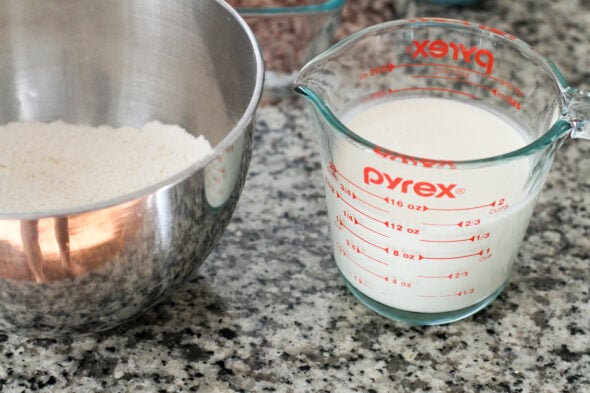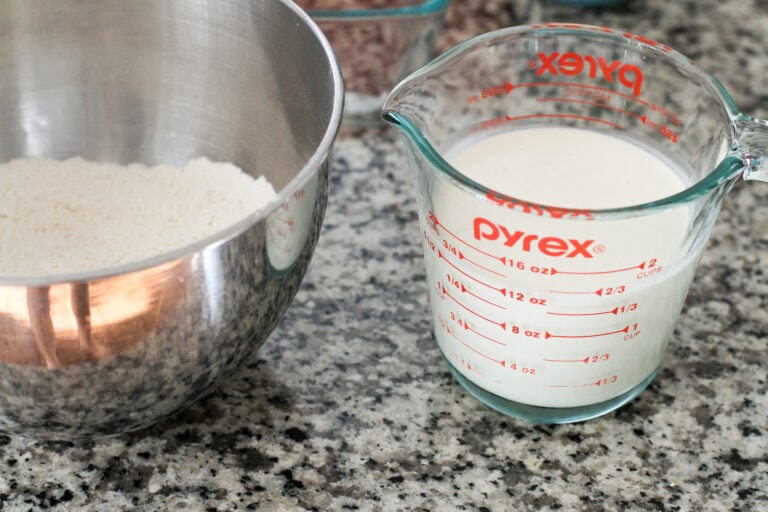 EASY PEASY.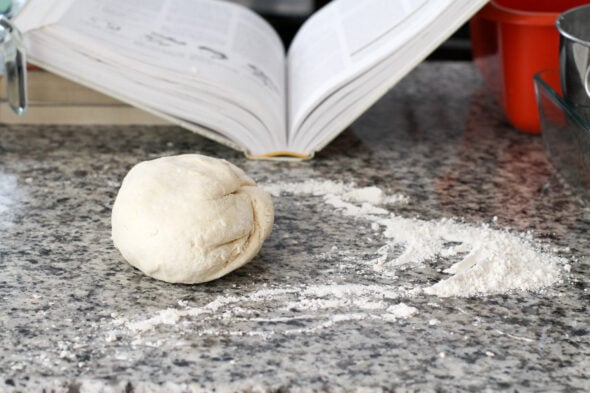 Press the dough about 3/4 inch thick, and use a small biscuit cutter to cut circles. Place biscuits on top of chicken and gravy.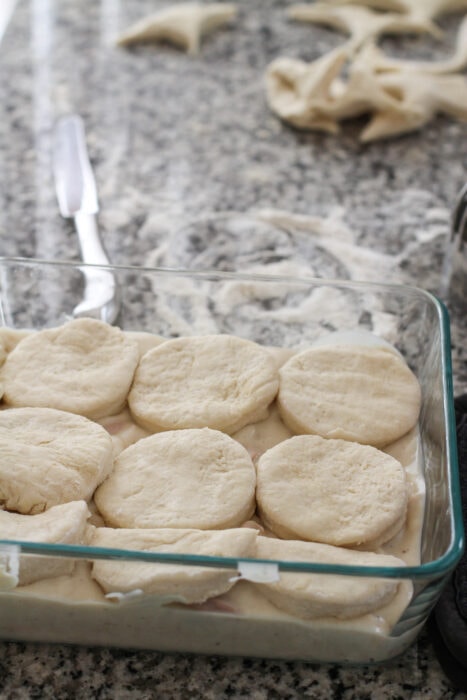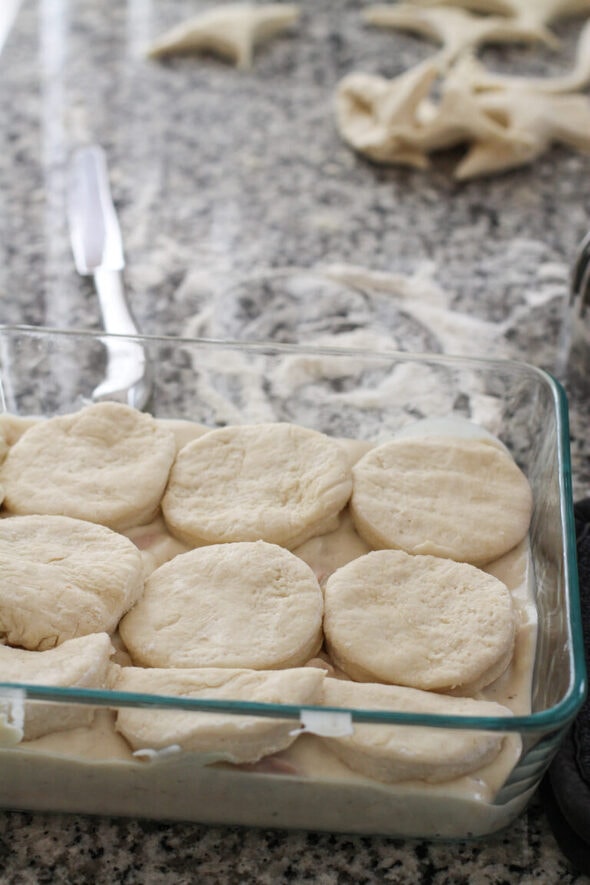 I'll use a cutter one size smaller next time and I think the biscuits will fit perfectly.
Bake the pan, uncovered, in a preheated 375° F oven for 20-25 minutes, or until the biscuits are browned and gravy is bubbling.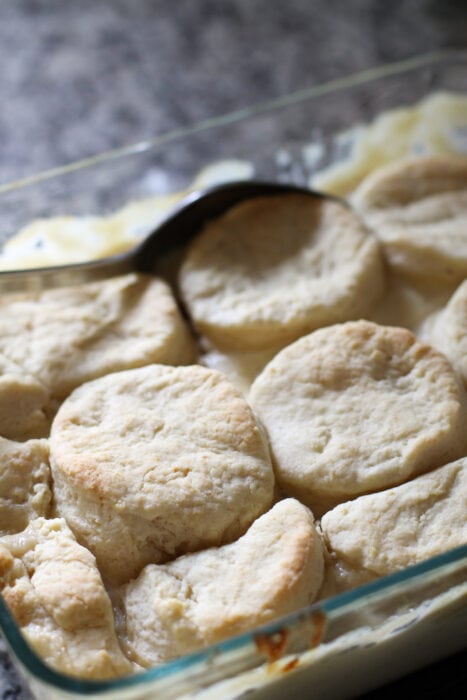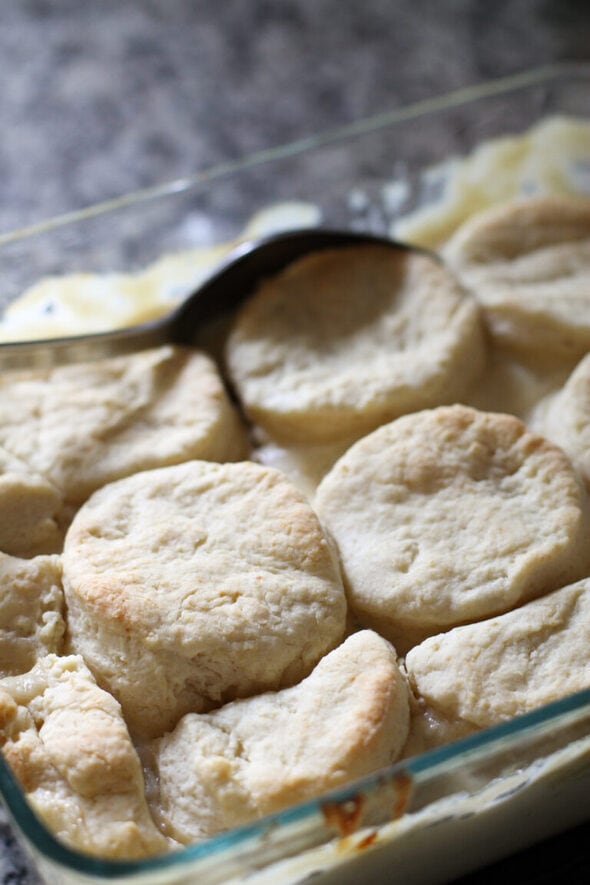 Let it cool for at least 5 minutes before serving, or you will definitely burn your mouth.
Let's talk about pans for just a sec.
If you have an 8×8 pan with deep sides, you can use that.
I personally use my 11-cup Pyrex dish, which is about the same total size as an 8×8 pan, but with taller sides, which helps prevent boiling over in the oven.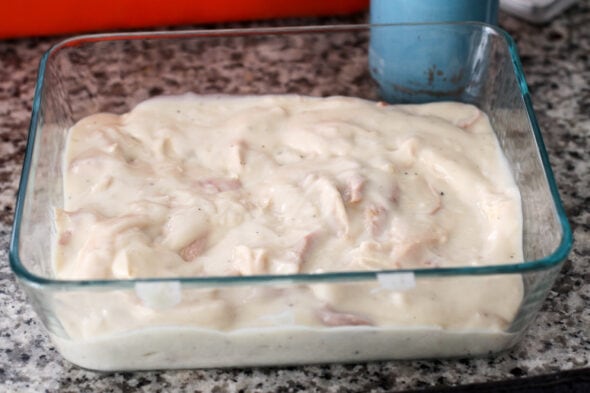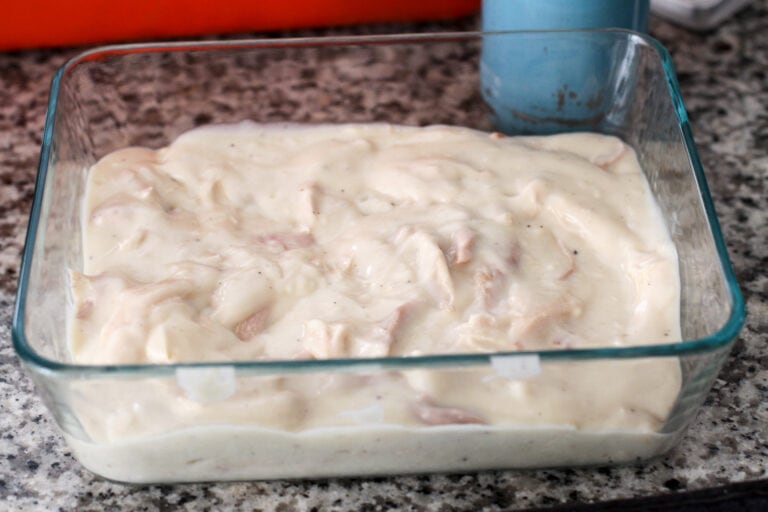 This pan is one of my VERY favorites; I use it all the time, for overnight French toast casserole, for marinating meats, for storing leftovers…it is just so super useful and I love that it has a lid for storage purposes (not for cooking, because it's plastic!)
The cheapest way to get it on Amazon is in a three-piece set of rectangular dishes, so that's what I'd recommend.
And I think that's all the words I've got to say. Printable recipe below!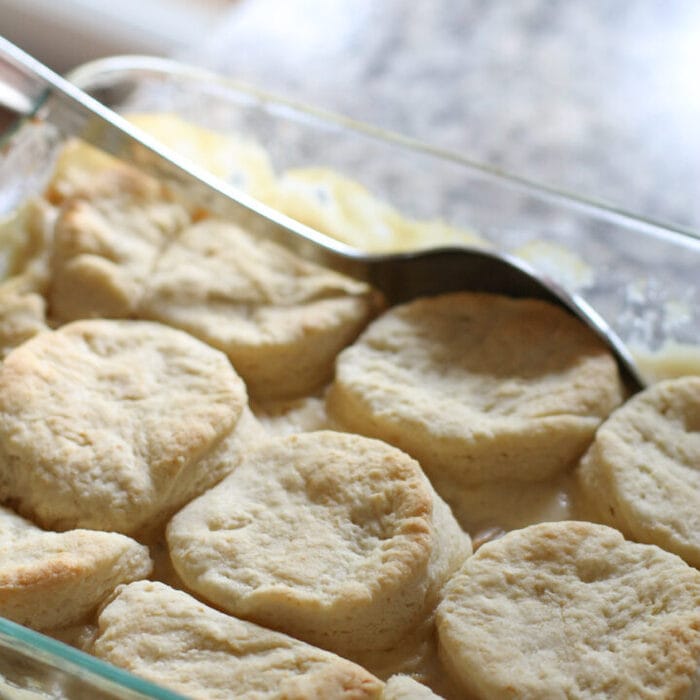 Chicken and Biscuits
Additional Time:
5 minutes
This comfort food casserole comes together quickly, especially if you use a rotisserie chicken. Don't be scared by the homemade biscuit topping; the dough is super quick to make!
Ingredients
3 cups cooked chicken, cut into bite-size pieces (rotisserie chicken works great!)
Gravy
6 tablespoons butter
6 tablespoons flour
1 ½ cups chicken broth
1 ½ cups milk
1 teaspoon salt (depending how salty your broth is)
pepper to taste
Cream biscuits
2 cups unbleached all-purpose flour, plus extra for the counter
2 teaspoons granulated sugar
2 teaspoons baking powder
½ teaspoon table salt
1 ½ cups heavy cream
Instructions
Heat oven to 375° F.
In a medium saucepan, melt butter. Stir in flour, bring to a bubble; cook and stir for one minutes.
Add milk and chicken broth to flour mixture, whisking constantly. Bring to boil, stirring every few minutes. Once gravy reaches a boil, cook and stir for one minute.
Off heat, stir in salt, pepper, and chicken. Pour gravy and chicken into 8x8 or 9x9 inch dish (or equivalent) with tall sides. Set aside.
To make biscuits, combine all dry ingredients in a medium bowl. Stir in cream until combined. Turn dough out onto counter and knead for 30 seconds.
Roll dough out 3/4 inch thick on lightly floured counter. Use a small biscuit cutter to cut rounds; place rounds on top of gravy/chicken.
(alternatively, roll dough out to mimic shape of pan; place dough rectangle/square atop chicken and gravy.)
Bake in preheated oven for 20-25 minutes, or until the biscuits are beginning to brown and filling is bubbly.
Let cool for 5 minutes before serving.
Notes
If your broth is salty, taste the gravy before adding any additional salt.
Note that you need 1 1/2 cups of heavy cream for the biscuit dough; shop accordingly!
If you have a larger household, you can double this and use a 9x13 inch pan. Just make sure it has high sides so that the filling doesn't bubble over. If you're worried about it, you can put a large sheet pan underneath your 9x13 pan.
I use my Pyrex 11 cup rectangular dish for a single recipe and it works perfectly. I linked to the set I have below. I LOVE these rectangular dishes.
Recommended Products
As an Amazon Associate and member of other affiliate programs, I earn from qualifying purchases.
Nutrition Information
Yield

6
Serving Size

1
Amount Per Serving
Calories

675
Total Fat

44g
Saturated Fat

24g
Trans Fat

1g
Unsaturated Fat

16g
Cholesterol

167mg
Sodium

1110mg
Carbohydrates

45g
Fiber

1g
Sugar

4g
Protein

26g