Yesterday I posted a photo of the pancakes we had for dinner, and some of you asked for the recipe, so today is your lucky day!
A reader (from Sweden) commented yesterday that traditional Swedish pancakes are very thin, more like a crepe.
So, these are probably meant to be fairly thin, but growing up, my mom always made them on the thicker side. And that's how I'm used to eating them.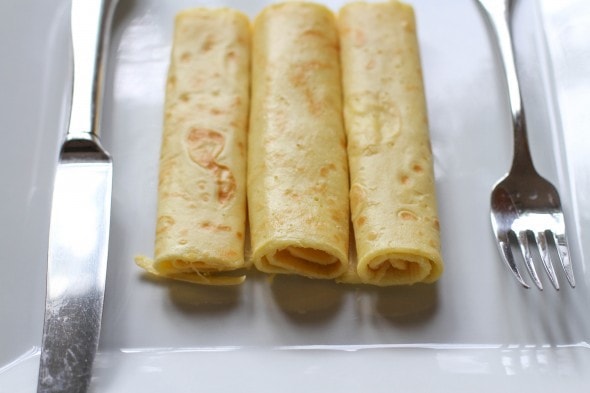 As a result, I'm not really sure what to call these! They're not exactly Swedish pancakes, and they're not exactly crepes, and they're definitely not like American pancakes.
When I was a kid, we typically sprinkled these with sugar and rolled them up. But of course you could fill them with fruit or whipped cream or whatever else suits your fancy.
They don't exactly make a super nutritious meal, but here's how I look at situations like I had the other night:
I had a long day, my original dinner plan wasn't going to happen, and so my choices were to either make something super quick and easy at home, or go buy takeout/fast food/pizza.
Compared to a roasted chicken with salad, Swedish pancakes with sugar are sort of fail nutritionally.
But compared to, say, chicken nuggets, I don't think they're all that bad.
And they're much cheaper. 😉
The batter is really simple-you just beat eggs and milk together with a bit of sugar and salt, and then mix in flour.
My batter is never perfectly smooth, but this doesn't seem to present a problem.
You could make these in a round frying pan just like you would crepes, but I do it the easy way my mom did, on a big griddle.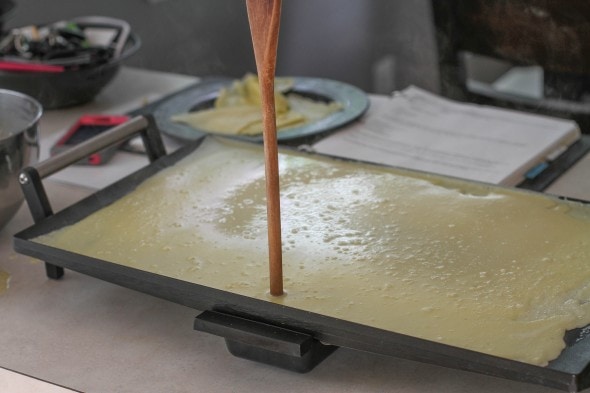 (In case you missed yesterday's post, that spoon is there to plug the grease drainage hole!)
Since these tend to be a little on the sticky side, I give the griddle a quick grease with butter before I pour the batter onto the griddle.
You can vary how much batter you pour, depending on how thick you want these to be, and once you pour, you can tip the griddle from side to side a bit to spread the batter evenly.
Once the batter has cooked a bit and the pancakes are slightly browned on the underside, use a plastic spatula to cut the batter into rectangles.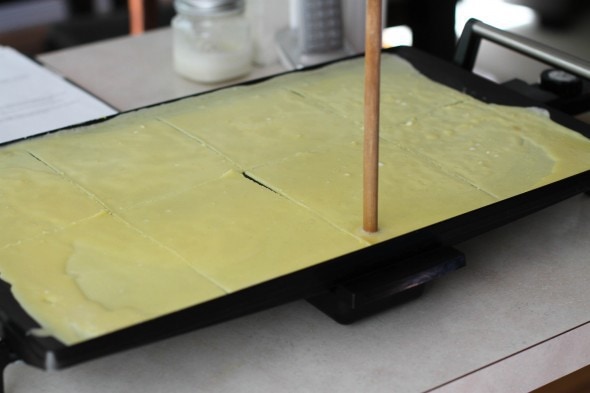 Then you can gently flip the pancakes over and cook them until they're lightly browned on the other side.
Sprinkle them with sugar, roll 'em up, and eat them!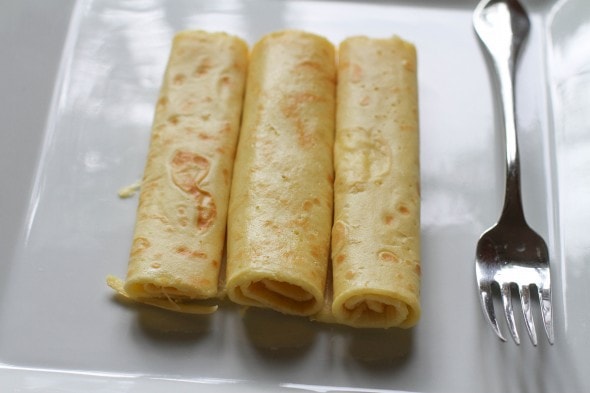 I've also seen people spread jam and/or yogurt on these before rolling them up, and of course, you can never go wrong with fresh fruit and whipped cream.
(Whipped cream = pretty much always right.)
Swedish Pancakes / Lazy Crepes
(I double this recipe for my family.)
3 eggs
1 1/4 cups milk
1 tablespoon sugar
1/2 t. salt
3/4 cup flour
Beat eggs, milk, sugar, and salt together. Whisk in flour until the batter is mostly smooth.
Heat an electric griddle to 350. Grease griddle with butter, then pour batter directly onto griddle (vary amount based on your desired pancake thickness.)
Cook for a few minutes (until lightly browned on the underside), then use a plastic spatula to divide the batter into rectangular pancakes. Gently flip and cook until second side is lightly browned.
Serve immediately with desired fillings (jam, yogurt, whipped cream, fresh fruit, sugar).