So, back in July I posted about a little nightstand that I'd painted white for Zoe's room. I was pretty happy with how well it matched her dresser, but I just wasn't a big fan of the scroll detail on the nightstand drawers since the dresser drawers are flat.
Well, I snagged a nightstand from freecycle(from the same freecycler that gave me this nightstand, actually!), and just like with the other nightstand, I picked it up sight unseen. I was hoping it was going to match the black nightstand, but once I saw it, I decided it really wasn't going to work. It was far too short, and the style wasn't nearly as classic.

I brought it home anyways, and after looking at it for a few days, it occurred to me that the top drawer looked an awful lot like the top drawer on Zoe's dresser. And then I noticed that the bottom of it was very similar too!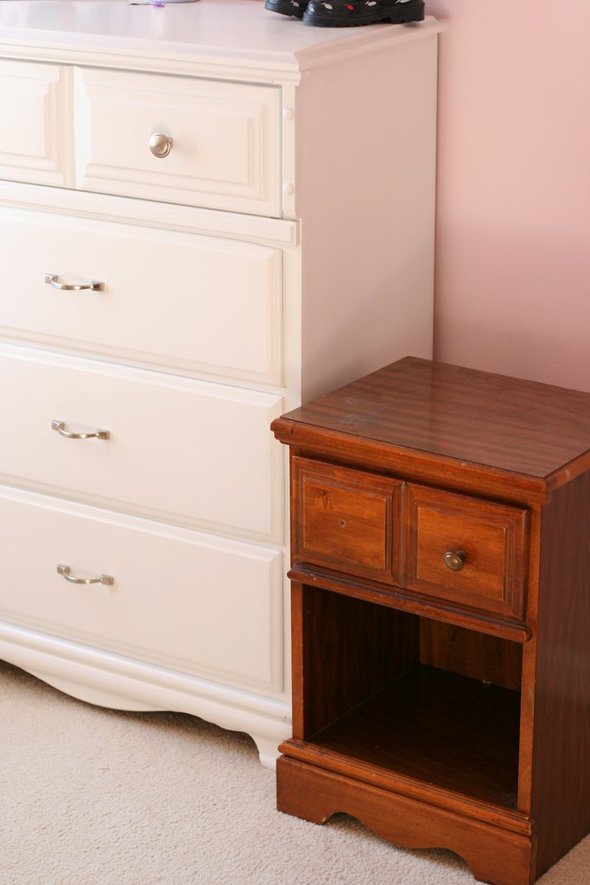 Of course, the color is all wrong, it's dirty, and the finish is in pretty bad shape in places, but the nightstand is mostly made of solid wood and wood veneer, so I should be able to do my spray paint/latex paint combo on it and make it match the dresser. I'm excited about this because I've gotten a lot of requests for a "How to paint furniture" tutorial, which I would like to do with pictures(naturally). Having not had anything to paint for a while, I haven't been able to do the tutorial, but now I'm all set.
Unfortunately, it is way too cold here to go outside to do the sanding, and even if I were to brave the cold with my trusty sander, I couldn't spray the primer on. The primer requires temperatures of at least 50 degrees in order to dry properly, and there's nothing even close to 50 degrees in my 10 day forecast.
So for now the nightstand is residing in my crawlspace, waiting for warmer days. When there's a decent break in the cold, though, I'll get right on the sanding and painting, and this time I'll document it all with pictures. 😉
In case you're wondering, Zoe's current nightstand will go to a good home. I actually got a matching large long dresser along with it last summer, which I sanded, painted and gave to my sister-in-law for her birthday. So, I'll just give her the matching nightstand, so then she'll have a matched set, and Zoe will too.
Freecycle rocks. And so does paint.