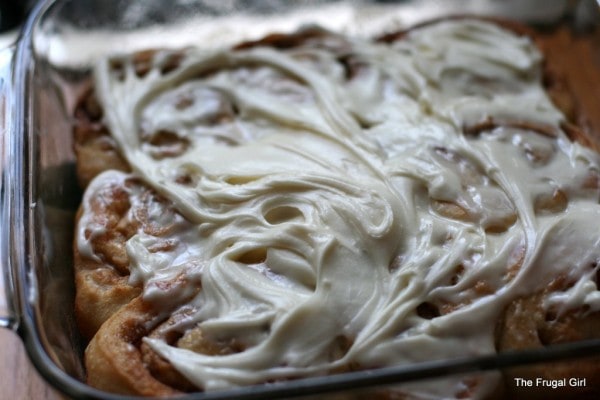 These rolls are a huge hit at our house, and are frequently requested for special birthday breakfasts.
This isn't the only sweet roll recipe that I use (I'll share my grandma's sweet roll recipe with you sometime), but I love this one because of its make-ahead quality.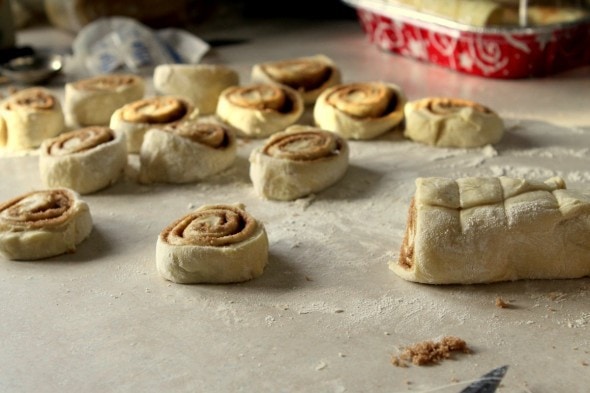 Like Cinnamon Twists, these shaped rolls can sit in your fridge overnight, needing only to be baked and frosted in the morning.
These rolls are a very loose adaptation of a cinnamon roll recipe I found in Taste of Home, so I'll share my version with you instead of just linking you to TOH's recipe.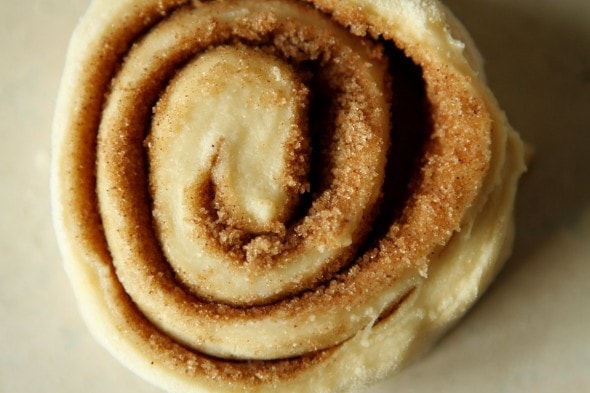 If you can make regular bread dough, you will find that cinnamon rolls are not at all hard to make. Like most of my bread recipes, this one starts with a combination of yeast and flour.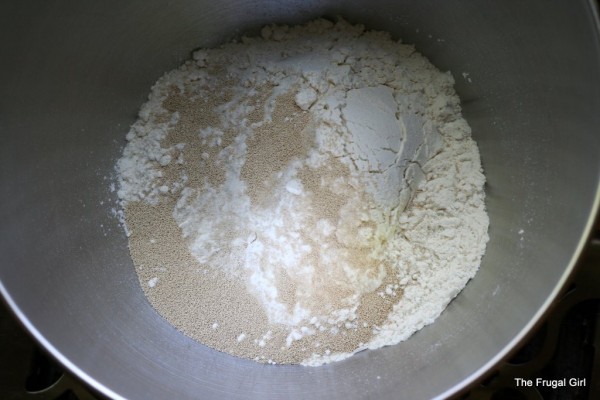 To that, you add a mixture of warm milk, butter, salt and sugar. To make things simple, I combine all of this in a glass measuring cup and microwave it until it's 120 degrees.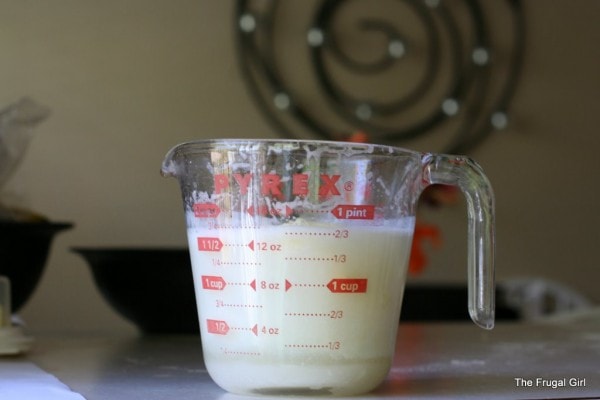 Once you've added the liquid ingredients to the dry ingredients, add an egg and beat the dough for 2-3 minutes. The dough will be really soft at this point.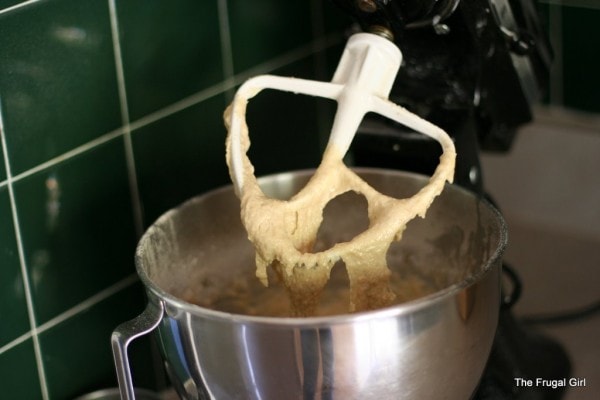 So, add enough flour to make a kneadable dough, and turn it out onto a floured surface.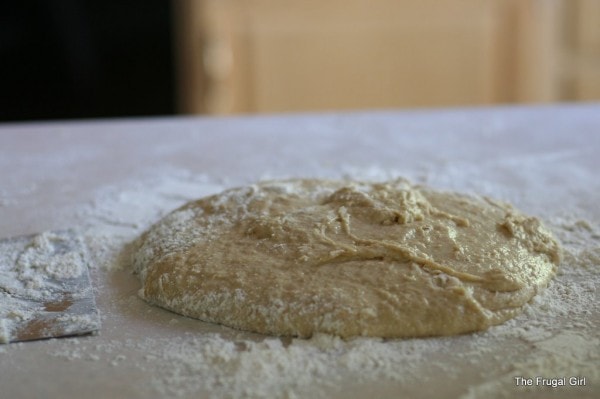 I had some extra whole wheat flour around when I made these, so I used 1.5-2 cups of it in this dough. If you use all white flour, your dough will look a little lighter in color.
Anyways, knead the dough for 3-5 minutes, or until it's smooth and elastic.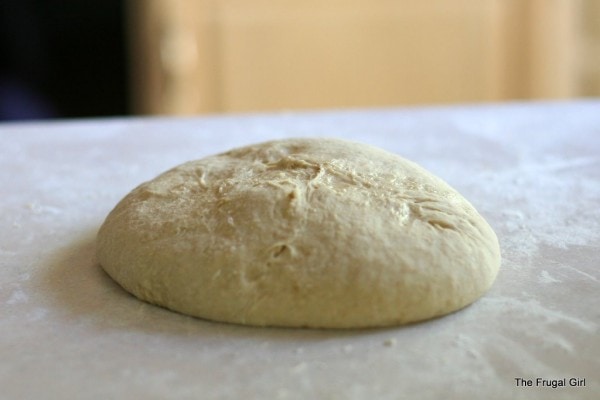 Place the dough back into the mixing bowl, cover with a wet tea towel, and let it rest for 20 minutes. The dough will rise some during this time, but the main purpose of the rest is to allow the gluten to relax. This makes it much easier to roll the dough out.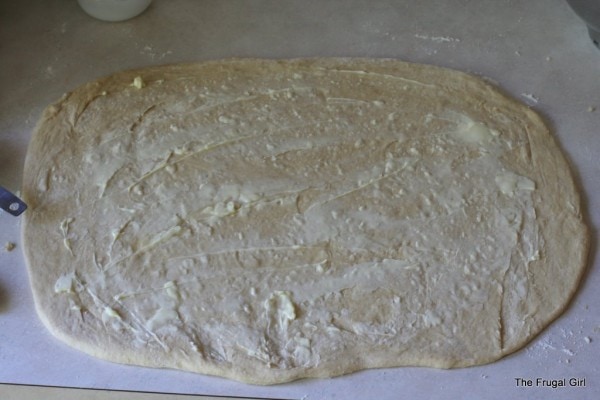 After the dough has rested, you should be able to easily roll it out into a large rectangle. Spread it with softened butter (if you can't do dairy, you can certainly use a dairy-free butter substitute.).
Combine a cup of brown sugar with 2 teaspoons of cinnamon.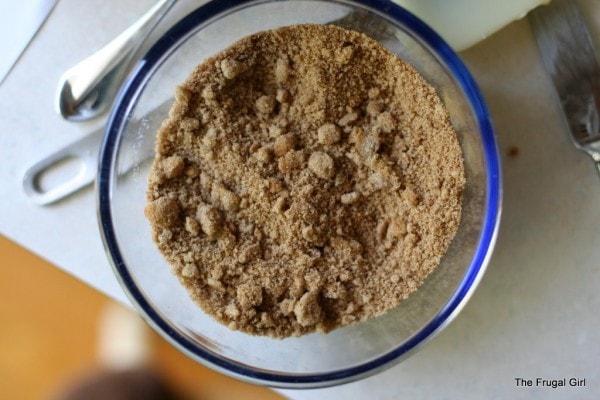 Sprinkle this evenly over the dough. And don't worry about getting all the lumps out of the brown sugar…a few lumps won't matter at all.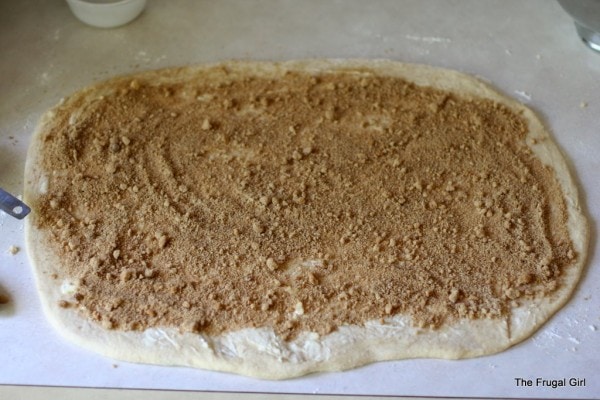 Roll the whole thing up, starting from a long end.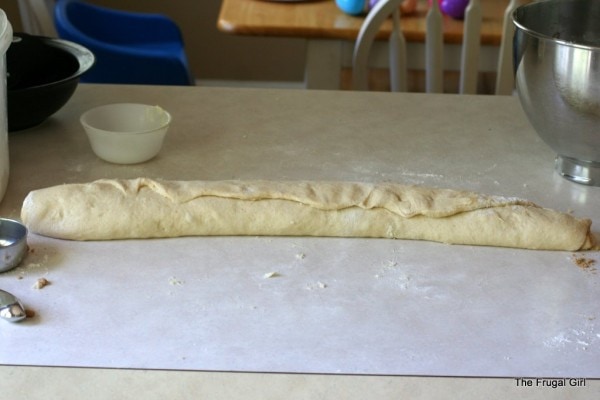 Using a sharp, serrated knife, a piece of thread, or a piece of (not minty) dental floss, cut the dough into 21 slices.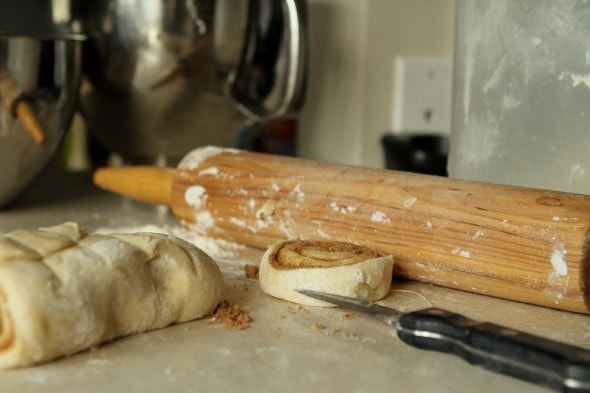 Place 9 slices in a greased 8×8 pan…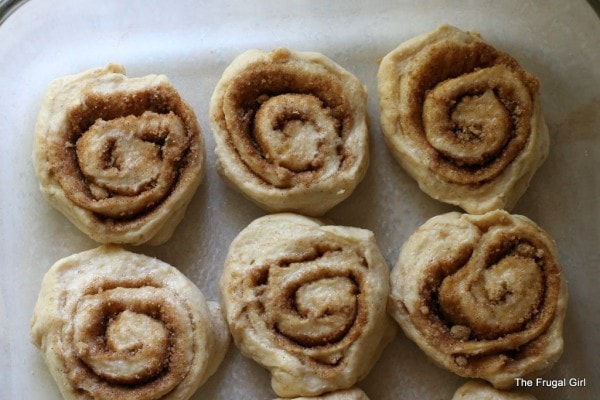 and 12 slices in a greased 9×13 pan.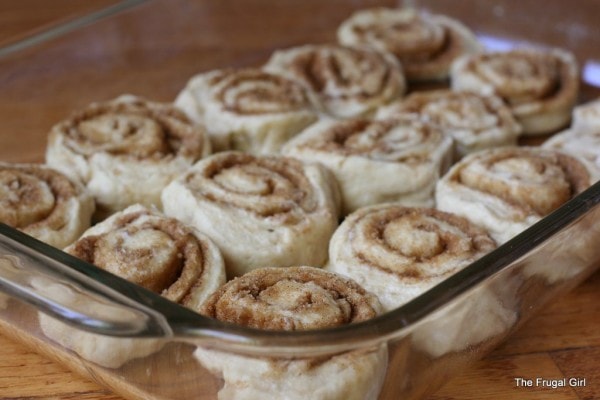 (did you count mine? I have more than 12 in this pan, because somehow I managed to cut more than 21 slices. I lose at math, apparently.)
Cover your pans, and place them in the fridge overnight (alternatively, you can let them rise for 30-35 minutes and bake them straightaway).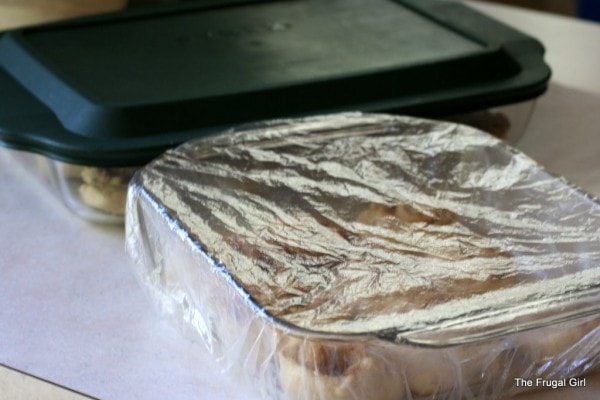 In the morning, the rolls should have risen a little bit (but not an impressive amount). Remove the cover, replace it loosely to let some air in, and let them sit on the counter at room temperature for 30-40 minutes, depending on how cold/warm your house is.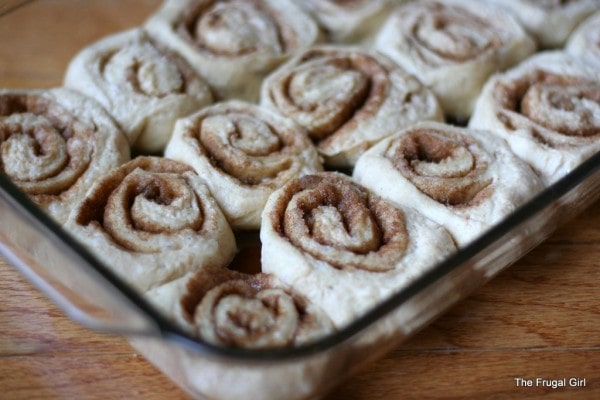 Bake them for 20-25 minutes in a preheated 350 degree oven.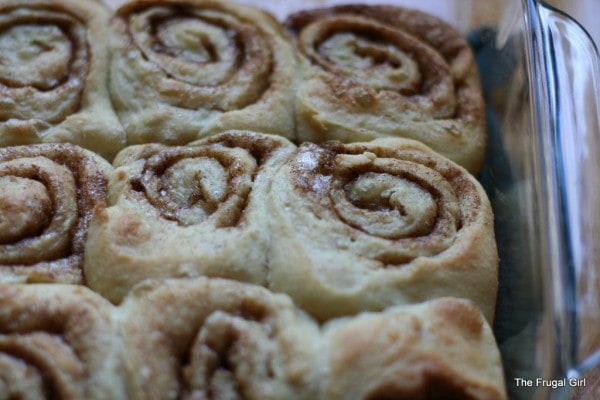 They're pretty good this way, but frosting makes all the difference in the world.
To make the frosting, combine butter, cream cheese, powdered sugar, vanilla, and milk in a mixer bowl. You can do this by hand, but it's a lot harder that way.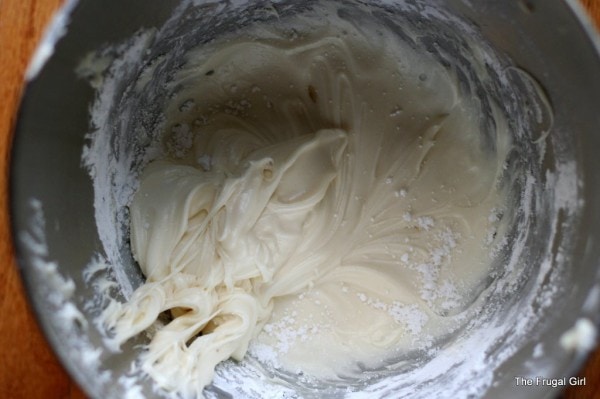 Slather the frosting over top of the warm rolls.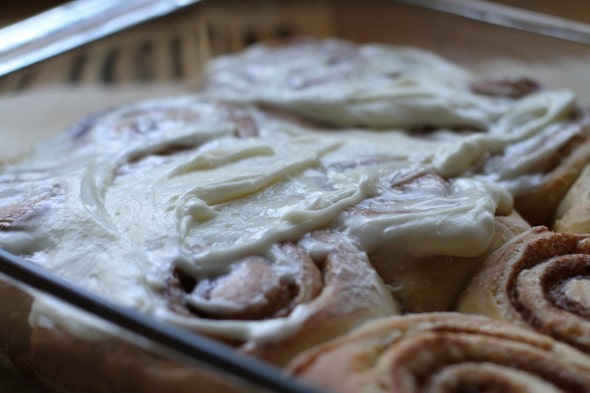 If you're at all concerned about having leftovers, you can always just frost each roll individually. This will keep you from having to store leftover rolls in the fridge (the fridge dries bread out).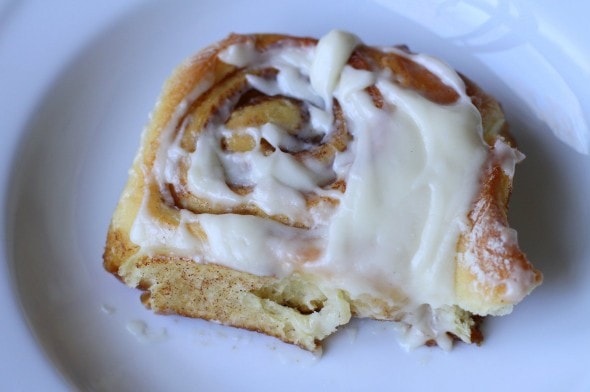 And if you're not a fan of cream cheese frosting, you can feel free to substitute a simple buttercream frosting. If you go that route, you can safely leftover frosted rolls on the counter instead of in the fridge.
I make these pretty infrequently, though, so leftovers are rarely a large problem. 😉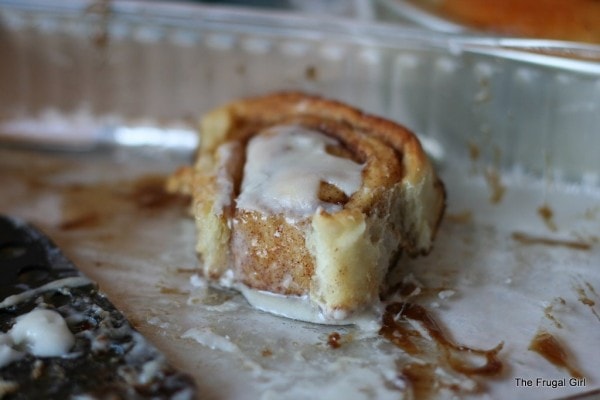 Overnight Cinnamon Rolls
Printable Overnight Cinnamon Roll Recipe
Dough:
1 1/4 cups milk
1/4 cup butter
1 teaspoon salt
1/4 cup sugar
1 egg
1 tablespoon active dry yeast
3.5 to 4 cups flour
Filling
1/4 cup softened butter
1 cup packed brown sugar
2 teaspoons cinnamon
Frosting
1/4 cup butter, softened
4 ounces cream cheese, softened (don't try to use cold cream cheese!)
1 1/2 cups confectioners sugar
1 1/2 teaspoons milk
1/2 teaspoon vanilla extract
To make dough, heat milk, butter, salt, and sugar to 120 degrees F. Combine 2 cups of the flour and the yeast in the bowl of a stand mixer. Add warm liquids and egg and beat for 3 minutes. Add enough of the remaining flour to make a soft dough.
Turn out onto a floured surface and knead 3-5 minutes, or until smooth and elastic. Place dough in bowl, cover, and let rest for 20 minutes.
Place dough on a floured surface and roll to a 17×10 inch rectangle. Spread with 1/4 cup softened butter. Combine brown sugar and cinnamon and sprinkle evenly over dough. Starting from a long end, roll the dough up jelly roll style. Cut into 21 slices, and place cut side down into greased pans, 9 into an 8×8 inch pan and 12 in a 9×13 inch pan. Cover and place in refrigerator overnight.
In the morning, remove lids and replace them loosely. Let the pans stand at room temperature 30-40 minutes, or until the rolls are soft to the touch. Bake in a preheated 350 degree F oven for 20-25 minutes, or until lightly browned.
To make frosting, beat all the ingredients together in a bowl (a mixer makes this much easier). Spread over top of warm rolls.