How's this for an Earth Day post?? Bear with me here…by the end, I hope you'll see that this is more appropriate than you might think.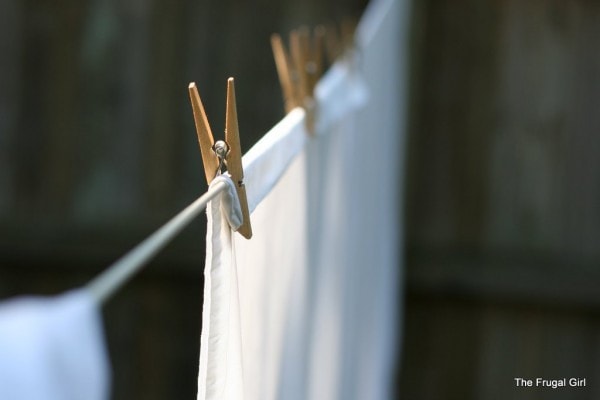 When I say, "I don't think it much matters.", I'm not referring to global warming. If it is all true, then yeah, it would definitely matter.
What I mean is that it doesn't much matter that I'm not fully convinced about global warming.
(2014 update: I'm honestly not super well-studied on the matter, but it does seem that the climate is having issues. However, that actually is fairly irrelevant to this post, as you will see if you read on. 😉 )
Why?
Well, if I were to suddenly be completely and utterly convinced about global warming, I don't think it would make one particle of difference in the way I live my life.
I don't think you need to believe that global warming is happening in order to live green, simply because there are plenty of other reasons to tread lightly on the earth.
I've often thought that one of the most fascinating about life is the way that virtuous activities overlap. Though there are times that you have to choose between frugality, health, and green living, most of the time these are one and the same.
This simple fact means that we don't all have to agree on climate change in order to agree that we should reduce electricity usage, buy used items, reduce packaging, recycle and re-use, limit plastic in our lives, and grow our own food, among other things.
Take gardening, for example. Growing food in our backyards is certainly earth friendly…it's as local as local can be, and you know for sure that your produce is organic. But the green aspect of this is not the only appeal of gardening. Food grown in our backyards is often very frugal (take, for example, my $.10 packet of basil seeds, which provided me with 2 seasons of abundant basil), and it's better for our health than much of the food at the grocery store.
As another example, consider bottled water. My family and I all own stainless steel canteens, which we fill with tap water (we filter it in our Brita pitcher).
Is this good for the environment? Totally!
We use exactly 0 plastic beverage bottles each day, which reduces the need for producing, packaging, shipping, and recycling. But using canteens and tap water is also insanely cheap. Filtered tap water from my tap is nigh onto free, whereas filtered tap water in bottles (and a great percentage of bottled water is simply filtered tap water!) costs something like 1000 times more.
For the record, I do think that we need to be more responsible in the way we treat our planet. I don't compost, line dry, recycle, and grow basil just to save money. But my main concern for the planet doesn't have to do with climate change…I'm concerned about the amount of trash we produce. Global warming aside, I just don't think that we can continue to produce trash at our current rate and expect to not be living on a garbage-covered planet one day.
Look down your street on trash day, and consider the volume of trash produced just by the houses on the road where you live. The consider that this is only a tiny portion of the trash we produce every day worldwide. I'm no environmental expert, but I can't imagine that we will be able to keep finding places to put all of this garbage.
I know that a lot of my readers are already faithfully working to reduce their trash output, but if you're kind of new to this idea and you're wondering what you can possibly do, here are 5 suggestions.
Try composting.
I am constantly amazed at how much produce waste I used to throw in the trash in the form of peelings, rinds, cores, and the like. And likewise, I am constantly amazed at how much composting has reduced our trash volume. We used to have a full trash can to put out twice a week, and now we produce maybe one bag a week.
Not only does composting reduce your trash volume, it also provides you with a free source of rich soil additive. Check out the pictures of my plants growing in compost (and more of the same) if you're not convinced of the value of this. Compost is magical, people!
I compost using nothing but a simple Rubbermaid bin, which is cheap and easy. If you want to learn more, you can check out all of my composting posts.
Cook from scratch, or at least, closer to scratch.
Prepackaged, prepared, and individually sized foods not only cost more, they tend to come with ridiculous amounts of packaging. Buy real ingredients and cook some simple meals at home instead of buying prepared meals. If you're not sure where to start, check out the Easy, Frugal Cooking series here on my blog. Cooking is not just for the chefs among us…as my mom likes to say, if you can read, you can cook. Give it a try! And take heart, because the more you cook, the better (and faster!) you'll get at it.
Give used stuff a try.
Second-hand items are great for saving money, but they're also good for the environment. Sometimes, you're saving something from the trash, which is great, of course, but choosing second-hand items over new items also means that you are reducing the need for the production, packaging, and shipping of new items.
And given how the vast majority of our culture tends to throw away/donate things before they're even half used-up, the supply of used items is amazing. Go check out a thrift store, join Freecycle, peruse Craigslist or Ebay, or try yard-saling. You may be pleasantly surprised at what you can find without buying new. Not convinced? Check out all the great stuff I've gotten from Goodwill and Freecycle, like Zoe's nightstand and dresser, my little side-table, and this tall-boy dresser.
Stop buying bottled water.
Seriously, unless you've truly got unhealthy, unsafe water, get a canteen and a Brita pitcher and you should be good to go. Your wallet and the planet will thank you (though the bottled water companies will not!).
Bring reusable bags when you shop.
This really isn't that hard, I promise! When I unpack my groceries, I just stuff all my bags into the largest of my reusable bags, and then I put the bag of bags (hee.) back into my van. That way I can never forget to bring them to the store with me.
This particular activity saves me money at Aldi (you have to pay for bags there!), and if you're fortunate enough to shop at store that gives you credit for reusable bags, you can earn a little bit of money while you reduce your plastic consumption.
___________________________________
Readers, what are your top 5 suggestions for living green?