Every Wednesday (ok, most Wednesdays!) I share a baking recipe. And lots of pictures of said baking recipe. I don't call this Wednesday Baking because I bake solely on Wednesdays…no, my oven gets a workout much more frequently than once a week! Wednesday just happens to be the day I share baking recipes with you. All the past baking posts are archived in the Wednesday Baking category, which can also be found in a tab underneath my blog header.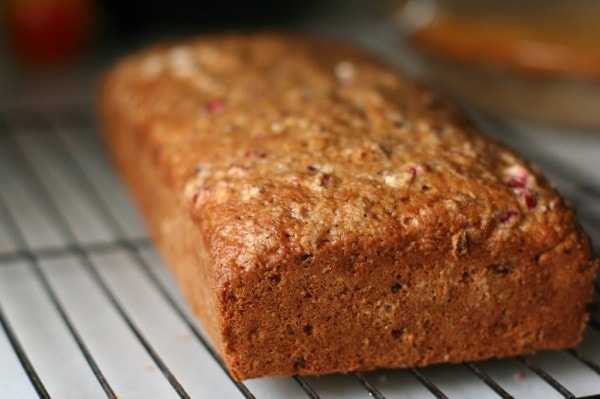 Last week I baked two different versions of cranberry bread, one using my mom's recipe, and one using Cook's Illustrated's Baking Illustrated recipe. I wanted to observe the two side-by-side, but sadly, I messed up the baking powder measurement when I was making Cook's recipe, so I feel like that was not a fair way to compare the recipes!
I bought more cranberries and am planning to do a real side-by-side comparison, this time with the appropriate amount of baking powder.
Ahem.
For today, though, I'm going to share my mom's cranberry bread recipe, which is quite similar to Cook's except that it has less fat and less liquid.
For you baking novices, cranberry bread is a quick bread, meaning that it's leavened with baking powder and/or baking soda instead of with yeast. Quick breads are simpler and, um, quicker to make (thus the name!) than yeast breads. Basically, all you have to do is:
1. Combine the dry ingredients
2. Combine the wet ingredients.
3. Add the wet ingredients to the dry ingredients.
4. Pour the batter into a loaf pan and bake it.
The main quick bread peril you'll want to avoid is that of overmixing. Most yeast breads improve with vigorous mixing but quick breads are quite the opposite. Use a gentle hand and stir the batter just until it's combined or your bread will likely be a bit on the tough and chewy side of things.
Anyhow, if you're new to this whole baking from scratch thing, quick breads are a great way to get your feet wet.
I didn't take quite as many step-by-step photos of this process as I usually do, but hopefully there are enough photos here to give you an idea of how this recipe goes.
First, you'll want to combine the dry ingredients in a large bowl. A wire whisk works fabulously for this. I think I actually use my whisk more for dry ingredients than for typical tasks like beating eggs!
In a separate bowl, combine the wet ingredients. Add the wet ingredients to the dry ingredients. Mix gently until the two are just combined.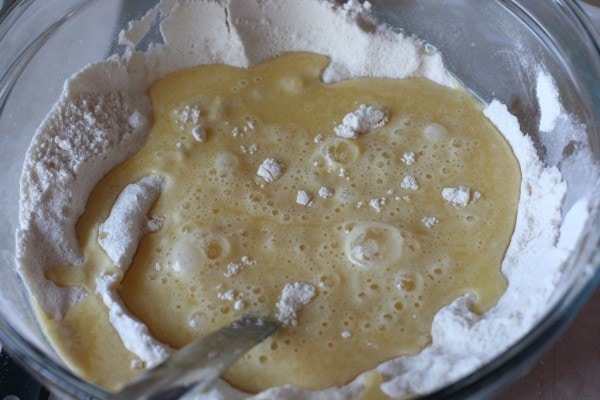 Next, gently fold in your chopped cranberries. I chop mine in the food processor, but you can also do it by hand. How finely you chop the berries is totally up to you…if you like large berry pieces, go for it! If you like your cranberries to be smaller and more evenly dispersed, chop them more finely.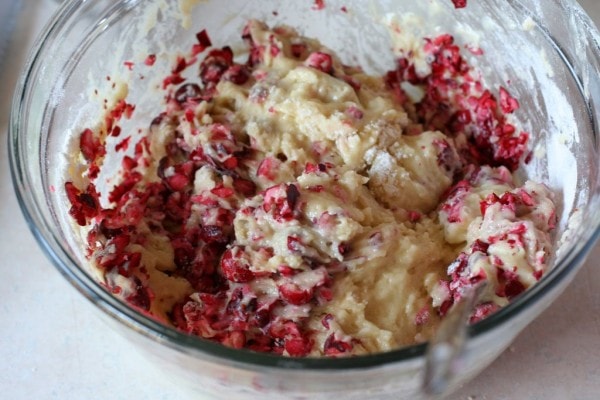 Scrape the batter into a greased loaf pan. The recipes calls for a 9×5 inch pan, but mine is more like 10×5. This produces a somewhat short loaf of bread, so I think next time, I'll use my smaller loaf pans.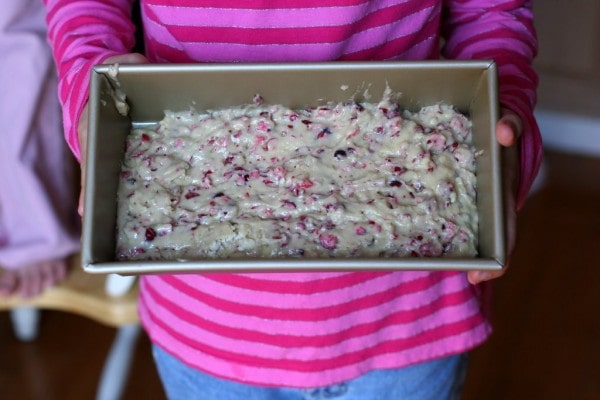 Bake the bread in a preheated oven for 45-55 minutes, or until a toothpick inserted into the center comes out clean. The length of the baking time will depend on the size of your loaf pans (the larger, flatter loaf will bake faster than a shorter, smaller loaf).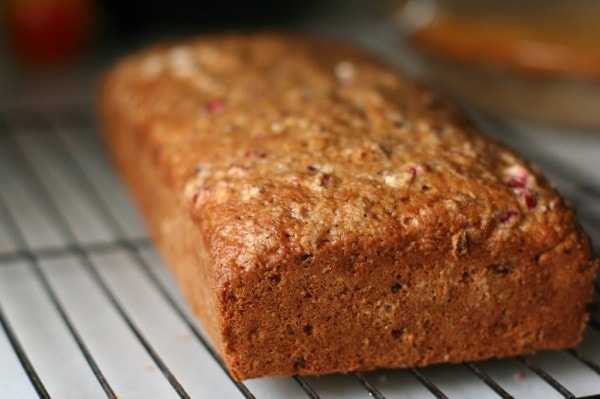 Let the bread cool completely before you try to slice it. Unlike yeast breads, quick breads actually improve in texture as they cool, and they're much, much easier to slice once they reach room temperature.
Cranberry Bread-makes 1 loaf
Printable Cranberry Bread Recipe
2 cups all-purpose flour
1 cup sugar
1 1/2 teaspoons baking powder
1/2 teaspoon baking soda
1/2 teaspoon salt
1 egg
2 tablespoons hot water
1/2 cup orange juice
2 tablespoons melted butter
1 cup cranberries, cut in half or chopped
1/2 cup chopped nuts (optional)
Heat oven to 350 ° F. (325 if your loaf pan is glass or nonstick)
Combine dry ingredients together in a large bowl. In a separate bowl, combine the egg, water, orange juice, and melted butter. Add wet ingredients to dry ingredients, and stir gently just until combined. Fold in cranberries and nuts.
Scrape batter into a greased 9×5 or 4×6 inch loaf pan and bake 45-55 minutes, or until a toothpick inserted into the center comes out clean. Remove loaf from pan and cool completely on a wire rack.
Today's 365 post: The tree is up.