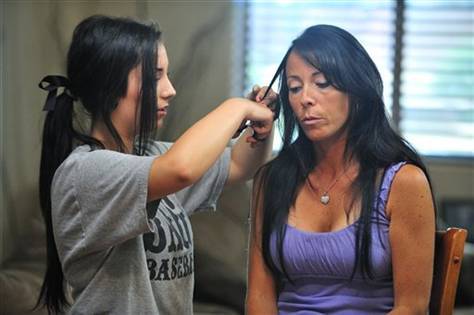 I heard about this show back in September when we were on vacation, and its topic piqued my interest. The reality show, called "Downsized" (which is done by PieTown Productions, the same company that contacted me about a reality show several years ago!) chronicles the adventures of a blended family (7 kids total) who has come upon hard financial times and has had to downsize their lives as a result.
Unfortunately, the show is on WeTV, so we don't get it here at home. But, when we were visiting Mr. FG's grandma the other day, we caught a few episodes.
At first, I liked the show quite a bit…the family seemed to be working together to make ends meet, although I was a little surprised at how nice their house was (they did look for a cheaper rental, but decided the cheaper homes were too small. To that, I say that if you constantly struggle to make rent, then you need to make do with a smaller place!).
However, when the parents had a meeting with a financial planner, I started to be sort of horrified. The family is on food stamps and is using several other forms of public assistance, which made me think they must really be living on the lean side (the mom, Laura, said that she didn't know what else they could possibly cut). But no, I was wrong.
They spend $500/month eating out, $145/month on cheerleading for their 10 year old, and the mom has a serious Starbucks habit (and those are only a few of the ways that they bleed money).
Gah!!!
I seriously wanted to start yelling at the TV at this point. I really cannot understand being on food stamps when you routinely spend $500/month eating out. Or using public assistance when you're buying Starbucks coffee every day (she is tired from having M.S., but hello! Caffeine comes in cheaper forms than Starbucks.). And if you struggle to come up with the last $100 for rent every month, what in the world are you doing putting your child in cheer?
My brain simply cannot comprehend this kind of thing. Do people who spend $500/month eating out really honestly feel like they've cut everything they can?
The financial planner (I think I'm a fan of his now!) tried to point out that the family was going into the hole each month by about $1700, and that if they kept up like this, they'd end up living on the street somewhere. That didn't seem to give the mom sufficient motivation to cut the Starbucks and the cheer lessons, though.
At least, it didn't in that episode or the one following, where the mom asks the 10 year old if she could maybe give up theater if she still gets to keep going to cheer.
I found some teasers online for upcoming episodes, and it looks like the mom is going to learn how to make coffee at home, and that the kids are going to give up some of their expensive athletic activities, so maybe there's hope for this family. 😉 And if they do learn to manage their money well, hopefully the people watching will learn how to manage their money better too.
So, now that I've shared my thoughts, I'm super curious to hear what you all think of this show. Talk to me!
Today's 365 post: My children consider this a treat.