Years ago, Lisey originally got a pair of Schwinn rollerblades from Goodwill.  She's long outgrown them, but during my summer decluttering, I found 'em and was amazed at how threadbare the wheels were.
Zoe, who has felt of late that her light pink rollerblades are a bit embarrassing…
Pink rollerblades. Photo taken this summer. Definitely not shorts weather now.
…really wanted to use the skates, but the wheels were past done.  Like, waaaay past done.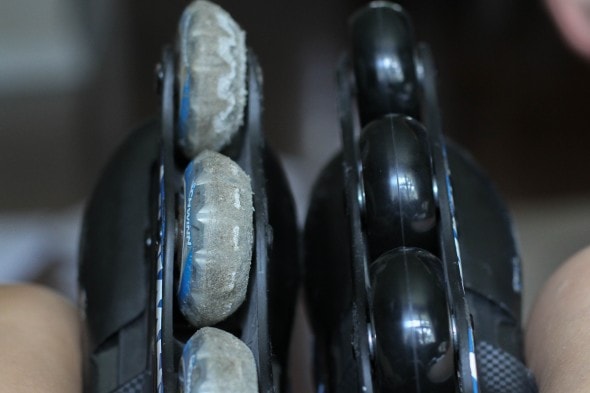 But the black skates were really calling her name, so she decided to spend some of her money to buy a set of cool new black replacement wheels.  Joshua and I installed them for her, and now she's skating pink-free. 
Maybe the pink rollerblades can go to one of her many girl cousins, for further using-up and wearing-out.