I know the internet, social media, and smartphones in general get a (somewhat deserved) bad rap. I mean, I definitely can see the downsides, particularly when it comes to social media.
(There are lots of reasons I keep Instagram off of my phone almost all the time!)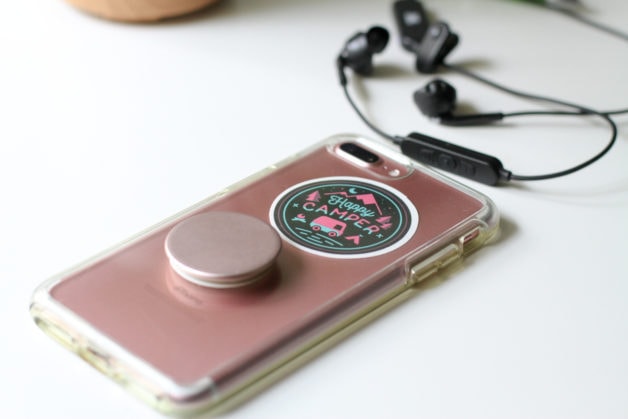 But my list this week contains several instances where smartphones + internet have made it easier to connect with family. Like all things, the internet and smart phones are a mixture of upsides and downsides, and this week, I am just feeling really appreciative of the upsides!
This week, I am thankful:
for Facetime
Lisey Facetimed me the other night, and then my South Dakota aunt Facetimed me at the same time, so we all hopped on a call together, which was fun.
I love the way technology makes it easier to stay connected to people who live far apart…there we were, me at home, Lisey at my Uncle Ron and Aunt Kathy's house, and my other aunt in South Dakota, all getting to chat together.
for Game Pigeon
Game Pigeon is a game app within iMessage and the other night, Mr. FG, Sonia, Zoe, Lisey, and I were all playing Uno together via the app, and it was almost like Lisey was here with us. 🙂
Also, Lisey and I have been playing Game Pigeon's Four in a Row (their version of Connect Four), which is fun because Lisey is really good at this game, and I'm pretty good at it too.
So we make worthy opponents for each other!
Lisey and I also like to play Anagrams together and she is always beating me at that one.
that Lisey lives close enough to come home for Christmas
If her school was in, say, California, this would be much more challenging. But she's just a couple of hours away by car, so she will be able to be home for a little while over Christmas break.
that my Uncle Ron and Aunt Kathy are coming for Christmas
They're going to drive here to share Christmas dinner with us, and I'm delighted about that.
for relationships with my aunts and uncles
I have a lot of aunts and uncles (my dad has three siblings and my mom has four) and I am thankful that I get to chat with some of them regularly. And that is made possible mainly because of smartphones!
for six weeks between semesters
There are exactly six weeks between the day of my A&P 1 final and the first day of A&P 2. Six weeks is a lot! That's, like, half of a summer break.
So, I plan to appreciate it as such.
that I got signed up with a great professor for next semester
My current professor was able to tell me who is teaching which sections next semester; I was looking for one particular professor, and now I am signed up for his section. Yay!
I hear A&P 2 is even harder than A&P 1, so I am delighted to be in a class with a highly-rated professor. Whew.
A lot of class success is due to personal effort, of course, but I still think a great professor can make an enormous difference.
What are you thankful for this week?