I've been in Wisconsin all week with extended family, at my uncle's cabin, so fair warning, my list will probably be QUITE cabin-themed this week.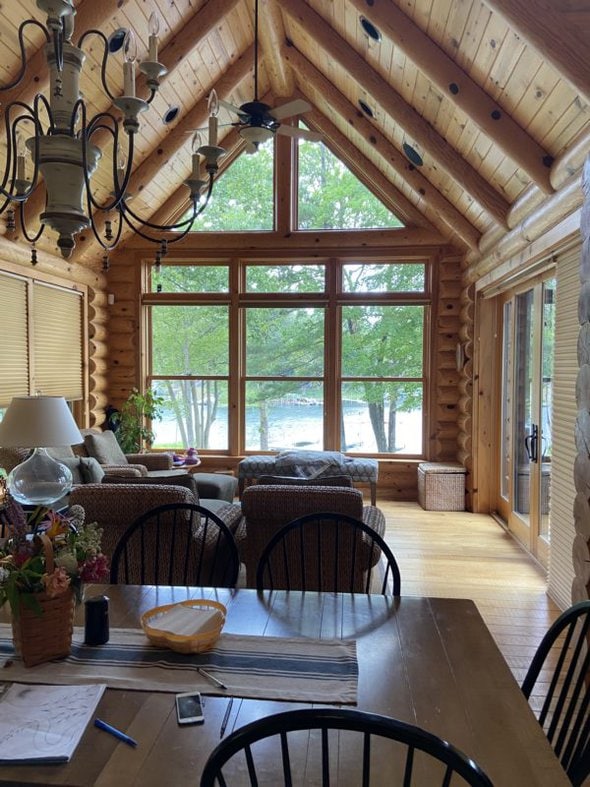 This week, I am thankful:
for my uncle and aunt's generosity
My uncle and aunt have people visit at their cabin all summer long; they share the cabin, boats, jet-skis, kayaks, and paddle boards with friends and family, and I am thankful for that!
that I got to come to the cabin for the first time
Zoe's been twice before and Sonia's been once, but I've never gone. This year, though, they were like, "Mom, you should come too!"
And I realized, hmmm, I actually could if I wanted to.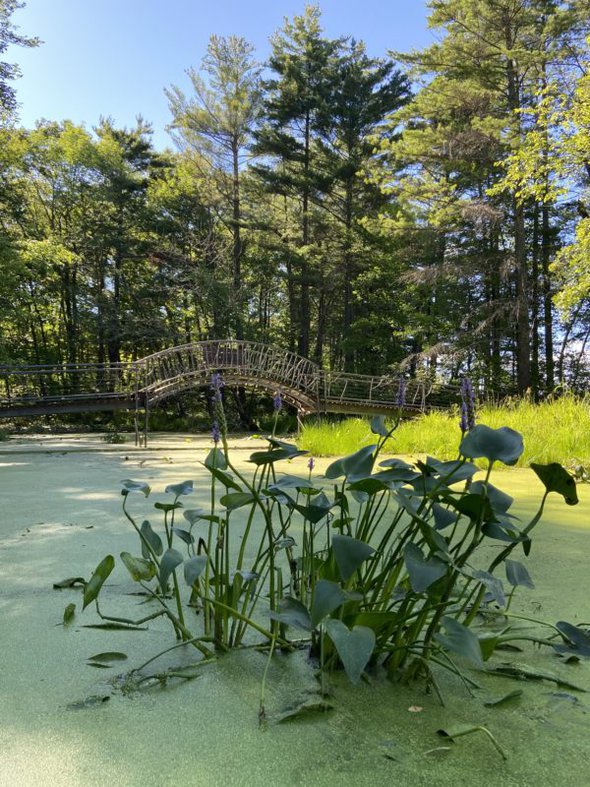 So, I booked a plane ticket.
And I do not take it for granted that my girls wanted me to come along. It's nice to be wanted!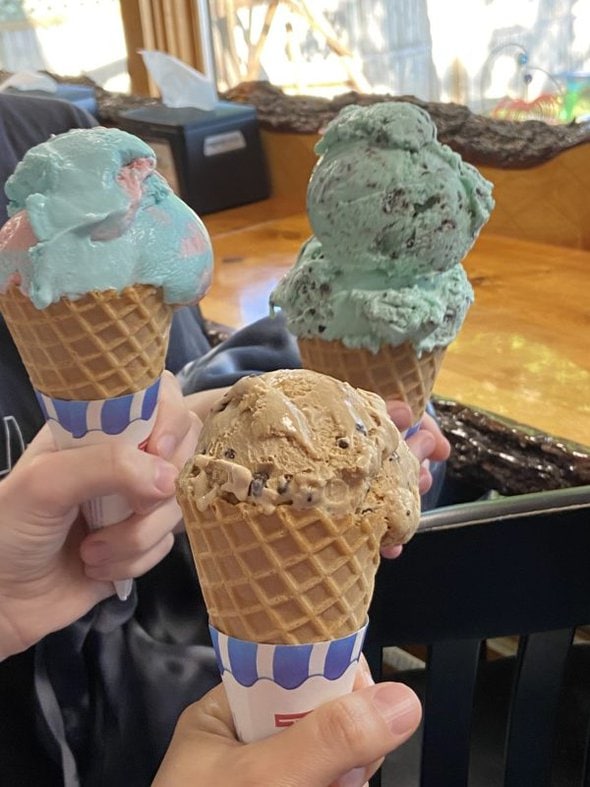 for free flights for Sonia and Zoe
I had enough Southwest Rapid Rewards points to get their flights for free (aside from the taxes and fees).
So, I only had to pay for my ticket, and that makes a pretty cheap trip for three people.
for the lovely Wisconsin summer weather
The air here feels so, so good! Even on the more humid days, it's so much drier than it is at home.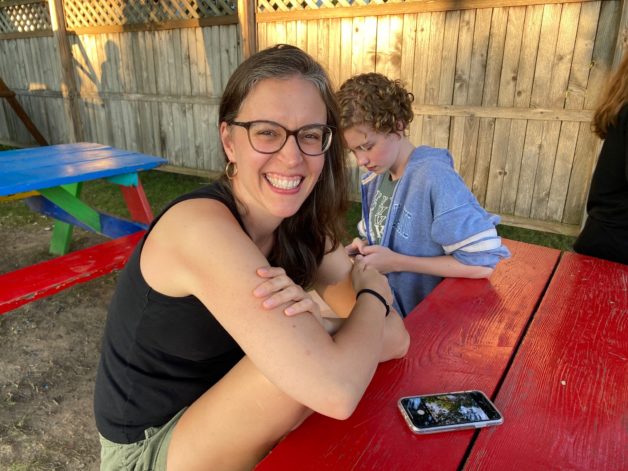 And it's not very hot either. When we walked out of the Minneapolis airport last Friday, it was 68 degrees and I could have cried with happiness.
One day when I am rich and famous, maybe I will spend summers in Wisconsin. 😉
for time with my nieces
My brother has four girls, and it's been nice to spend time with them this week. The ten-year-old has been my tubing and knee-boarding companion, and she has also been giving me lots of temporary tattoos.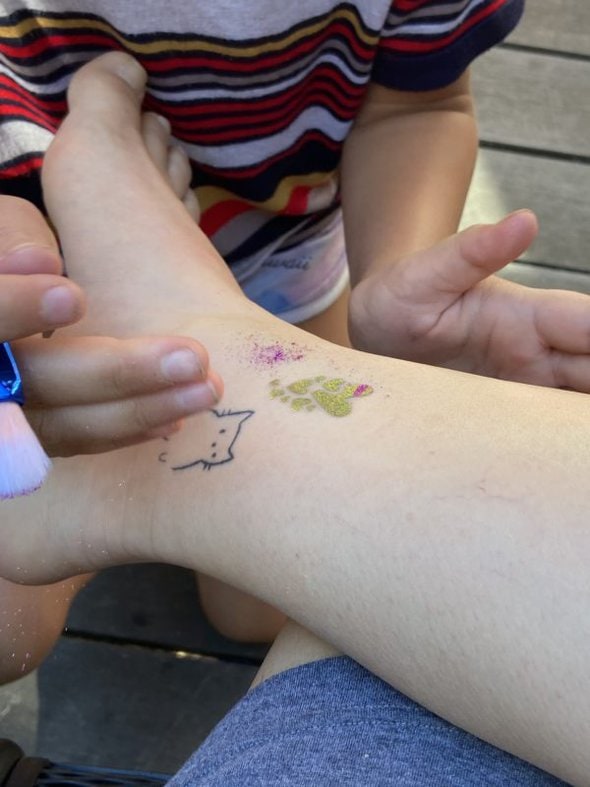 The tattoos do eventually rub off from all the watersports, but at least I am temporarily sparkly. 😉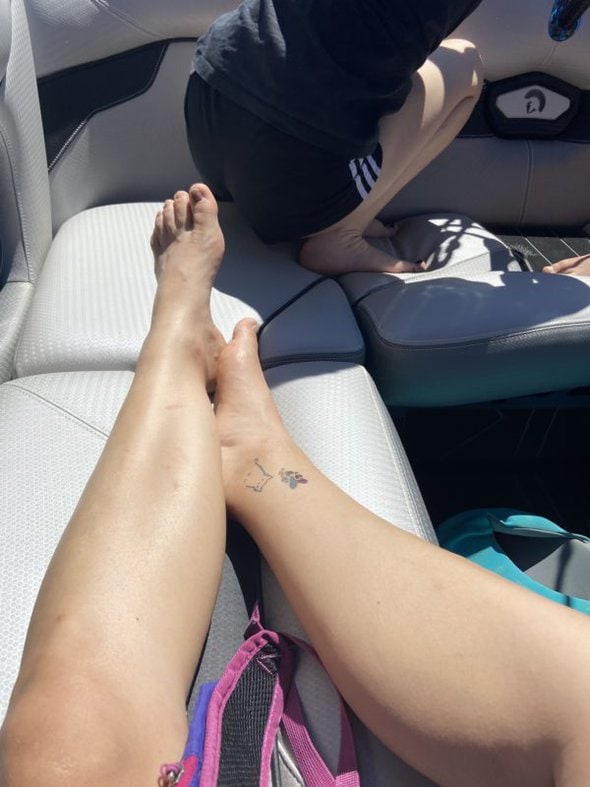 And my tattoo artist is always happy to give me more. 😉
for cousin time for Sonia and Zoe
It makes my heart so happy to hear them giggling (and screaming on the boat tubes!) with their cousins.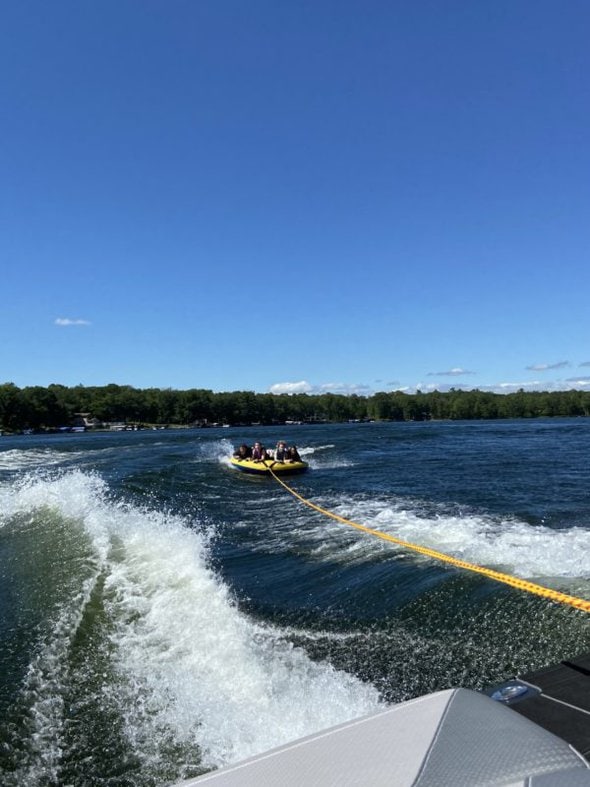 for a healthy body that can do water activities
I do not take it for granted that I am able-bodied enough to do things like paddle-boarding and knee-boarding.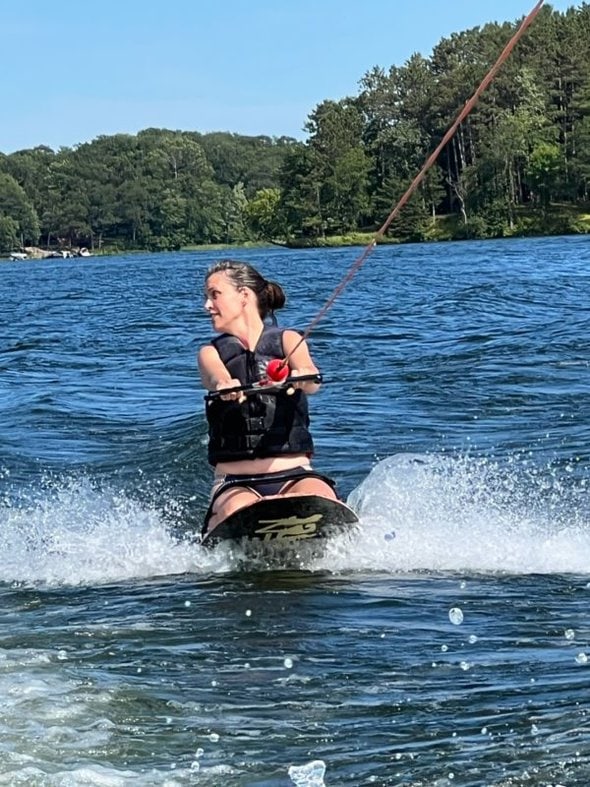 for the way my aunt feeds us all
There are 13 of us here, and I would find it a little overwhelming to manage that many guests.
But my aunt is such an amazing and experienced hostess, she gets us all fed three times a day and she barely seems to break a sweat.
As probably all of you parents out there understand: it's so so nice to not be responsible for food for a bit. The luxury of just showing up at the table and having food there is wonderful.
that Lisey is home to take care of the cat and hamster
I'm glad she's home for the summer because I didn't even need to worry about finding pet care!
(Obviously I am also glad she's home for the summer just because I like having her around.)
that there will still be things to be thankful for when I get home
Of course, it's easy to think of things to be grateful for this week; there are so many obvious blessings I've experienced here.
But I know that next week when I sit down to write my Thankful Thursday post, there will still be plenty of things to be grateful for. Blessings do not just exist on vacations.
And that is a serious mercy because we spend most of our lives NOT on vacation. 😉
Your turn! What are you thankful for this week?