Since Swedish Meatballs have popped up in my menu plan posts more than a few times, several of you have been asking for the recipe.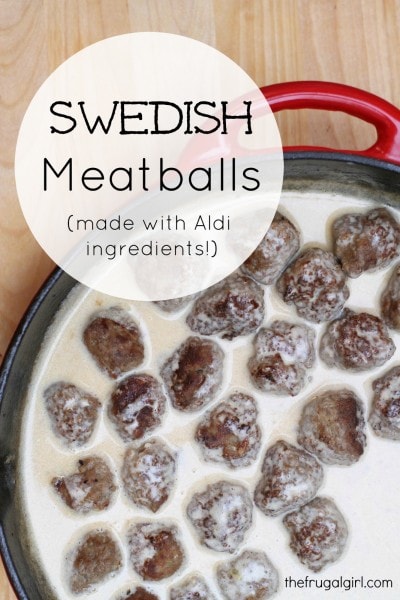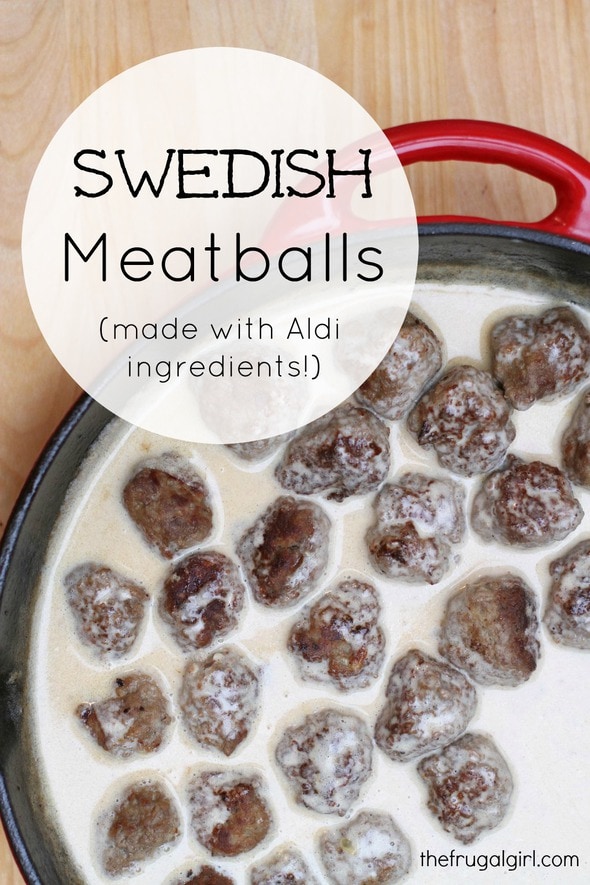 I first gave this recipe a try because the last side of beef we bought came with a lot (a LOT) of ground beef and I was trying to figure out more ways to use it. And it's become a favorite of several of my kids.
It's nothing fancy, but the browned meatballs in the simple broth/cream sauce are awfully tasty.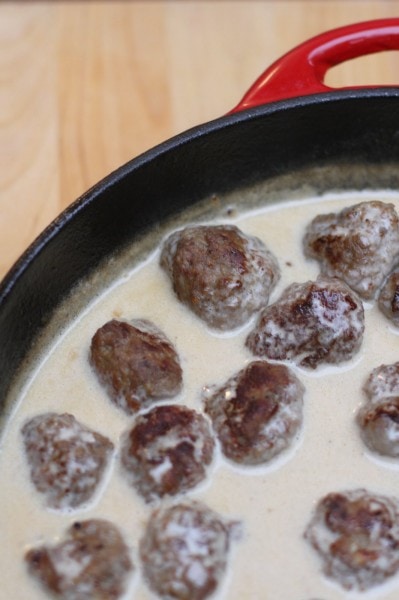 Oddly enough, when I made this recipe the last time, I was out of local beef, so I used Aldi's grass-fed beef instead.
Actually, if you opt for 100% beef instead of the beef/pork mixture the recipe calls for, you can make this entire recipe with Aldi ingredients (even the nutmeg, because they carry it as a special purchase this time of year.)
I got the recipe from Cook's Illustrated, of course (from the big Cook's Illustrated cookbook). I've gotten so, so many good recipes from that book. It has no photos (boo!) but it is an excellent cookbook notwithstanding.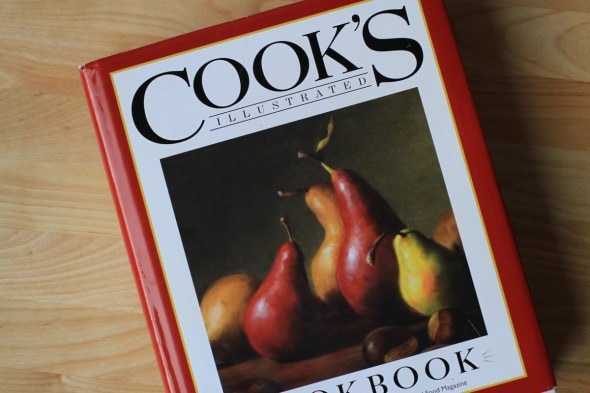 I'm going to give you a picture-filled version (of course!) of their Swedish Meatball recipe today.
The only thing is, this recipe isn't super photogenic, and like most meatball recipes, could possibly be renamed The Dish Where Many Disgusting-Looking Things Come Together To Make A Delicious Meal.
First you make a panade, which is just a mixture of bread, egg, and heavy cream. This helps to keep the meatballs moist and also helps them hold together.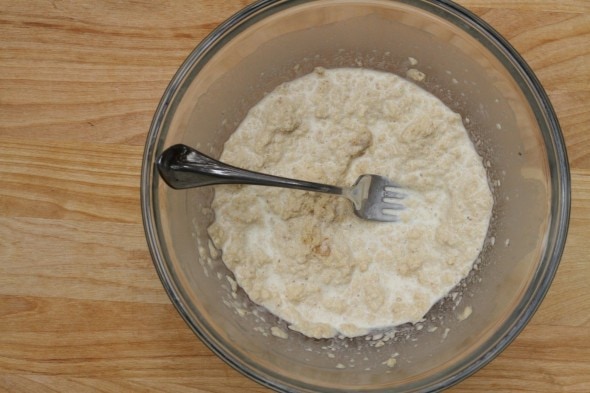 Unappetizing, but it works!
And then you combine ground beef, grated onions, spices, salt, pepper, and baking powder in a mixer bowl.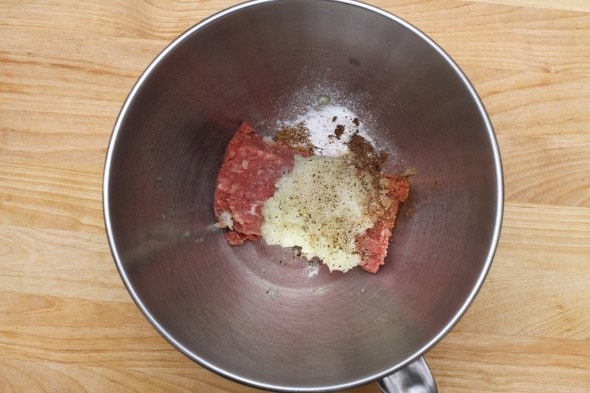 Beat the meat and spices together for about 2 minutes, then add the panade and beat for another minute.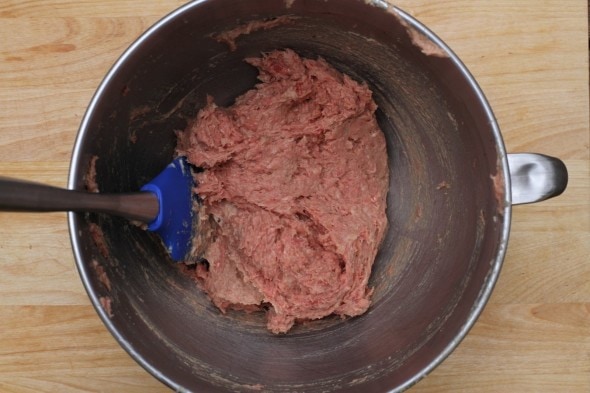 The original recipe calls for 8 oz pork and 8 oz of beef. You beat the pork with the spices/onions/etc., beat in the panade, and then gently stir in the ground beef. I have no idea if this is important when you use all beef, but I'm just throwing it out there in case it is!
(I have never used a pork/beef combo.)
With wet hands, shape the meat mixture into 1-inch meatballs.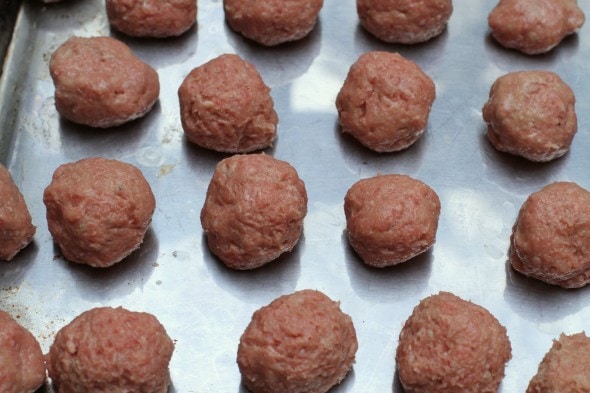 In a 12-inch skillet, heat 1 1/4 cups vegetable oil to 350 ° F, and then add the meatballs to the oil. Flip meatballs once halfway through cooking (they'll take about 7-10 minutes total).
Mine never all fit in the pan in one batch (and I frequently double the recipe anyway for our family of 6), so this takes a few go-rounds for me.
Put the cooked meatballs on a paper-towel lined plate.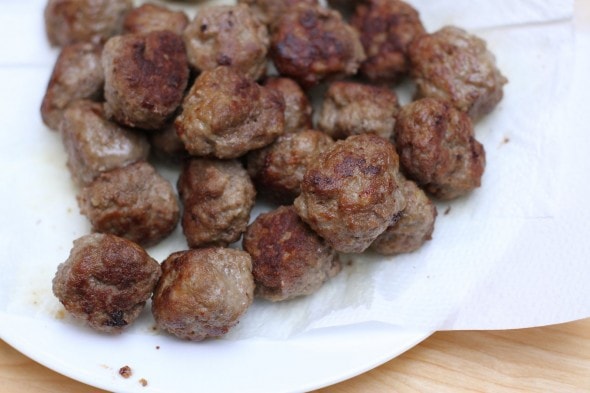 Carefully pour the oil out of the skillet, and in the now empty skillet, melt a tablespoon of butter. Stir in a tablespoon of flour, cook for 30 seconds, and then stir in 1.5 cups of chicken broth (I used my homemade broth), scraping the bottom of the pan to loosen all the good browned bits.
Add a tablespoon of brown sugar and simmer the sauce for about five minutes.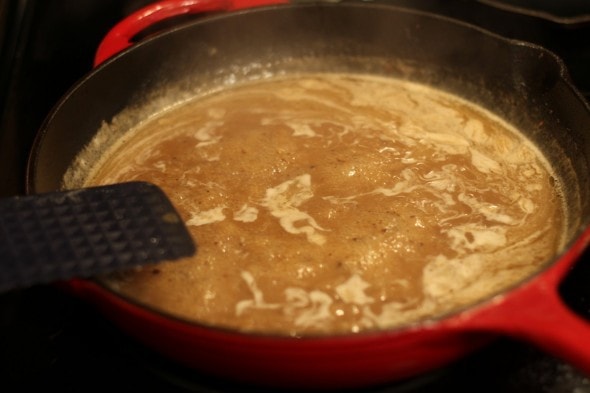 Once it's reduced to about a cup, stir in a half cup of heavy cream and season to taste with salt and pepper. The amount of salt you need will greatly depend on how salty your chicken broth is.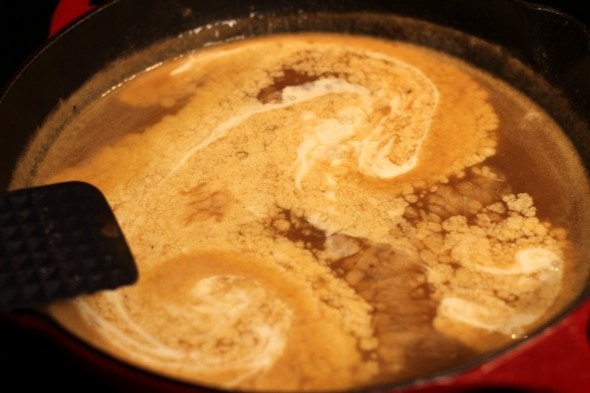 The recipe calls for a little bit of lemon juice at this point, but I usually forget to add it and no one has complained. Choose your own adventure, I guess!
Add the meatballs into the sauce and gently cook until the meatballs are warmed through.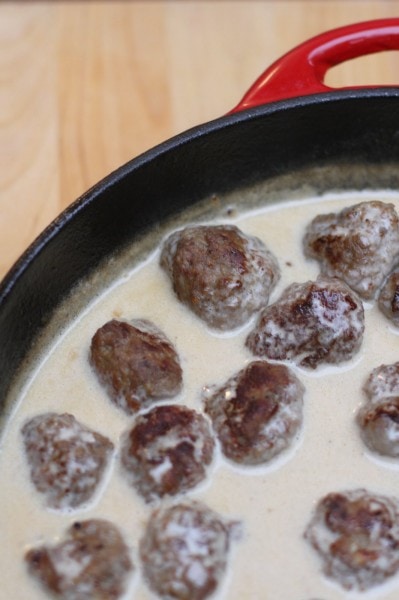 We usually serve this over noodles, but you could also do mashed potatoes. Or we've also served it without a starch and that works fine too.
Obviously, you could opt to bake the meatballs instead of pan-frying them, but I've been loathe to do that because I'd hate to give up the yummy browned bits on the bottom of the pan. I fear it would make the sauce inferior, and since no one at this house is really needing to do a bunch of calorie-cutting, I carry on with the frying.
But if you need to reduce caloric intake, then by all means bake the meatballs. It's faster and less messy for sure!
Oh, and I use my Aldi-obtained cast iron skillet (Aldi! Not just for food!) to make these, but you could also use a regular skillet.
Swedish Meatballs
(I'll get a printable version loaded up later today!)
Meatballs
1 large egg
1/4 cup heavy cream
1 large slice high-quality white sandwich bread, crusts removed and bread torn into 1-inch pieces
8 ounces ground pork (or ground beef)
1 small onion, grated on large holes of box grater (about 1/4 cup)
1/8 teaspoon freshly grated nutmeg
1/8 teaspoon ground allspice
1/8 teaspoon ground black pepper
1 teaspoon packed brown sugar (see note)
1 1/2 teaspoons table salt
1 teaspoon baking powder
8 ounces 85 percent lean ground beef
1 1/4 cups vegetable oil (for frying)
Sauce
1 tablespoon unsalted butter
1 tablespoon unbleached all-purpose flour
1 1/2 cups low-sodium chicken broth
1 tablespoon packed brown sugar
1/2 cup heavy cream
2 teaspoons juice from 1 lemon
Salt and ground black pepper
Beat the egg and heavy cream together in a medium-sized bowl. Add the bread and mash with a fork until mixture is homogenous.
In a mixer bowl, combine the pork, onion, spices, brown sugar, salt, and baking powder. Beat on high speed for about two minutes. Stir in bread/heavy cream mixture and beat for an addition minute. Mix in the ground beef.
With wet hands, form the meat into 1-inch meatballs; place on a baking sheet.
In a 12 inch skillet, heat vegetable oil to 350 ° F. Add meatballs and cook, flipping once, until done, about 7-10 minutes. Remove meatballs to a paper-towel lined plate.
Carefully pour oil out of skillet. In now-empty skillet, melt butter. Stir in flour and cook for 30 seconds. Gently stir in chicken broth, scraping up browned bits from the bottom of the skillet. Add brown sugar, and cook sauce for about 5 minutes, or until reduce to a cup. Stir in heavy cream and season to taste with salt and pepper. Add lemon juice if desired.
Stir meatballs into sauce and heat until warmed through. Serve over noodles or mashed potatoes.
(After I typed all this up, I realized you might wonder if Aldi or Cook's Illustrated sponsored this post. But nope, they didn't! I'm just quite the Aldi/Cook's enthusiast. 😉 )